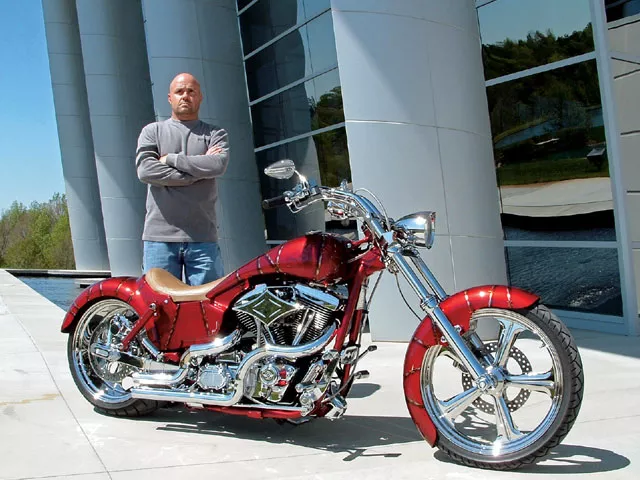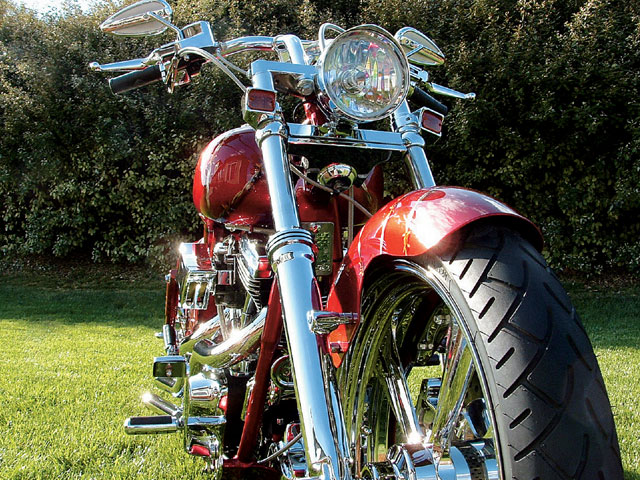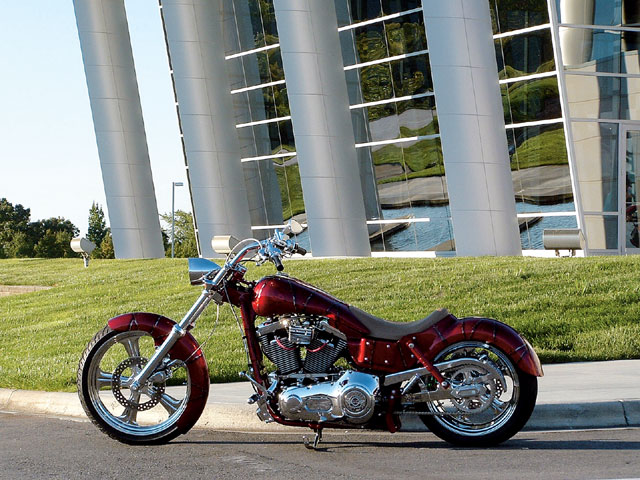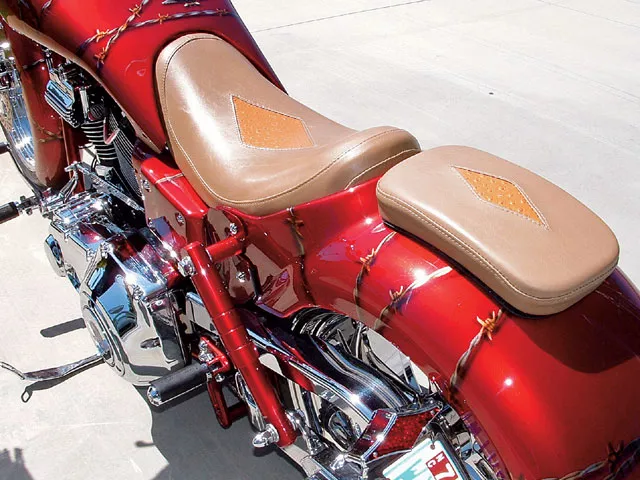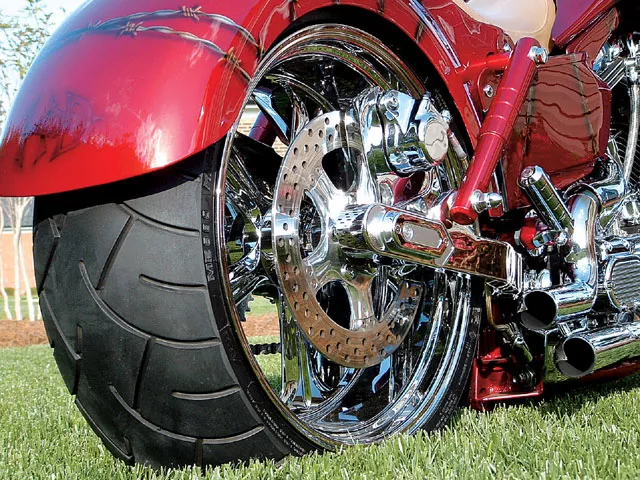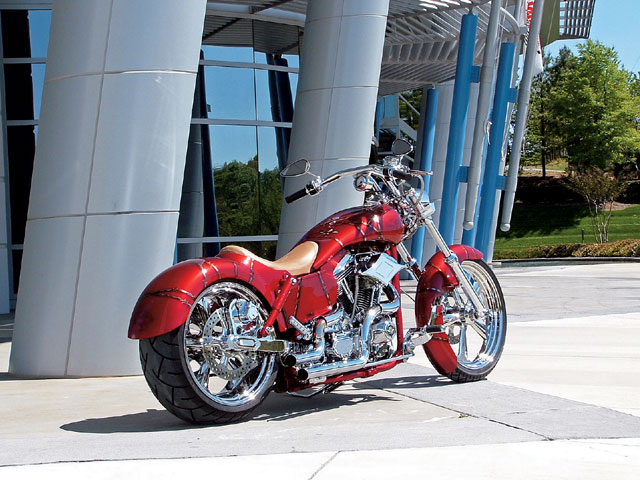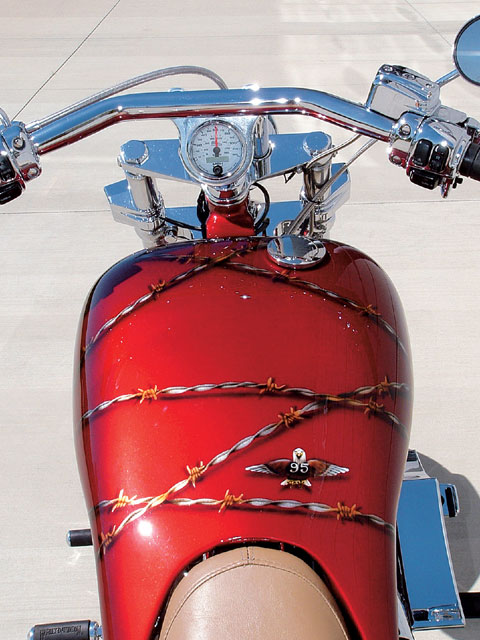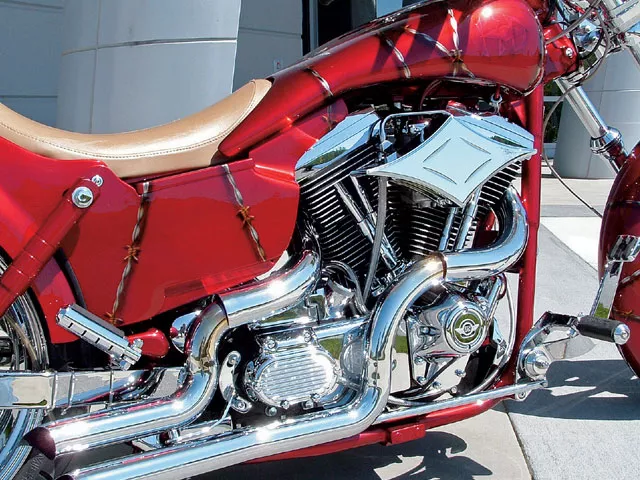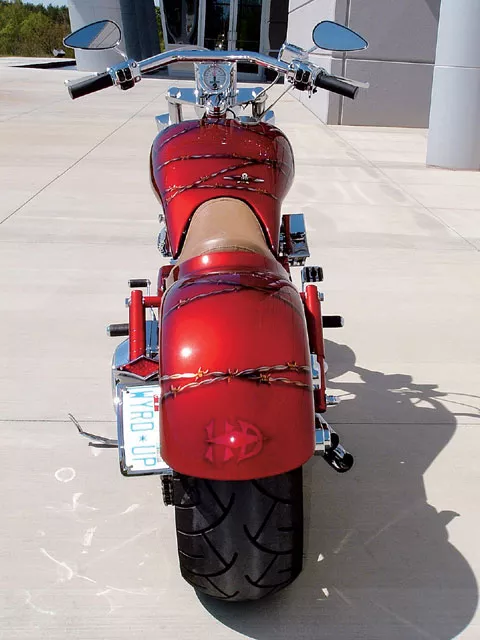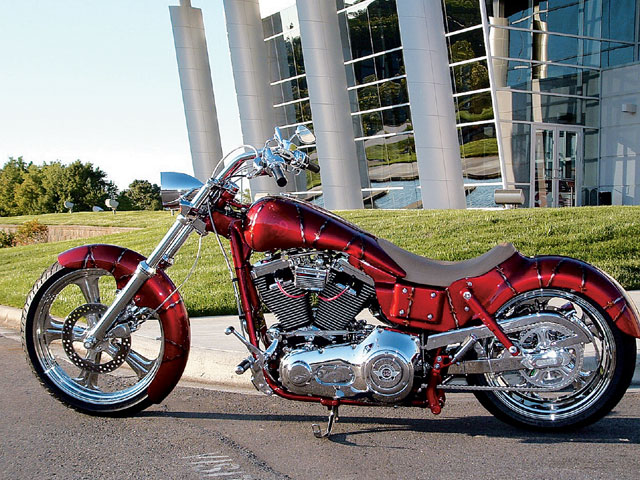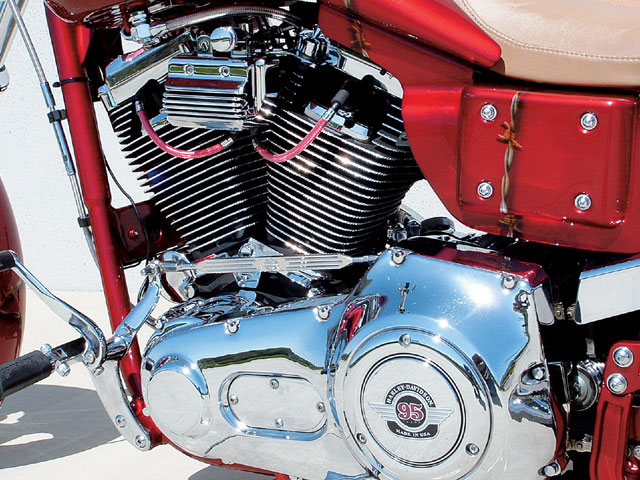 Here at Hot Bike, we get a lot of rides-Harleys, hogs, whatever you want to call them-submitted by our readers. "Pick of the Pen" is an opportunity to dedicate a few pages to our favorite reader-submitted bike each month. This month's bike is from owner Mark Walter of Harrisburg, NC. Here's the story of "Wyrd Up," in his own words.
I was the second owner of this original 95th Anniversary edition Harley, purchased in 2002. The bike was already in immaculate condition with mostly new chrome parts. One of the reasons it grabbed my attention was how clean the owner kept it, and that did not require me to purchase many more accessories. So I traded in my Suzuki GSXR 750 for a Harley-Davidson.
When I brought the Harley home, my wife Stephanie was totally surprised, considering that I didn't tell her I was trading bikes. Actually, I would say she freaked out instead of being surprised. I'll never forget that day. I rode up on it and she asked, "Whose is that?" And I said, "It's ours, honey." While her face showed surprise, I knew she was steaming because the other bike was paid off and I had just created another bill. Oh well. I used the "But honey, I told you I wanted a Harley and you said you did too one day…" excuse. I guess "one day" was here sooner rather than later.
I kept thinking to myself, I can't wait to put Stephanie on the back of this and drive her down the road. She had never ridden a Harley before, either. I knew once she got her first ride on a Hog she would never want to ride another bike. She loved it and she even apologized for getting aggravated about the purchase. Ever since then, she's loved to hear the roar of the pipes. She has told me that she'll never ride anything else other than a Harley. She gets pissed when I take a ride without her.
Over the last couple of years we began to notice more custom bikes and that the popularity of them had grown; however, we did not see too many custom Dynas. For all those Harley fans out there, don't get the wrong idea…we really enjoyed the Anniversary 98 H-D, but we wanted something a little different.
At first, we started thinking about just adding a fat 240 rear tire and raking the frontend. But we really hated to chop up a Harley…especially an Anniversary bike. But after several long discussions about it, my wife and I decided to go for it.
The first step was finding a trustworthy bike shop that could understand what our vision was. We found a small shop outside our hometown, in Kannapolis, North Carolina, called South Main Customs, owned and operated by Dano Simmons. He had been working and building motorcycles since the early '70s.
After discussing the details of what we wanted to do, Dano gave us advice on which direction would be the best for the amount of work that would have to be done. We kept the original frame, Carlini handlebars, the 95th anniversary edition derby and timing covers, and the motor. Dano and his team started by tearing down the bike to the frame and installed a custom swingarm they created. After that he started "frenching in" the seat, adding side panels fabricated out of aftermarket battery and electrical boxes to cover the battery and electrical compartments, and made a set of one-off pipes.
Next was selecting the wheels. This was a huge decision considering how many wheels there are on the market. We chose a set of Vintage wheels from PM with matching rotors. The motor was then pulled out and the heads shipped off to Diamond Heads in Las Vegas, NV.
Everything was moving along fine at this point. No major problems or delays. The next step was to cut the frontend off and add a 40-degree rake to the trees. Upon completion of the frontend being raked, the frame was sent off for painting. While most of the teardown and fabrication work was being done, Stephanie and I were trying to figure out what color and theme we wanted. We contacted Terry Freeze, owner of Freeze Extremes (also in Kannapolis), who came highly recommended by Dano. This guy can flat lay the paint on just about anything. We selected Candied Brandywine by House of Kolor, and sprayed over a base coat of orange as the bike color, including the frame. Prior to the paint job on the frame, Terry smoothed out all the welds and cleaned up the lines. Once complete, the paint job on the frame just enhanced the overall detail of the bike. In addition to these colors, we topped it off with a pearlized white that added a little bit of shimmer to the Candied Brandywine.
As far as the theme of the bike, we decided on barbed wire to wrap around the tanks and fenders. Why? Because we had not seen this on any other bikes in our area. We know there are other bikes with barbed wire out there, but not locally that we've seen. Again we turned to Terry for his expertise and creativity. In addition to the barbed wire, he also painted a small eagle with "95" on its chest to represent the Harley roots this bike has.
Once the paint was complete, it was back to the shop for re-assembly. One last detail was to add the Kryakan Multi-Colored Lizard Lights to the frame, tank, and rear swingarm. This small detail really added a special touch to the bike. The lights work at various speeds and fade in and out in multi-colored sequences. The final assembly took several days to complete, and when Dano called and said he was ready to calibrate the speedometer, we were so excited! That afternoon we were at the shop ready to watch the final adjustment before we could take it home. Finally, our project was complete.
We have won several shows over the last year, and most recently placed 1st in the 2007 CBA (Concerned Biker Association) Swap Meet held at the Metrolina Expo in Charlotte, NC. We never imagined our bike would win any shows, but have enjoyed it just the same.
The experience we both shared during this build made us both appreciate other custom bikes we see on the street. It was a lot of work, time, and money well-spent.
Spec Sheet
| | |
| --- | --- |
| Bike Name | "Wyrd Up" |
| Owner | Mark Walter |
| Hometown | Harrisburg, North Carolina |
| Year/Model | '98 Harley Davidson/95th Anniversary Dyna Wide Glide |
| Builder/Assembly | Dano Simmons, South Main Customs |
| Engine | H-D |
| Pipes | Fabricated by South Main Customs |
| Transmission | H-D |
| Gas Tank | Dyna Tank from H-D stretched |
| Front Fender | Kustomwerks |
| Rear Fender | Kustomwerks |
| Front Suspension | H-D, 40 degree rake Rear Suspension Swingarm by South Main Customs |
| Wheels | PM |
| Tires | Front 21 inch/Rear 240mm Metzeler |