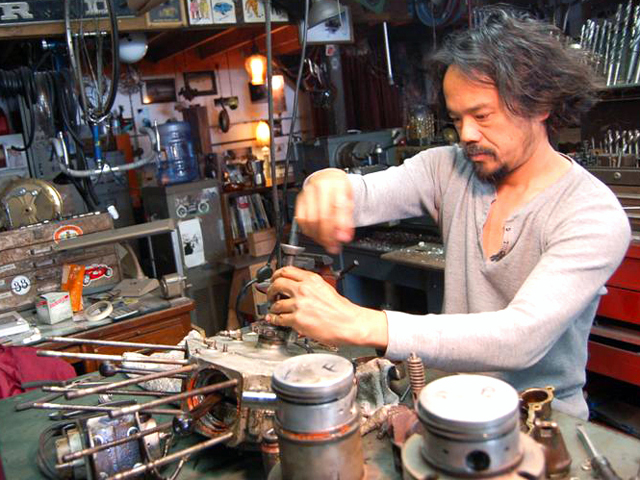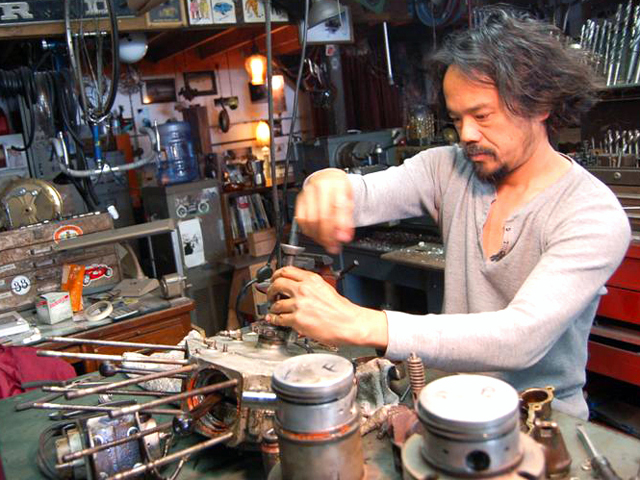 Sturgis, South Dakota, June 7, 2010 - Shinya Kimura — the Southern California custom motorcycle builder who has enthusiastic fans all over the world, including Hollywood stars — has joined the field of the some 70 riders who will pilot pre-1916 motorcycles across the country this fall in the Motorcycle Cannonball. Kimura's motorcycles, which feature vintage engines mounted in one-of-a-kind handcrafted frames and bodywork, has drawn high praise from many quarters for the builder's skills and artistic prowess.
Originally from Japan where he turned to motorcycle repair, racing and restoration after studying entomology, Kimura relocated to the United States and embarked on what has become a storied career in building what some have called functional art. He currently works out of his shop, Chabott Engineering, in Azusa, CA (www.chabottengineering.com). The Motorcycle Cannonball begins in Kitty Hawk, NC on September 10 and ends on September 26 in Santa Monica, CA.
"The Motorcycle Cannonball has an international roster or riders," reported Lonnie Isam, Jr. who heads the Motorcycle Cannonball effort, "and Shinya will compliment that field while bringing a real love for vintage motorcycles to this once-in-a-lifetime event."
When he first heard about the Motorcycle Cannonball, Kimura maintains, he "thought it was crazy and somebody was just joking." However, after discussing it with fellow bike enthusiasts like artist and Cannonball participant Jeff Decker, he decided the Motorcycle Cannonball was not to be missed. Kimura says he was so excited about the Motorcycle Cannonball) that he decided to sign up before even acquiring a bike to enter.
That technicality has been remedied, Kimura says, by his acquisition of a 1915 Indian twin. This particular bike has special meaning because his grandfather rode a similar bike in Japan. Used by Japanese police forces, Shinya's grandfather was among the first civilians there to obtain his Indian in the early 1920's. Kimura grew up listening to his grandfather's exploits on that motorcycle. Now he'll have some tales of his own to tell. In the Motorcycle Cannonball, Kimura says, he will ride "my Indian with my long time friend and a great mechanic Yoshimasa Niimi and share this precious moment with other motorheads and hopefully finish in Santa Monica."
The Motorcycle Cannonball covers 3,325 miles over 17 days. There are entries from around the world. Complete information about the Motorcycle Cannonball, including route details and rider profiles, is available at www.motorcyclecannonball.com.