Celebrating its 10th anniversary, the Born-Free Motorcycle Show threw a modern wrench into its traditional chopper and vintage bike show gears for 2018. Born-Free, working in conjunction with Harley-Davidson, gave custom motorcycle builders from across the country one of Harley's new Softail models to customize to their liking.
Mike Davis, co-owner of Born-Free, rang up the boys from H-D, pitched his idea, and the wheels started turning. Seeing as Mike is more of an old-iron aficionado, he commissioned the guys at San Diego Customs to help assemble a talented cast of characters who could deliver something unique and intriguing in time for the Born-Free Show on June 23–24. The crews from San Diego Customs, Kraus Motor Co., Horsepower Inc., Pop's Garage Fabrication, Virus Moto, and FXR Division (did not finish in time for print, see its final result on hotbike.com) were selected. Each had about four months to get one of the new Softail models, build it to suit their style however they liked, and deliver it on schedule. Once the bikes debuted there, they'd be taken to the Harley-Davidson 115th-anniversary celebration to also be on display during the event.
It was quite the eclectic mix of machines, from adventure bikes and hill climbers to alcohol race machines. "I thought all of them came out great," Davis recalls. "It felt like everyone was really receptive to them, and it felt like everyone put out their best effort."
Harley-Davidson saw this as a great way to work with Born-Free and felt the new Softails were the perfect platform for customizers to showcase their skills with the new motorcycles. "For us, this was a great opportunity to show the world the brand-new Softail platform and the endless possibilities of customization when put in the hands of these talented builders," says Shep Rubinger, experiential marketing lead at Harley-Davidson Motor Co. "What better place and what better partner to do that with than Born-Free."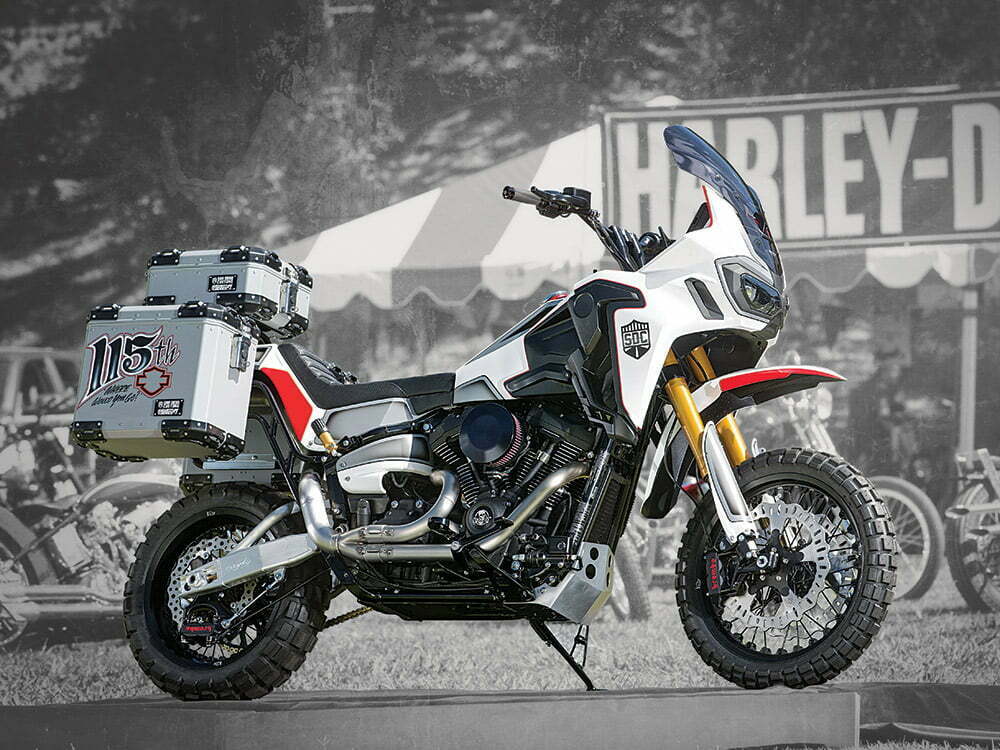 Owners Chip Kastelnik and Mikey Van are no strangers to Hot Bike. They're also no strangers to doing rad s—t! By far the most out-of-the-box build of them all, the San Diego Customs ADV Softail was something of a masterpiece. Having no real knowledge of the adventure-bike world prior to accomplishing this custom, Kastelnik and Van spent tons of time researching the ins and outs of the entire adventure-bike spectrum, especially the machinery used for that sport. It's clear that their mule for this project, a 2018 Harley-Davidson Sport Glide, was molded into something akin to Honda's Africa Twin.
When the San Diego crew picked up the bike, they rode it for about 100 miles and went straight to work breaking it all down to figure out their approach. "I disassembled the bike and took some welding rod and lined out where I wanted everything to be as far as tank dimensions, height, width, and lines," Kastelnik says. "And then I got together with my friend Tony and just banged it out [some of the fab] at his machine shop." But a good bulk of the parts were made at SDC HQ: exhaust, light bar, fairing, bag mounts, fairing mounts, and some motor mods, of course.
But full-blown customs like this are definitely not without their challenges. "The front end, the suspension, making the subframe and the bag mounts—everything was new to us," Kastelnik says. "Even the exhaust. We had to fab the whole rear—I've never really made a muffler before—which was foreign to me." But because of San Diego Customs' workaholic mentality, they poured every ounce of effort they had into this build, and the final result was brilliant.
Overall, the crew has some big plans for this bike being ridden. And ridden hard. "I want to hand it to Buddy Suttle [of Unknown Industries stunting fame] and tell him to try and break something on it," Kastelnik says.
Sounds reasonable to us!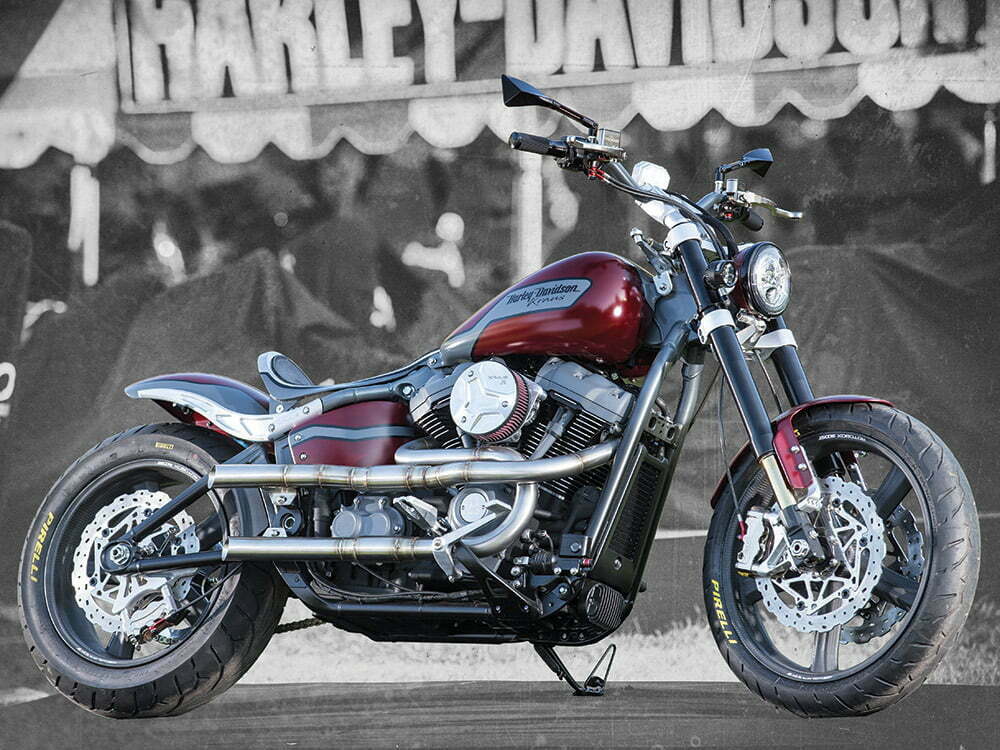 Satya Kraus and his band of brothers have been at the forefront of building performance Harleys since long before it was trendy. The 2018 Harley-Davidson Low Rider they built was no exception.
Kraus needed to figure out how to retain the Low Rider aesthetic without morphing it into something else. "I kind of looked back into the traditional Softail styling," Kraus explains. "Let's keep that low-slung fender and make it a bike you can sit down in rather than on top of." But obviously, a Low Rider that still made sense for the Kraus signature performance styling. New suspension, mid-controls, a nice bar setup, and a little bit of traditional Low Rider were exactly what he ended up with. And we approve. If you thought you spotted a little Rocker-model throwback in the seating area, that's because you did. "The way that frame lays, I didn't want to see another big puffy seat, so we fabbed up an aluminum seat [pan] to give it more of a chopper seating position," Kraus says.
---
Related Video
---
After digging into the build more, Kraus says it was a pretty easy and straightforward bike to work on. "We didn't see a lot of challenges, but we did a bit of fab—took 2 inches out of the gas tank, moved the gas caps, and rolled the bottom of the tank so it had a nicer shape to it," Kraus says. Luckily for him, a lot of Kraus Moto parts actually fit right on the bike pretty easily too.
"It's a really big honor and privilege to work with Born-Free and Harley-Davidson for trusting us to do what we do with their bikes," Kraus says. "I'm excited to display the bike in Milwaukee for the 115th, and to show that community what we're doing with performance."
We're fond of the attention to detail paid to this build without it going over the top stylistically. That's the Kraus style in a nutshell: nail the performance, while retaining the stock DNA to show the possibilities of what can be done to a factory bike.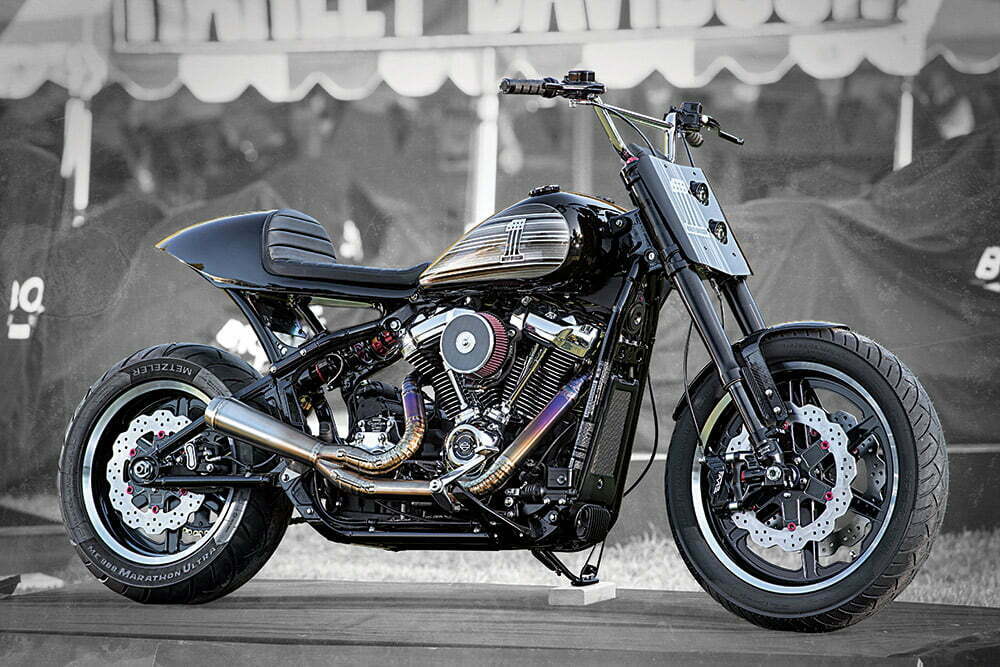 You might recognize the name Pop's Garage Fabrication from last issue's cover. Well, it's no mistake that Nick Erickson and his crew were chosen to be part of this program. The Atlanta-based shop has been building killer Dynas and FXRs for years, and Erickson was stoked to get his hands on his new 2018 Harley-Davidson Low Rider project.
Pop's has developed a unique style over the years, with an exposed battery-box area that takes on a racy aesthetic and ditches a lot of unnecessary components. The same applied with this build. Rebuffini front forks got the call for the Low Rider's front end, so a set of Rebuffini rear shocks obviously made sense too. Nick enlisted the help of Peter Fosburgh, of Frankenwerks Fabrication, to help out with the tail section and titanium-exhaust-pipe fabrication. And the wheels,
rotors, and sprockets were designed and made by Justin Lowe, from Revolution Speed.
"I thought it was a big honor and opportunity to do something unique with the new platform," Erickson says. "We wanted to have the tail section, number plate, titanium exhaust, and just open that area around the rear shock, like a cross between a BMX and a tracker."
We all deal with time constraints differently, but moving shops is never a fun one when you're handed an opportunity like this. "Moving shops from my home shop to a new building at the exact same time as getting this build and trying to get it all done was definitely a challenge," Erickson recalls. "But I operate better under stress."
Sometimes it takes those trying times to really understand your priorities and then just knuckle down and make it happen. Some of us are able to do that, some of us aren't. Nick and the Pop's Garage guys fall into the former category.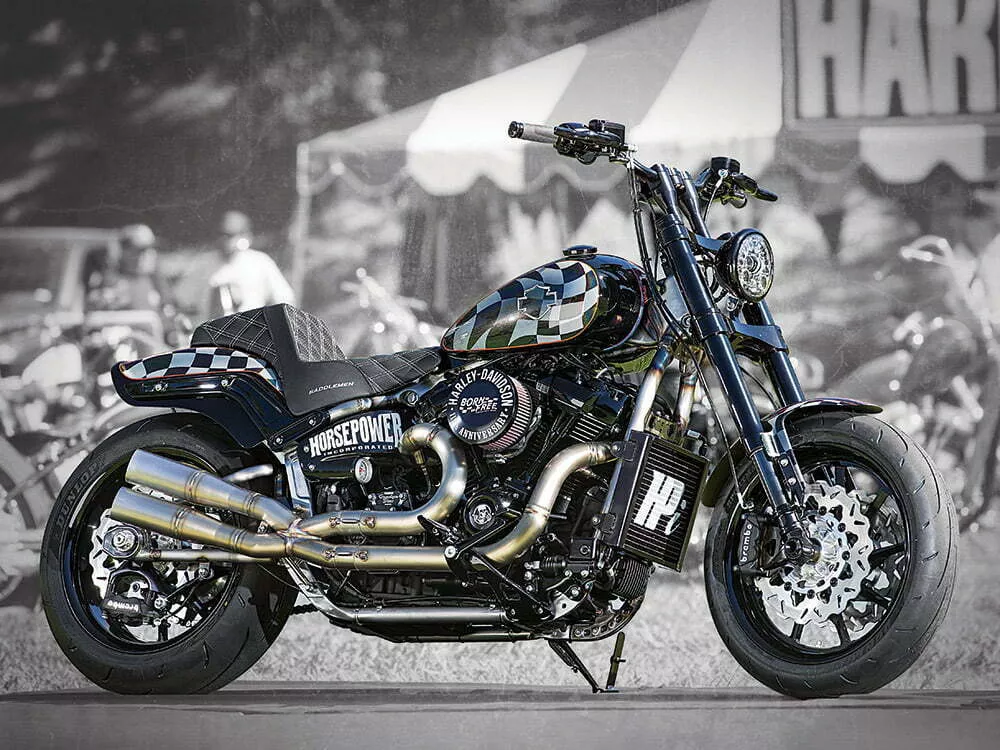 When it came to Jimmy Light and the crew at Horsepower Inc., they really only had one objective with the 2018 Fat Bob they were gifted. "We wanted to make it go as fast as it could go," says Light. "Go big on the power, make it a little bit low, and everything had to have a purpose."
Seeing as the company's namesake is pretty much a dead giveaway as to the build's direction, it was rumored that this Fat Bob would show up to Born-Free running on alcohol. "We were going to run it on alcohol in time to get done for Born-Free, but the pistons we ordered didn't get done in time," Light says. "We couldn't get the compression we needed around 14-to-1 to 14.5-to-1." In following up with Light, he swears that this Fat Bob will eventually run on alcohol.
It's definitely a street-eater as it currently stands. The bottom end was sent to Dark Horse Crank Works, which lightened and balanced the flywheels and outfitted the case with competition rods. Revolution Performance Nikasil cylinders and flat-top pistons were used, along with some ported and polished high-compression heads from Zach Johnson, of Kendall Johnson Customs. Comp Cams shipped out a camshaft with slightly different specs because of the 13-to-1 compression. And, of course, Horsepower incorporated one of its own standard 62mm throttle bodies to feed the beast. The crew also made a custom 2-1-2 exhaust pipe to keep the styling in line with the bike's factory pipe. "We didn't want to change all of the bike," Light says. "We wanted to keep some of the things like the dual mufflers the bike had to start with." A Power Vision tuner rounded out the performance package to produce a whopping 153 hp and 148 foot-pounds of torque.
Now that's a lot of get up and go. We can't wait to see what you get when this baby is running on methanol, boys!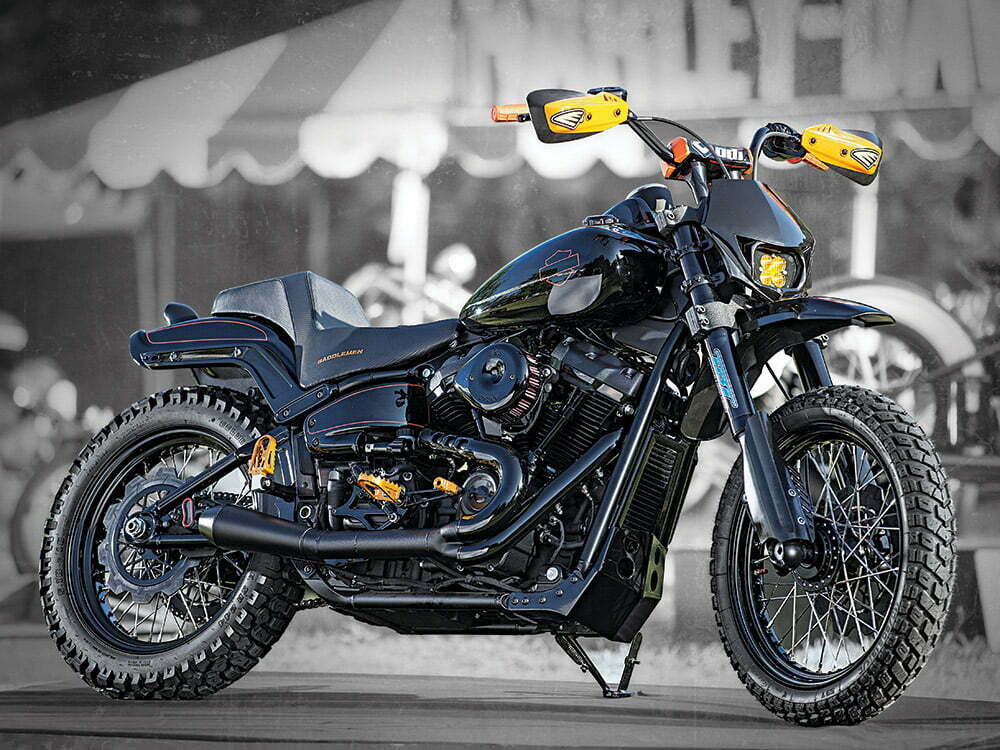 For Mikey Hill, aka Mikey Virus, this build challenge was a pretty new experience. You'd never guess it by seeing the final outcome: a hill-climbing, motocross-jumping, hooligan racing Softail. Seeing as Hill is pretty well-known on the old Instagram as the dude who does some pretty gnarly s—t on the moto-inspired Sportys he's built over the years, he wanted to see what it would be like to adapt that style into a 2018 Harley-Davidson Fat Bob.
"I pretty much knew what I wanted to do with it," Hill says. "We played around with it in Photoshop, and I just wanted to make it a version of my moto-Sporty to see if I could thrash it up some hills or jump it; basically a big-twin version of my Sportster."
Seeing as this new Softail was a brand-new platform that had just been released a few months prior to when Hill received his bike, there were a few initial hiccups. "Being rushed with the timeline on a brand-new base model was a little frustrating at times, because with a Sportster, you can do anything you want and you can find anything anywhere, but I had some challenges designing and getting the trees made," Hill says. "I needed a 1-inch drop, and they needed to be 1-1/4 inches narrower." He also had to figure out how to equip some mid-controls on the new Softy, so he rang up The Speed Merchant for one of the company's new mid-control setups for 2018 Softail models. But because of the new positioning of the mids, Virus had to ditch the exhaust he was originally planning on using altogether. "I tossed the pipe we had and made a new pipe in house with a Cone Engineering cone," Hill says.
Virus enjoyed the overall experience and looks forward to other opportunities like this, and he says he's definitely up for doing another build. "It was difficult, but I'd definitely do it again," Hill says.