This article was originally published in the December-January 1999 issue of Cycle World's Big Twin magazine.
Clyde Fessler knew exactly what he wanted in a custom. And well he should. As Vice President of Business Development for Harley-Davidson and a long-time employee of The Motor Company, Fessler certainly knows plenty about the bikes that made Milwaukee famous. And after years of research conducted at motorcycle shows all around the world and countless hours of contemplation on the subject of customs, he developed some strong opinions about what he craved in his own personal machine.
First of all, he knew he wanted something basic and simple. The long, flowing lines and acres of sheetmetal on the bodybikes he had seen just didn't appeal to his sense of what a motorcycle should be. Neither did bikes with busy graphics and lots of gingerbread. "I feel that most of the current customs you see have lost the essence of what a motorcycle is," says Fessler. "A bike is really just a V-Twin engine, a gas tank, a seat, two wheels and a handlebar. That is the basic sum and substance of a motorcycle. But some of the most beautiful bikes these days are barely ridable. I wanted something that was very functional, very basic, very minimal."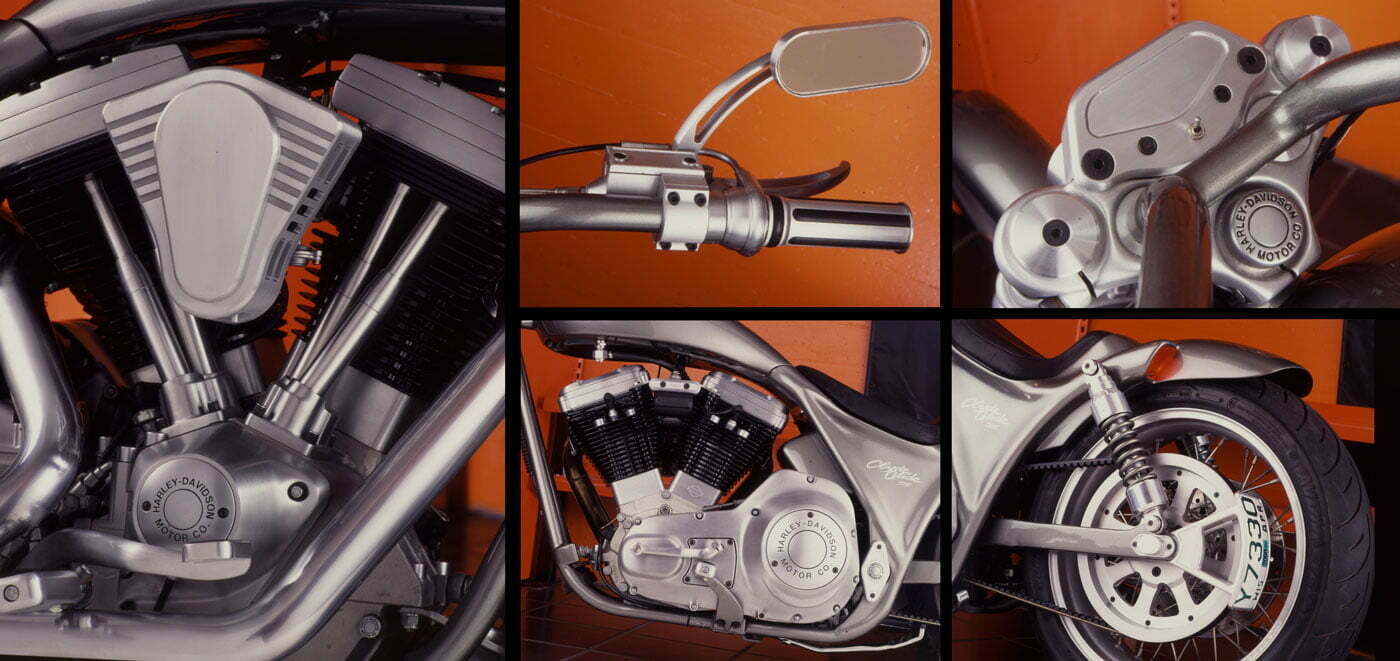 Fessler started out by sending a 1987 FXLR frame to Arlen Ness to be cut, stretched and fitted with a Battistinis gas tank. "Arlen sells some beautiful tanks made by Battistinis, and I wanted one," says Fessler. "They're a little too arched for me, but they have the basic feel of the essential motorcycle, and the teardrop design that I like. So, Arlen stretched the frame for me and put the gas tank on. Then we shipped the bike to Wyatt Fuller, who took over the project from there."
Formerly the owner of Razorback Motor Works in Pompano Beach, Florida, Fuller now serves as Design Consultant for Harley-Davidson, working exclusively for The Motor Company out of his shop in Hickory, North Carolina. He immediately comprehended Fessler's vision and began making a basic motorcycle, but one with its soul and sense of mission left intact, indeed, enhanced.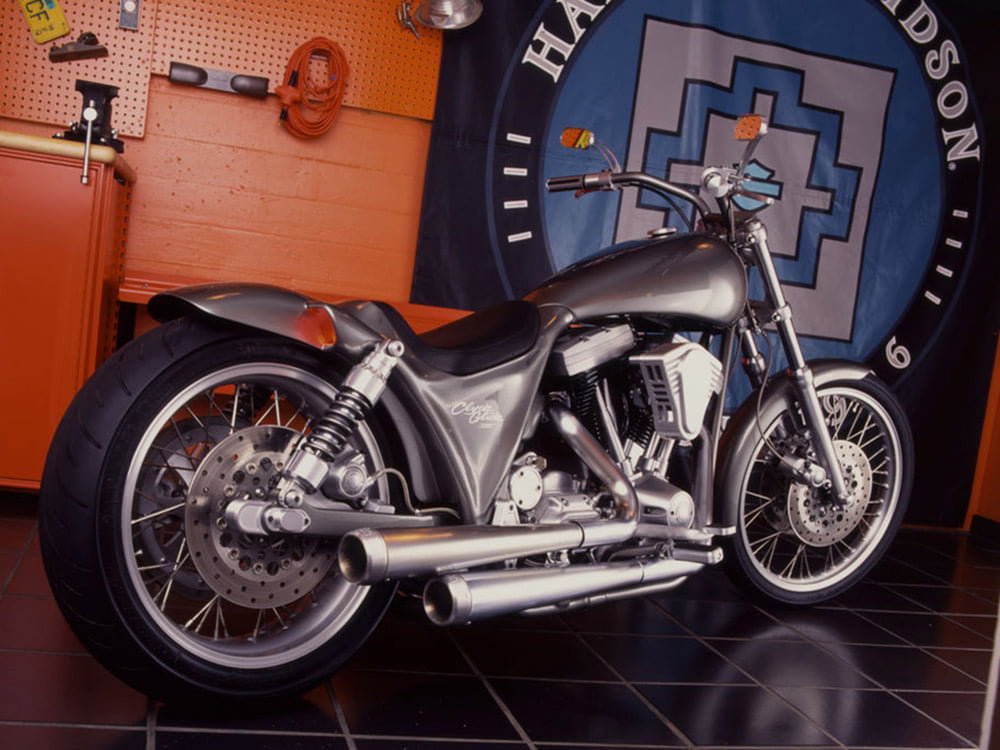 "What you see here is basically all Harley-Davidson," says Fuller. "The only things on the motor that're not stock are the pushrod tubes—an old Razorback design I did for Sumax a long time ago—and the air cleaner. The exhaust pipes came from Denis Manning at Bub Enterprises, and Randy Davis at Davis Trim Shop did the seat. And those two small, high-intensity headlights obviously aren't genuine Motor Company parts. But otherwise, this bike is pretty much a Harley."
Fuller is a big fan of the FXR series, but for this project, the straight look of the frame just didn't work for him. So, as he matter-of-factly puts it, "I just took my hacksaw and whacked off the back of the frame and left the shocks pretty much where they were." He then had some of his NASCAR buddies bend replacement frame tubes to his specs. He also did some other frame-cutting so he could drop the seat way down for a leaner look. After all that hacking was done, he had to use a Buell battery to fit into the smaller space he had created.
Fuller then put a brushed-metal finish on pretty much the entire bike, a technique he had previously used on a Harley prototype. Even the engine got the brushed look. "The motor had been all done up in black-and-chrome before we even got it," recalls Fuller, "so we had to strip off all that paint before we could brush it."
Getting that brushed finish is one reason Fessler asked Fuller to build the bike, affectionately named the "Clyde Glide." The result is striking, and the monochromatic theme is the touchstone of the entire styling exercise. Once Len Courtney in Palm Coast, Florida, ap­­plied a special Glass Kote finish over the brushed metal, cleaning the bike became as simple as wiping it down with a damp rag.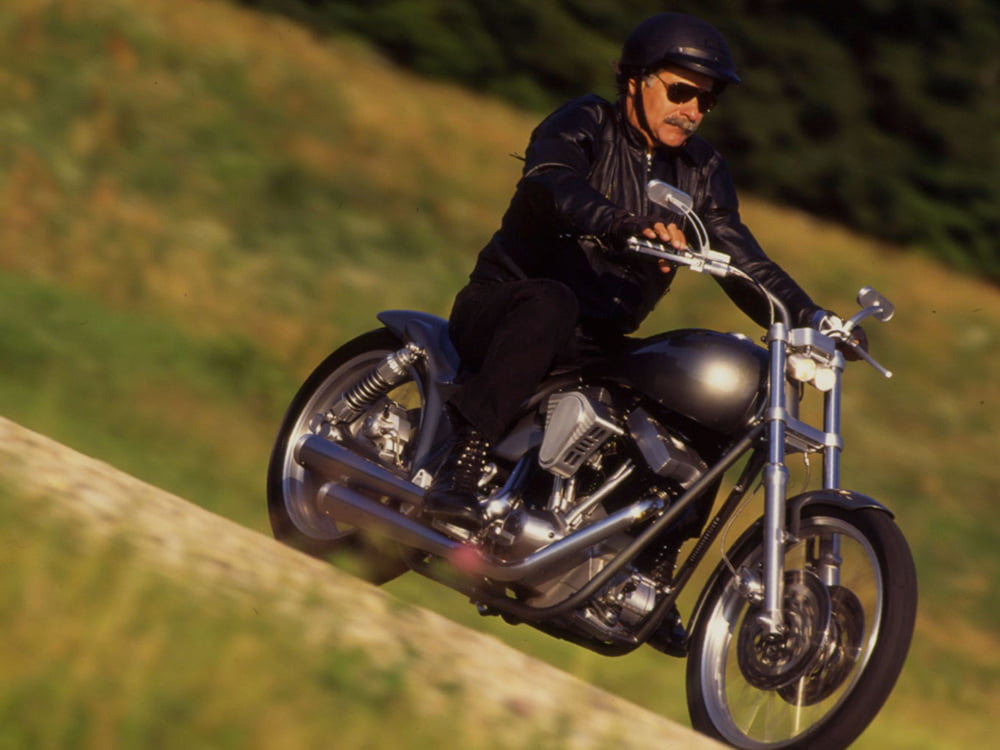 This extensive project has given Fessler a much greater appreciation for the artistry in motion that is created every day in the Juneau Street headquarters where he works. "Building this thing has really increased my already heightened admiration for Louie Netz and Willie G.
Davidson," says Fessler. "For those guys to build and design motorcycles like they do with Big Brother hanging over them, telling them where the taillights have to be, where the directionals have to be and things like that, has to be tough. Then you also have engineering standards and Federal standards you have to adhere to. Willie and Louie don't have the complete freedom to create whatever it is they might envision like all the custom builders do—and even I do. My hat's definitely off to those guys."
And our hat is off to everyone who had a hand in creating Fessler's gorgeous machine. It's a stunning example of what can come from applying some real creativity to basically genuine Harley-Davidson hardware. As the artist said so eloquently, sometimes less is more.
SPEC CHART:
BIKE NAME
Clyde Glide
Owner Clyde Fessler
Milwaukee, WI
BASE MACHINE
1986 FXLR
Designer/Fabricator
Wyatt Fuller
Hickory, NC
| | |
| --- | --- |
| PAINT AND CHROME | |
| Molding | C&H Customs, Nebo, NC |
| Paint | C&H Customs |
| Chroming | None |
| Brushed finish | Wyatt Fuller, Rich Machesney |
| Metal coating | Glass Kote by Len Courtney |
| ENGINE | |
| Year | 1986 |
| Model | FXLR |
| Builder | Dave Gower |
| Displacement | 80 cu. in. |
| Cases | H-D |
| Lower end | H-D |
| Rods | H-D |
| Pistons | H-D |
| Heads | H-D, ported and polished by Don Tilley, Statesville, NC |
| Cam | Crane |
| Valves | H-D |
| Lifters | H-D |
| Ignition | Crane |
| Coils/wire | Crane |
| Carb Stock | Keihin CV, Dynojet jet kit |
| Air cleaner | Fuller |
| Pipes | Bub Enterprises |
| TRANSMISSION | |
| Year | 1986 |
| Type | FXLR |
| Clutch | Screamin' Eagle |
| Primary drive | H-D |
| FRAME | |
| Year | 1986 |
| Make | H-D |
| Type | FXLR |
| Builder | Arlen Ness, Fuller |
| Modifications | 5" stretch; revised rear section |
| FRONT FORK | |
| Year | 1986 |
| Make | H-D |
| Type | FXLR |
| REAR WHEEL/TIRE | |
| Year | 1986 |
| Type | FXRL |
| Make | Fox Low Profile |
| FRONT WHEEL/TIRE | |
| Wheel | Akront rim |
| Tire | Dunlop |
| Tire size | MH90-21 |
| Rim width | 2.15" |
| Brake | H-D |
| ACCESSORIES | |
| Handlebar | FXLR, narrowed 2" |
| Grips | Ness |
| Mirrors | Ness |
| Gas tank | Battistinis |
| Oil tank | H-D, modified by Fuller |
| Front fender | Fuller |
| Rear fender | Fuller |
| Headlight (2) | Laser Star by Weekend Concepts |
| Taillights | Fuller |
| Gauges | None; neutral and oil-pressure LEDs |
| Seat | Davis Trim Shop, Hickory, NC |
| Foot controls | H-D, modified by Fuller |
| Footpegs | Fuller |