Craftsman has been a household name in the tool industry dating back to 1927. When Stanley Black & Decker purchased the Craftsman brand from Sears last year, apparently, the deal allowed Craftsman to continue being manufactured and sold by Sears in its retail outlets, but Stanley would also manufacture its own line of Craftsman tools, which would be sold in retail outlets Lowe's, Ace Hardware, and Amazon. After a recent trip to Baltimore, Maryland, Craftsman unveiled more than 1,200 new tools being launched in phases over the next year. One thing is clear: Craftsman (whoever is making the stuff) has big plans for all you DIYers out there.
For those who like to tinker on their bikes in the garage, expect some great new products in the mechanic and automotive/powersports categories, as well as some great storage and organization solutions. Of course, Craftsman will continue offering the entire spectrum of tools that any hobbyist can appreciate (bikers still need to mow their lawns, after all), from lawn and garden equipment, hand tools around the house, and much more.
"For generations, Craftsman has been the brand that helps consumers reach their moment of achievement," said Allison Nicolaidis, chief marketing officer, global tools and storage at Stanley Black & Decker. "With the revitalization of the brand, we're focused on delivering superior quality tools and products to continue this tradition, like never before. Additionally, it will be easier than ever for our customers to get the tools trusted for generations."
In addition to an accomplished line of product offerings, customers will also notice an updated brand identity with an updated Craftsman logo and more vibrant color scheme. Tools and products will appear in any combination of these colors, conveying a consistent style.
Okay, now on to the good stuff: tools! Craftsman's mechanic's tools continue the legacy of reliable, high-performance tools automotive/powersports enthusiasts and professional technicians have come to expect. I remember the first set of Craftsman tools I received from my grandpa that he'd had in his arsenal probably since the company's early days. My love affair of tools began around 5 years old. I was in awe of how a ratchet worked, and of course its sweet sound was very intriguing. I'd get so close to my grandpa when he'd use the ratchet he would constantly tell me to "get back." In fact, I still have a scar under my left eyebrow from the day my grandpa was piecing together some furniture when the ratchet slipped out of his hand and connected with my eye socket. A few stitches later, he apologized by giving me that exact ratchet set, which I still have to this day.
Here are a few mechanic and automotive tools from the product presentation, which was comprised of more than 600 unique offerings: 121-piece Gunmetal Chrome Mechanics Tool Set (CMMT12033), 159-piece Mechanics Tool Set (CMMT12025), and 3/8-inch Drive 120-tooth Gunmetal Chrome Ratchet (CMMT82011).
"The Craftsman brand has been an icon in the automotive space for decades," said Tom Chang, director of product management at Craftsman. "With our new mechanic's tool offerings, customers will see that we're delivering classic Craftsman quality and innovation building on our legacy of instilling pride and accomplishment with our customers."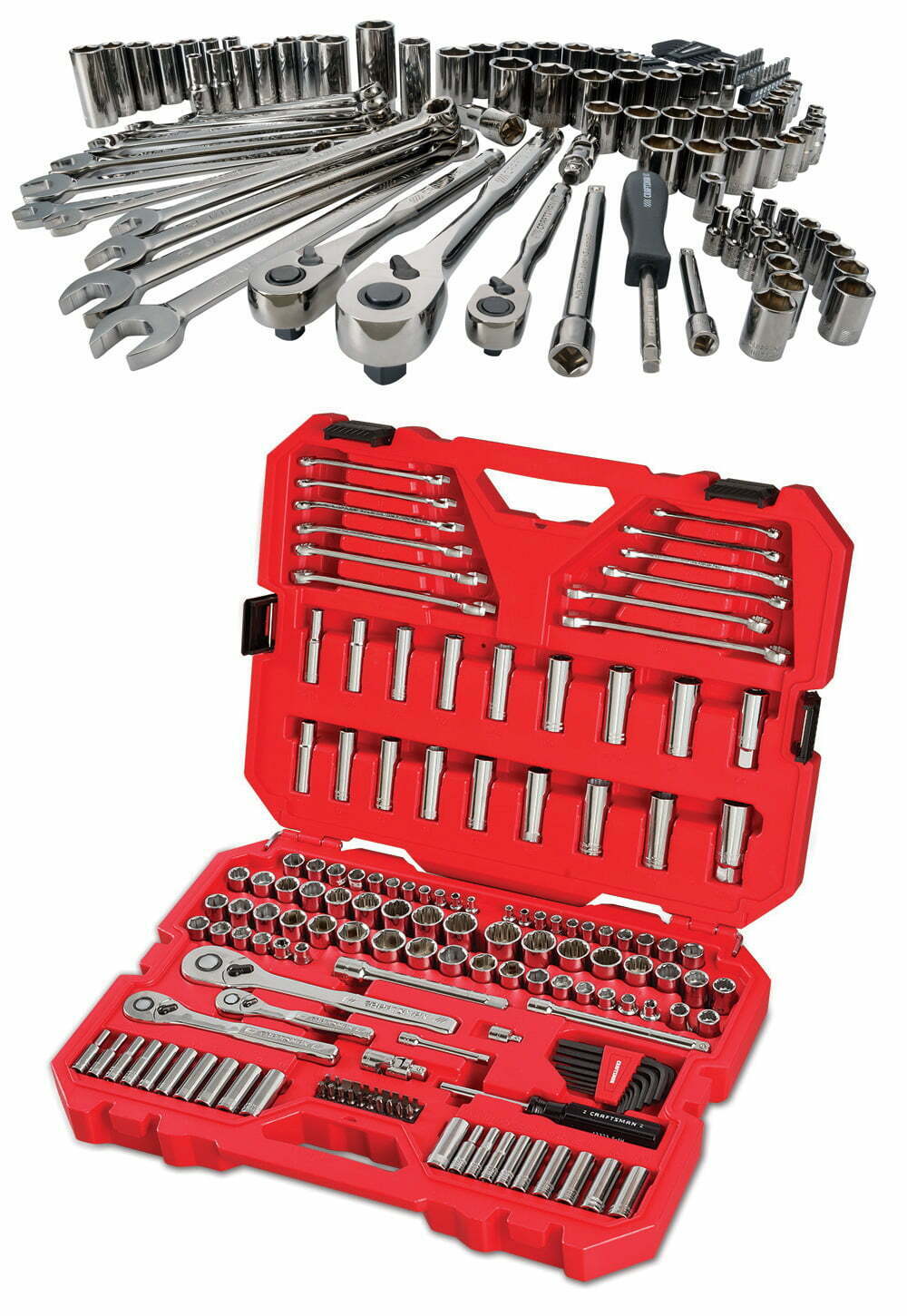 The 121-piece Gunmetal Chrome Mechanics Tool Set features a 120T dual pawl ratchet for easy access in tight spaces, and the gunmetal chrome finish helps provide corrosion resistance. You also get long panel anti-slip wrenches for solid grip on tough fasteners, and everything fits nice and snug in the included durable carrying case with metal latches and removable metal hinges. Backed by the Craftsman full-lifetime warranty with hassle-free replacement.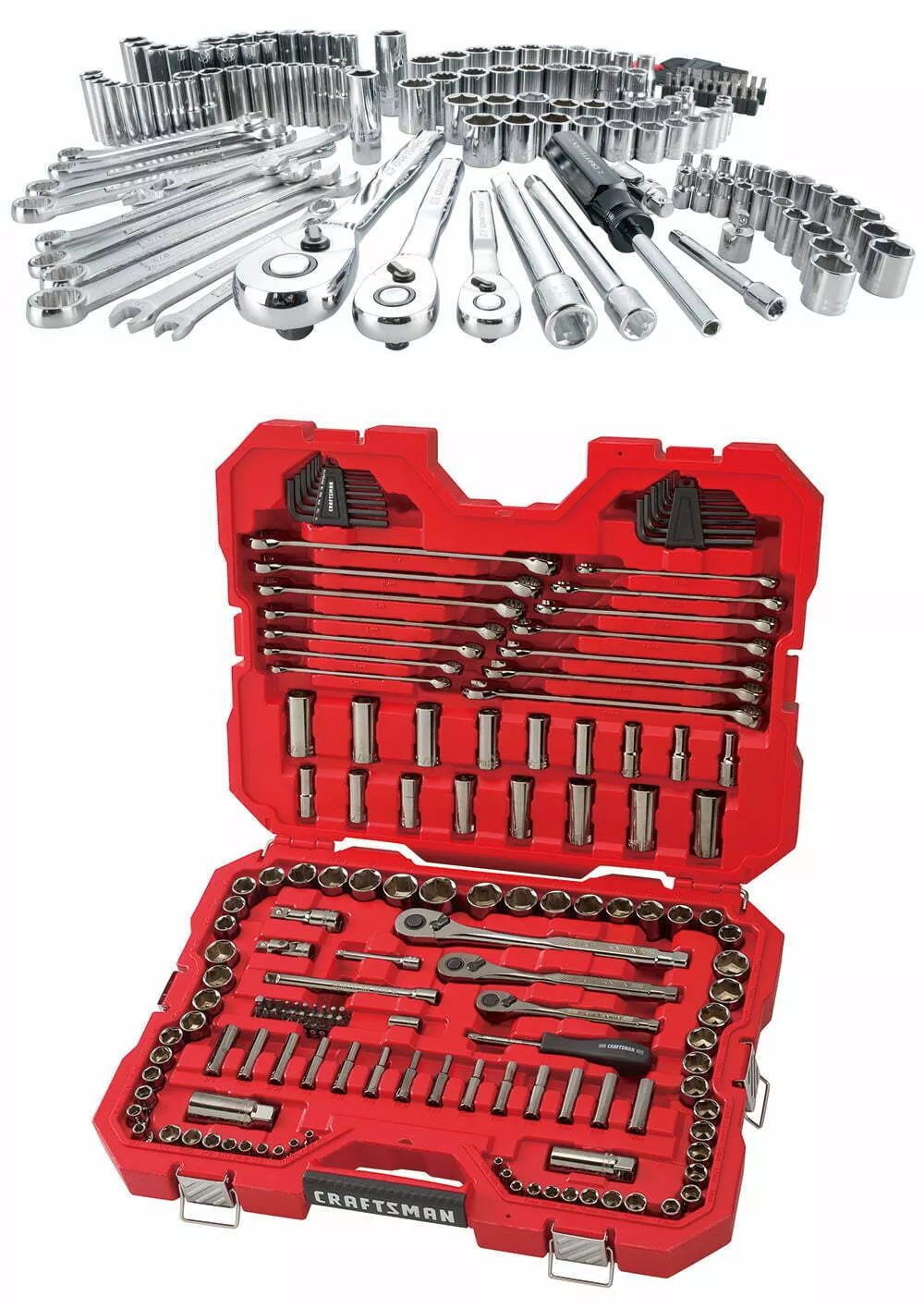 The 159-piece Mechanics Tool Set includes three 72-tooth pear head ratchets, a long-lasting carrying case with removable hinges, and a full complement of SAE and metric sockets, various driver bits and driver, and SAE and metric combo wrenches.
One of the favorites from the visit was the buttery-smooth 120-tooth count dual pawl ratchet, which is sleek enough to squeeze into difficult and narrow spaces. Finished in a sleek gunmetal chrome to resist corrosion, the 120T is a must for any mechanic.
For more information about the relaunch of the Craftsman brand, including videos, product specifications, and where to buy, visit craftsman.com.