As a kid all I wanted to do was wheelies. Almost 10 years of traveling and performing stunt shows I burned out of the sportbike scene in the late 2000s and transitioned to V-twins. I was always stoked how Jason Pullen rode the Harley and how much fun he had while riding it. I built a couple of purpose-built stunt Sportsters after him but knew that I needed to get back to enjoying riding my bike—something I could still be an asshole on and ride with the homies.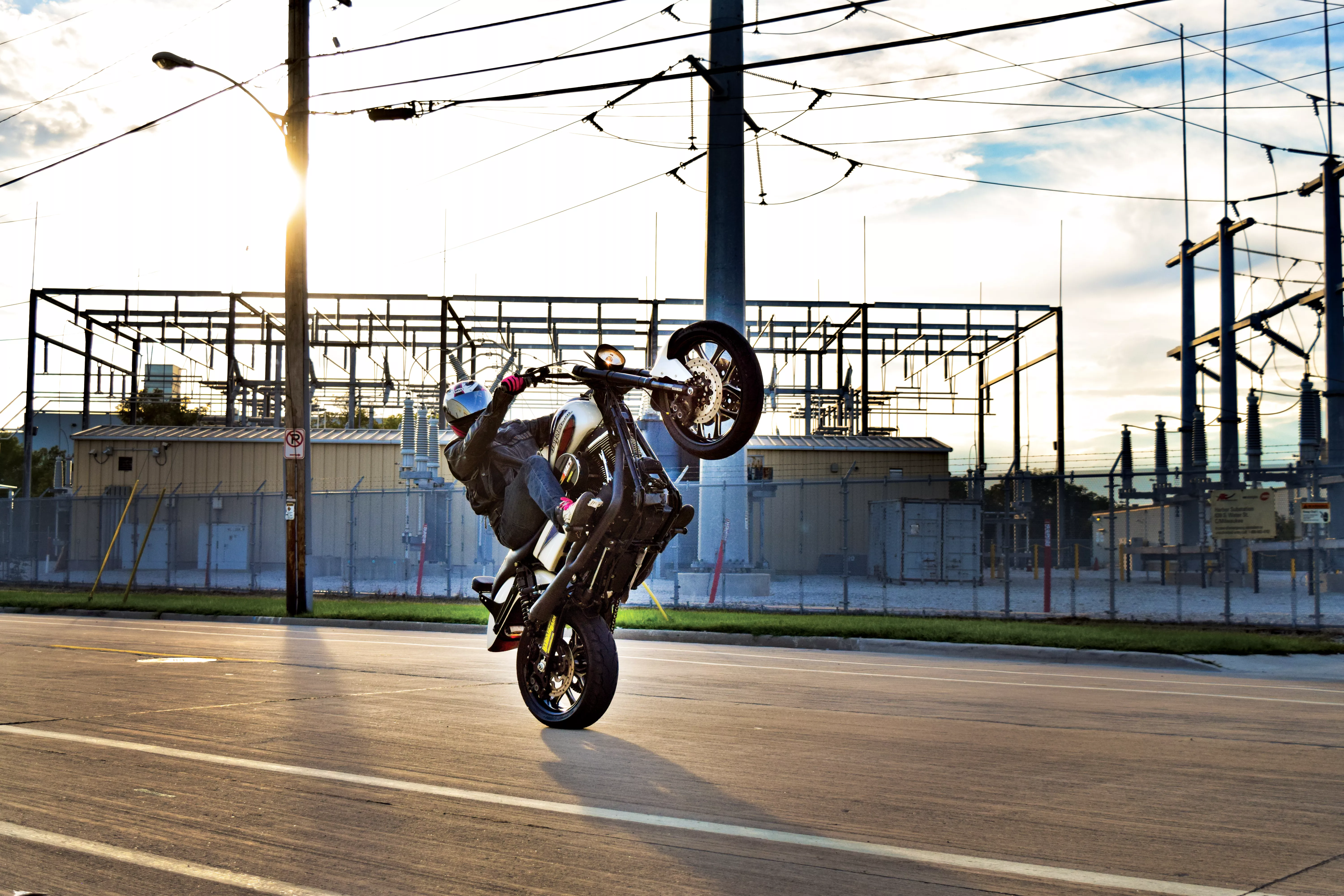 Day one of the Hot Bike Tour in 2014 I met Satya Kraus. I couldn't stop staring at his bike; it was like no other Harley I had ever seen. It incorporated all the rad sportbike components I wanted and had an all-around sport look to it. Inverted forks and brakes on Sportster stunt bikes wasn't new, but I had never seen a setup like his. Kraus was very helpful throughout my entire build.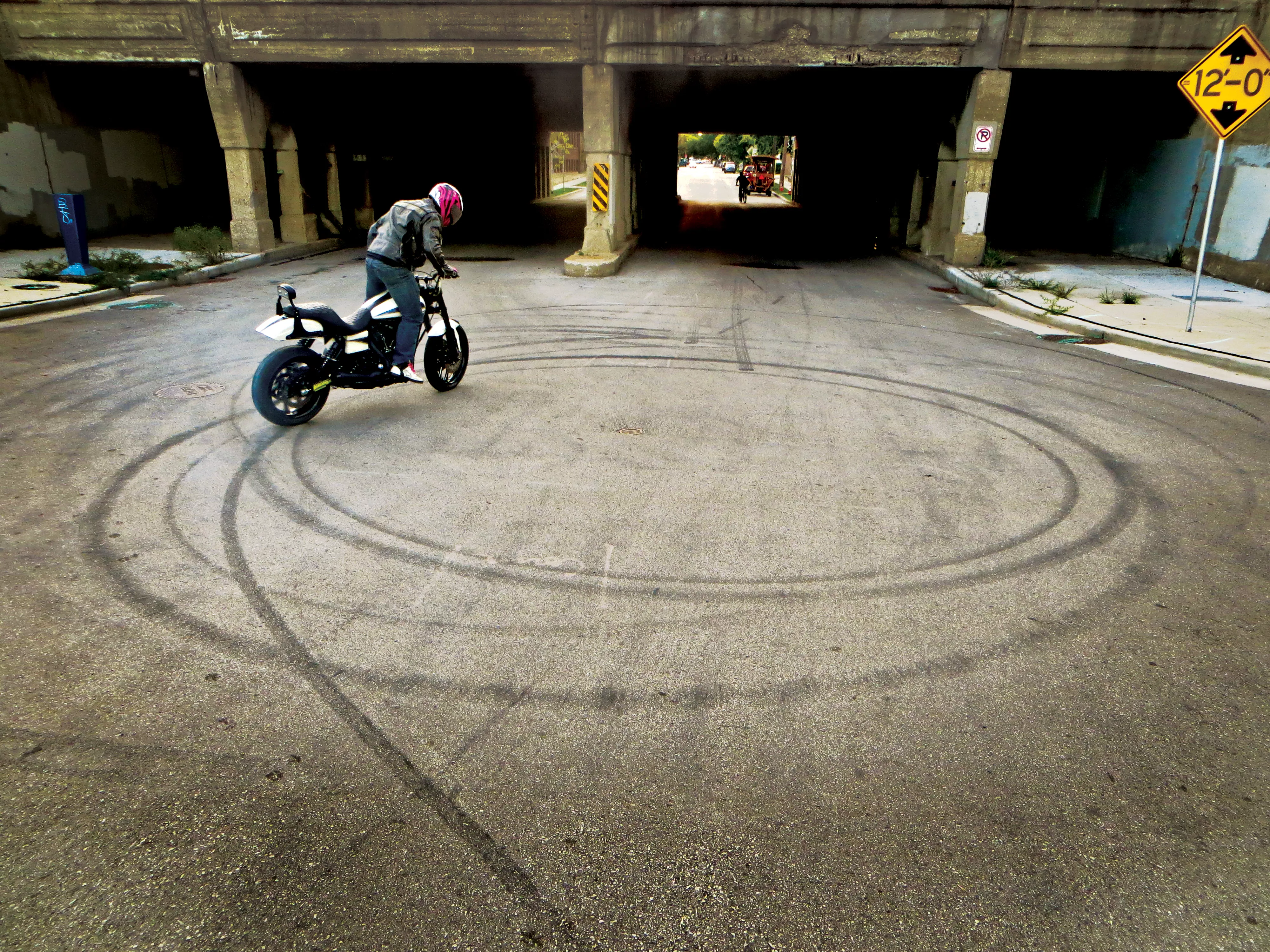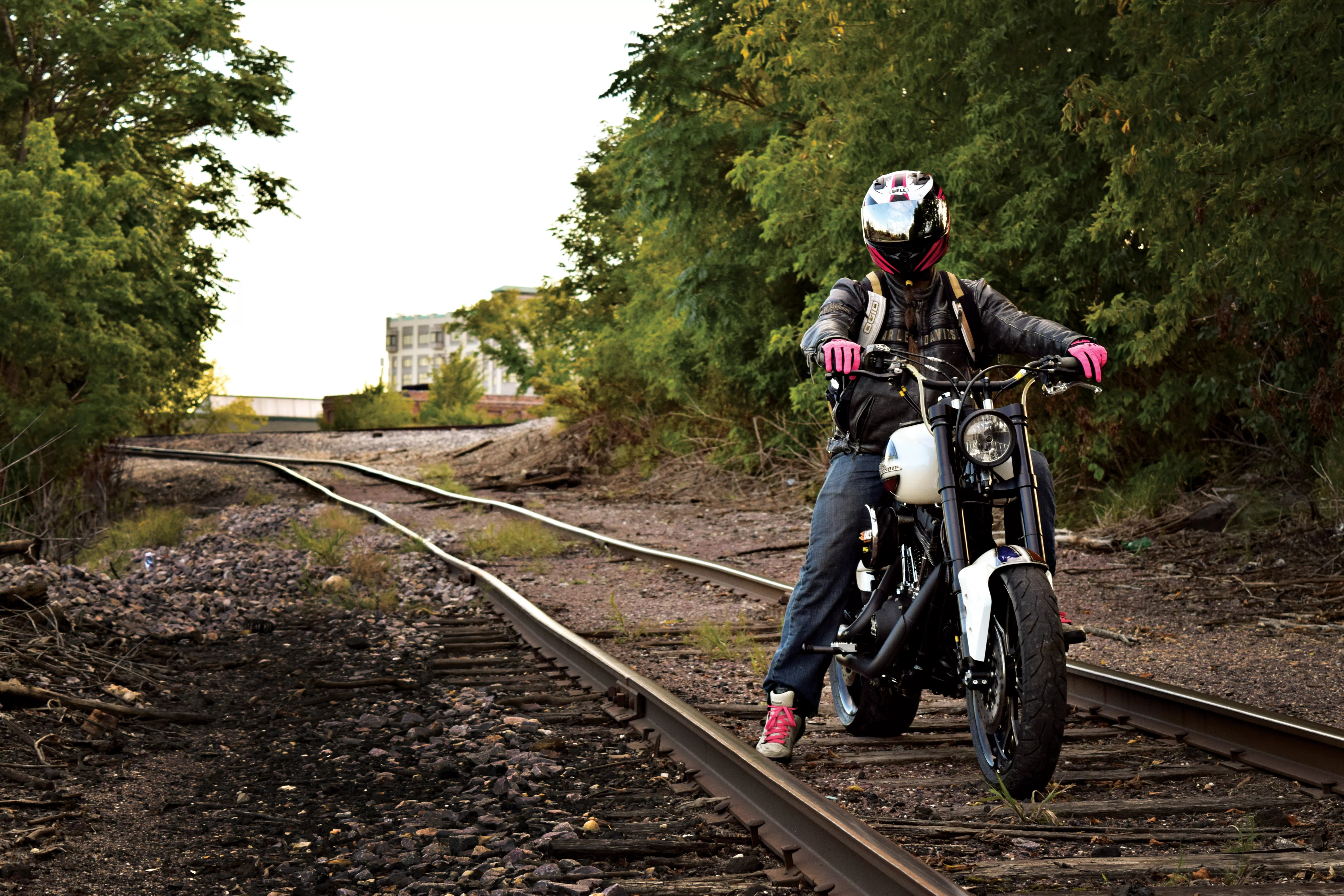 I then hopped on the "Trend Train" and decided to build a Dyna. I wanted a purpose-built machine that I could jump curbs, ride wheelies, and rip multi-gear burnouts. I sourced a 2006 FXDL from a barn in the Pittsburg, Pennsylvania, area. When I got back and started to tear it down things didn't go as hoped. The bike had been in a front-end collision, and the damage was worse than expected.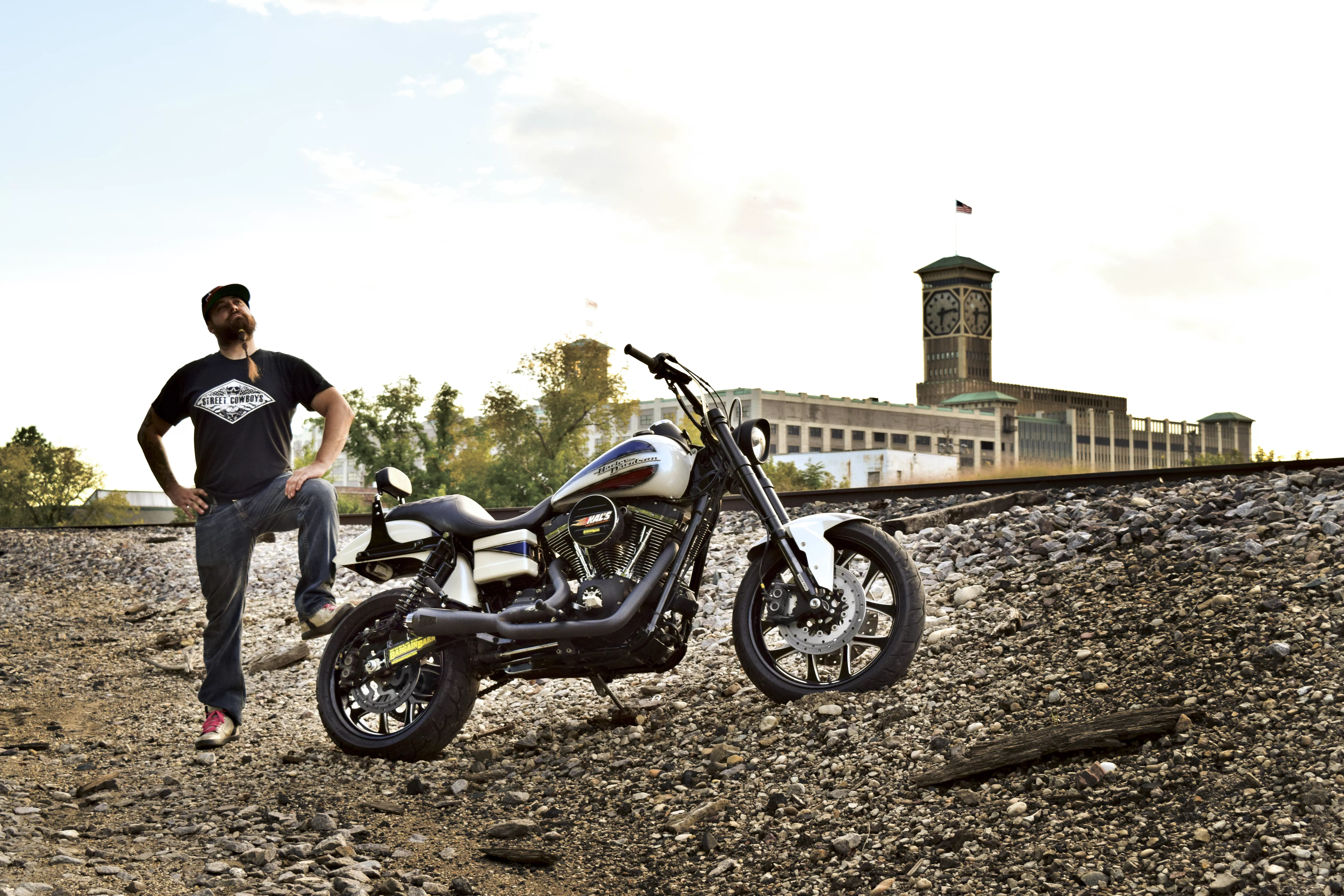 The frame was too twisted to straighten, so I headed to Hal's Harley-Davidson to purchase a new one. While at Hal's I dropped the motor off in the Speed Shop. They sent the flywheel and heads to Revolution Performance to weld and true the crank and give the heads a stage two treatment. The cam chest was upgraded with Feuling camplate, high-capacity oil pump, lifters, and Reaper 574 cams. We also upgraded the cam chain tensioner, and the displacement was bumped up to 97 inches. Two Brothers Racing supplied the soundtrack with a 2-into-1 pipe. Finally, a Dynojet Power Vision managed fuel and maximized power.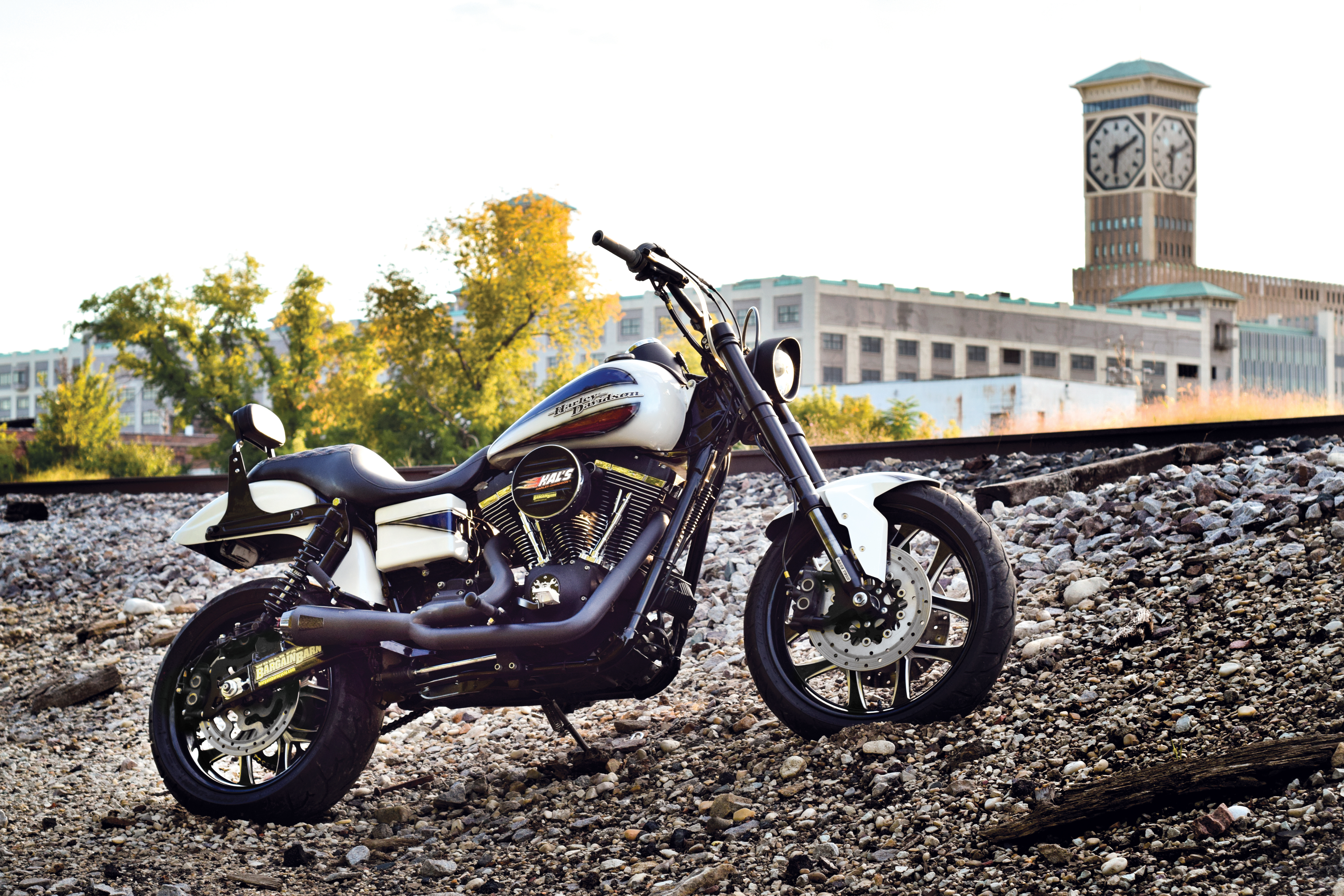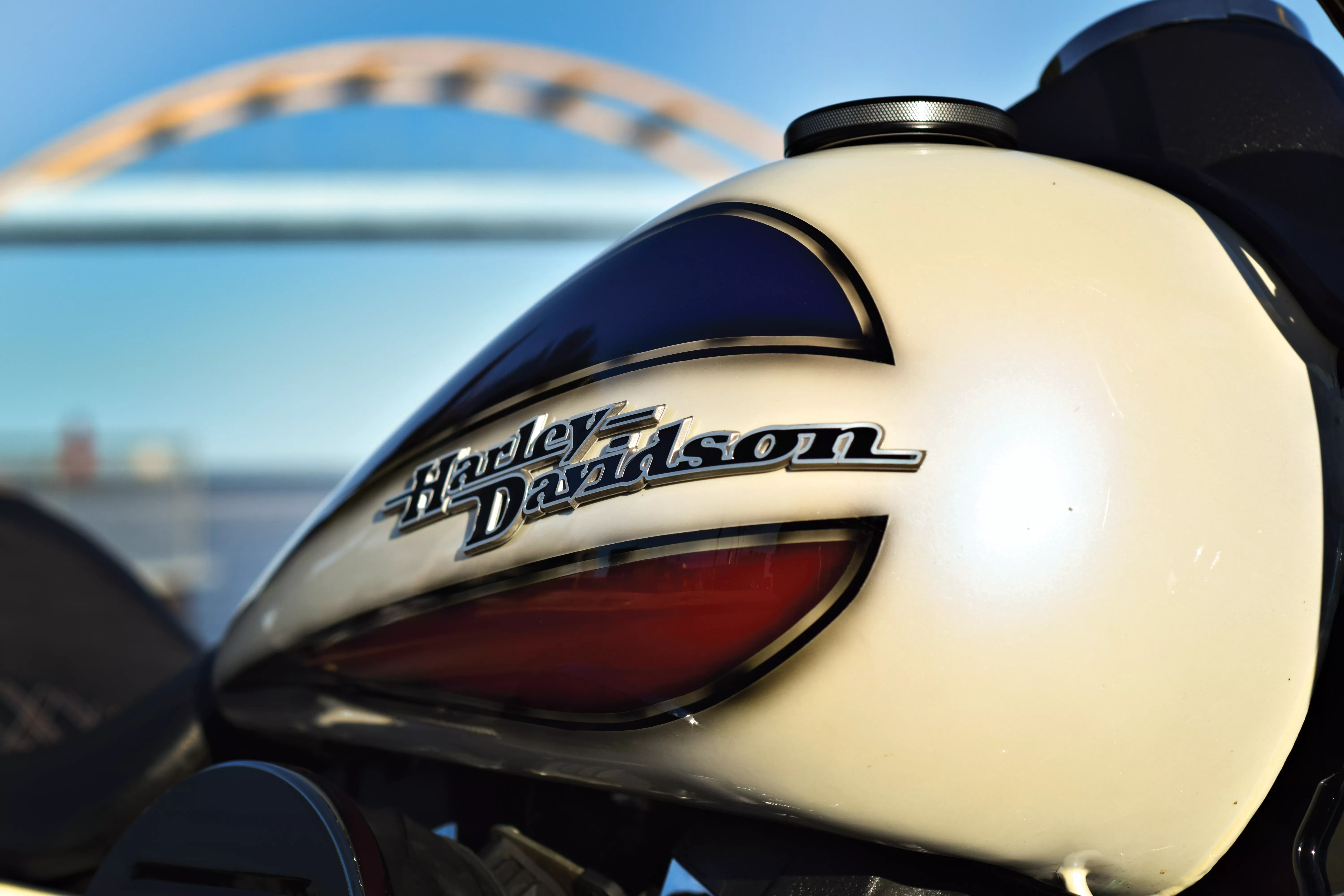 Kraus trees, Race Tech G6 forks, and G3 rear shocks were built and tuned by Jimmy Wood from Moto Station. C&S Custom built an all-aluminum swingarm to increase the handling of the bike. A set of Ride Wright Chicago Hustler wheels wrapped in Pirelli Night Dragons and Thrust Sprockets were used for the final drive. Brakes came from Kawasaki ZX10R Radial Calipers front and rear with a Kraus Dual Caliper bracket and HEL Performance brake lines to stop as fast as possible. With this setup we had the perfect balance of power, handling, and braking in one.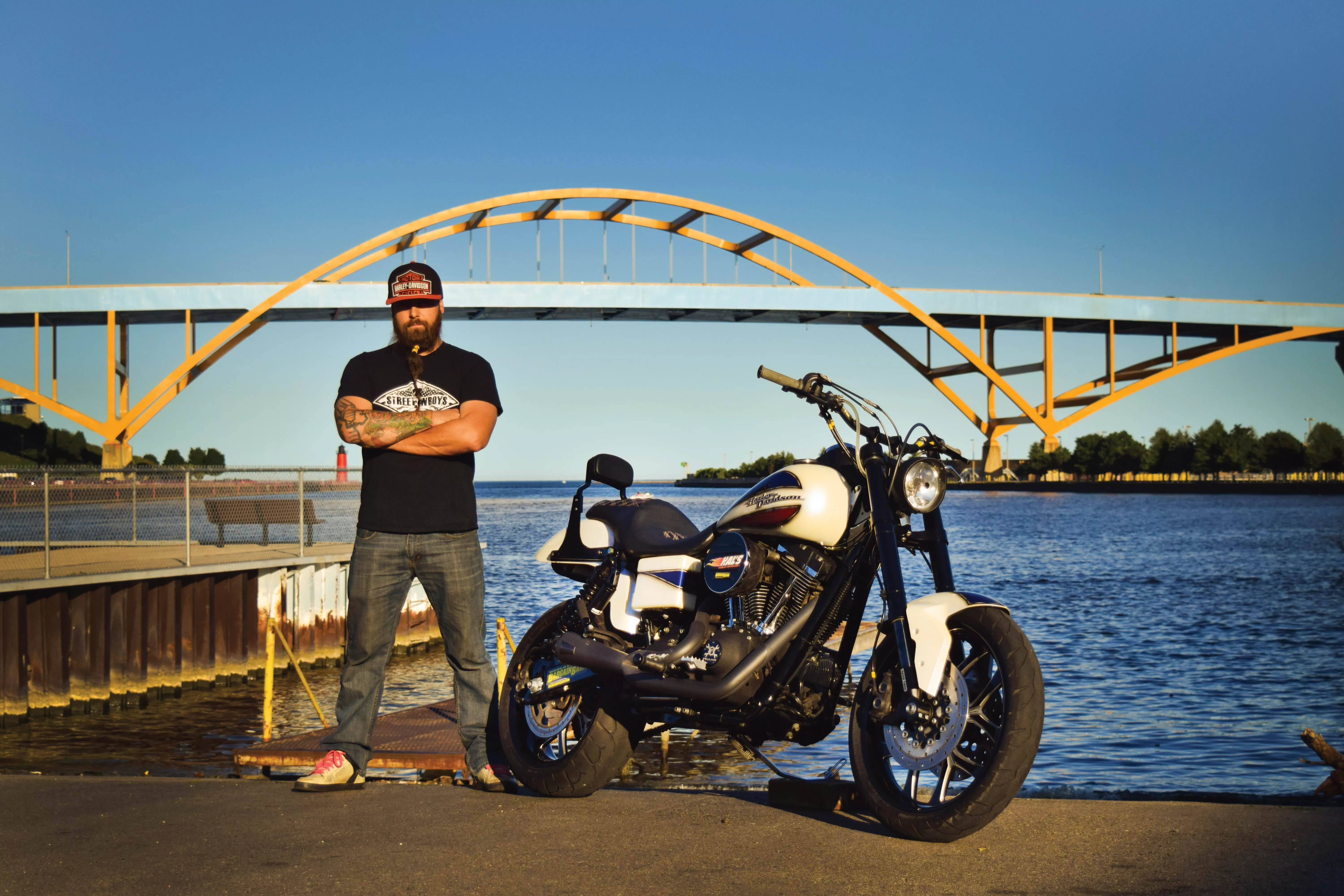 To save weight we ran a Shorai battery. Hammerhead shifter and brake levers also help save weight and add that custom look. I always loved the original Dyna paint scheme and the 2006 Anniversary Red, White, and Blue. SpeedFreak Motorsports put their spin by adding pearl and increasing the size of the graphics. My good buddy JBseatz made a custom seat that complemented the paint.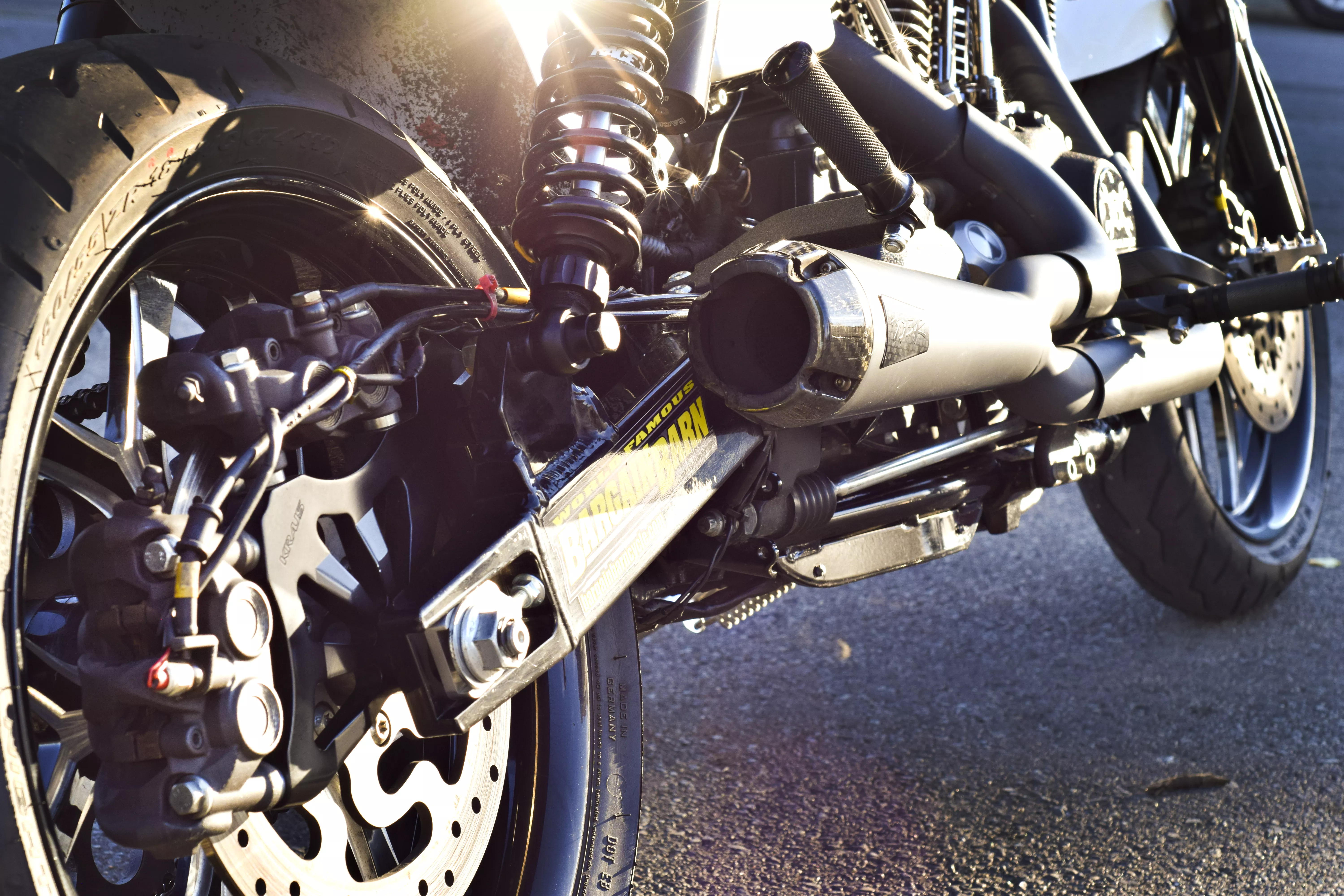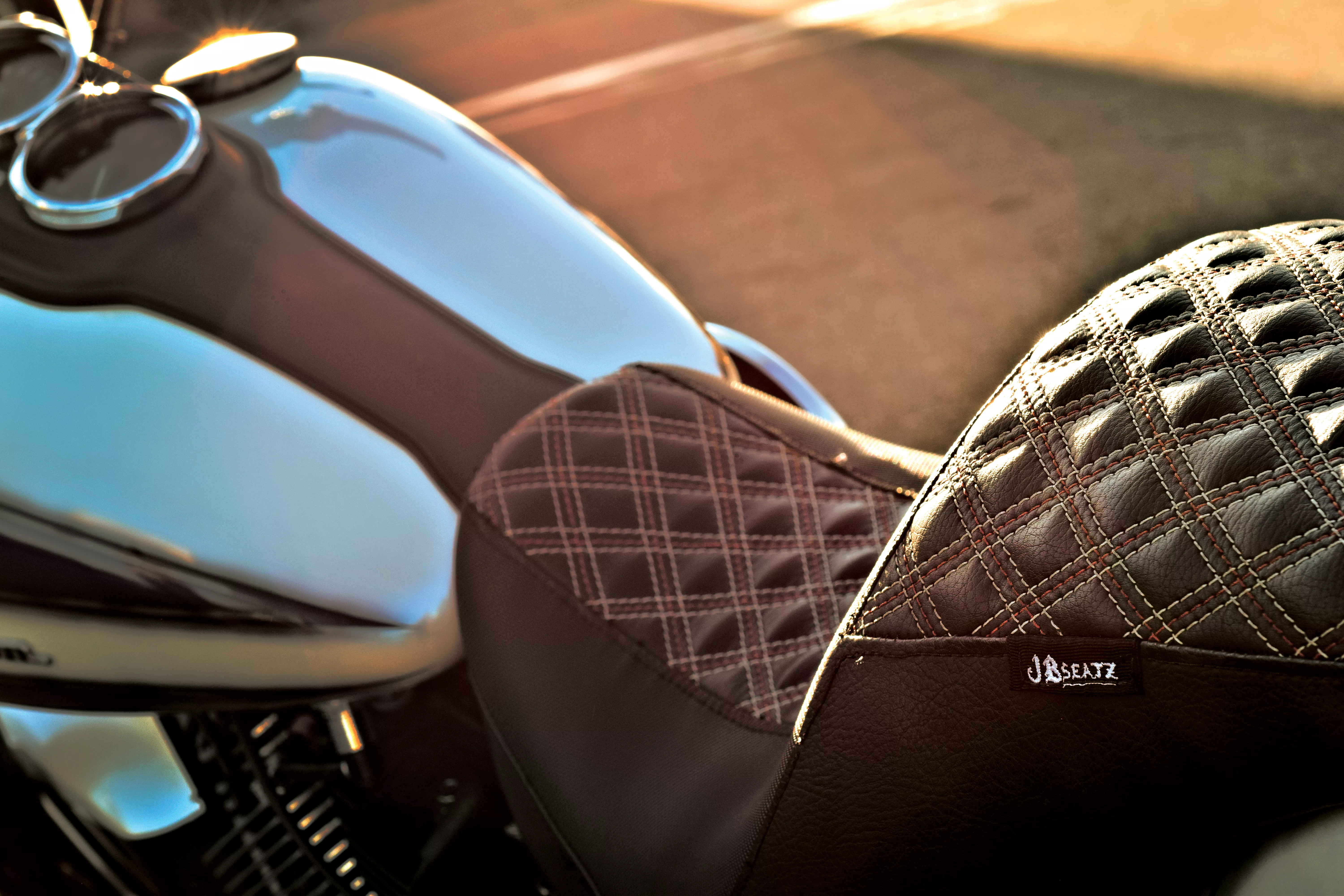 When it was all said and done the bike was exactly what I had dreamed of. It was a purpose-built machine with show and go. So far we have done five shows and three stunt shows over a 2,200-mile weekend with my group the StreetCowboys.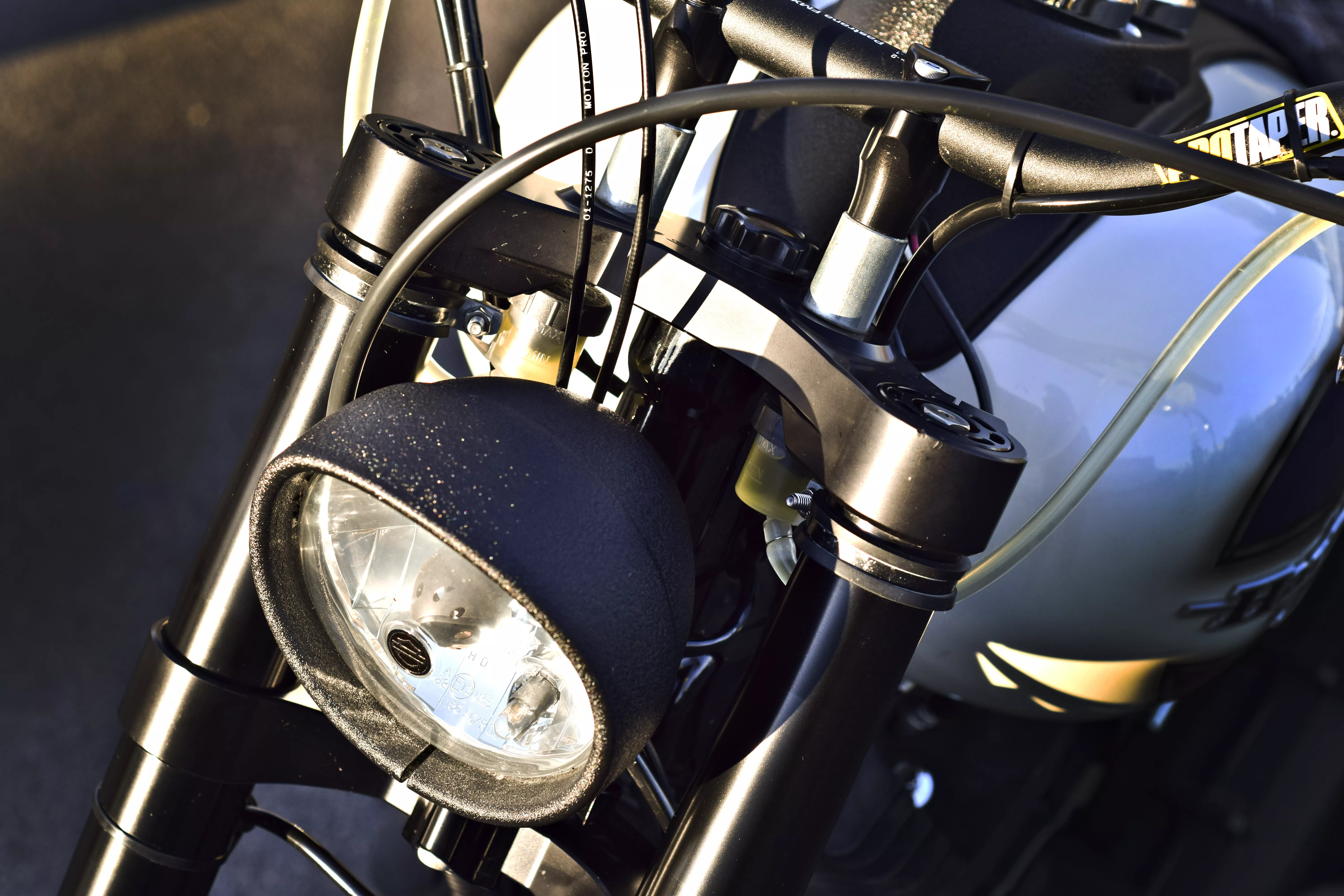 I couldn't have done it without the help from so many. Thanks to Hot Bike magazine, Holt, Ed, John Z., my hot girlfriend Emily Lynn Richter, Matt Johnson from Unaffiliated Werk Shop, Satya Kraus from Kraus Motor Co, Hal's Harley-Davidson, Ryan Suchanek from the World Famous Bargain Barn, Andrew at Revolution Performance, Ride Wright Wheels, Pirelli, Race Tech, SpeedFreak Motorsports, Shorai Power, Racing 905, HEL Brake Lines, Thrust Sprockets, C&S Customs, JBseatz, Hammerhead Designs, Two Brothers Racing, Moto Station, and all the builders out there who are more concerned what their bikes are doing while they are moving than what they look like sitting still.