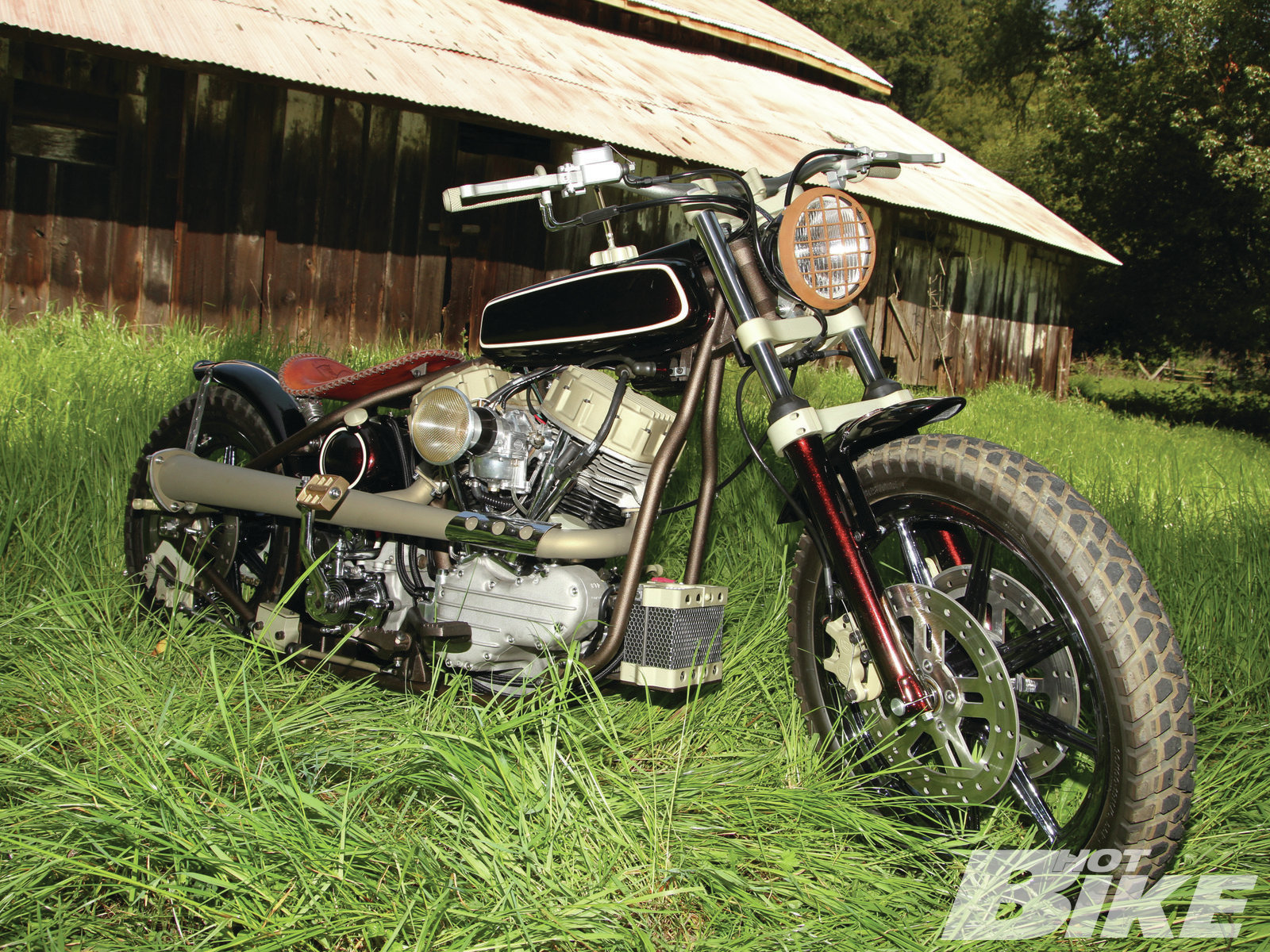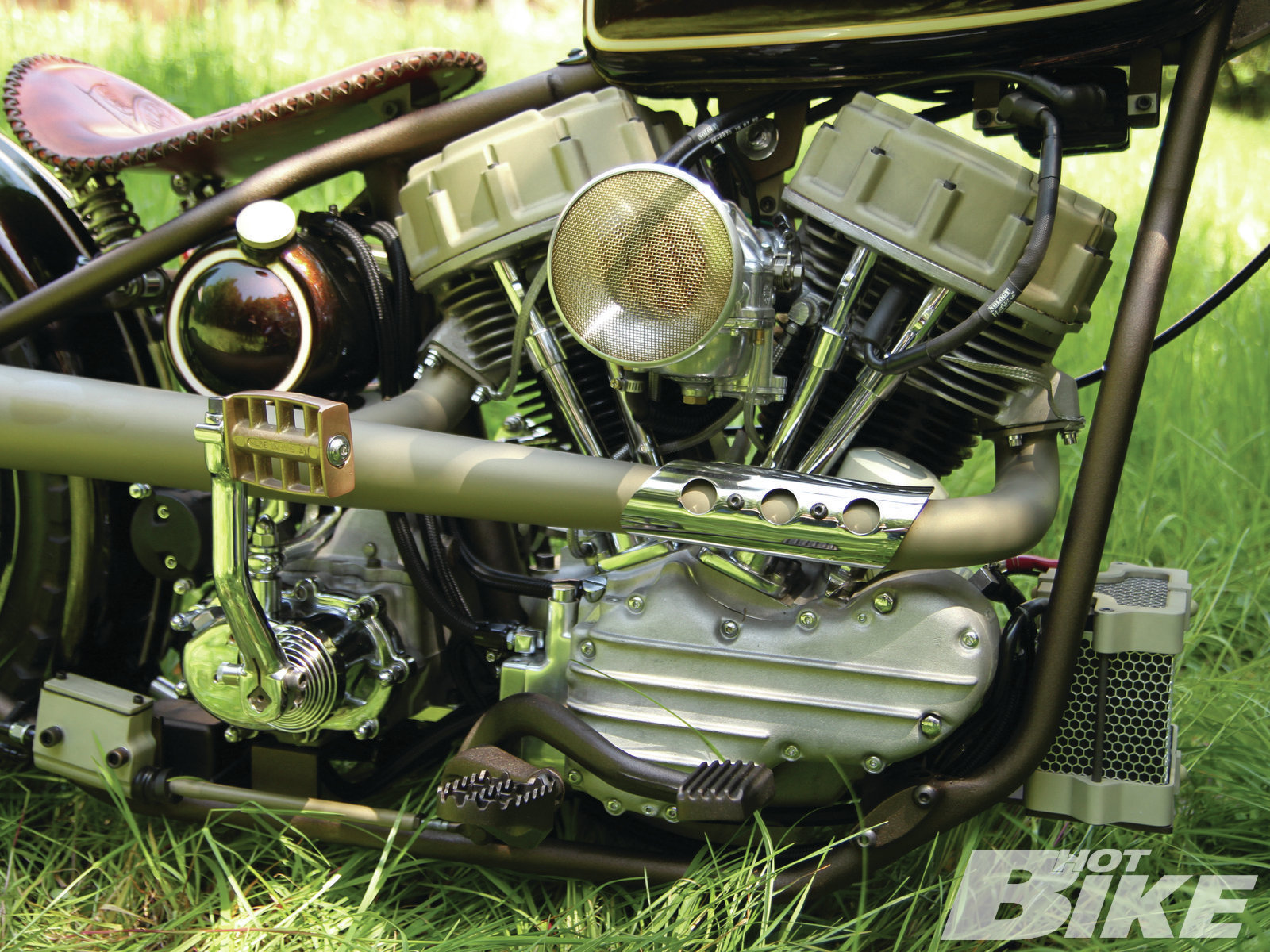 Back in March of this year we attended the Custom Chrome International Bike Show Series North American Championship in Santa Clara, California. For being a rainy and cold weekend we were really impressed with the amount of incredible bikes that were on display. Needless to say we walked away from that show with several future bike features lined up. One of those bikes, this tough little Panhead built by Kirk Taylor of Custom Design Studios (CDS) out of Novato, California, happened to catch the judge's attention as well as it stole the show and took top honors in the Championship Class. From the moment we laid eyes on this badass ride, we knew it would make for an interesting cover bike. After the photoshoot we quizzed Kirk about his dirt-inspired Pan, which he dubbed "The Dirty Boot."
HB: Why did you build this bike?
_**KT: **The original idea came from a thought I had a while back, "What would you run at the Sacramento mile in 1955 (if it existed) if you weren't running a KR Sporty or a Triumph?" Most of my early riding experience was in the dirt in the '70s, so naturally, a lot of those Enduro influences started to creep in. I believe the next "thing" will be more towards what I call the hybrid type of motorcycle, where you'll see a blending of different manufacturer's components and styles of bikes. I think most riders started in the dirt on mini bikes and graduated into rice rockets. As they got older and mellowed out, they started jumping on American V-twins. So, the progression is along the lines of blending all the best aspects together to create a bike that handles well, stops great, and is drop-dead sexy. I think Roland Sands has great vision towards that concept, but we need to think more along "blue collar" lines. _
HB: What was the most challenging part of the build?
_**KT: **This was a personal project that was built one piece at a time over a five-year period. We build and service bikes for our community, so my stuff has to come last. So finding the time to finish the bike, money permitting of course, was tough. Many of the parts I used were parts I had laying around the shop or were parts I used for displays. _
Conveying the idea I had for the seat to Duane Ballard was also pretty challenging. The name "The Dirty Boot" came from a customer of ours that used to race cars in the '60s (that was his racecar's name). For me the name conjured up this image I remembered of an old WWII war bonds poster asking people to buy war bonds and stomp out the axis of powers' domination over Europe. Duane nailed it. Getting the color right on the anodizing so it looked like a military spec coating was also pretty tough but Manny at 2 Dye 4 Performance Coatings/Anodizing, did a fine job as well.
<div class="st-block quote text-
Notice: Undefined index: st_text_align in C:laragonwwwhotbike-importblocksquote.php on line 1
">
This was a personal project that was built one piece at a time over a five-year period. We build and service bikes for our community, so my stuff has to come last.
HB: Tell us about some of the custom or special parts on this bike:
_KT: Bill Dodge, owner of Bling's Cycles, donated the gas tank after I told him about losing out on a similar one on an eBay auction. That's how most of my projects go. I start with a loose idea and blast on down that road. I used Pro Taper bars and ISR controls featuring Eric "The Iceman's" prototype quarter throttle grips and Ryan Boyd's risers. The front forks are modified 35mm units with Race Tech's Gold Valve Emulators and springs. The wheels are of the H-D nine-spoke variety, but have been treated with a Pressurized Vapor Dispersion (PVD) coating in a Black Pearl finish and wrapped with a set of Bridgestone Trail Wing tires. I used a BDL 2-inch beltdrive with electric start and modified the beltdrive to accept FXR mid controls. I also added some mesh screen from Moose Racing to the beltdrive to keep debris out. That same mesh was added to the modified Alloy Art battery box up front as well. The FXR mid-mount controls were drilled and lightened to support the motocross bear-trap–style footpegs. _
_The fender struts are CDS I-beam style with hotrod holes drilled in them to make them lighter. All the wiring and cables/lines were routed externally and ran through fishing pole guides that were welded to the frame. The powerplant is an 88ci Pandemonium engine from Custom Chrome with STD cases and heads topped with a set of Custom Cycle Engineering cast finned pan covers. Most of the chrome has been brushed and most of the aluminum was bead-blasted and anodized to create a military spec finish. The frame was powdercoated in a bronze texture coat finish. And the paint is from PPG's Vibrance line and is called Rattlesnake. Depending on the light it does a three-color shift between root beer, green, and gold pearls. _
I'm known for building primarily clean, good-looking, traditional-style bikes, but I've been expanding my horizons, or getting out of my comfort zone, so to speak. Besides, who wants to build the same bike over and over? You encounter bumps and detours that change the course, but that's part of the process. You adapt, improvise, and rise to the challenge. That's what gives the bike and builder their character. HB
Specifications
| | |
| --- | --- |
| **Bike | Owner Kirk and Lisa Taylor** |
| Shop Name | Custom Design Studios (CDS) |
| Shop Phone | (415) 382-6662 |
| Shop Website | customdesignstudios.com |
| Year/Make/Mode | '11/CDS/Dirty Boot |
| Fabrication | Kirk Taylor |
| Assembly | Kirk Taylor and Mike Miller |
| Build Time | Slow Burn |
| | |
| Engine | |
| Year/Manufacturer | '06/CCI-RevTech |
| Type/Size | Pandemonium Panhead/88ci |
| Builder | CDS |
| Cases | STD |
| Cylinders | RevTech |
| Heads | STD |
| Rocker Boxes | CCE Finned |
| Carb | S&S Super E |
| Air Cleaner | CDS "Cool Unit" |
| Exhaust | CDS-Lake Pipes |
| | |
| Transmission | |
| Year/Manufacturer/Type | '72/H-D/Four-speed |
| Case | H-D |
| Clutch | BDL |
| Primary Drive | BDL 2-inch Belt |
| | |
| Frame | |
| Year/Manufacturer | '05/CDS Wishbone |
| Rake | 32 degrees |
| Stretch | None |
| | |
| Suspension | |
| Manufacturer Front | H-D 35mm Narrow glide |
| Length | 2 inches under |
| Triple Trees | GMA |
| Manufacturer Rear | Chopper Shox |
| Swingarm | None |
| | |
| Wheels, Tires, Brakes | |
| Manufacturer Front/Typ | H-D/Nine-Spoke Mag |
| Size-Height/Width | 19x 2.5 |
| Tire/Size | 19/90mm Bridgestone Trail w=Wing |
| Caliper | Dual PM four-piston |
| Rotor | Dual PM 11.5-inch |
| Manufacturer Rear/Type | H-D/Nine-Spoke Mag |
| Size-Height/Width | 16x 3.5 |
| Tire/Size | 16/120mm Bridgestone Trail Wing |
| Caliper | PM four-piston |
| Rotor | PM 11.5-inch |
| | |
| Finish/Paint | |
| Color | PPG Vibrance Rattlesnake |
| Painter | CDS-Kirk Taylor |
| Graphics | Kirk Taylor, Courtney Schamach Pinstripes |
| | |
| Accessories | |
| Front Fender | CDS |
| Rear Fender | West Eagle Aluminum |
| Fender Struts | CDS Hot Rod |
| Gas Tank & Cap | Indian Enduro/Bill Dodge Cap |
| Oil Tank | CDS Speedway Oil Tank |
| Handlebars | Pro Taper |
| Hand Controls | ISR |
| Foot Controls | CDS, FXR Mid Controls |
| Footpegs | Bear Trap Motocross |
| Headlight | Carbon Fiber w/rock guard |
| Taillight | RSD/CDS Vintage |
| License Mount | CDS Vintage |
| Seat | Duane Ballard |