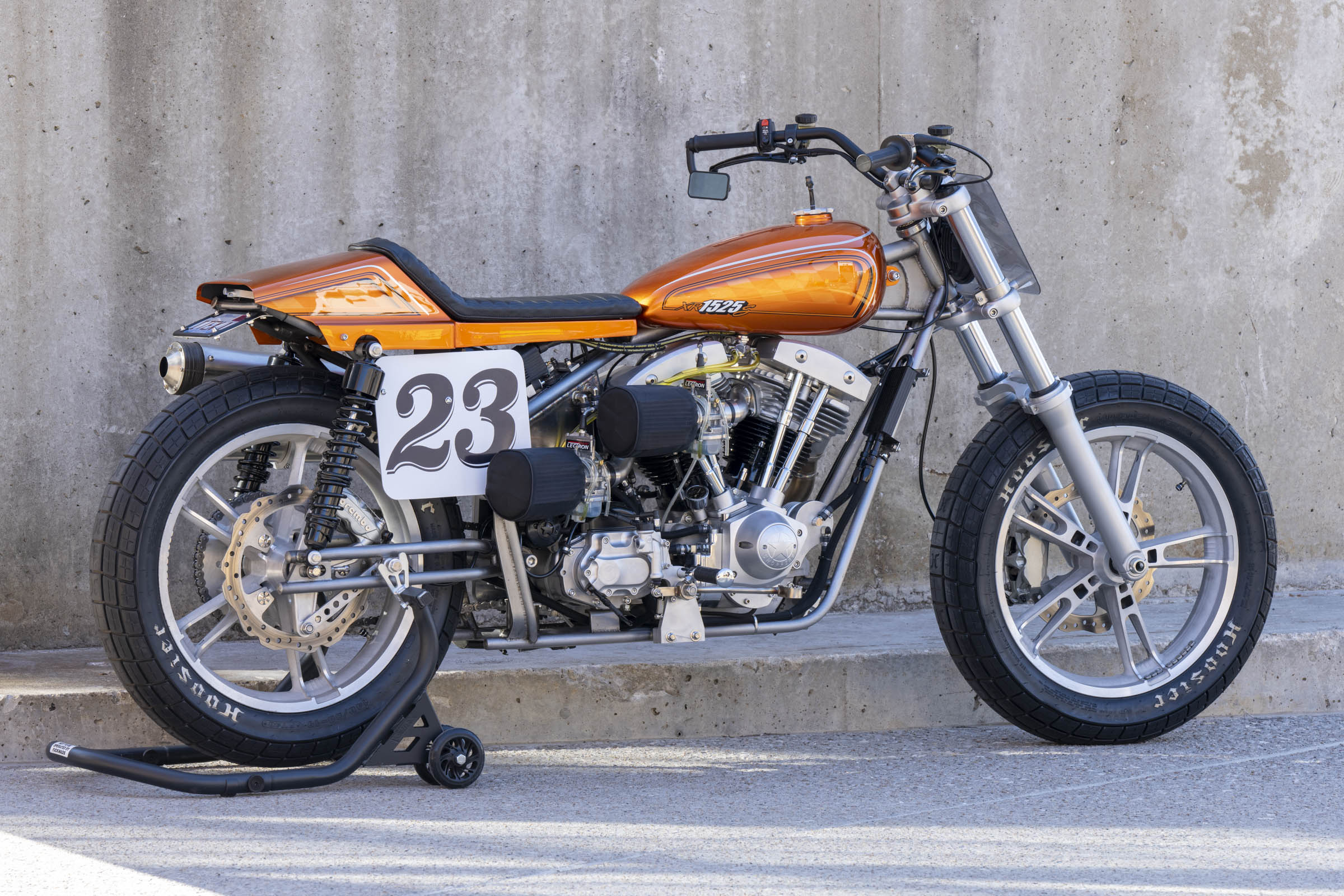 There's just something to be said about this Lone Star Choppers Shovelhead Street Tracker built by Larry Curik as a well-deserved homage to his very first motorcycle from his racing days (#23). Apparently, the original motorcycle he raced was Larry's "multipurpose race bike" that he used for racing motocross and flat track. Plus he wanted to have a bitchin' Street Tracker, so the XR1525S here is the best of Larry's past and present.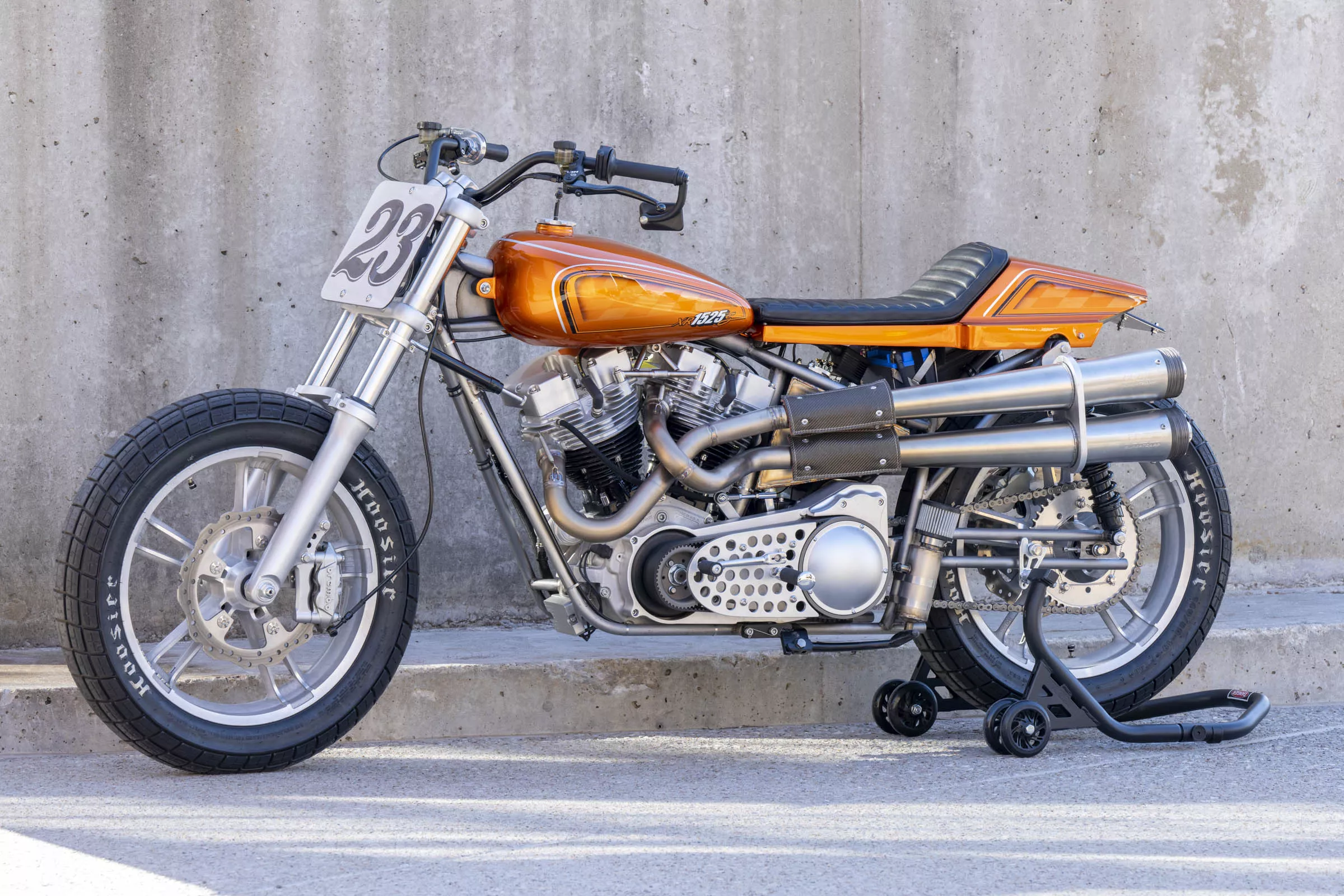 Larry's main goal when building the XR1525S was to emulate the Harley XR 750 style as close as possible using a Shovelhead engine, including the left-hand-side exhaust. Literally everything is handmade or highly modified. The gas tank and tail section he made from 16 and 18 gauge cold rolled sheet metal. He chopped the frame, moved the neck back 4 inches and decreased the rake by 6 degrees. He then built a new rear section (sub frame) to support the rear suspension and tail section. The wheels are H-D Enforcer 19-inch front wheels. The front wheel, the hub was narrowed and one side of the spoke mount brake rotor mounts were removed making it a single disc setup. The brake rotors are stock H-D that the edges were profiled for a more aggressive look.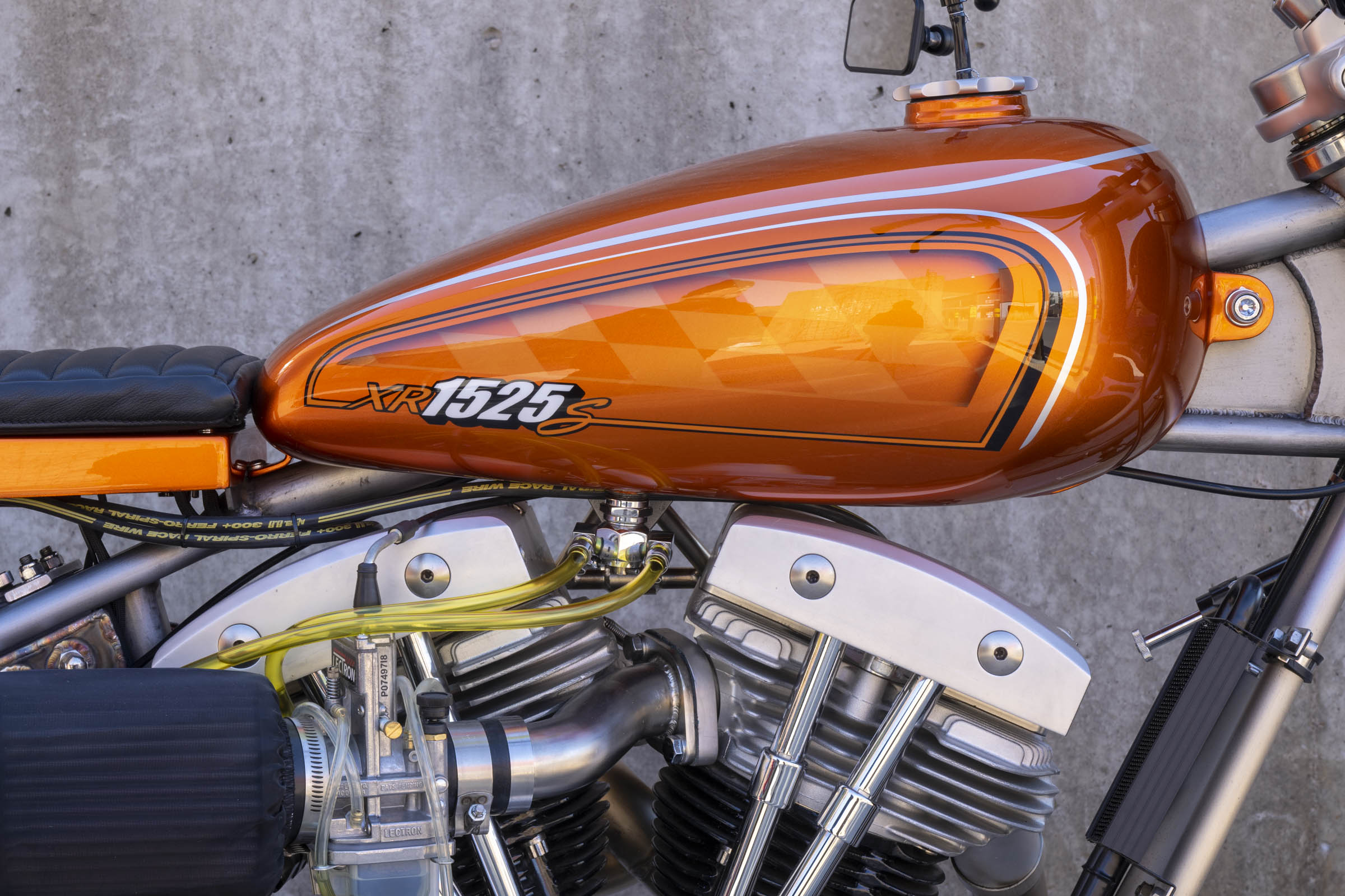 The most challenging part of the build was moving the exhaust ports. "I built a fixture to hold the heads that incorporated a hole saw to cut out the port," Larry says. "When I had the first port completely cut out it was the point of no return. So it was either pull it off or throw a set of now junk heads away. About a hundred hours later I had a functional pair of left side exhaust port heads. Of course I had already ordered a custom ground Leinweber Cam to run the two front heads. Ya know the rear head now has the intake and exhaust valves not where they belong so those lobe positions on the camshaft have to be moved."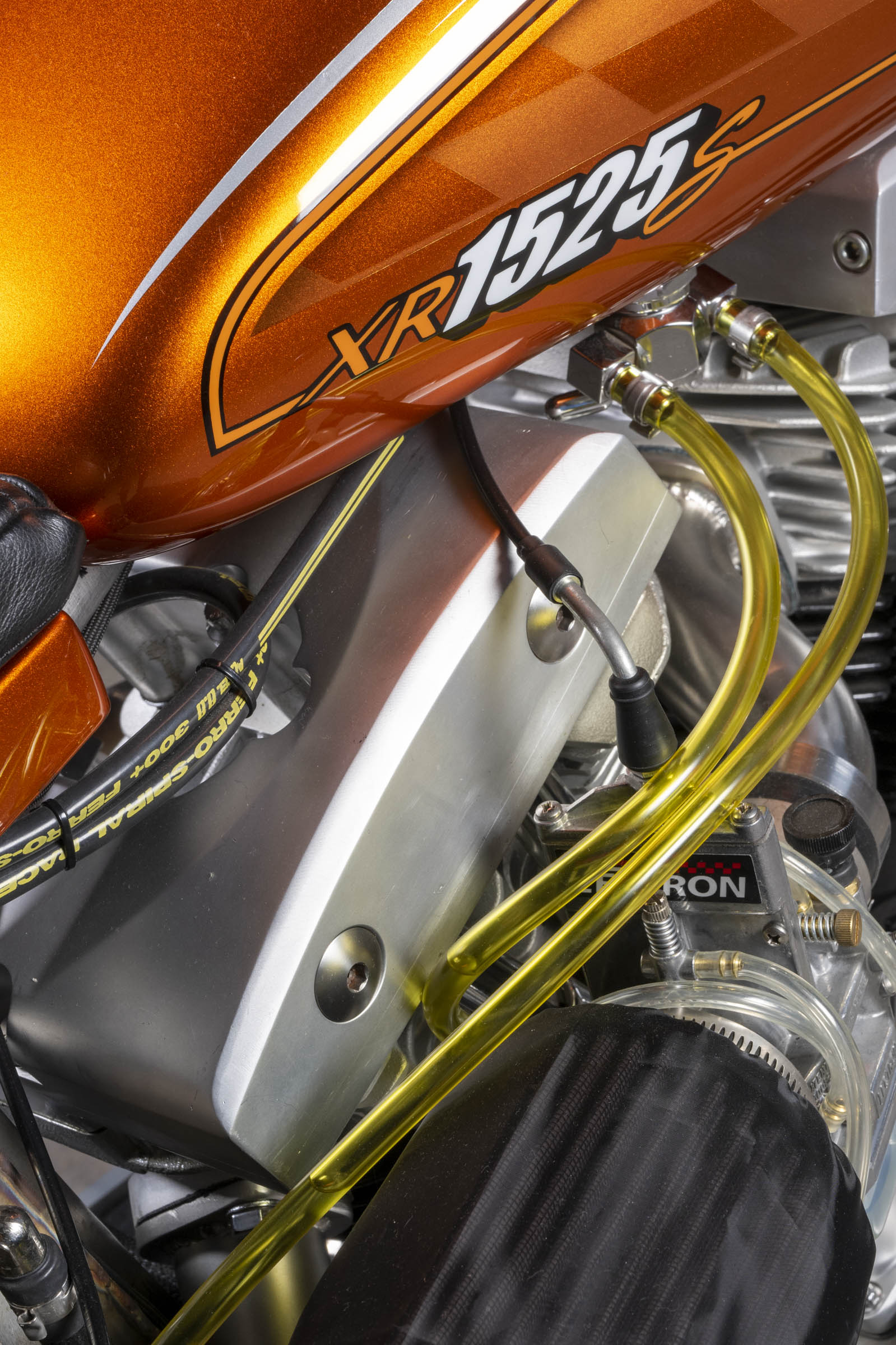 So many people think it's an old XR race bike. Then a few get a puzzled look when they figure out it's a Shovelhead. That's when Larry says people get that "WTF is with this thing?" kind of look.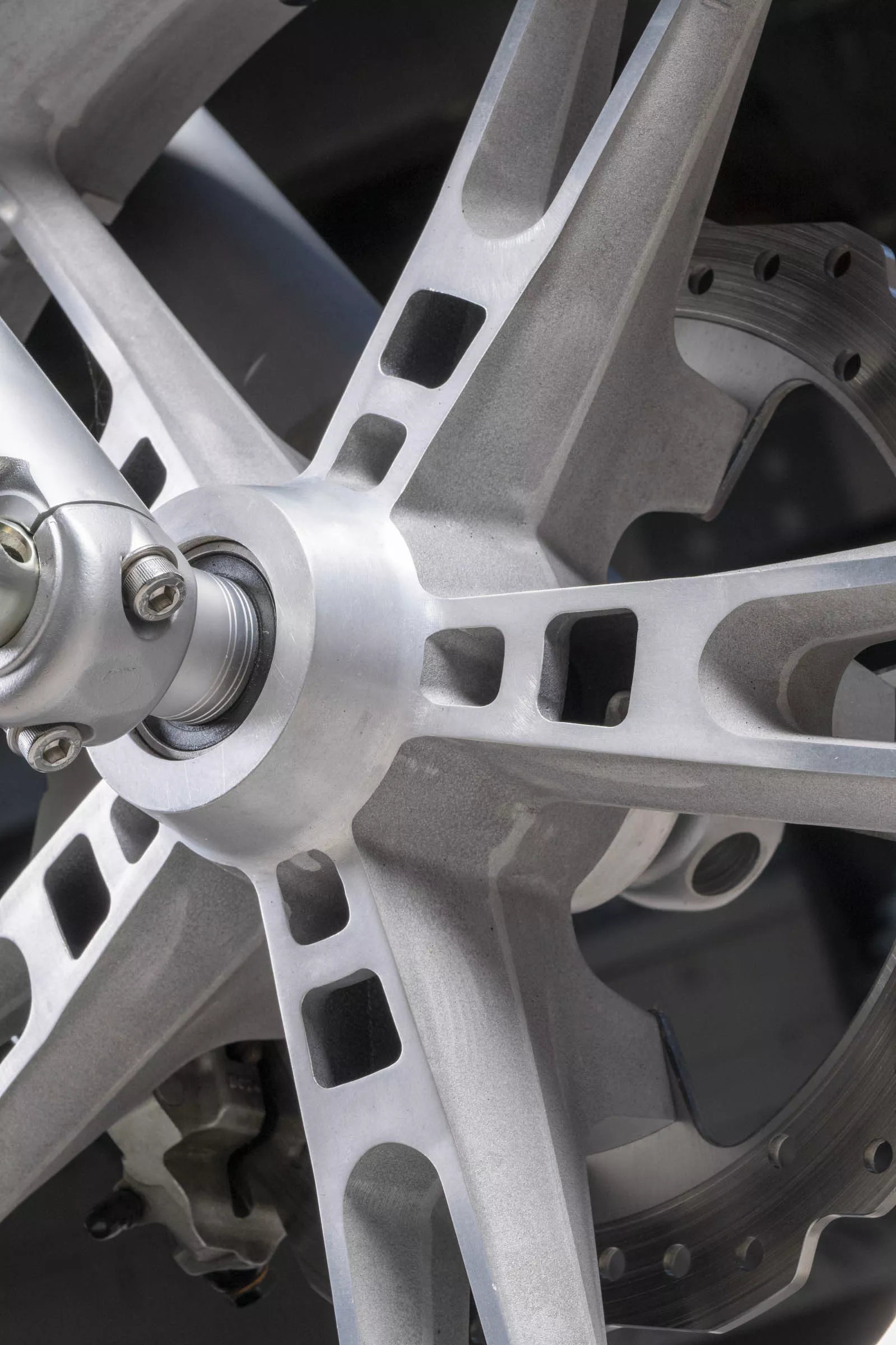 Larry does design and fabrication work for a couple of motorcycle parts companies, stuff that he really can't talk about but you will definitely be seeing in the near future. He is also building a Panhead powered café racer for a client and a really long Swedish style chopper for a personal ride.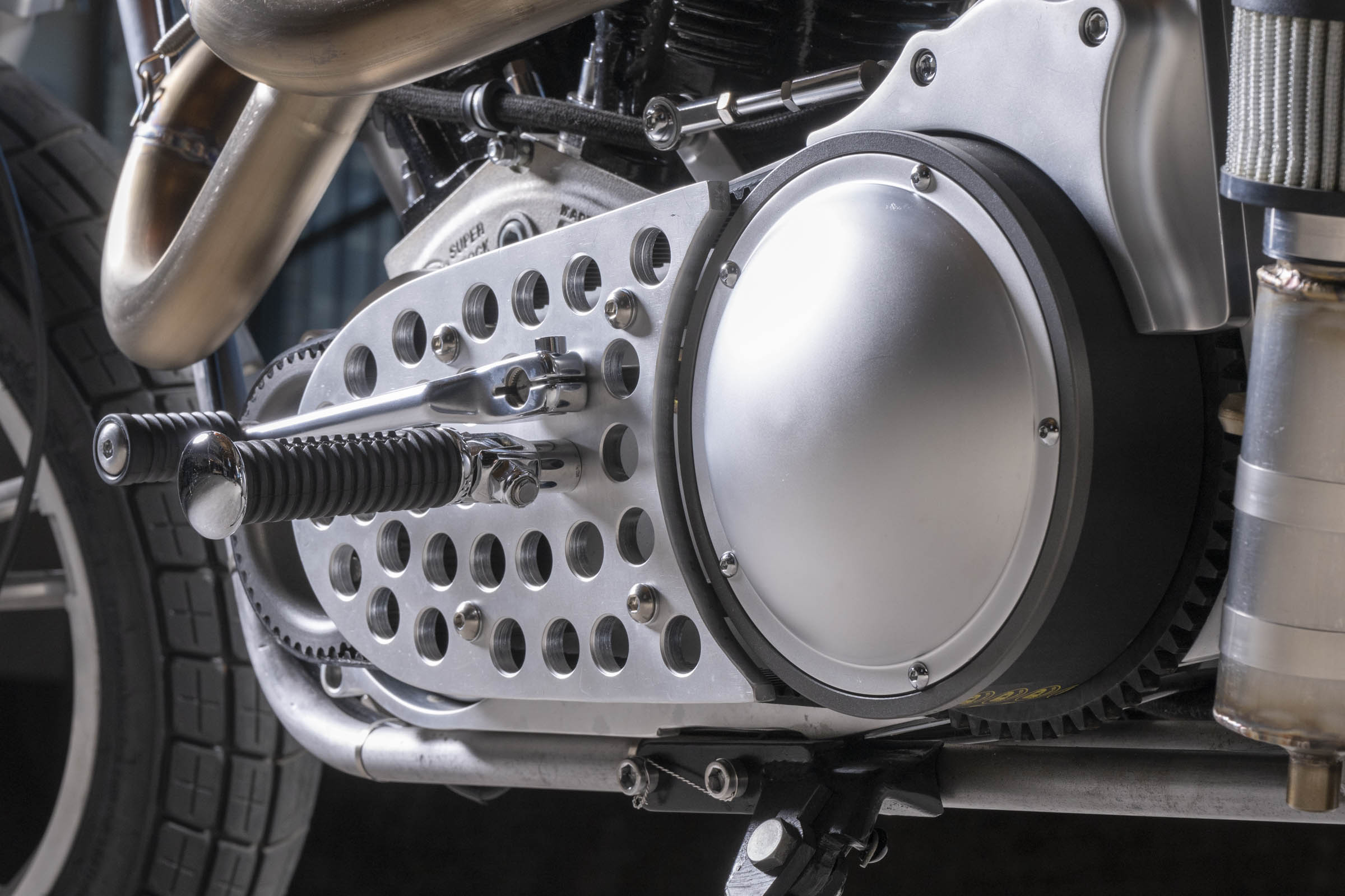 Larry would like to thank Arlen Ness for paving the road that we are all riding on. Also his good buds Kyle Bertsch, for the awesome bodywork/ paint prep and Jason Sprengel for laying down an awesome paint job, Justin Leinweber for the badass cam grind and TI springs and Jeff Bradley for taking on the challenge of making his first seat, who normally makes guitar straps for major touring acts. Of course the following parts manufactuers also helped make Larry's dream a reality: Lectron Fuel Systems, Supertrapp, Magura, Hoosier Tires.