Doing something that has never been done in the custom motorcycle realm always sounds ultimately exciting.
While in the midst of it, one can feel like some sort of greasy-handed Magellan charting a dangerous two-wheeled petrol-fueled course into the unknown. And the story of the M8FXR is as such. It all started when Danny Wilson, aka the Motor Witch, and I had an idea to shoehorn a brand-new 2018 Milwaukee-Eight powerplant into a 1990s FXR. After I did some cycle searching, I found a blown-up and long-retired 1993 FXRP police bike from the Fairfax, Virginia, police department. Knowing that FXRPs were in short supply even when new, Danny and I wanted to do this bike build some justice (pun totally intended) and take the extra steps to make this cop bike look like it came from the Harley-Davidson factory with an M-8 intact.
After some begging, Harley-Davidson came on board with us on project M8FXR. H-D was kind enough to donate the engine, transmission, and seven pages of small parts and computers in order to make this bike run just like a 2018-model Harley would.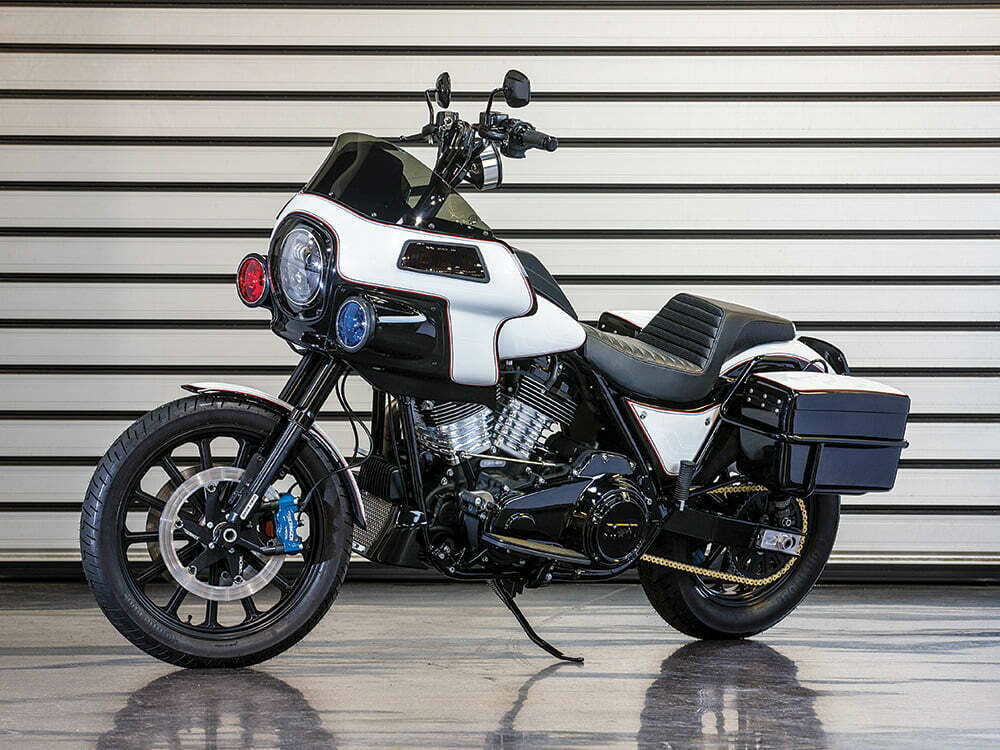 The long journey started when the bike was stripped down to just the frame. Justin Coleman and Big Chris, of FXR Division, were tasked to pretty much re-engineer the whole FXR frame to fit the M-8 motor and transmission. This was not an easy task, as you can imagine, but if you are going to trust two guys to do it, they would be the dudes. Once the frame was ready to easily accept the Milwaukee-Eight powertrain, we took it over to Buddy Stubbs H-D in Phoenix and got busy getting this bike to roller status. The bike started its build with Race Tech G6 and G3-S suspension, Speed Merchant triple trees, Beringer radial brakes, and a custom set of Jade Affiliated 13-spoke wheels wrapped in Continental Tire's ContiTour rubber.
The zero-mile factory-fresh engine was taken to Leading Edge V-twin, also in Phoenix, and was treated to one of LE's all-new 151ci big-bore kits. This kit increases the M-8 engine's horsepower by over 60 percent. And it uses no forced induction, such as a turbo or supercharger, to get that power. It gets that power from good old American-made and dependable displacement.
The bodywork was sent to none other than Taylor Schultz, of Schultz Designz in Northern California, where it was treated to a massively stylized version of the standard black-and-white cop-bike paint scheme. Taylor also added both red and blue pinstripes, as well as some ghosted and pearlized designs that he is famous for, which are hidden in the paint. The standout of Schultz's labor was the reworked Milwaukee police insignia on the sides of the gas tank.

Once the engine was back from receiving 165 hp and 183 foot-pounds of torque, it was installed into the bike. Jay from Fab28 Industries came to Phoenix and hand-built a stainless-steel multistepped one-off exhaust for this bike. The bodywork was then fitted, and all of the special lighting and parts from our pals at Hard Case Performance, Saddlemen, Rogue Rider Industries, Motodemic, Russ Wernimont Designs, Lucky Daves, Rekluse, and Kuryakyn were bolted up. FXR Division donated a set of its police bags to finish off the look of the cop bike. Danny then had the intense job of wiring and firing the bike a few days before he was set to ride and show the M8FXR as an invited builder of the Hot Bike Tour. And the rest, as they say, is history.
After success has been made and all the print and web fanfare has dissipated, this type of project usually ends up being a total pain in the ass. With even the most basic ground-up builds, though all the ducks might be in a row, the piles of perfect parts have been amassed, and the specialized fabricators and technicians are on call, old man Murphy and his law always seem to intervene to ruin any sort of positive progress through the duration of the build. This was not one of those stories.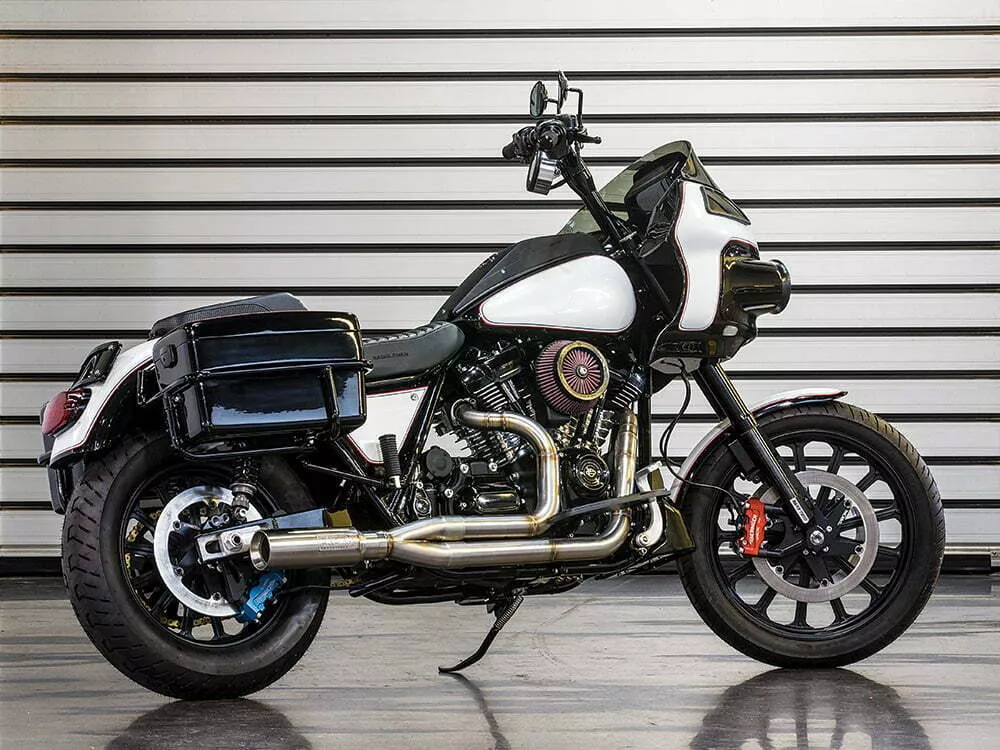 In retrospect, it was a rather low-impact build, comparatively speaking. Some of that was luck, but most of it was having skilled people on our side willing to go above and beyond to see this bike become a reality. We can't thank all of them enough.
And in sticking with the prime directive of making this bike look like it just rolled off the factory floor, we think it looks every bit like the Motor Company made it. And in all reality, it should.
Specifications
| | |
| --- | --- |
| General | |
| Owner | Jeff G. Holt |
| Shop | Motorwitch/Buddy Stubbs H-D/Leading Edge V-Twin |
| Website | motorwitch.com |
| Year/Make/Model | 1993/H-D/FXRP |
| Fabrication | Motorwitch/Justin Coleman |
| Build Time | Ten months |
| Engine | |
| Year/Type/Size | 2018/H-D/151ci |
| Builder | Leading Edge |
| Exhaust | Fab28 Industries |
| Air Cleaner | Leading Edge |
| Transmission | |
| Year/Type | 2018 |
| Gears | H-D |
| Clutch | Rekluse/Leading Edge |
| Frame | |
| Year/Type | 1993/FXRP |
| Rake/Stretch | None |
| Finish/Paint | |
| Colors | Black and white |
| Paint/Graphics | Schultz Designz |
| Accessories | |
| Front Fender | H-D |
| Rear Fender | H-D |
| Gas Tank | H-D |
| Fairing | OG H-D FXRP |
| Windshield | Russ Wernimont |
| Bags | FXR Division |
| Handlebars | Lucky Daves |
| Risers | Hard Case Performance |
| Hand Controls | H-D Bagger |
| Floor Boards | FXR Division |
| Headlight | Motodemic |
| Headlight Shield | Russ Wernimont |
| Taillight | Kuryakyn |
| License Plate Mount | Kuryakyn |
| Pod Lights | Rogue Rider Industries |
| Turn Signals | Rogue Rider Industries |
| Seat | Saddlemen |