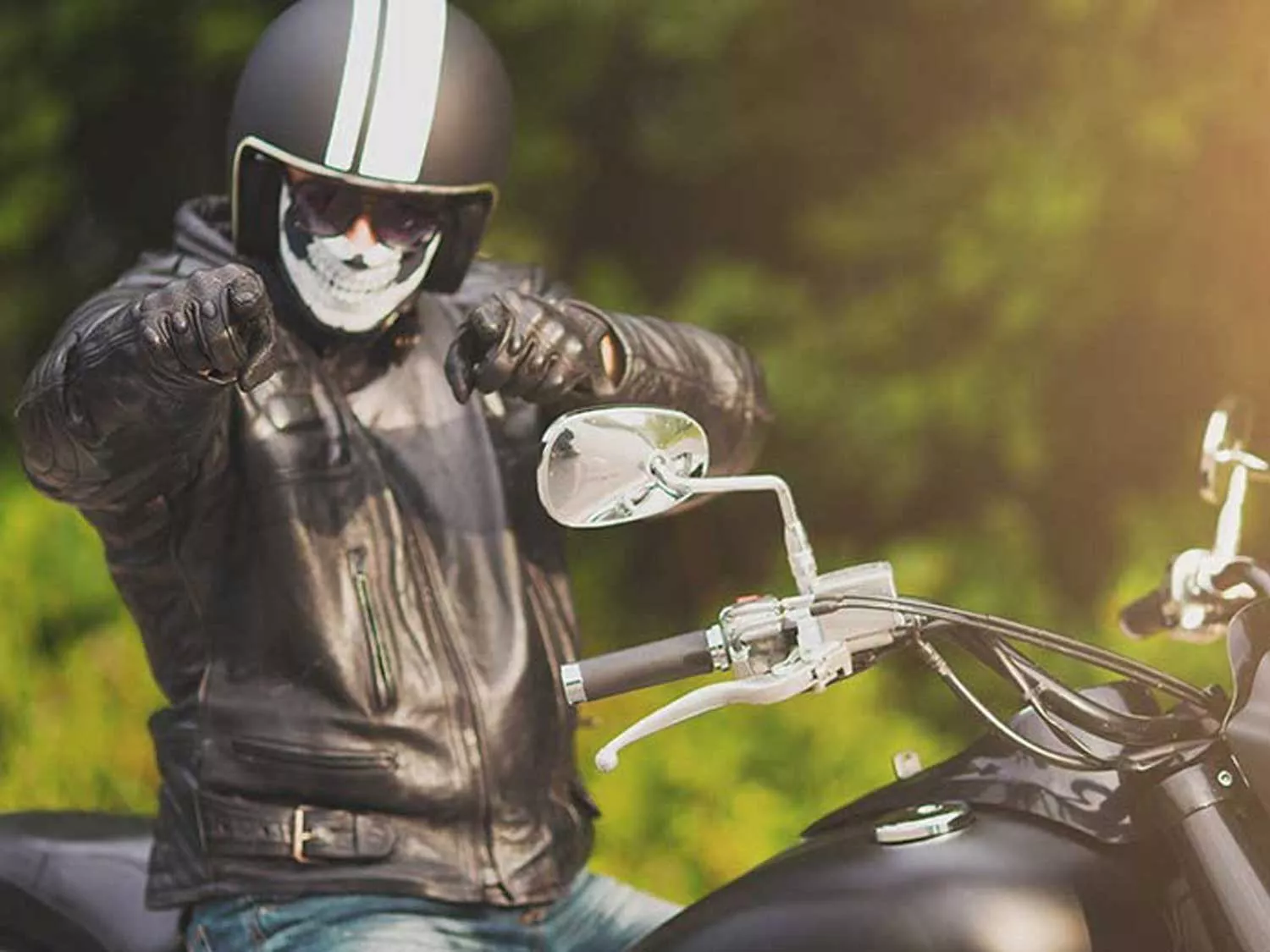 Open-face or full-face helmets provide protection from the elements to a certain extent, but leave your face or your neck exposed to the wind, weather, or sun making a neck gaiter a necessary item to have when going out for a ride. Plus, you can protect your hide from the elements in an as ostentatious or subdued way that you like. Want to go for the intimidation factor? Sure, go for the skull. Football fan? They have an option for the die-hards too. Otherwise you can't go wrong with a solid-color option.
For The Rebel Rider
If you are comfort conscious but still don't want to make it look like you care too much—gotta have the tough attitude, you know—a neck gaiter with the skull design would be the way to go. The best way to get the most out of the design is to have the jaw part of the skull in line with yours in face mask/neck gaiter fashion, but you aren't limited to that. There are 13 different dress ways. Made of polyester microfiber, this will wick away sweat and then dry quickly keeping you cool while you look cool. It is claimed to have a UPF 20 rating (a clothing's sun protection rating) in order to protect you from UV rays and also guards against wind and dust.
For The Sports Fan
Next up, a neck gaiter for the basketball fan. This product is officially licensed and features a large logo design that the sports enthusiast can wear proudly. Made of stretchable polyester you can make use of this in many ways: neck gaiter, wristband, headband, and even ponytail holder. Soft, breathable, and reusable, it allows you to support your team in comfort over and over again.
For The Comfort Seeker
If you want to keep the design more subdued then just a solid color will do. No need to fret about the solid color choice because this pack comes with green, black, gray, white, and blue options. Use isn't limited to one type of climate or the other either. Wear it in colder weather to keep your neck protected from wind chill or wear it in warmer temperatures and use it to wick away sweat. Again, you can wear this product as a neck gaiter, face mask, or head wrap. Made of elastic, soft, and breathable material this is another stretchy, comfortable gaiter to choose from.
For The Sun Sensitive
One of the more simple of the list is this singular black neck gaiter. It is made with a unique mesh material that allows for breathability while also pulling away moisture. Not only that, the manufacturer claims it has a sun protection rating of UPF 30+ so you get a substantial amount of protection from UVA rays. The product measures 9.6 inches x 19.7 inches.