Editor's Note: In this second installment of the three-part series, Operation Numbnuts: Starting the Journey,  featuring Biltwell's epic Alaskan adventure, the company's fearless leader, Bill Bryant, takes us through the quest from the starting point to middle-of-nowhere, Alaska. What started as an idea between a group of friends several years ago was now being put to the test in real time. There were many challenges. But even more memories were made. To learn more about the prep it took the Biltwell crew to embark on this epic journey, check out Part One of the series HERE. 
Words: Bill Bryant
Photos: Geoff Kowalchuk
Somehow I got out in front of the old bike pack, probably since I had a stock front fender on my 1957 FLH and it kept the muck from completely blinding me. We had started the day at Chena Hot Springs, just northwest of Fairbanks, Alaska. After being on a ferry for almost a week and riding the "normal" highways from Whittier to Talkeetna to Fairbanks, it was a relief to finally be in the shit. This was what we came for. 275 miles in a day doesn't sound like much but when your motorcycle is old enough to collect social security and the weather is not your friend, it's a pull. The fog reduced visibility to a few bike lengths, diffusing the view of the booming late August fall color. "The Dalton has had rain for three straight weeks," a local told us. "Good luck" she said with the authority of someone who has seen failure before. The rain never really stopped, it only changed direction or intensity as we pushed north toward the Arctic Circle. 
Unto the Breach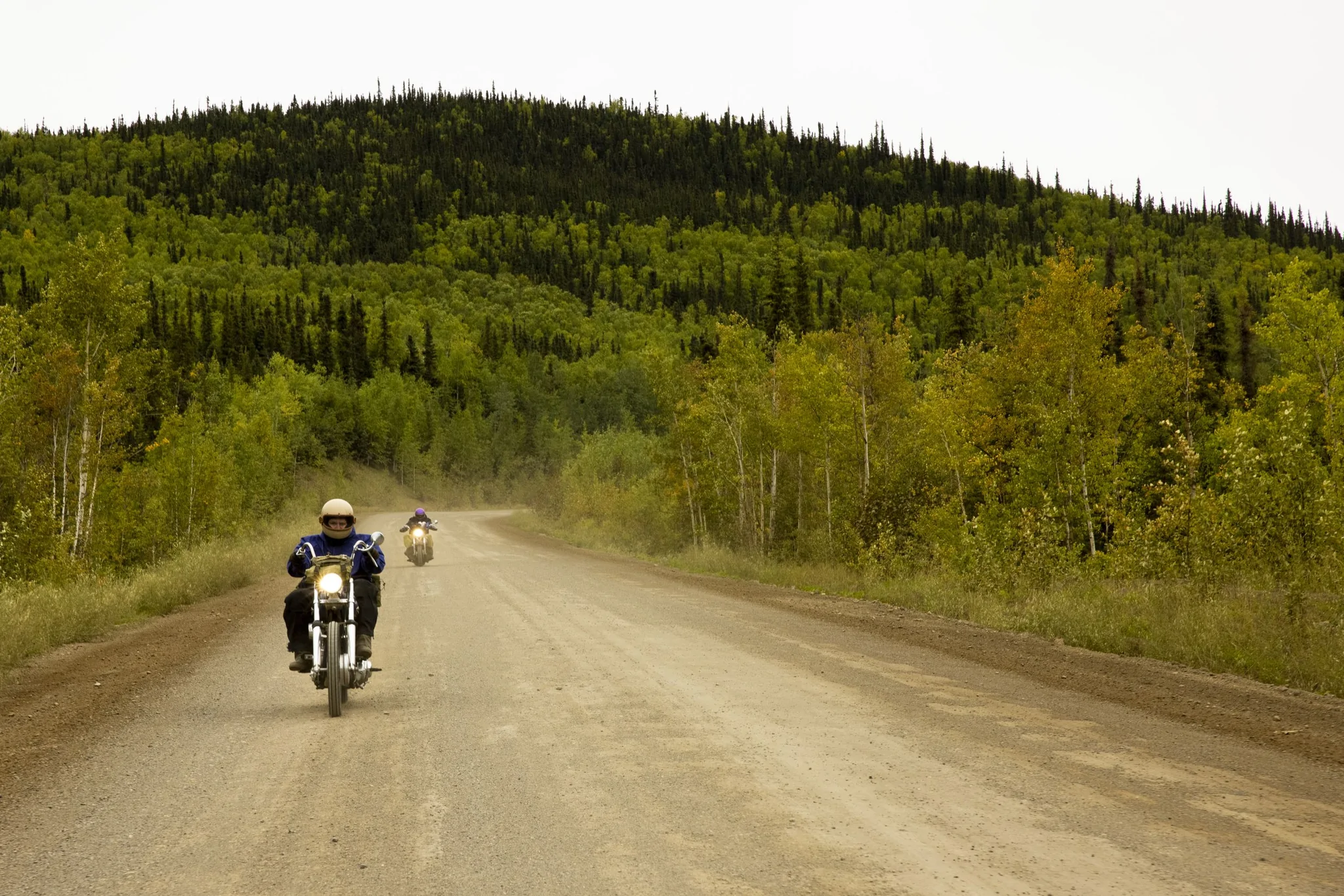 At the Yukon River there's a fuel station and cafe with workcamp trailers where you can rent rooms. Kalen and the guys on Pan Ames were up ahead and left a bike on the edge of the highway to signal where they had stopped for lunch. In small packs, our riders all crossed the slick bridge over the massive river and filtered into the cafe for hot coffee, a bowl of chili, maybe a slice of fresh pie and some friendly banter with Trish, who recently moved to the area from Georgia and runs an Instagram page called @tallmenofalaska. She didn't ask me for a photo. Tanks and bellies full, we only had about 120 miles to go to reach the night's destination with the comforting name: Coldfoot. 
Hauling Ass on the Haul Road
 One of the good things about riding this far north is how late sunset is. When the sun doesn't go down until after 10:00PM we got in later/warmer starts than usual and could push further into the evening without the added stress of finding camp in the dark and all the problems that would bring in this terrain. 
The Dalton is called the "Haul Road" by locals and the drivers who earn a living on it. Made famous by the Ice Road Truckers, World's Most Dangerous Roads, and America's Toughest Jobs TV series, it is the lifeline for ferrying supplies to the oil fields in Deadhorse, 500 grueling miles through the real wilderness above Fairbanks. Originally closed to the public and used only as a pipeline supply route, The Dalton opened in 1994 as a Scenic Byway and has been attacked by adventurous types ever since. Contrary to what people from warmer climes might think, truck traffic increases in the winter when the road is frozen because it's slightly more predictable than summertime rains, which often close the highway completely.  A typical summer day on the Haul Road sees about 150 heavily laden trucks hauling ass through this vast wilderness dragging doubles packed with drilling supplies, fuel, and everything else required to run the operation in Deadhorse. Navigating these rigs up the grades in slick mud and pouring rain is not for the inexperienced or weak, and unaware tourists who pull to a stop in the middle of the road to watch caribou are among the biggest hazards to the men and women who earn a precarious living on this route. We were well aware of this before starting the trip and we took the rigs and drivers into consideration at every stop. Not only out of empathy for them, but for our own survival. Who else is going to be on that road and offer assistance in a life threatening situation? Only those same truckers. 
I enjoyed being separated from our group for the first time since getting off the boat. There was no way to get lost—not even in the fog—so I didn't have to worry about anyone's navigation skills. It's just a single, lonely ribbon of highway and the pipeline all the way up to the end of America's navigable land and virtually impossible to get lost. Rico had a fender on his cone shovel so he wasn't far behind, and I caught glimpses of him in my mirror and we'd ride together here and there enjoying the freedom. Riding real choppers, Josh and Aaron had nothing up front except the typical bandana on the forks or an improvised mountain bike fender that didn't do much to stop the face-pelting destruction as the mighty Dalton evolved from asphalt to gravel, to snotty brown mud and back. Alone I could go at my own pace but I realized the gap between us might be getting bigger. Sure, our overbuilt chase truck The Pig was bringing up the rear with enough parts and tools to fix nearly everything, but nobody wanted to wait on that or be left alone.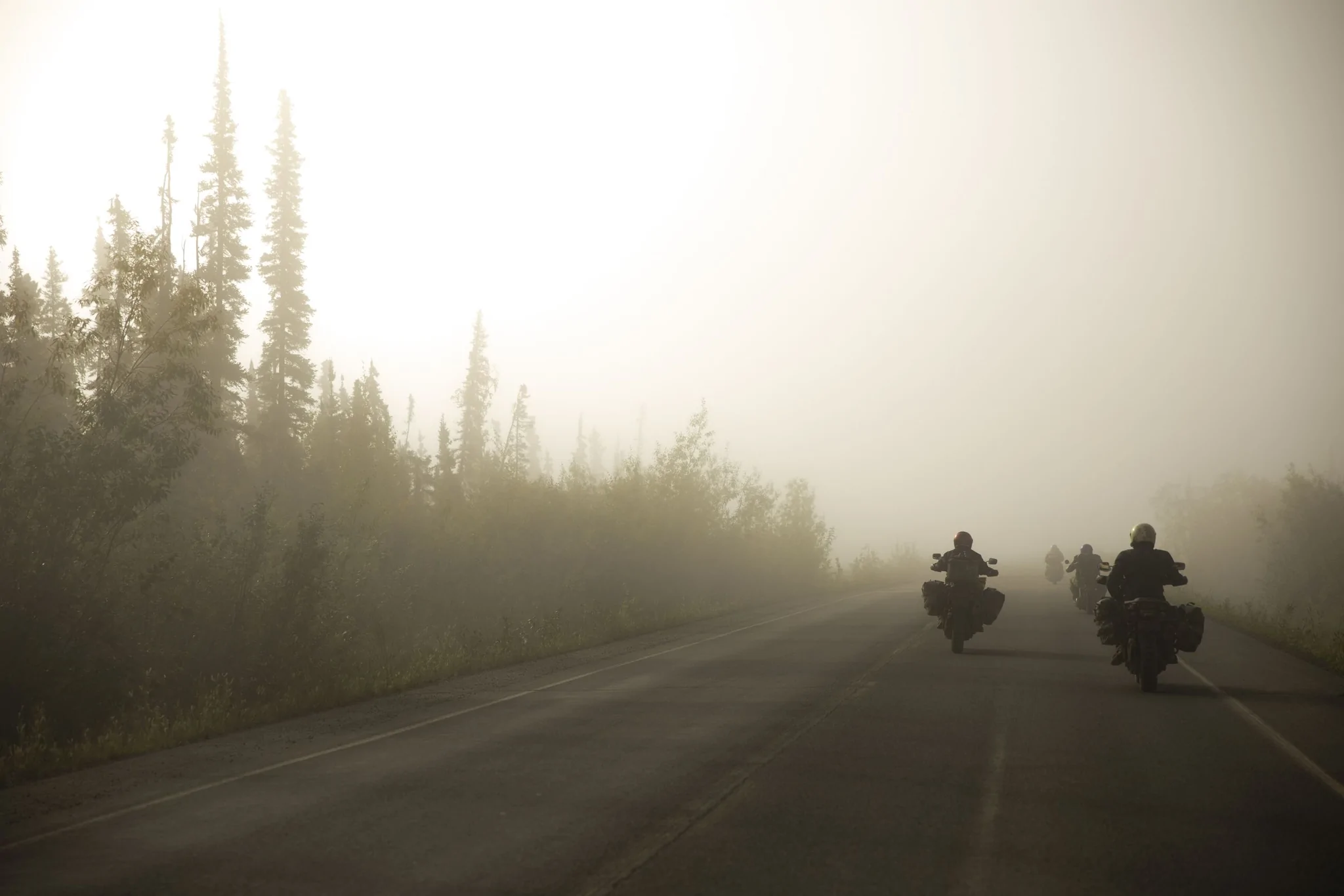 About 60 miles from the Yukon River and half way to that night's stop was the official Arctic Circle. There's a small turnout so tourists can exit the highway safely, shoot a photo at the sign, or use the pit toilet and trash. On a normal day it would be fairly unremarkable other than its location. On this day, after enduring the rain and mud it felt like we had accomplished something just to be there. Rico and I pulled off and decided to wait for Aaron and Josh. Geoff and Flynn, our video and photo team, were riding with them too, but on more capable Pan Americas, so we worried slightly less for them. We cooked up some coffee on a Jet Boil and discovered the Camp Robber birds who like to land on you and beg for snacks. Kalen pulled in no worse for wear, and I waited back at the highway to make sure the boys made it. Eventually I heard the heavy metal hammers of a straight-pipe panhead chopper climbing it's way slowly up the sloppy grade to our rest stop. When Josh came into sight he looked like he had been spray painted with lumpy chocolate from head to toe and was chugging along in second gear trying to see through mud-soaked eyes. Even though he was getting close, I could tell he couldn't see me. Hell, he couldn't see, period. I jumped out in the highway to get his attention and he started slowing down but still couldn't stop without passing me by. His only words as he trudged past me was "I'm… Cold…" He says it was "My… Clutch…" because he could no longer shift, but either way the grime and fatigue were real. 
Eventually, Josh rolled off the highway and idled up to the rest area. Aaron arrived a few minutes later in a similarly sticky coating, but only after draining the water out of his carburetor and improvising an air filter with a beanie donated by Flynn. The fog was replaced by a light drizzle as we continued north towards Coldfoot, with views that were vast, empty and gorgeous. We made so much racket that wildlife was sparse on this route. In a quiet, warm 4×4 there is probably a lot more to see. We stuck together for the rest of the route and slowly inched our way towards fuel and rest. 
Northernmost Tavern in the USA
At Coldfoot we met back up with "The Fast Team" of Otto and Davin on Pan Ams. This camp provides shelter for truckers and travelers before the last stretch of the Haul Road to the top, just before Atigun Pass, the tallest grade on the route. We rented simple rooms in the trailers for the night; no sense pitching wet tents in the rain on the eve of the hardest leg on the trip when hard shelter was available. 
While we were offloading gear from the bikes, The Pig came chugging into camp in all its bright orange and checkered glory. Driving this beast was its own adventure for Yeti and Yolo, who'd flown in from their 4×4 outpost in Iowa for the chore. Yeti is the type who enjoys the hardship of a true adventure and I can't imagine a more capable pilot for this rig. Outfitted with everything required to keep our 13-soul expedition moving, the demilitarized US Army LMTV had been transformed from basic troop carrier into a mobile workshop, bike hauler and life support vehicle. While we all carried what we really needed for a couple days of riding on our bikes, The Pig hauled the really valuable stuff that's hard to find in the true middle of nowhere. Extra clutch plates? Check. Fuel Pump for Pan Am? Got two of 'em. Primary belts? Many. Spare tires? A whole rack. Add in a 12v fridge, stove, generator, welder, more tools, dry food, way too many spare parts and an awning to work under and you've got the ultimate survival machine. When it survives.
By Coldfoot, a crack had materialized on the CAT 3116's timing cover—a known design flaw that haunted us at least three times since we built this rig. Of course we didn't bother to bring a spare since it's not the kind of repair anyone can do on the side of the road. The cam has to come out, plus the radiator and all the components on the front of the engine. The fix on a trip like this is to add oil regularly and to keep an eye on the pressure gauge. We brought 15 gallons of extra engine oil and picked up more along the way to keep The Pig in service. 
The Coldfoot Camp is an experience unto itself. Photos of the Polar Bear who once wandered into camp and other fond memories hang on the rustic walls and a simple but welcome buffet awaits weary travelers. The bar on site is the furthest north tavern in America, and sells souvenirs with one of the best logos ever proudly emblazoned on them. We ate, drank, and purchased a few minutes of wi-fi to check the weather again for the last leg to Deadhorse the following morning. The problem wasn't so much riding in the rain or the gravel—we were all used to that. The real issue was the unseasonable soaking the road had been through during the summer. Had a couple dry days been scheduled, we could have laid over and waited for a better weather window but with no such luxury we decided on an 0900 start and hit the hay.
Pig topped off with oil, bikes prepped and bellies full we headed north once again. We kept a bigger interval between bikes to keep from showering each other with mud and gravel and so everyone could move at their own pace. Pulling over in a safe spot when we saw trucks in the distance allowed them to pass without the stress of us being in the way. We passed Wiseman (not named after us) and though we couldn't see much through the fog, we knew that Atigun was just ahead. Once through that, the weather looked like it cleared up substantially so we just had to make the pass. This is an area where truckers call each other on CB radios for frequent updates on road conditions and to alert each other about their locations to avoid ending up in tricky spots at the same time. The Pig was on this channel and doing the same. At the true beginning of the grade I pulled up to find my son Flynn, our videographer, standing alone on the side of the muddy highway with his Pan Am buried up to the axles in tundra a few yards away. He was shook but OK. Seems he slid off the mud trying to give a truck most of the road and got spit into the ditch and up into the hillside. We helped him drag the bike back onto the highway as more riders and Yeti caught up. Luckily there was a turnout we could go back to within eyesight and we got off the highway to reassess the situation.
Davin and Otto, who were well ahead of where Flynn flew off the highway, turned around to advise our assembled team that weather was substantially worse as the grade climbed north. It was an easy decision and no argument was made. Davin and Otto, our two most experienced riders, would continue on. They had enough fuel, their Harley adventure bikes were totally capable, and they thought they could do it safely with only two riders and bikes to worry about. The rest of us turned south for the first time in two weeks. After topping off in Coldfoot, we agreed to make camp at the Yukon River where we had stopped for lunch a day earlier. We stopped again at the Arctic Circle and this time Yeti pulled in with The Pig and set up a hasty kitchen in the drizzle while we played with the Camp Robbers and talked about the day's adventure. We lined up at Yeti's hot water station and made dehydrated backpacking meals and coffee. With only 60 more miles to go and weather improving slightly, the mood lightened. Fog was in and out and the views when it opened up were invigorating after the previous struggle. We laughed and joked and fist pumped our way through the hills and valleys until we pulled into the welcoming gravel lot of the Yukon River Camp. More chili, more coffee, a couple beers and a roadside camp complete with wolf tracks and bear scat finished off a long day while we all wondered about the other two. With no service or wi-fi, there was no way to know if Davin and Otto made it or not, but we figured they did. 
The next day seemed easy and we enjoyed the twisty roads, even with the wheel-swallowing pot holes and gravel patches. The same hazards from before existed now, but our mindset was different after our experience on the Dalton and we navigated it at a slower pace and with less anxiety. As our weary, muddy band of idiots pulled up to the first traffic light in Fairbanks, a girl riding in the opposite direction stopped at the same light. She was wearing a Lane Splitter helmet and we all erupted into a silly fist-pumping mob of mud-soaked hoots and waves. I'm sure she had no idea what all that commotion was about but we were just stoked to be back in civilization and to see one of our own products in use right at that threshold was the icing on top.  
Kalen, the fearless navigator and professional bar hunter, found us a cozy local pub to hole up in so we could shed some layers, eat yet another meal and find out what happened to Otto and Davin. A quick peek at their Instagram and text messages answered the question on everyone's mind—they made it to Deadhorse and were on their way back down. We decided a nice bed in a riverside hotel was in order and after taking the bikes to a local car wash we set up gear to dry in the sunshine and moved in for the rest of the day. It wasn't long before the dynamic duo pulled in and declared victory. While it was a slight bummer that only two of our crew made it all the way to the top, we were energized by their accomplishment and felt like we had all been challenged by our own attempt. Reveling in the sunny weather it was a fine day even if I did have to share a small bed with a large man at the end of the night.
Getting There
At this point we were 1200 miles into the trip since offloading from the ferry in Whittier seven days before. We started the ferry portion of the journey in Bellingham, WA, and that was the only reservation we had to make for the entire trip. The boat was not going to wait and we knew we had to be there early and ready to go so anxiety was running a little high. The Pig had been trailered to Seattle and was dropped at our friend Thom's house. Otto and JD drove a van and trailer full of bikes from SoCal to Bellingham, dropped them off at a campground, then swapped the van/trailer combo for The Pig. Just shy of making it to the camp it blew a water pump gasket and showered everything with antifreeze. Off to a good start already! The rest of us were flying in and we linked up with a couple rental cars and got to the camp. Aaron rode his chopper up from SoCal and made the trip with zero problems. Kalen had started on her Pan Am in Key West, FL, with a stop in Sturgis to give lessons on how to party. Resourceful as always, Otto found a heavy equipment shop in Sedro-Woolley, Washington and linked up with the owner, Red. He proved to be invaluable and helped with the water pump, and again later in the trip when we crossed back into the USA. There's a magic to life on the road and needing assistance. Somehow, if your karma is just right, the universe delivers a guy like Red and we were lucky to find him. We test drove the truck, blew the gasket for a second time and with Red's advice just used 3M "Right Stuff" as a sealant without a gasket and it is still holding today.
Come Sail Away
After getting everyone together in one place for that first time, we were all buzzing. Going through gear for the millionth time, running to town for more shopping and wondering aloud what the boat and then the trip would have in store for us. We loaded four bikes inside The Pig and when we got to the ferry terminal a few hours early the next day we put another two on the loading deck on the back. This was our little hack to avoid paying for those six motorcycles and it actually worked. Yeti and his girl Yolo successfully got the LMTV inside the well deck of the Kennicott Ferry while some of us walked on and others rode into the ship and secured their bikes. We made it. The single deadline of the excursion had been made. Two pans, three shovel heads and a half dozen Harley adventure bikes all tucked inside, ready to sail.  
The Kennicott is not a cruise ship. Its goal is to efficiently ferry passengers and equipment through the inside passage, stopping at ports along the way to pick up and drop off humans and vehicles, many times at ports inaccessible by roads. The route winds through the islands, hugging the coast much closer than the more touristy vessels, and when there was no fog the views were sublime. We spotted otters, seals, dolphins, bald eagles, grey whales, and orcas, plus many isolated lighthouses and fishing and hunting cabins which could only be reached by sea planes or boats. Food on the boat was more than adequate and we spent four days watching the scenery go by, reading, eating and playing cards in the small bar that opened after dinner. We made friends with many of our fellow travelers and they all wanted to know our story since The Pig, the bikes, and our general scruffiness were atypical sights on this journey. Several other boat passengers were embarking on similar journeys, and we enjoyed sharing stories with them every time our paths crossed on the AlCan, at a hot spring, or some similarly desolate location.
Being eager to camp, we set up on the starboard deck where we would have the best view. This spot would also prove to have the most weather. We didn't mind the rain and fog but once the wind kicked up, one by one we moved into the solarium or mid-deck that was open on its sides, but had a roof. Stories from the crew about unattended tents being blown overboard once we left Alaska's inside passage for open water had us all in the shelter of the solarium on the last night. We had quick excursions at ports like Ketchikan and Juneau but couldn't offload a bike or do much real exploring.