Roland Sands Design is proud to bring America the "thrills and spills" of Street Bike Flat Track Racing, with the 2017 Super Hooligan National Championship Series (SHNC). We've selected the best events in the country to be part of the series, which aims to establish the frightening, yet rewarding craft of piloting street bikes at break-neck speeds around tracks of dirt and concrete. The riders are the stars and comprised of a unique and diverse background of every type of rider, from washed up Champions to plumbers, crusty flat trackers and roadracers as well as everyday Joes, Nine-to-Fivers, Stunt and Motocross riders, and everything in between. It's a no-holds-barred battle to the stripe on 500 lbs. of fury. With races across the country ranging from specialty bike shows and concerts to pro American Flat Track events and beach-side racing, the diversity promises a unique experience at each event. Indian Motorcycle has generously offered up its crown jewel, the FTR750 Factory Indian Scout GNC-ready race bike as the championship prize. Dunlop Tires, Motul Oils, K&N Filters and Bell Helmets are also involved in a big way, bringing generous contingency checks to the competitors, rewarding heroic rides and top finishers. Watch Out America… this is Super Hooligan!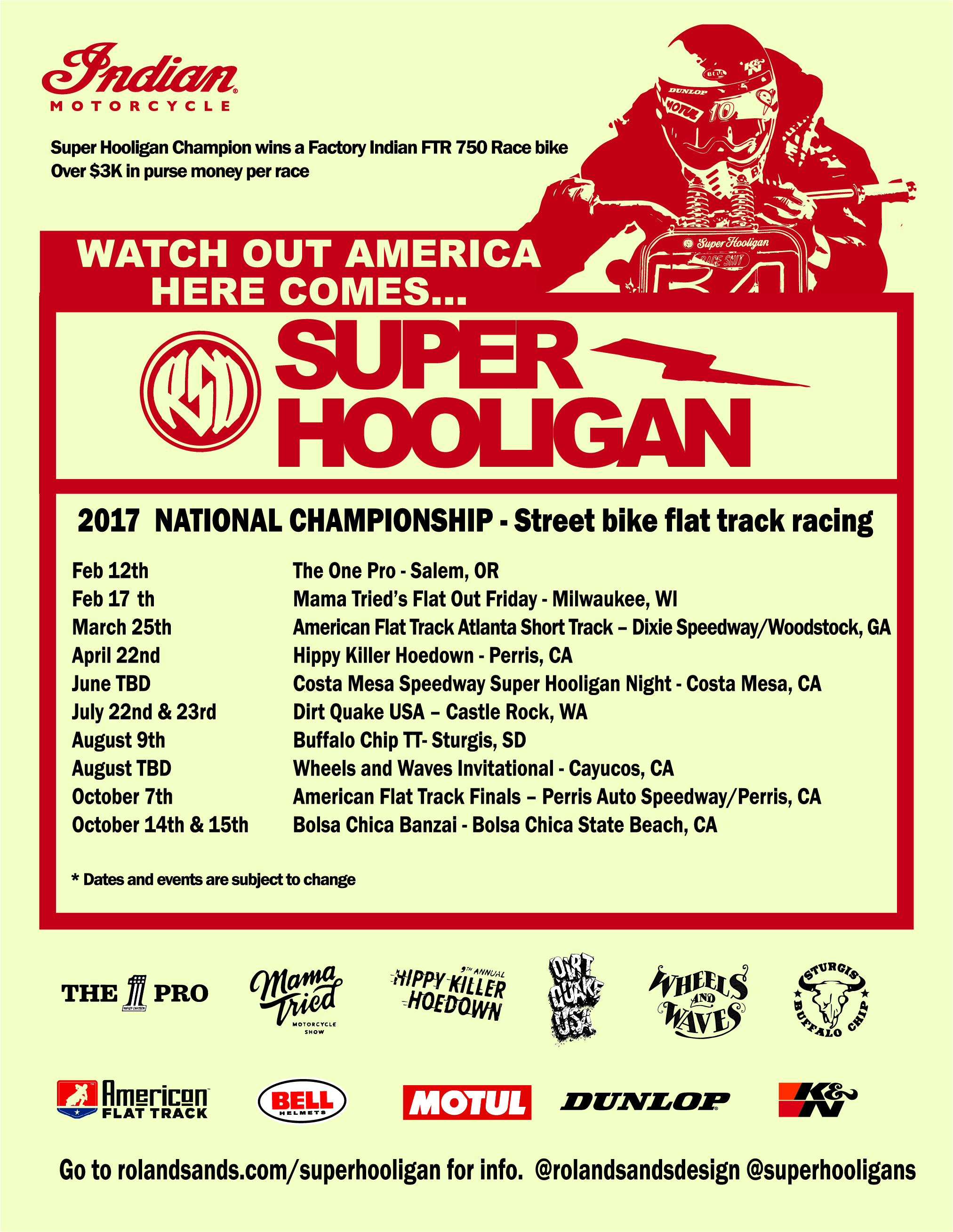 2017 NATIONAL CHAMPIONSHIP – Street Bike Flat Track Race Schedule
February 12, 2017
The One Pro – Salem, OR
February 17, 2017
Mama Tried's Flat Out Friday – Milwaukee, WI
March 25, 2017
American Flat Track Atlanta Short Track – Dixie Speedway/Woodstock, GA
April 22, 2017
Hippy Killer Hoedown – Perris, CA
June TBD
Costa Mesa Speedway Super Hooligan Night – Costa Mesa, CA
July 22-23, 2017
Dirt Quake USA – Castle Rock, WA
August 9, 2017
Buffalo Chip TT- Sturgis, SD
August TBD
Wheels and Waves Invitational- Cayucos, CA
October 7, 2017
American Flat Track Finals – Perris Auto Speedway/Perris, CA
October 14-15, 2017
Bolsa Chica Banzai – Bolsa Chica State Beach, CA
*Dates and events are subject to change.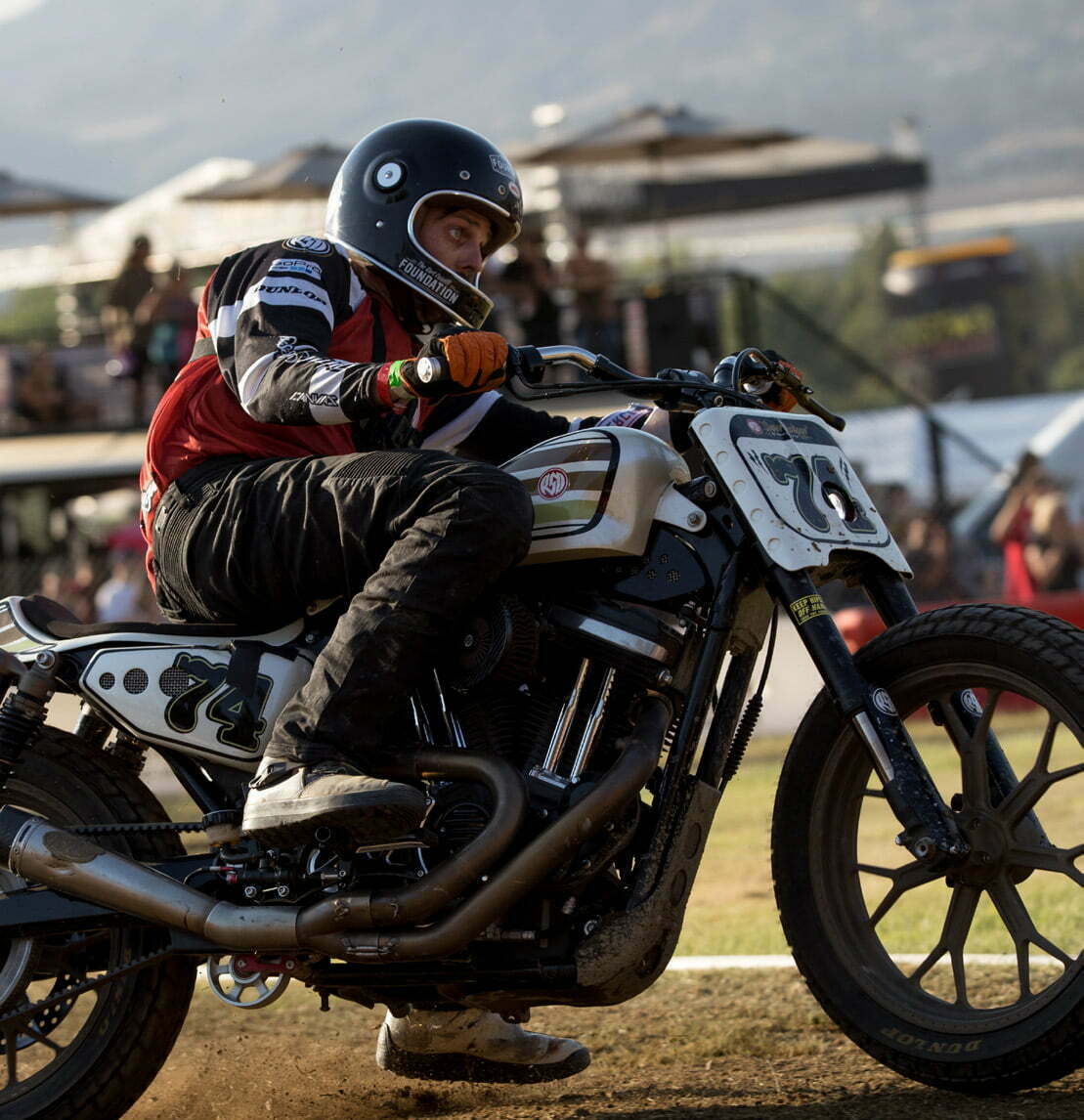 CONTINGENCIES & PRIZES
Indian Motorcycle
One Factory Indian FTR750 professional GNC flat track race bike will be awarded to the Super Hooligan Series Champion at final round.
*Winner must be present at final round
Indian Motorcycle title-sponsored events include a $1,000 Winner-Takes-All bonus to winner of Super Hooligan Main Event.
Dunlop Tires
$250 (first) / $150 (second) / $100 (third) payouts for Super Hooligan Main Event.

$1,000 Winner-Takes-All Super Hooligan Dunlop Dash for Cash event.
Bell Helmets
$250 (first) / $150 (second) / $75 (third) payouts per Super Hooligan Main Event.

$2,500 bonus to be awarded to Super Hooligan Series Champion at final round.

Custom painted helmet trophy for Super Hooligan winner at each round.
K&N Engineering
$300 Winner-Takes-All Holeshot Award for Super Hooligan Main Event.
MOTUL
$300 Cleanest Hooligan race bike at each race. TBD by SHNC.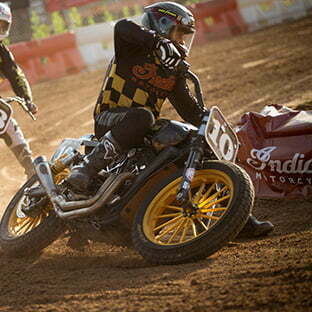 About Super Hooligan:
The spirit of hooligan racing comes from a simpler time, when you raced – and could ride home on – any bike you owned. With its roots in Southern California motorcycle culture, today's flat track hooligan racing category is rapidly gaining in popularity with riders of all ages and experience levels across the nation by offering the fun of motorcycle competition in a less structured environment. Combining the craft of custom motorcycles and racing the Super Hooligan rules are loose and limit the bikes to 750CC and up twins in stock frames with dirt track tires and no front brakes.
About Roland Sands Design:
Roland Sands Design is a motorcycle, product and apparel company that has its roots in racing, custom bike building and design. Our inspiration comes from a high performance background that blends the love of two wheels with the desire to create unique products. We live the two wheeled life and our crew is a diverse collection of road racers, off-road, dirt track, super moto and custom bike builders and riders. It's this diversity that allows us to work with the best in the industry on a wide variety of projects. Follow all bike builds, new products and the life and times of the Roland Sands Design crew at www.rolandsands.com.