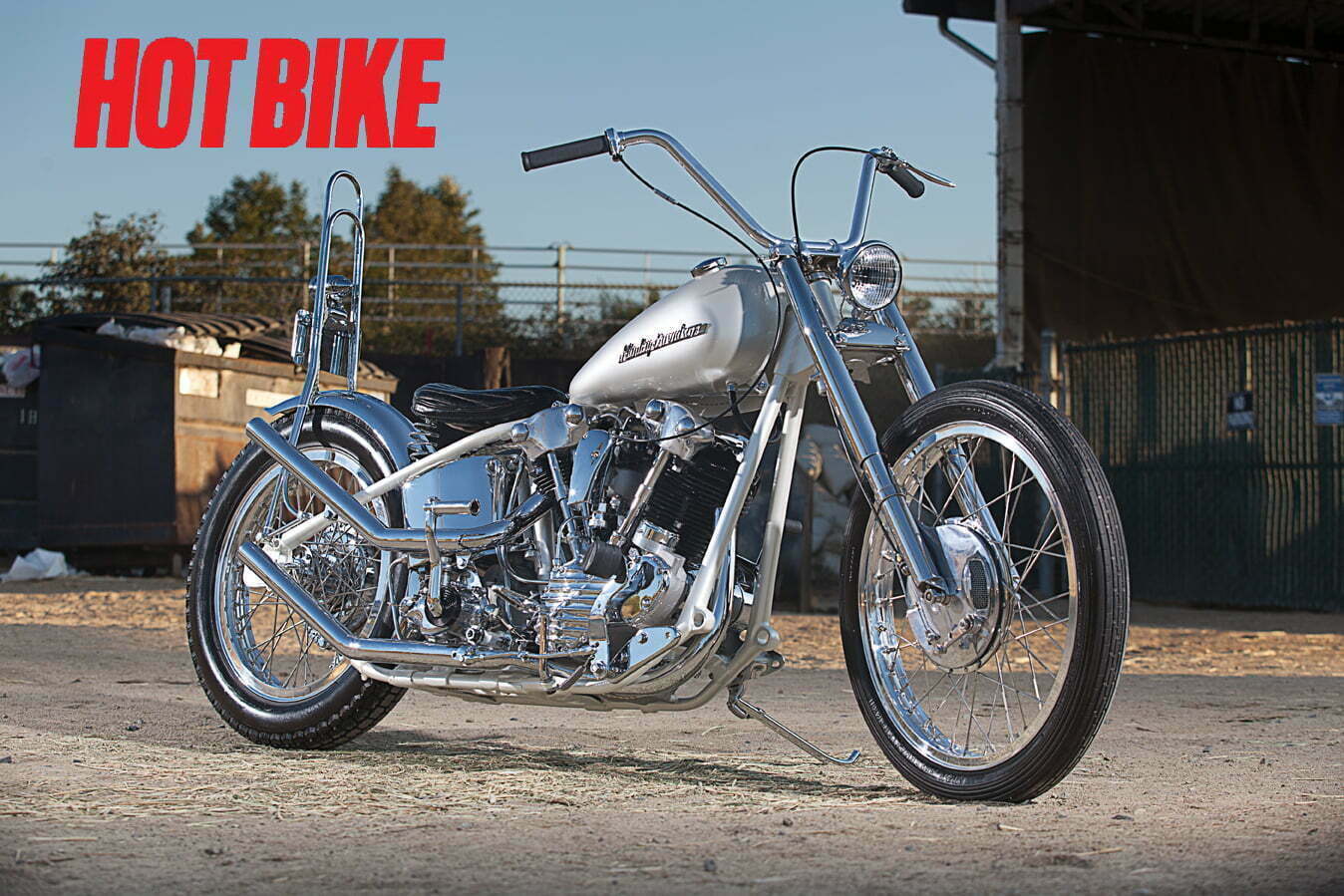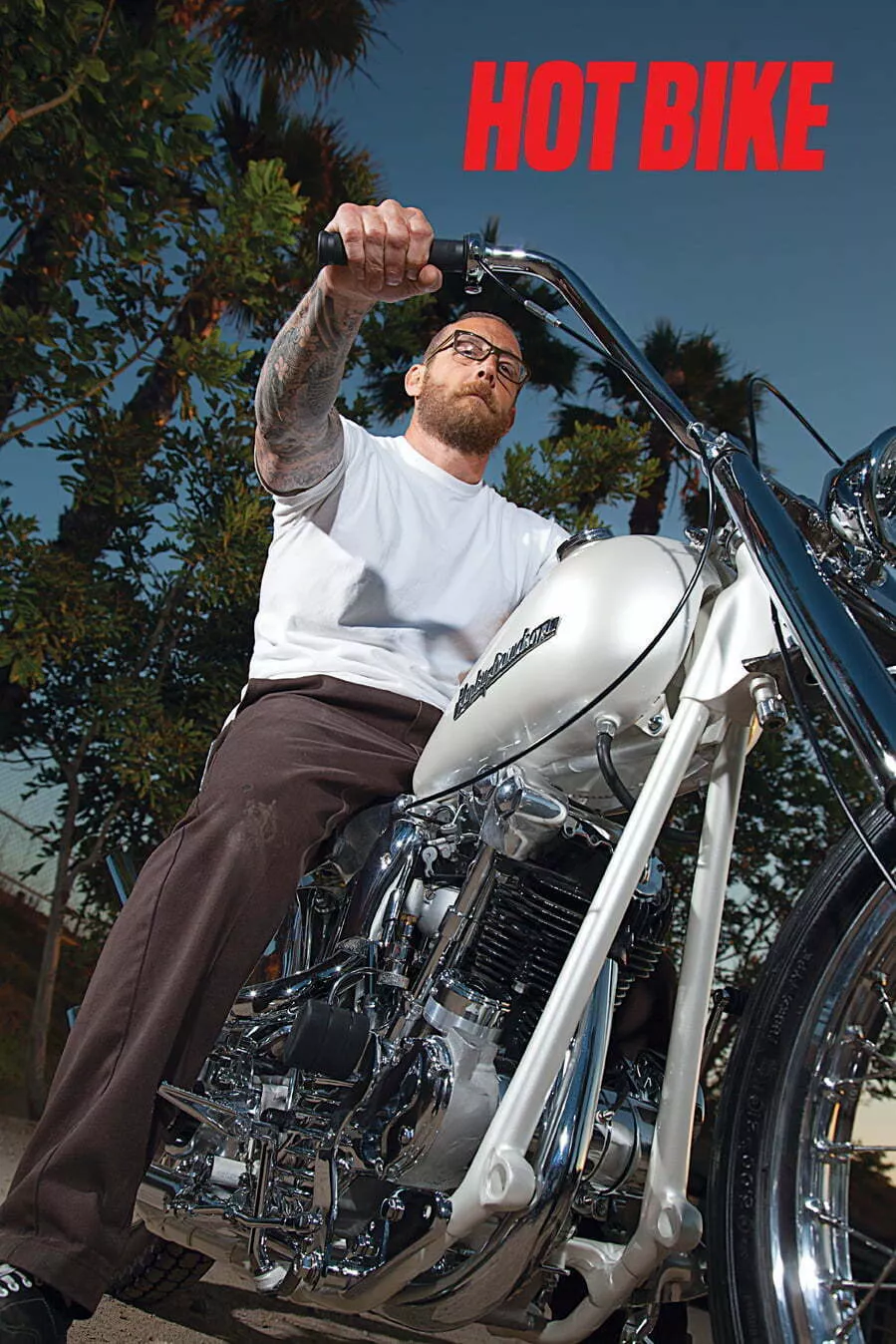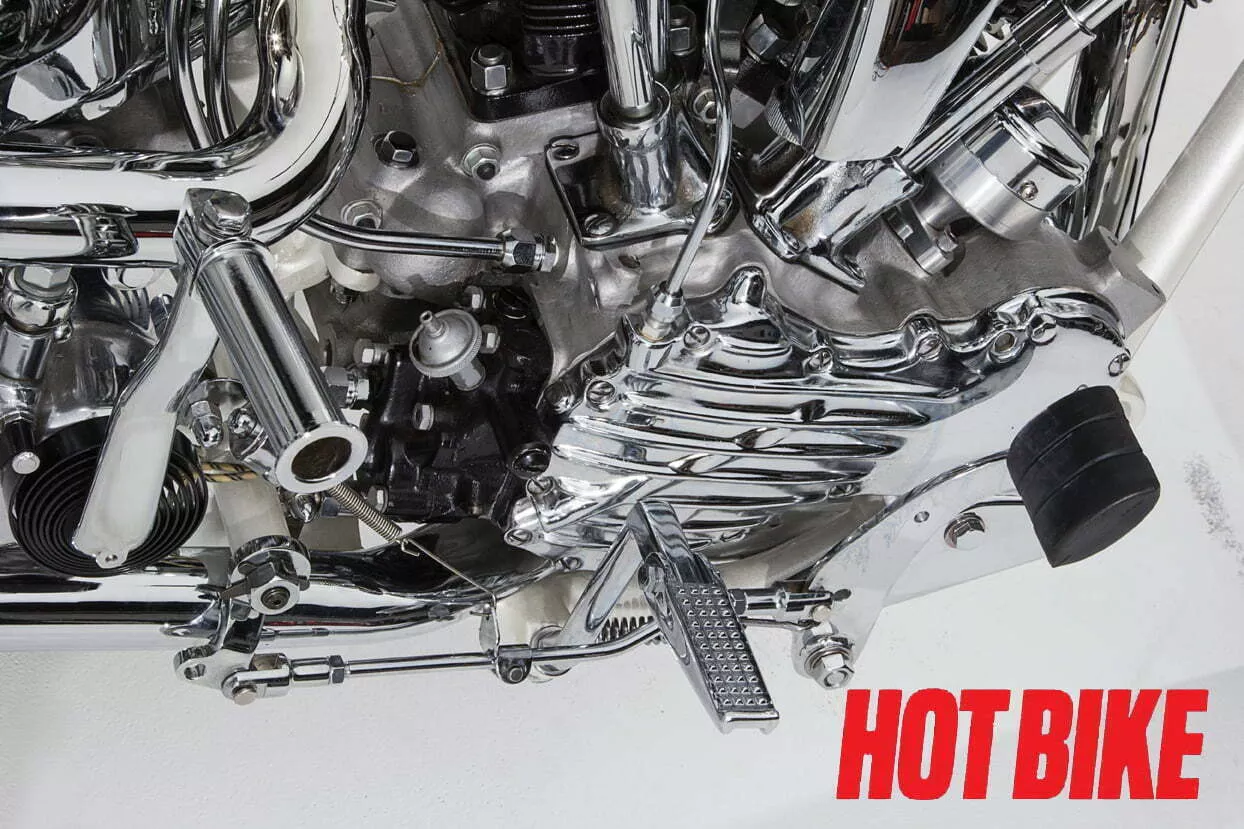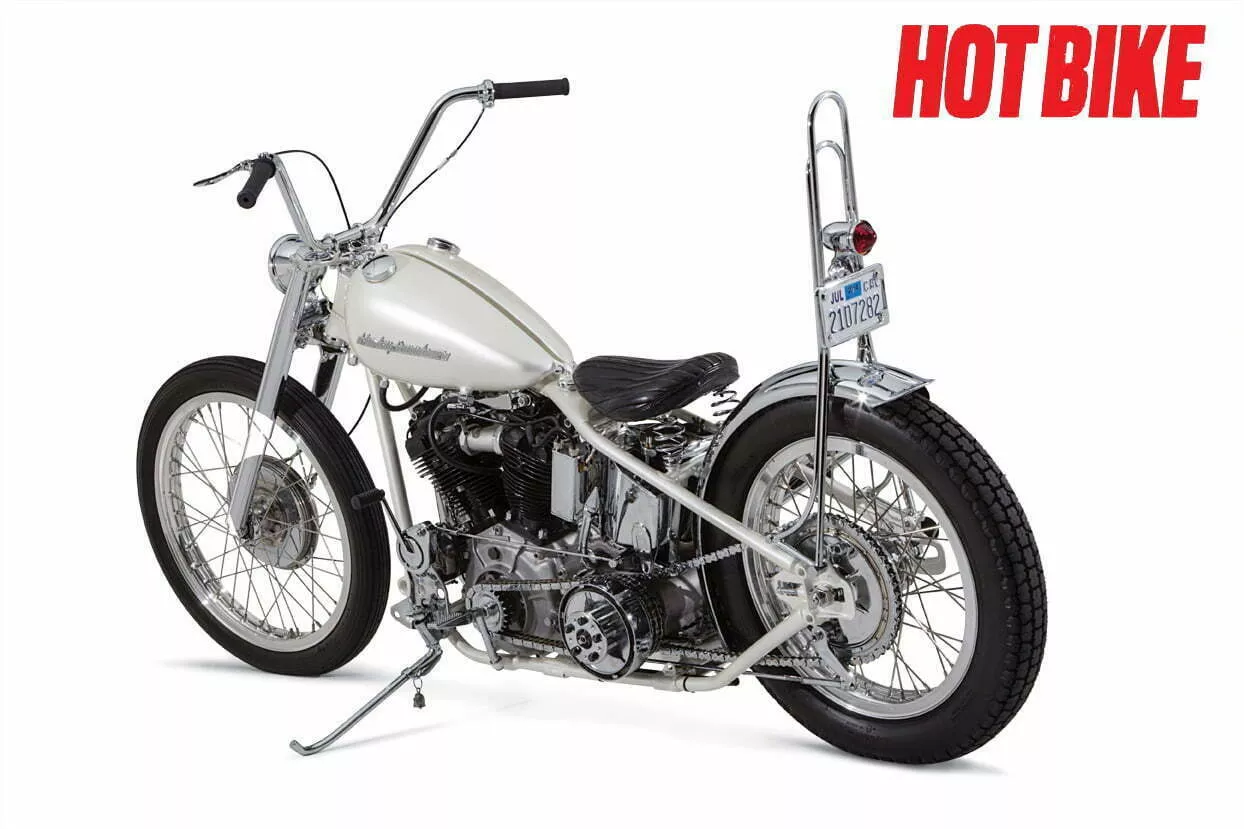 Don't get me wrong. I love full-blown custom paint. Probably more so than the next guy. I have much respect for not only the time and effort but also the talent it takes to pull off an impressive, elaborate paint job, just on a peanut tank alone. Problem is, you're kind of limited when it comes to what you can wear when you ride! Not that fashion has anything to do with Harleys…
In Dynamite Joe Kerivan's case, thanks to the extreme talents of John Edwards (Old Tyme Custom Paint), he can wear anything he wants—or nothing at all—when astride his '42 Knucklehead. Edwards' to-the-point Pearl White covers everything on Joe's EL from the straight-leg frame John painstakingly molded to the profile-sliced Panhead tanks (by Kiyo), leaving a plethora of plating to easily accessorize to.
All kidding aside, it's not only the monochromatic essence of Kerivan's Knucklehead but the pure simplicity of the overall bike that really sets it apart from its colorful counterparts. Basic. Minimalistic. Perfect.
As Joe himself recalls, "I bought this bike from a good friend of mine, Jeff Leighton (The Wretched Hive) as a basket-case motor in a roller frame, not knowing it was going to turn into such a nice bike. First thing, I took the motor to Smokey in Long Beach, California, heard he was a good motor builder and has been around the block a few times. While he was working on that, I was getting ideas on how I wanted the bike to look. And once I'd gotten a set of original Panhead tanks narrowed, everything just fell into place."
That is, except for the paint. Apparently, simple wasn't the original course of action. "The hardest part was coming up with a paint color. John and I sat in my garage for hours talking about colors, panels, flames, metalflake, just about everything. But then it came back to a solid color: Pearl White with Gold Murano over. I tried to keep the bike simple—not too flashy, not too much custom work—just a clean '60s-style chopper." As the man himself, Jedwards, recounts: "Joe's frame needed a lot of work, but we persevered and made it happen with top-secret pearl and 'Gab-Fest Gold.'"
The '60s collective part, in part, is also credited to Brandon Holstein (Brawny Built), who gets the gentleman's nod, with a bro high-five for added good measure, for the bike's fabrication and throw-together. His take? "This is one of classiest Knuckles I've seen in a long time. John really killed it with the paint. I just did some fab work with Joe during assembly. I wanted to keep things subtle so it wouldn't draw your attention to one area or piece. I think the bike as a whole is just beautiful."
It doesn't end there, obviously. Joe surmised, "Finished the bike just in time to bring it to Born Free 5, not at all thinking that I would wind up receiving the Mooneyes Pick and be invited to attend their Yokohama show with my bike that following December. I'd seen so many photos of the show, and a lot of my friends have been invited, but never did I imagine I would ever be there myself. It was amazing. It was a good group of guys; I knew all the other builders and loved all the bikes that went along for the trip. When we got to Japan it was so cool. I've never been out of the country before; the people were nice, food was great, and the show was mind-blowing. I've never seen so many Knuckleheads under one roof before!"