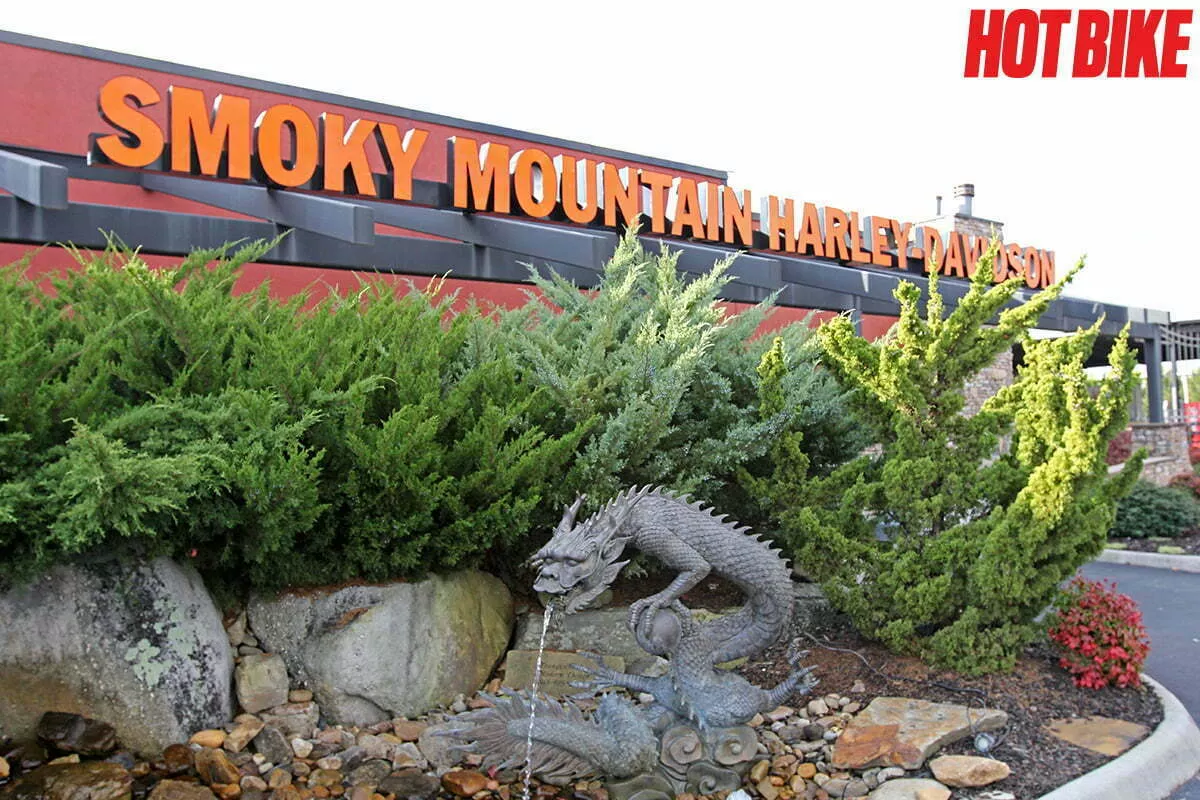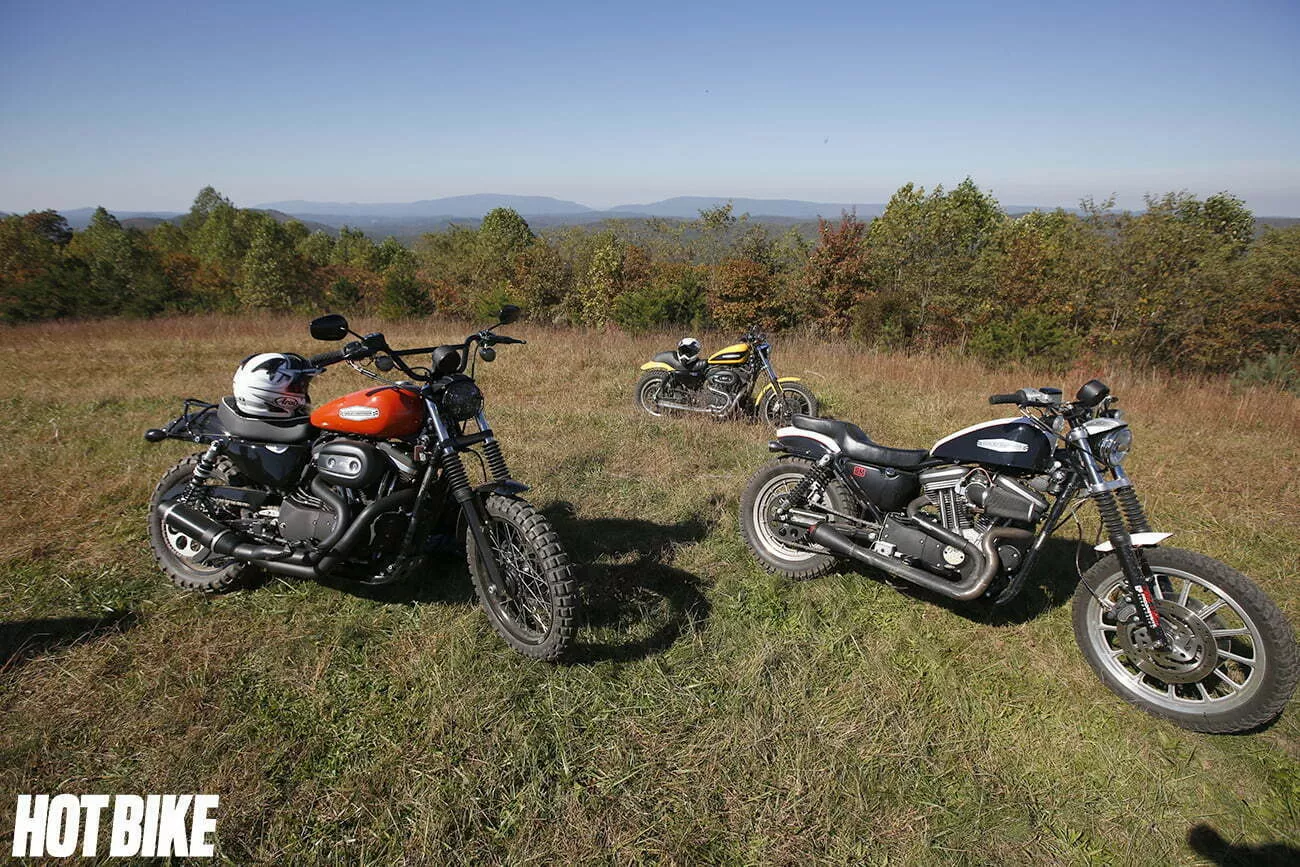 Just before Halloween as Fall was getting into full effect, I visited the fine folks at Smoky Mountain Harley-Davidson for a romp in the famous Smoky Mountains aboard one of their magnificent Sportster Scramblers that they build in-house. With some smart spec'ing from the Harley-Davidson Hard Parts line and some other fine accessory companies they churn out some purpose built scramblers that flat out rule in the dirt. With no fabrication or welding of any kind involved and the upward popularity in scrambler and tracker types of motorcycles ,we wonder if anything like these Smoky Mountain H-D scramblers would ever roll off H-D's production line? I know I sure would like to see it because after riding these machines, I am hooked on riding some Harley's in the dirt !!
The Sportster power plant with it's torquey and tractable characteristics is the perfect partner for some wild and wooly off-road antics. The bike we rode was outfitted with an accessory fork cartridge kit from Progressive Suspension and Works Performance shocks that performed flawlessly on all kinds of off and on road terrain. These suspension items took the bike up a couple levels from stock that really made the bike scrambler performance worthy. Smoky Mountain H-D out sources their own Scrambler Seats that ride a bit higher than the stock and make all the difference for off-road capability. The added height stretches the legs out more, giving the feeling of being on top of the bike rather than being in it.This helps with controlling the machine and also adds long distance comfort.
A set of Burly Brand Scrambler Bars and Continental TKC 80's also made a huge difference in the Sportster's off-road prowess. The Burly Scrambler bars with their ample width and height added plenty of control and leverage as needed when doing some dirty deeds. The TKC'80's worked like magic out on the trail keeping the 500+ lb Sportster planted in dubious terrain .Enough so that at times we forgot that we were on a V-Twin and felt like we were on a dirt bike. We were woken back up to reality once we hit a small jump or tried to come to a abrupt stop. Which brings us to the subject of how off-road worthy these machines are.
The Smoky Mountain Harley-Davidson scramblers are very , very capable off-road. More so than even those big " adventure" style bikes that are so popular. They are more like riding a large displacement dual-sport bike. Just as long as you keep in mind that these are 500 +lb machines and treated with respect, you can go just about anywhere. We even hit up some very tight and technical singletrack trails and were suprised how well the scrambler did. Normal Jeep type trials and fire roads are an absolute blast on these bikes. A gentle whack of the throttle coming out of turns on these conditions will have the back end kicking out and sliding around in a very controllable manner and make you feel like Jay Springsteen.
The eastern part of Tennessee that borders the Smoky Mountains and North Carolina offers some of the best riding in the entire country, on and off-road. If you are ever in the area be sure to visit Smoky Mountain Harley-Davidson as they are awesome people and are a fountain of knowledge with anything scrambler and Harley-Davidson related. If you are extra nice to them, you just might be able to take a spin on one of their scrambler creations. Word of Warning: You wont' be able to wipe the smile off your face as it's one of the most fun experiences you can have on a motorcycle.