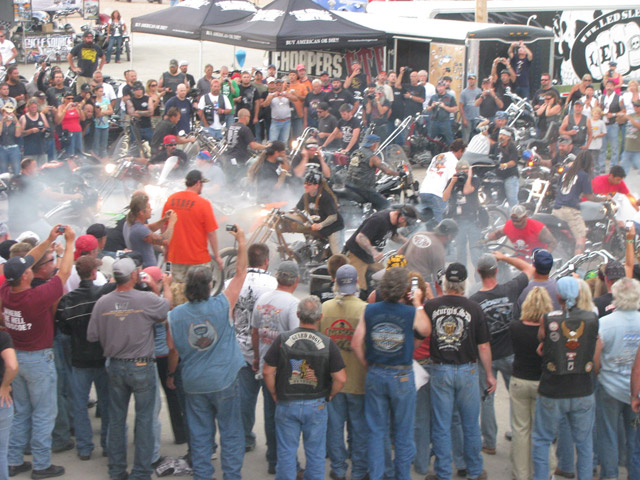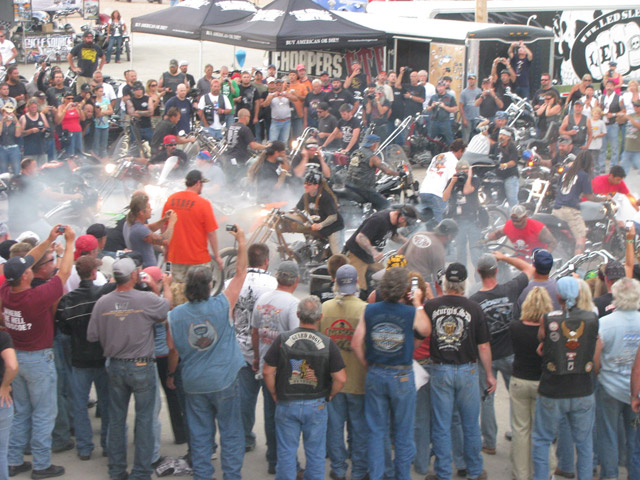 (Sturgis, SD — July 29, 2010) – What do you get when you have 500 motorcycles burning out at the same time? A world record! The Broken Spoke Campground is proud to announce the return of the S&S; Smokeout as part of the 70th annual Sturgis Rally. The Broken Spoke Campground is located on Highway 79 North, just past Bear Butte in Sturgis, South Dakota. The Broken Spoke Campground is the best place to stay for the 70th Annual Sturgis Motorcycle Rally and pots for cabins, RV's and tents can be reserved now by calling (877) 653-6679 or on-line at BrokenSpokeCampground.com.
The same rubber chunking, heart pounding, hair raising event that first graced the County Line during the 2009 Sturgis Rally is kicking off round two in 2010. To top even last year's amazing event, the Broken Spoke and S&S; Cycles will raffle off an S&S; motor! On Thursday, August 12th at 7:30pm, 500 lucky individuals will line up their motorcycles to become part of history and create a one-off burnout that could probably be seen from the far reaches of space. Of course, safety is the number one priority and The Broken Spoke will bring in concrete jersey barriers for contestants to pull up to. Each and every rider will receive a number and a corresponding certificate for their participation in this one of a kind experience. They will also receive a raffle ticket for their chance to take home that shiny new S&S; motor. This is the only way to get your shot at the motorcycle history books and a killer prize from America's premier horsepower provider, so don't miss out!
Be at the Broken Spoke Campground on Thursday, August 12th between Noon and 3:00 p.m. to sign up. If you are camping at the Broken Spoke, you can pre-register by emailing: [email protected] to reserve your number. Please include your Broken Spoke Campground confirmation number in your email. All contestants will be required to sign a waiver and if you are not present by 3:00 p.m., your number will be handed off to someone else.
Top national concerts are free for campers and only $10.00 after 6:00 p.m. for non-campers and will feature Blackfoot* (August 7), .38 Special (August 8), Dokken and Great White (August 9), Black Oak Arkansas and Eddie Money (August 10), Confederate Railroad, comedian Gallagher and Warrant, (August 11), The Kentucky Headhunters and Black Stone Cherry (August 12).
The Broken Spoke Campground is wall-to-wall entertainment for the entirety of the 70th Annual Sturgis Motorcycle Rally. The 2010 festivities include multiple camping options (tents, RV's and cabins), the IMBBA Bike Show and Hall of Fame Awards, Easyriders Rodeo, the Michael Lichter & Sugar Bear Ride, the Cycle Source Ride and Chopper Show, the Vietnam Veterans Wall, the Baker Drivetrain Smoke-Down Showdown, the S&S; Smokeout, the World's Biggest Biker Pool with Hot Tubs & Tiki Bar, Legends Art Gallery, Good 'ol Days Raceway, Hill Climb, America's Original Extreme Motorcycle Thrill Shows, the Limpnickie Lot – where attendees can interact with the next generation of bike builders, the Lucky Daredevil Thrillshow, Hot Contests with Cash Prizes, Free Spoke to Spoke Shuttle, Live Music Day and Night, and an on-site General Store including all the items campers need!
About the Broken Spoke Saloon: The Broken Spoke Saloon is the world's biggest biker bar, with locations across the country. There are two Broken Spoke Saloon locations in Sturgis, SD plus one in Daytona, FL; Myrtle Beach, SC and Laconia, NH (now open year-round). You're bound to be close to one of them, so stop by during the next rally! The Broken Spoke Saloon in downtown Sturgis, SD is located at 905 Lazelle Street. Visit: www.brokenspoke.com
Blackfoot Concert is FREE. All artists and times subject to change.