Motorcycle-boot quality has come a long way in recent years. I've had the opportunity to test some of the best on the market, and some of the worst out there. The Rev'It! Mohawk 2 boots fall into the former category.
After testing Rev'It!'s first-iteration Mohawk a few years ago, my only complaints were that the break-in time of about two weeks was pretty brutal on my right ankle bone, wearing the skin down to exposed flesh. But after a couple of weeks, they were the most comfortable boots I owned. The other gripe was that the soles wore out from literally wearing them every day for over a year. They were my favorite boots by far, and I guess that's to be expected given the abuse I put them through. So I was eager to see what enhancements had been made for Rev'It!'s second go-round.
The Mohawk 2 is now available in black (shown) or brown (the previous version was only available in brown). I like the look of these modern moc toe boots and the contrast of the white stitching against the black. Overall, the Mohawk 2 is a good combination of distinction, lightness, protection, and style.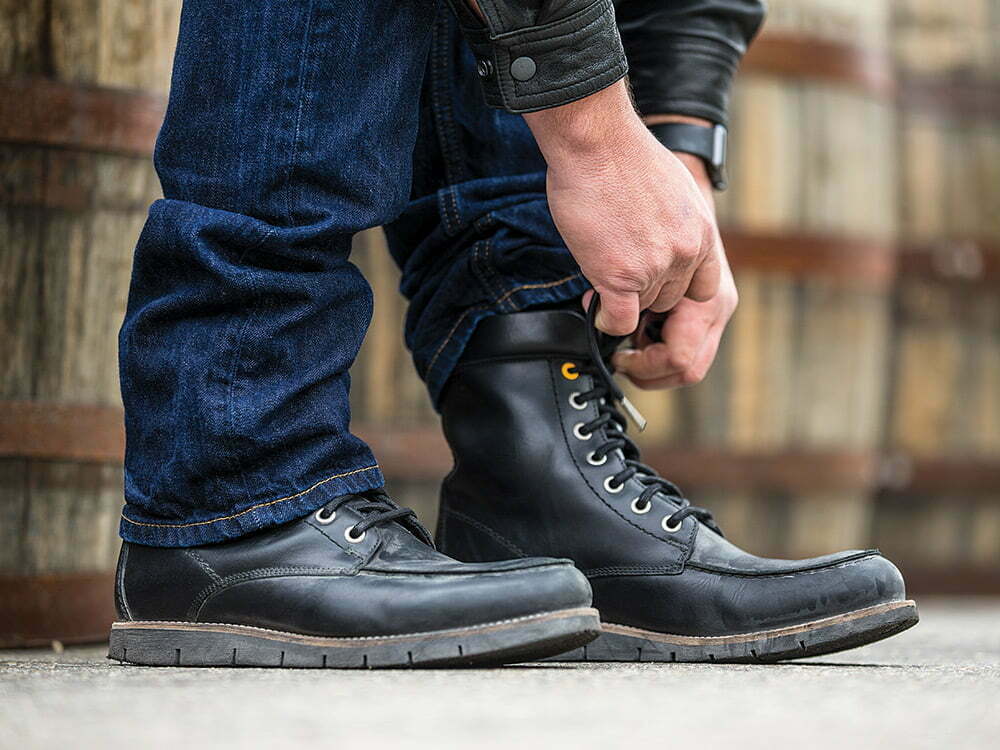 The high-cuff classic moc toe motorcycle boots are made entirely of full-grain cowhide, which is ideal for breathability and durability. Plus, there is a water-repellent coating that keeps water out. The boots come with a shifter strap, which I immediately discarded—I don't need a boot condom for riding, but thanks for the consideration. The anatomically shaped ankle cup and ankle area have been padded and reinforced for comfort, and to support proper foot position. Also, the anatomically shaped foot bed has been incorporated to support the foot for both comfort and safety. On the inside, the tongue has been stitched to the sides to keep out wind, water, and dirt.
I did experience the same break-in pains with the Mohawk 2. Maybe it's the way my right foot is shaped, or maybe I need to correct my pimp walk, but either way, two weeks of favoring the opposite foot when walking is a tad too much. However, once the break-in period was up, again, they have been one of the most comfortable boots I've worn. I guess the old "no pain, no gain" adage is definitely applicable with the Rev'It! Mohawk 2 boots.