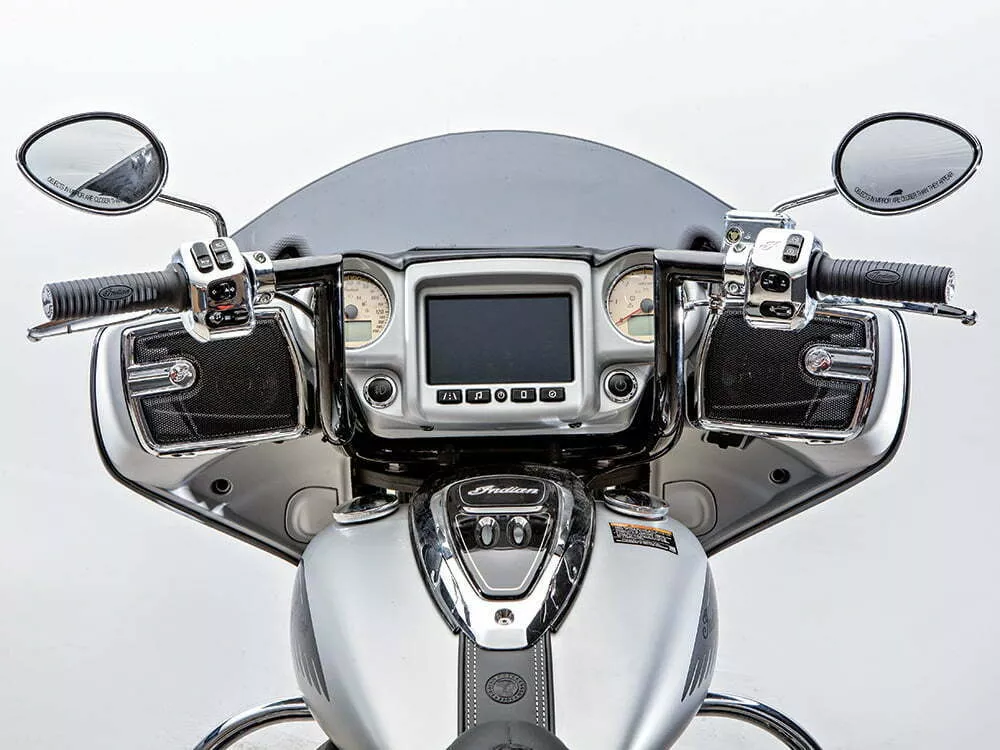 Seeing as I'll be blacking out a lot of the components (still in the process) on my long-term Indian Chieftain project and I was also leaning toward a new set of handlebars for this overall build, why not kill two birds with one stone with a black set of handlebars from Torch Industries?
The factory handlebars are perfectly fine and plenty comfortable from an ergonomics perspective. But I needed black bars, man, and Torch's new bars for Chieftain and Roadmaster models ($379 to $429) scratched my proverbial itch. They're a tad taller, and they come in black (shown) but you can also get them in chrome or raw if that's your thing. Measuring 4 inches over stock, the unique thing about installing new handlebars on '18 Chieftains versus '17-and-earlier Chieftains is that the switch housings were slimmed up and the electronic throttle control (ETC) is now housed inside the end of the new notched bar as opposed to being housed inside the switch cube, so 2018-and-later bars were only going to work in this case. Not to worry, Torch carries bars for both styles. And seeing how I already loved the classy styling of the factory grips, I decided to keep those in place. I was able to reuse the factory throttle-by-wire grip, but I needed to buy a new left-side grip since I damaged my stocker when removing it (contact your local dealer for pricing). Doh!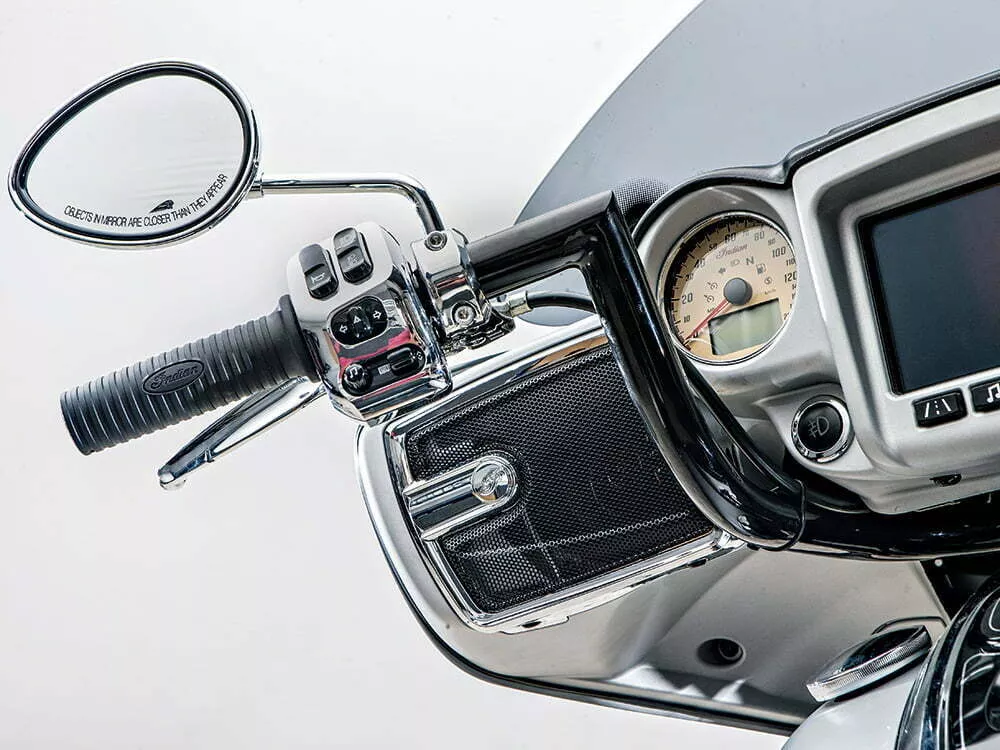 Getting into the meat of the installation, I was surprised at how easy it was to get this new handlebar on, especially after removing the fairing. I was also curious about how the internal wiring portion would go since I'd never ripped into an Indian Chieftain fairing before and wasn't sure what I was working with as far as connectors, brackets, mounts, and what-have-you. On further inspection, my mind was put at ease after looking at how small the deutsch connectors were at the handlebar switch location, and I knew they would easily fish through the new Torch bars without having to remove each pin individually. Getting the fairing off and on is also relatively easy—I recommend grabbing a buddy to help with holding the fairing while you remove the mounting bolts, and then again for reinstallation, though (nothing a sixer couldn't cover). Essentially, four bolts hold the fairing in place (two top, and two bottom mounts), and of course, a ton of wiring connectors housed inside the unit.
All in all, you can remove the fairing as one piece once you've removed the mounting bolts and unplug the connectors, but I'd recommend marking each connector before unplugging (I used different colored strips of electrical tape) for reference during reinstallation. As for plumbing, all of the stock wiring was long enough to work with the taller bars. While I didn't need to extend the wiring, I did need to purchase a longer clutch cable (contact your dealer for pricing), which was 2 inches longer than stock. Lastly, the brake line still had plenty of slack for me to keep it in place safely, so I also reused it for this project.
Once I installed the bars, I of course had to test them out on a ride. I was stoked on the hand positioning and how comfortable they were. I didn't feel my back slouching as it usually does when I ride. I also didn't notice reaching too far forward at all, which was another plus. And they don't inhibit my view of the gauges when riding, and the switch housings are still easy to reach. Overall, I scored with this new set of Torch bars, and look forward to ripping into the next set of parts of the performance persuasion next month!