This article was originally published in the December-January 1998 issue of Cycle World's Big Twin magazine.
You have to admit it: These two stunning red customs are pretty similar. So much so that if you were to learn that they belong to two men with the same last name, you might logically conclude that those men are brothers, maybe even twins.
But you'd be wrong. Although they have been close friends since childhood, Dennis Clark and Scott Clark of Vancouver, British Columbia, are only that, friends. As kids, they grew up together, rode dirtbikes together, hot-rodded cars together. And now they ride their customs together.
Dennis, the first of the two to get into custom Harleys, is no newcomer to motorcycles or motors that go boom in the night. "In 1976 I was Small Wheels School Boy moto-cross champion," he says. Then he got into cars. "I used to build hot rods, and I had a big-block '49 Anglia that was the fastest street rod around here at the time."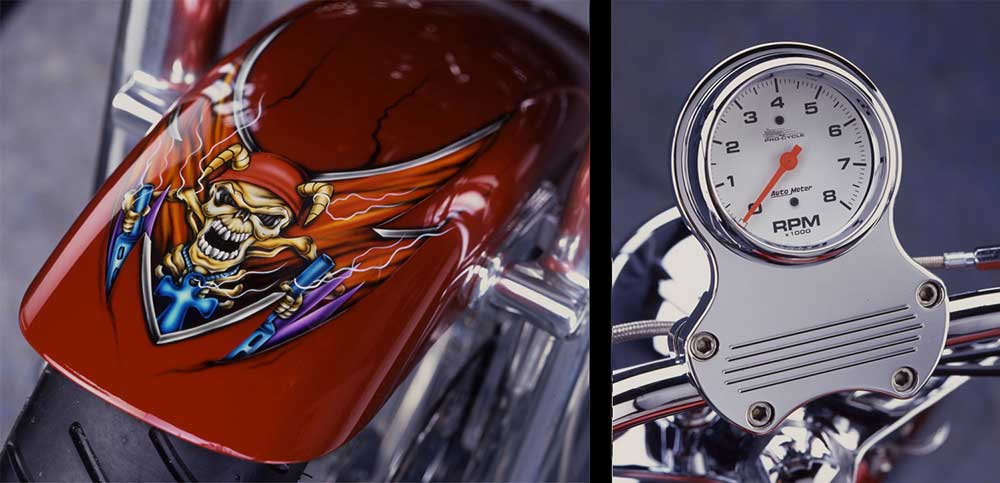 That was a few years ago. Dennis still has his hot rods, but ever since Harleys "flung the craving" on him, he spends most of his spare time on his custom. "I couldn't find the bike that I wanted anywhere," he ex-plains, "so I figured I'd have to build it myself to get it right. The finished bike has a relationship with the old choppers but without compromising safety."
Dennis began with a Chopper Guys swing-arm and a Softail frame that had been given a two-inch stretch, then bolted up a KT Components SofSpension kit and a Wide Glide fork, all rolling on 17-inch wheels. Geert Povlsen, an accomplished fabricator in the area, hand-made a few small components such as the rear fender braces and various other brackets.
"These new choppers sure are a lot better-handling than the old ones," says Clark. "And these Softail choppers are very comfortable. Those old bikes … if you hit a bump on them you could injure yourself. But this suspension works wonderfully."
Scott Clark thinks so, too. As soon as he saw just how fabulous his pal's bike was going to be, he decided he wanted in on the fun and started making … phone calls. This Clark didn't have the hands-on inclination to build a bike himself, but he nonetheless had a large Jones for a Harley custom; so he called the people at JARZ Performance in Abbotsford, British Columbia, and commissioned them to build one. A fast one. Scott figured that if his bike wasn't going to be the first, it would at least be the quickest.
According to Jon Andres of JARZ, the engine had no problem whatsoever meeting Scott Clark's high expectations. "It puts out 120 horses at the rear wheel," he says. "We made a very square motor, four inches by four inches, and that means it wouldn't fit into a standard frame. So, we commissioned Chopper Guys to build a frame to our specs. Once the basics of the bike were decided, we pounded out the fenders and modified the Battistini's tank."
---
---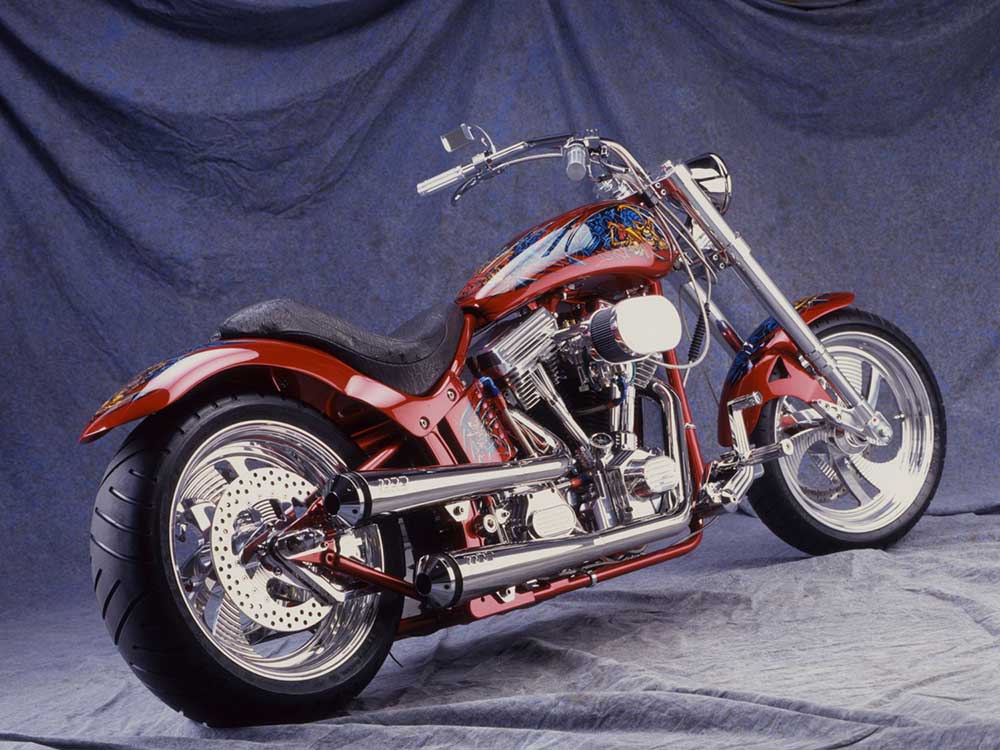 | Specifications: | | |
| --- | --- | --- |
| Bike Name: | Big Guns | Mr. New York |
| Owner: | Dennis Clark Mission, British Columbia, Canada | Scott Clark Mission, British Columbia, Canada |
| Base Machine: | Hand-built custom | Hand-built custom |
| Designer/Fabricator: | Dennis Clark/Geert Povlsen | JARZ Performance 33800-B King Rd. Abbotsford, British Columbia |
| Paint and Chrome | | |
| Molding: | Dennis Clark | Radar Autobody |
| Painter: | Frank Crawl of Anra Airbrush | Anra Airbrush |
| Graphics: | Frank Crawl | Anra Airbrush |
| Chroming: | Fraser Valley Plating | NA |
| Polishing: | Geert Povlsen/Dennis Clark | Langley Metal Polishing |
| Engine | | |
| Year: | 1997 | 1997 |
| Model: | EVO | JARZ Square Four |
| Builder: | Dennis Clark | Jon Andres, JARZ Performance |
| Displacement: | 80 cu. in. | 100.5 cu. in. |
| Cases: | H-D | STD raised deck |
| Lower end: | Modified H-D | S&S Racing, hardened flywheels |
| Rods: | Modified H-D | Carillo |
| Pistons: | Wiseco | Keith Black |
| Heads: | Modified H-D | STD/Jon Andres Stage II |
| Valves: | H-D | Baisley |
| Cam: | Red-Shift 654 | Red Shift 655 |
| Lifters: | H-D | Jims Powerglide |
| Ignition: | Dyna 2000 | Compu-Fire HQ |
| Coils/wires: | Dyna 2000 | Dyna 2000 |
| Carb: | Modified H-D | Zipper's/STS Pro-D |
| Air cleaner: | Screamin' Eagle | Andres M&H |
| Pipes: | Samson | 2" stainless |
| Mufflers: | Owner-installed baffles | SuperTrapp |
| Transmission | | |
| Year: | 1997 | 1997 |
| Type: | Delkron case, Jims back-cut gears | Delkron case, Andrews back-cut gears |
| Primary drive: | Primo 3″ belt | Primo Brute IV 3" open belt |
| Clutch: | Bandit | Rivera Pro |
| Frame | | |
| Year: | 1997 | 1997 |
| Make: | Chopper Guys | Chopper Guys |
| Type: | Softail, 2″ stretch | Custom Softail |
| Builder: | Dennis Clark | NA |
| Modifications: | NA | 350 rake, backbone raised 1" |
| Front Fork | | |
| Year: | 1997 | 1997 |
| Make: | H-D | Roma inverted |
| Type: | Wide Glide | Wide Glide |
| Rear Suspension | | |
| Year: | 1997 | 1997 |
| Type: | Torsion bar | NA |
| Make: | KT Components | Progressive |
| Swingarm: | Chopper Guys/Geert Povlsen | Chopper Guys |
| Front Wheel/Tire | | |
| Wheel: | RC Components Wizard | PM Viper Fusion |
| Tire: | Metzeler ZR radial | Metzeler ZR radial |
| Tire size: | 130/80-17 | 130/80-17 |
| Rim width: | 3" | 3" |
| Brake: | Russell stainless lines & fittings, full-floating rotor; JB caliper & master cylinder | PM 6-piston, 13" full-floating rotor |
| Rear Wheel/Tire | | |
| Wheel: | RC Components Wizard | PM Viper Fusion |
| Tire: | Metzeler ZR radial | Metzeler ZR radial |
| Tire size: | 180/55-17 | 180/55-17 |
| Rim width: | 5" | 5" |
| Brake: | Russell stainless lines & fittings, full-floating rotor; JB caliper & master cylinder | PM 4-piston, 17.5" full-floating rotor |
| Accessories | | |
| Handlebar: | Ness | Ness |
| Risers: | Custom Chrome | Ness |
| Grips: | JB | Ness |
| Mirrors: | JB | Ness |
| Gas tank: | Ness/Battistini | Battistini's |
| Oil tank: | Chopper Guys | Chopper Guys |
| Front fender: | Dennis Clark | Andres M&H hand-formed aluminum |
| Rear fender: | Dennis Clark | Andres M&H hand-formed aluminum |
| Headlight: | H-D | Ness |
| Taillight: | Badlands | Badlands |
| Electrics: | Pro-One | JARZ Jazz |
| Speedo: | Auto Meter | NA |
| Tach: | Pro-One | NA |
| Instruments: | Ness | NA |
| Seat: | Dennis Clark | Andres M&H |
| Foot controls: | JB | Pro-One |
| Footpegs: | JB | NA |
| Other: | Hand-carved billet struts by Polvsen Machining | NA |