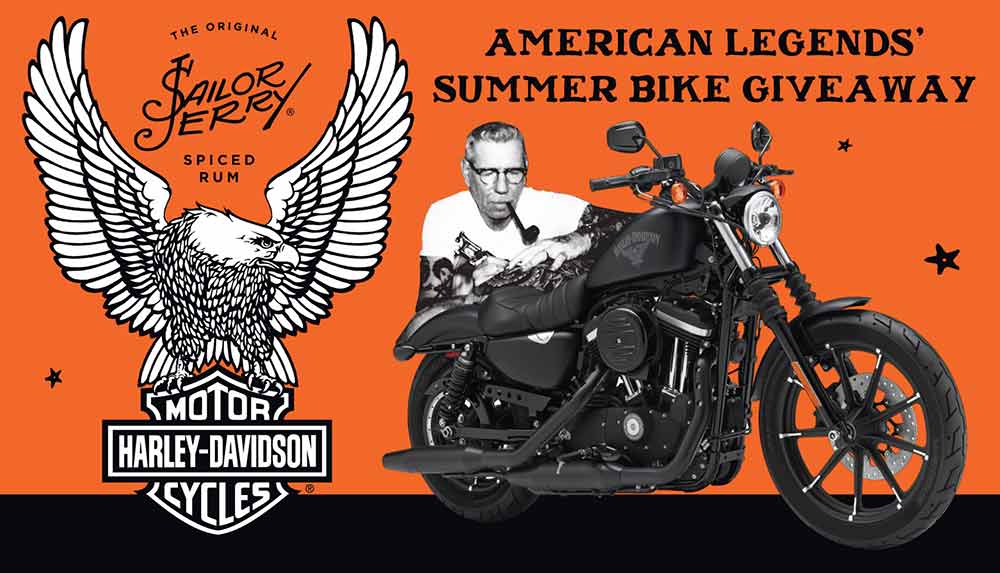 Sailor Jerry Spiced Rum and the iconic, American Harley-Davidson Motor Company are giving fans the opportunity to win a customized motorcycle this summer through a sweepstakes program which is now live on www.sailorjerry.com/harley-davidson.
To kick-off their multi-year partnership, Sailor Jerry Spiced Rum and Harley Davidson unveiled the first of a series of twenty-two customized Harley-Davidson motorcycles, designed by high profile artists and visionaries from around the United States including Harley-Davidson's own Styling Team, at a celebration at the Harley-Davidson Museum in Milwaukee on May 2nd.
The participating artists include a range of innovators with backgrounds in tattoo design, mural paintings, street art and automotive design including, Miami-based muralists, Alexander Mijares, acclaimed tattoo artists Jonathan Valena aka JonBoy, Oliver Peck, and Megan Woznicki aka Megan Massacre have designed a selection of bike, as well as celebrated automotive designer, Michael "BuckWild" Ramirez and artist L'Amour Supreme. Each artist was tasked with interpreting the infamous flash art style of Norman "Sailor Jerry" Collins into their unique motorcycle design. Members of the Harley-Davidson Styling Team round out the group of artists and use their deep knowledge of Harley-Davidson history to inspire their unique designs.
The sweepstakes ends September 2nd. While you wait, come and visit the Hot Bike Pappy Hoel Campground in Sturgis sponsored by Sailor Jerry!