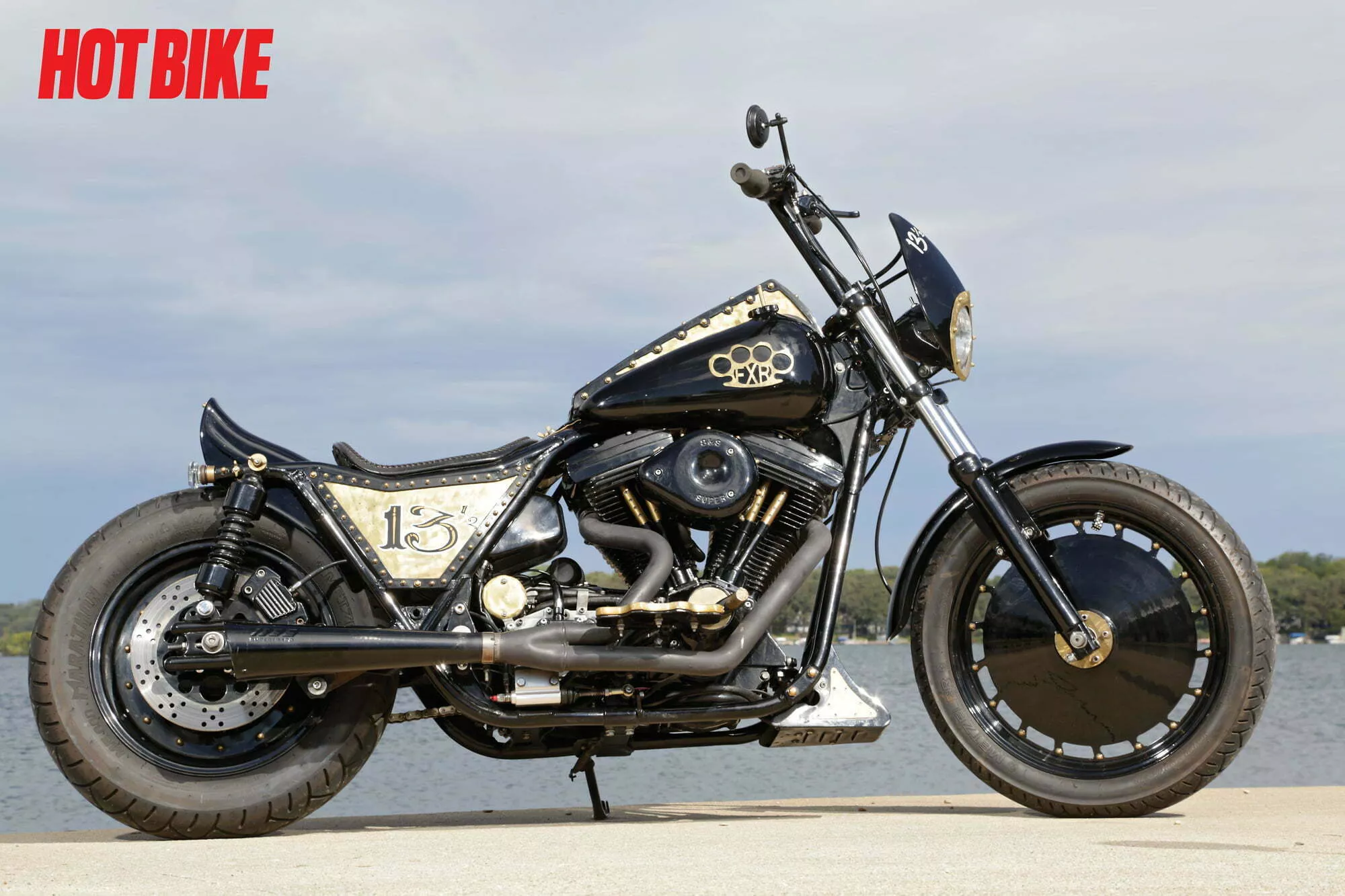 Hot Bike: How did this FXR get started?
Jason Grimes: It seems like someone in the late '80s customized it. It had old PM wheels and all this cool stuff from the '80s. It was purple and had flames and was in bad need of an update.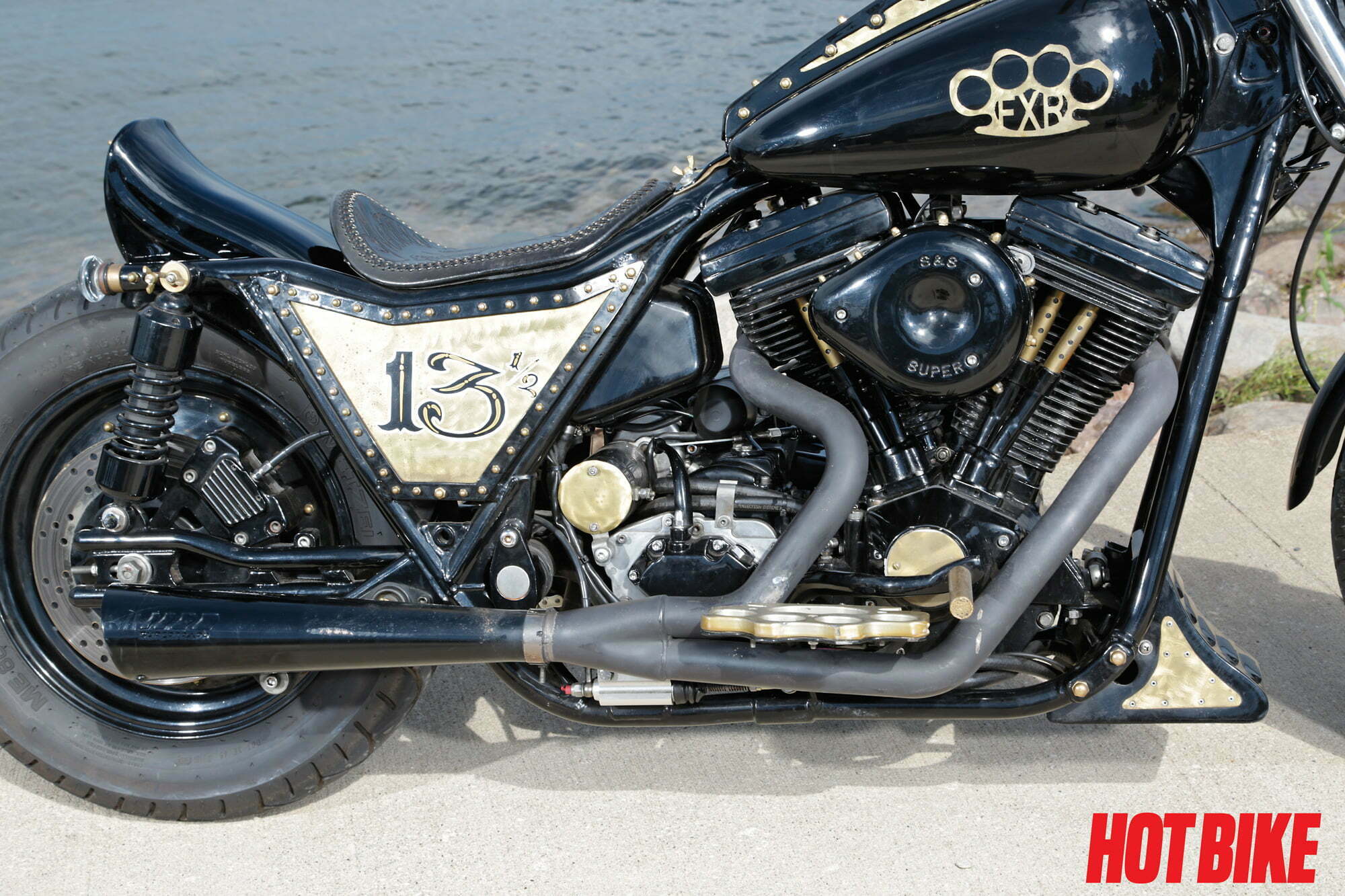 HB: What was your inspiration for the style?
JG: My inspiration originated from all the different types of metals I do. In this case it was brass and inspired by antique materials. I tried to give it a rough yet finished look.
The Boston Bruins also inspired me when I started building this bike. They were in the playoffs, and I wanted to do something black and gold.
I'm a big fan of using brass, copper, or stainless against gloss black. All my bikes start out as gloss black. That's my canvas. Then I use the different types of metals to create contrast. I think black and brass work really well together, particularly when things are split up and not too overwhelming.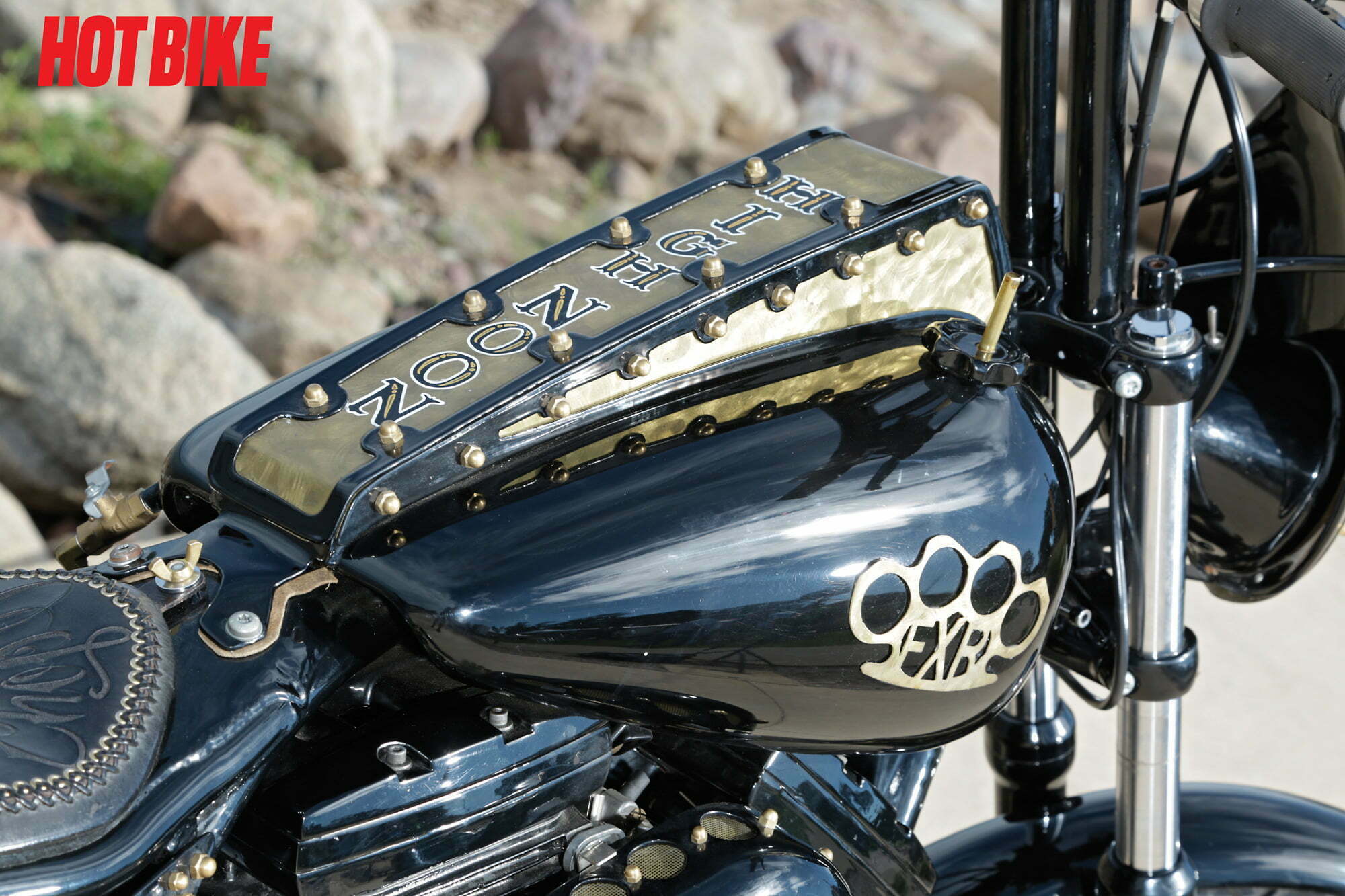 HB: Tell us more about the period-correct parts.
JG: I didn't try and go with all high-performance super-rad stuff. One, I couldn't afford it, and, two, I wanted to keep it a period-correct bike. The wheels are Performance Machine from the '80s. I thought they were great, and I didn't want to take them off. They are a spun aluminum wheel that has been put together. I thought those were really cool. The only thing that needed to be done was to add a little bit more flair and contrast. I took the wheels and powdercoated them black then drilled all the way around it for a rim locker kind of look.
It also has a custom-built swingarm from the '80s, GMA brakes and controls, and all that stuff that was made back then. If somebody had the imagination that I have they could have built that same exact bike back in 1984.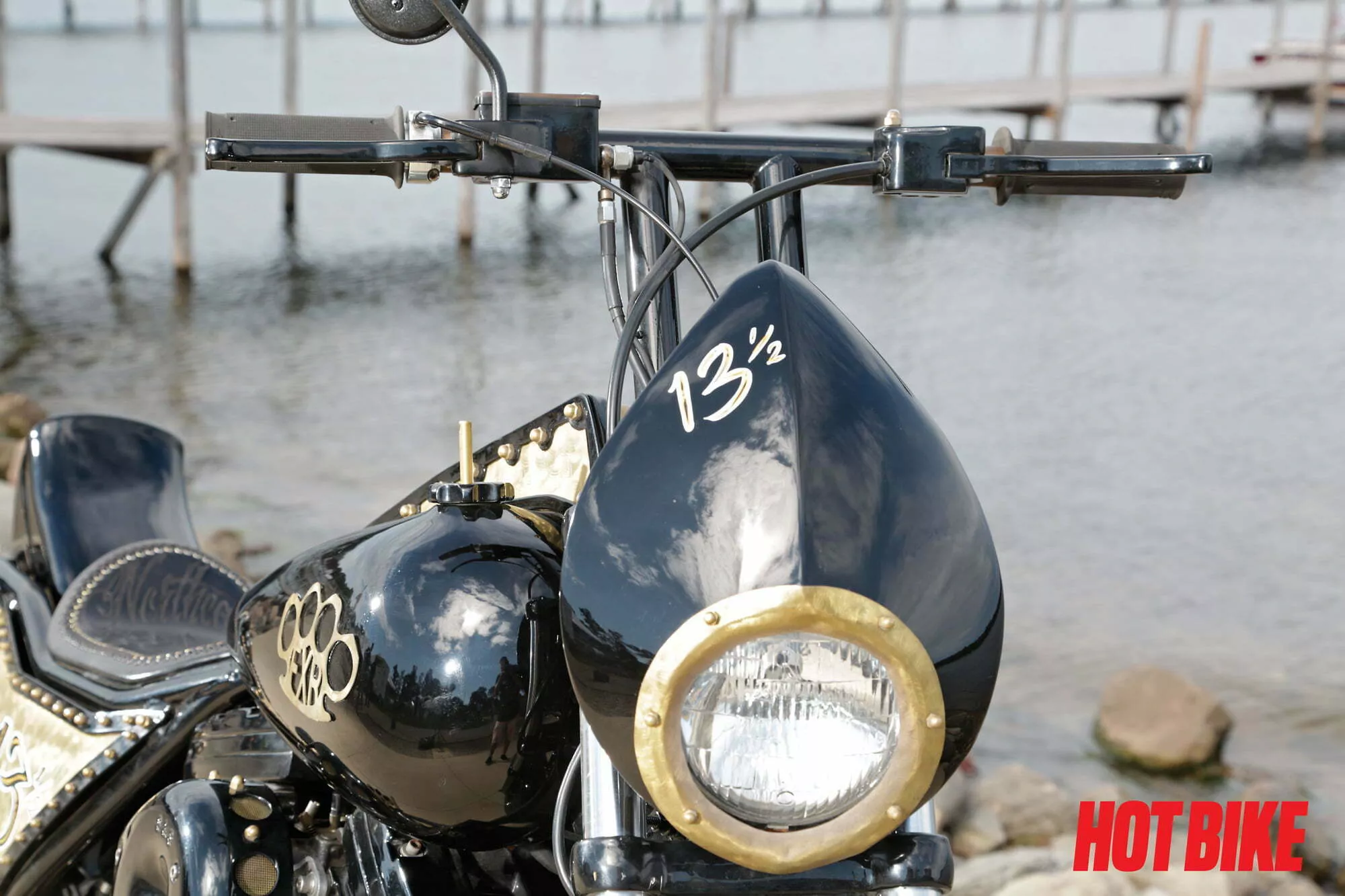 HB: Tell us more about the brass knuckles on the bike.
JG: I do a lot of the brass knuckles on a lot of my builds. I knew I was going to be doing brass, so I added the brass knuckles in. I dig the way they look. It signifies strength and power. I think that's what an FXR is all about.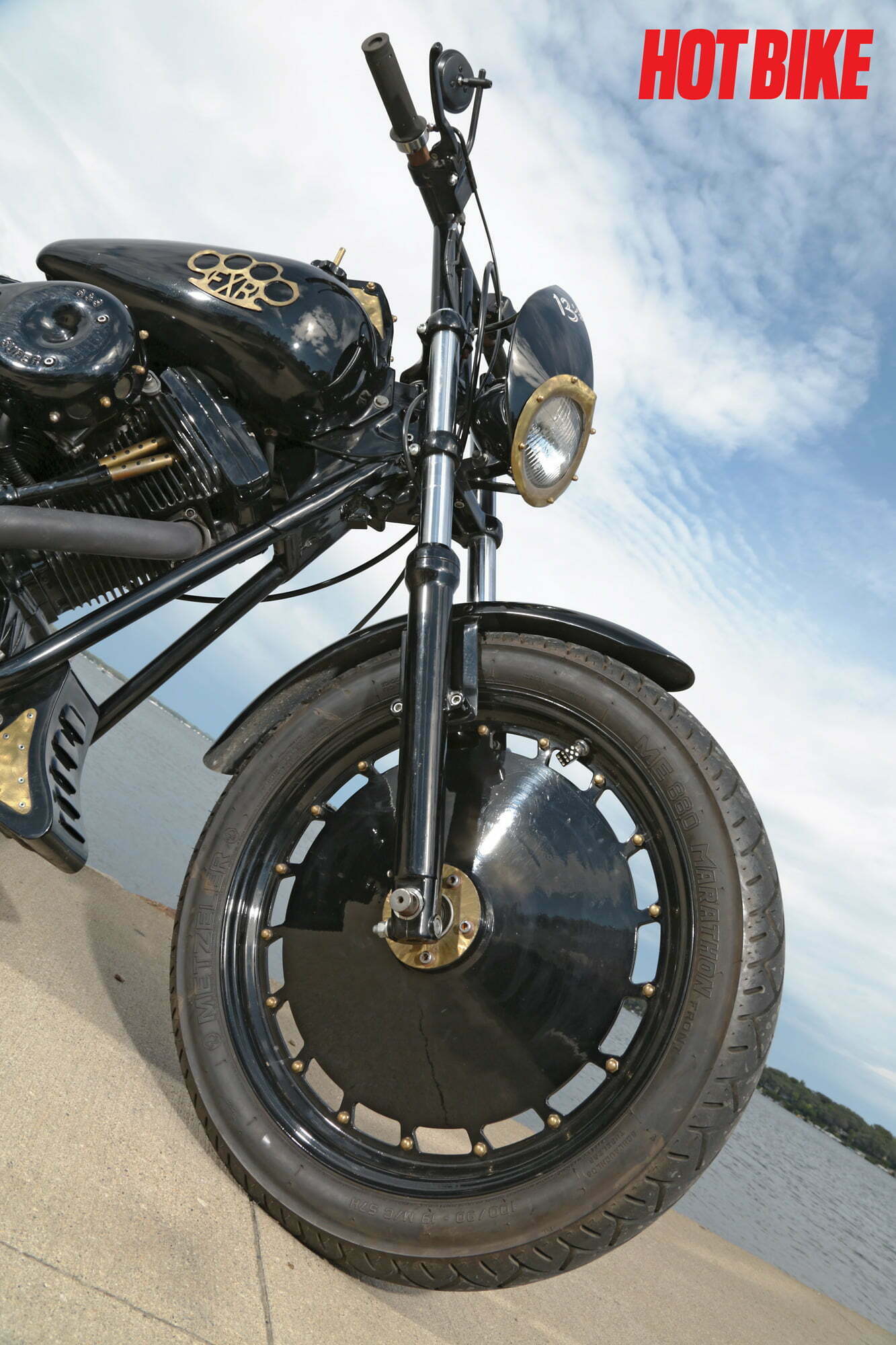 HB: How does this bike differ from the West Coast FXRs?
JG: I wanted to something different than what I see. A lot of the West Coast bikes are painted sparklingly colors and have a lot of parts on them. Back in the late '80s/early '90s, there wasn't 14-inch Öhlins suspension, inverted legs, and all this killer stuff. I actually lowered the bike instead of making it taller because that's what they did back then.
I don't really see handmade parts on them either. The things I didn't have I made—like the fenders, tanks, and fairings. I wanted to be in the shop making stuff rather than buying the best stuff on the market.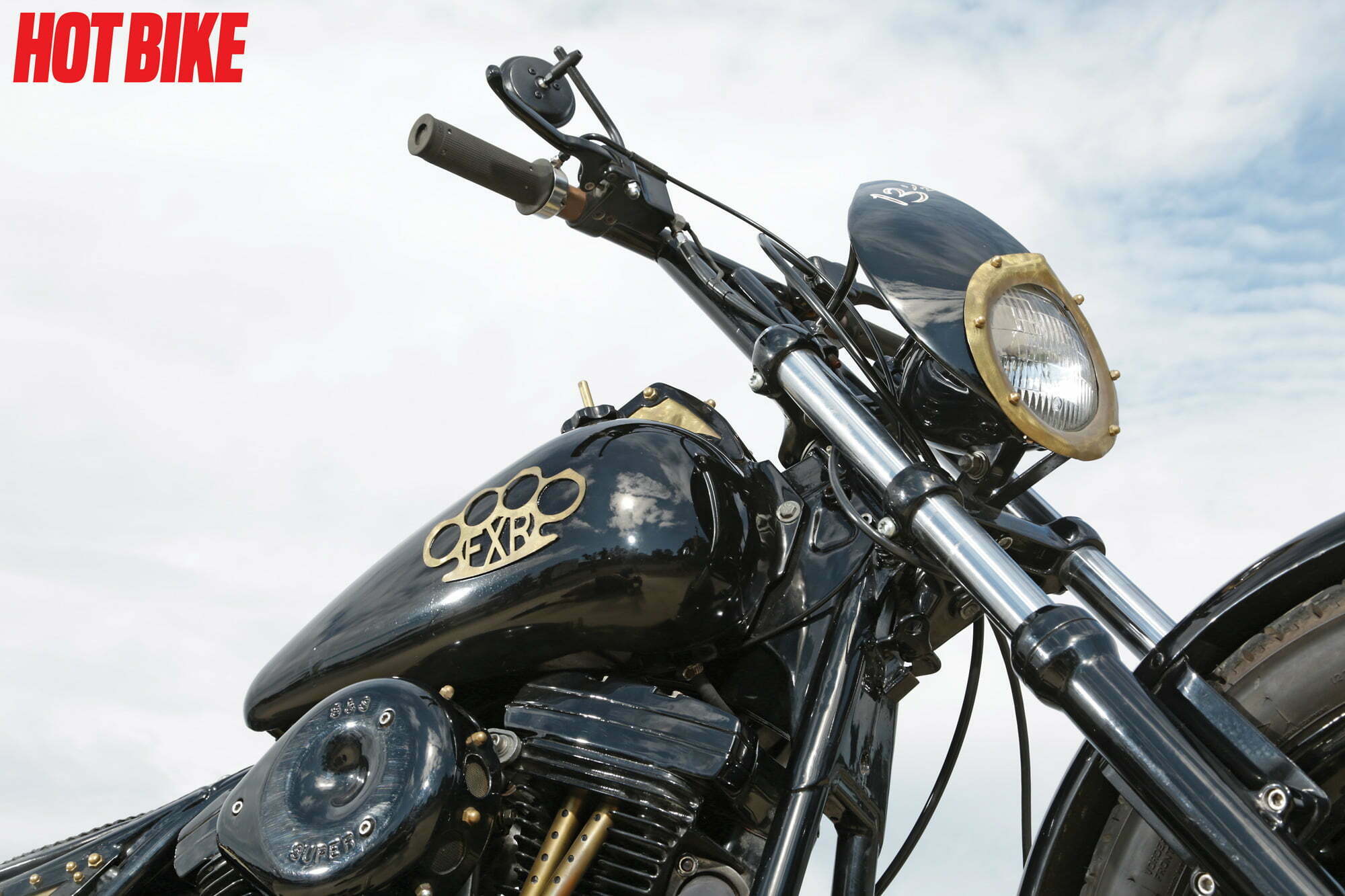 HB: What's the name of the bike?
JG: It's called High Noon because it's at 12 o'clock quite a bit.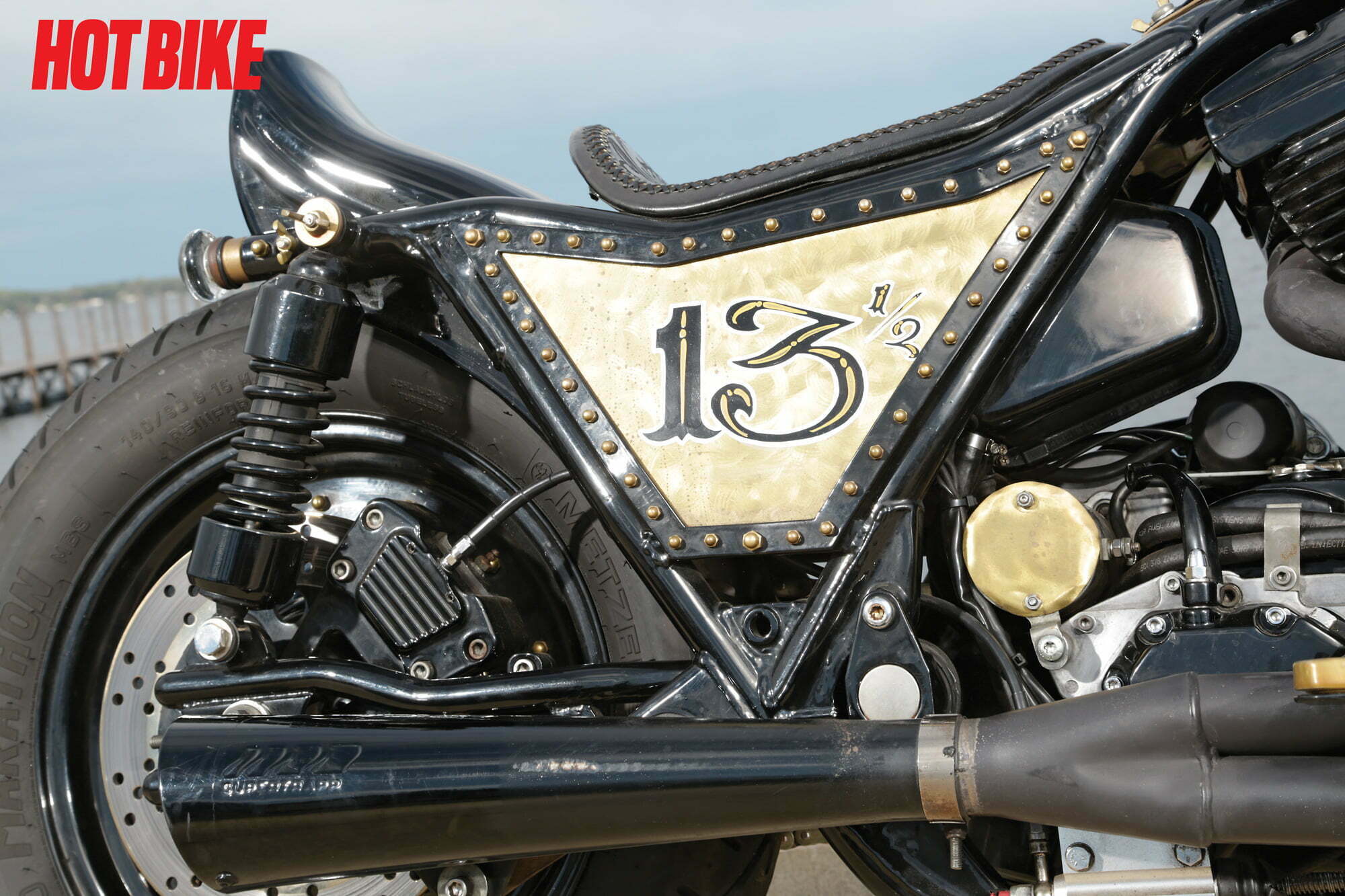 HB: What does the 13-1/2 mean?
The 13-1/2 signifies 12 jurors, one judge, and half a chance. One of my good friends used to wear that a lot. He wasn't a club guy, but he passed away. He was one of my best friends.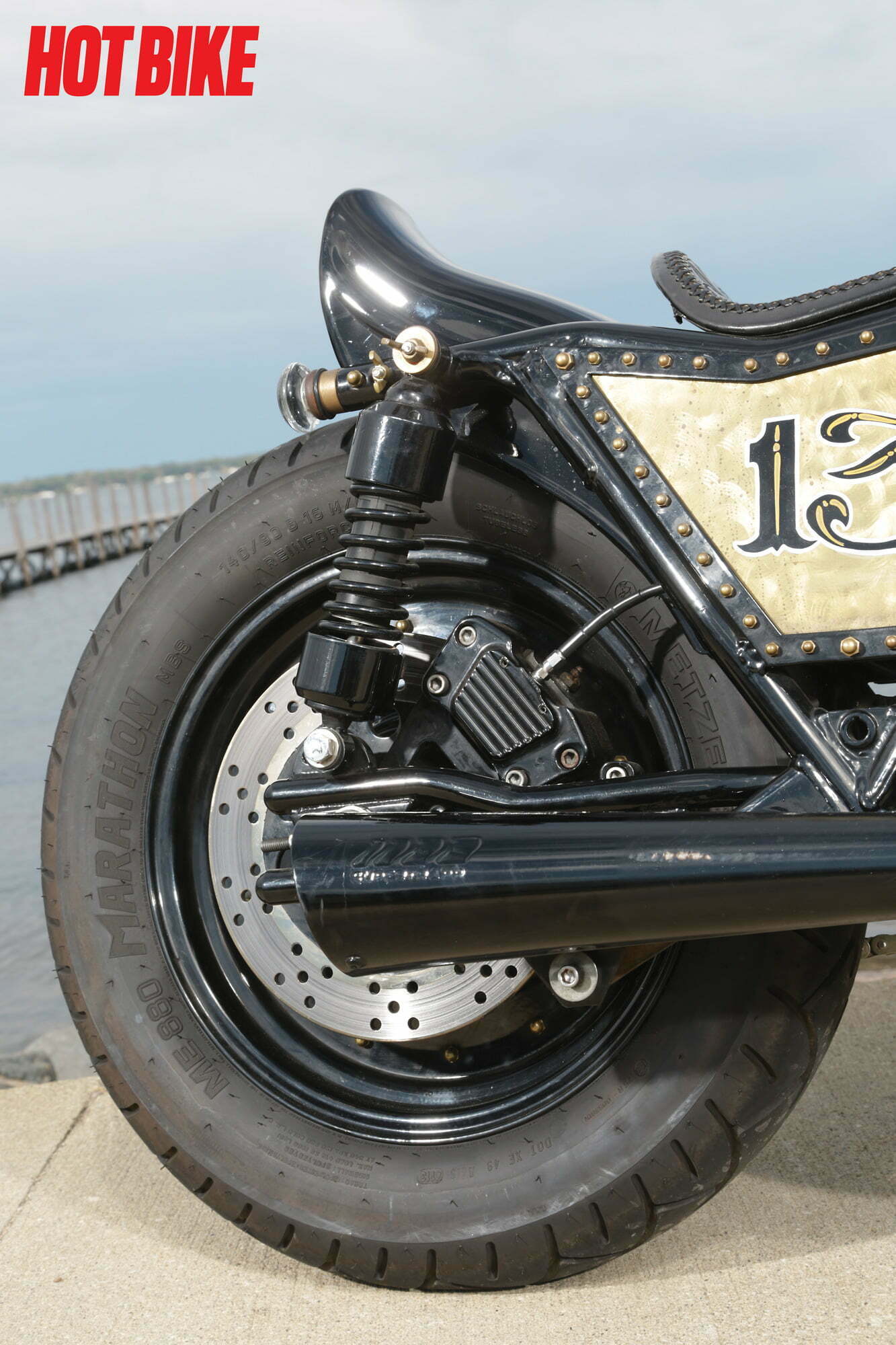 HB: How does it ride?
JG: It rides great. I rode it over 1,000 miles on the tour at about 110 mph the whole way and sometimes upwards of 130 miles per hour. It rides perfect. I trust it 100 percent.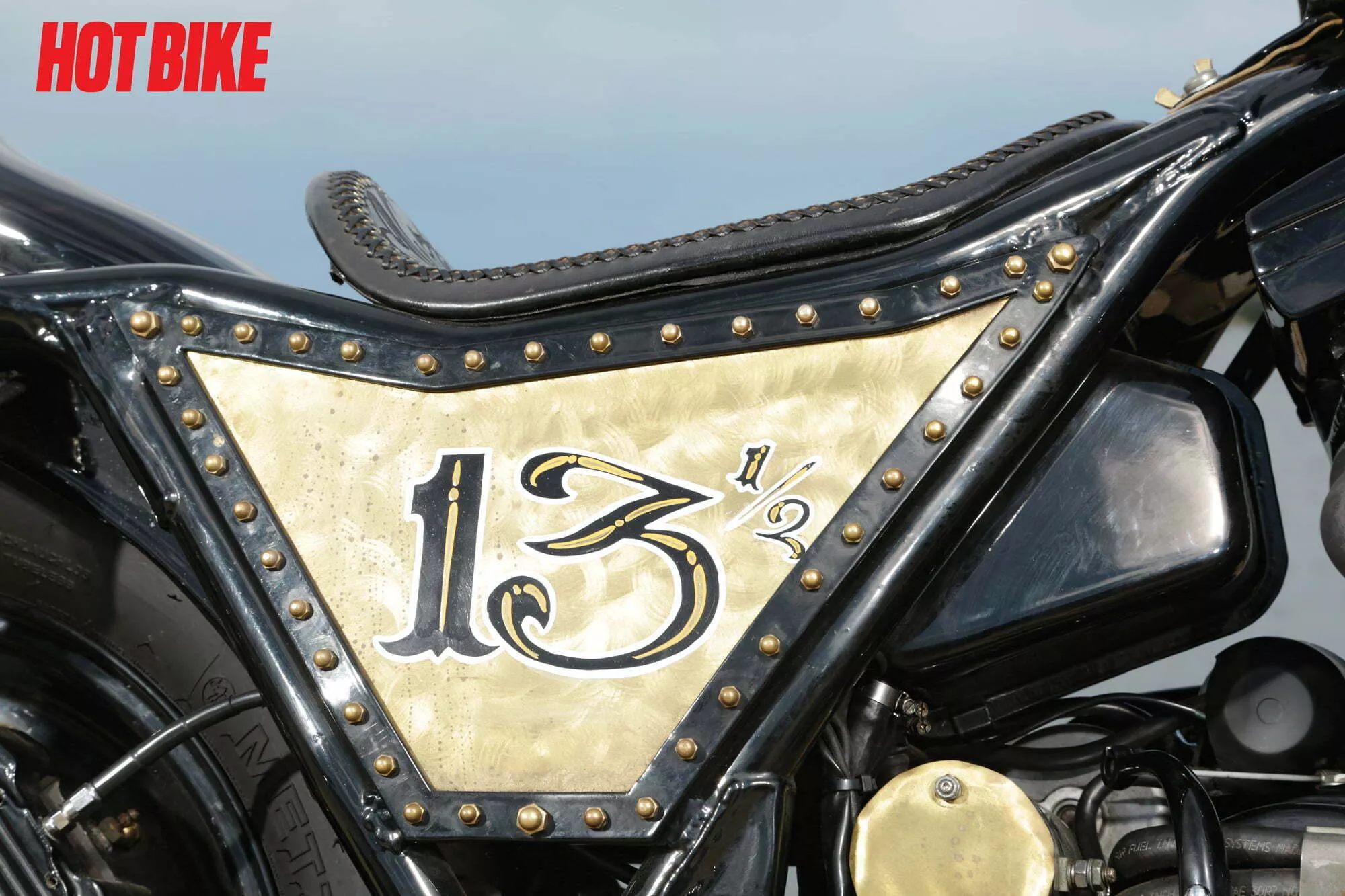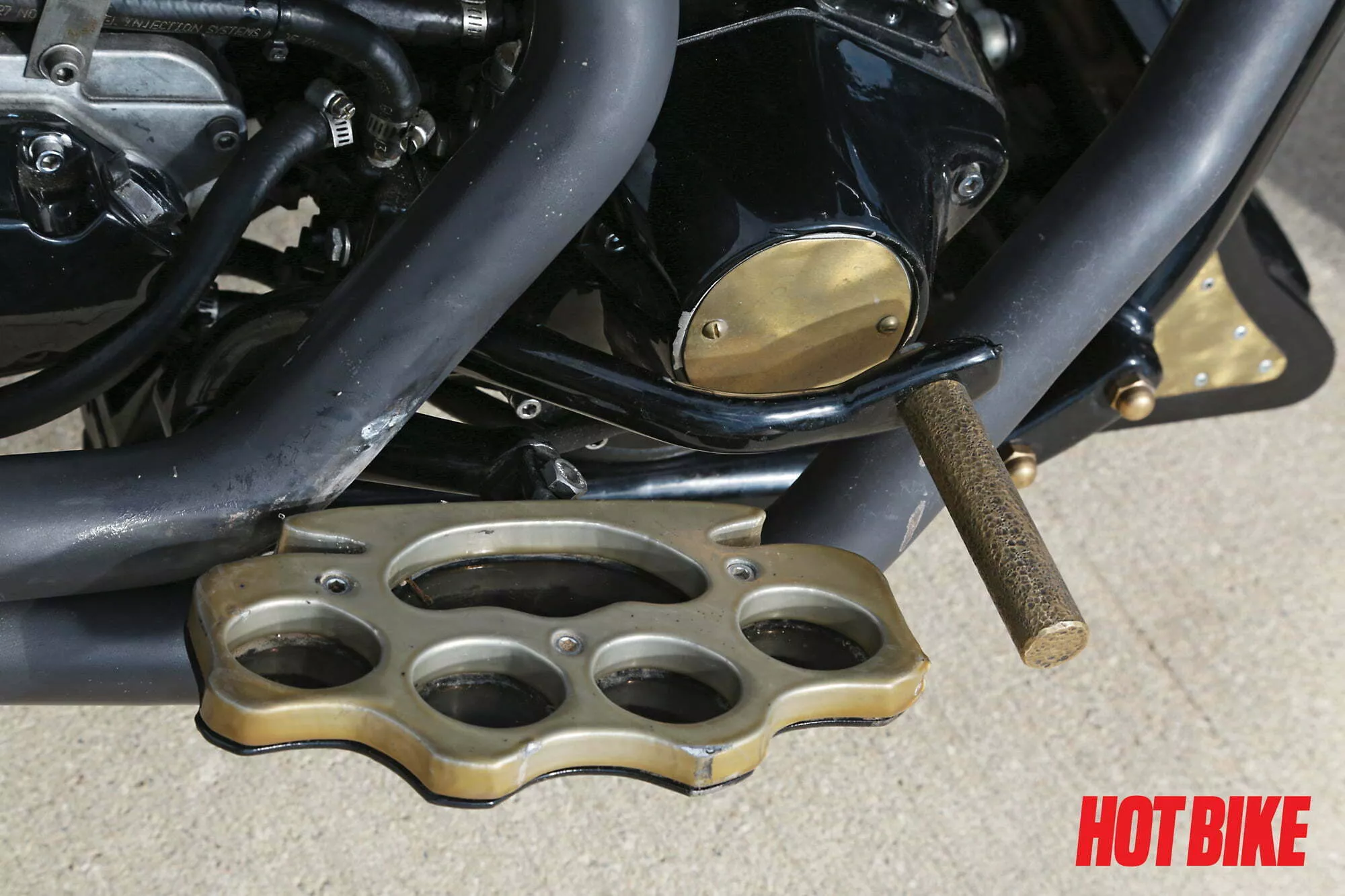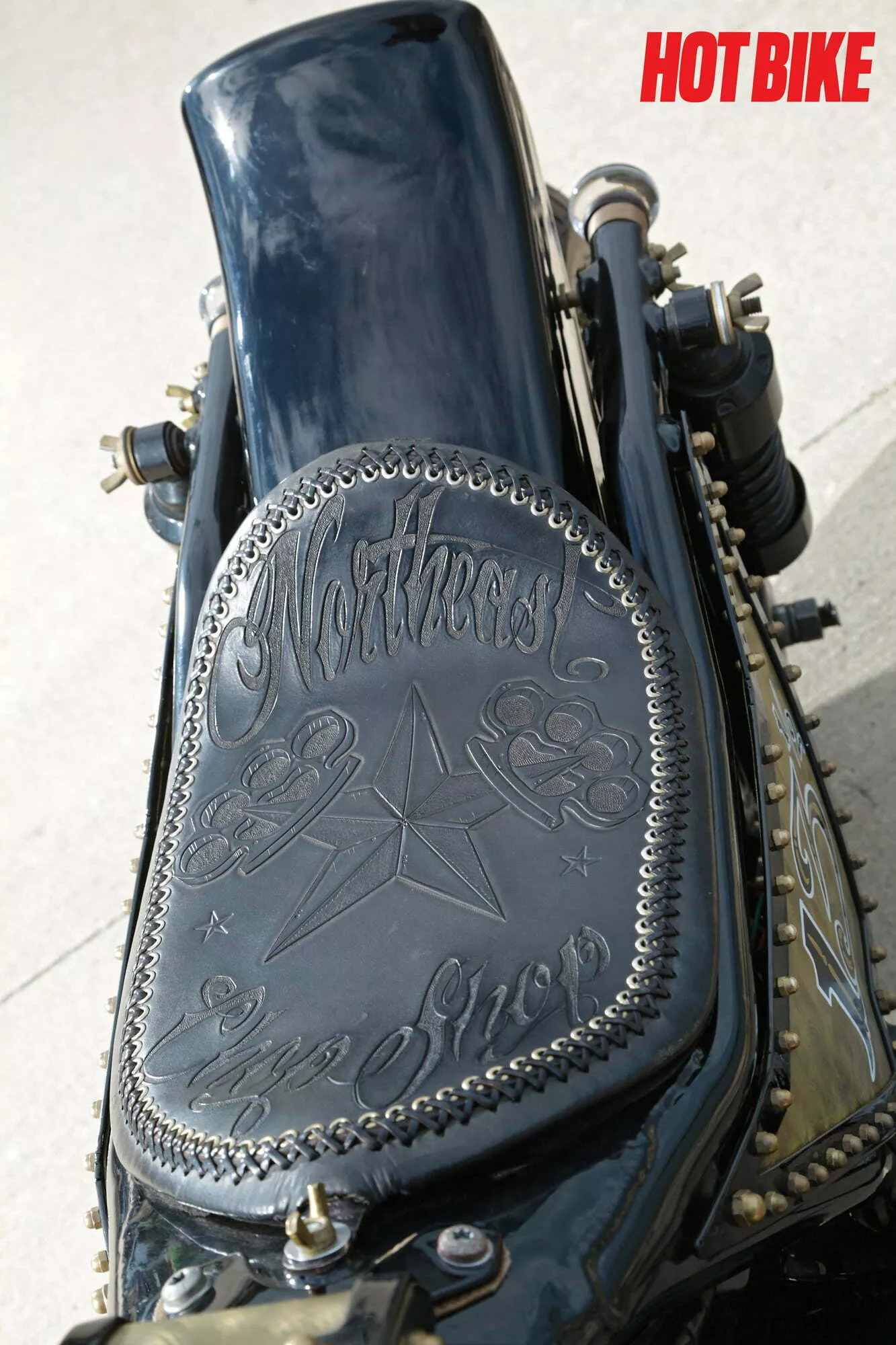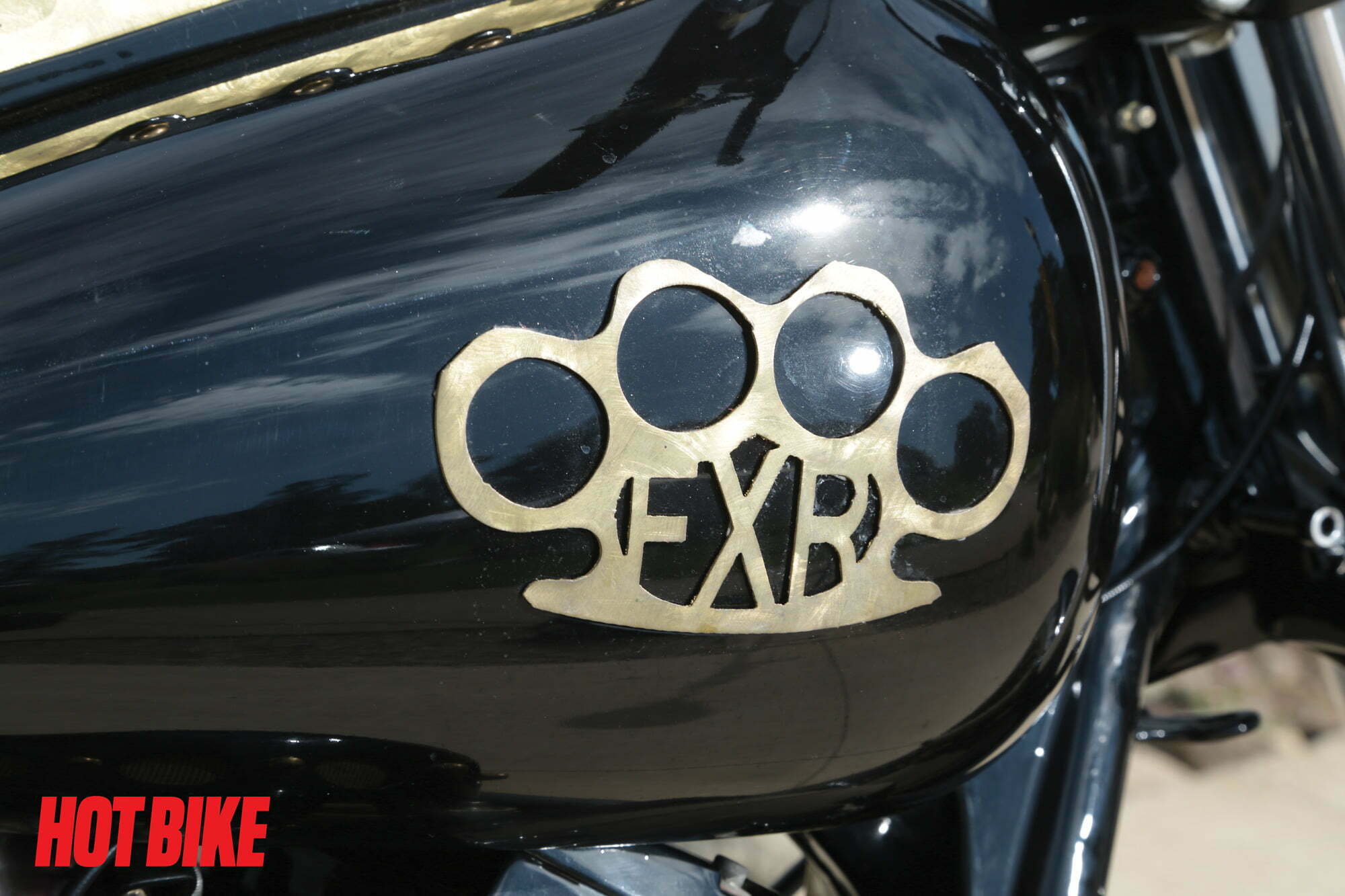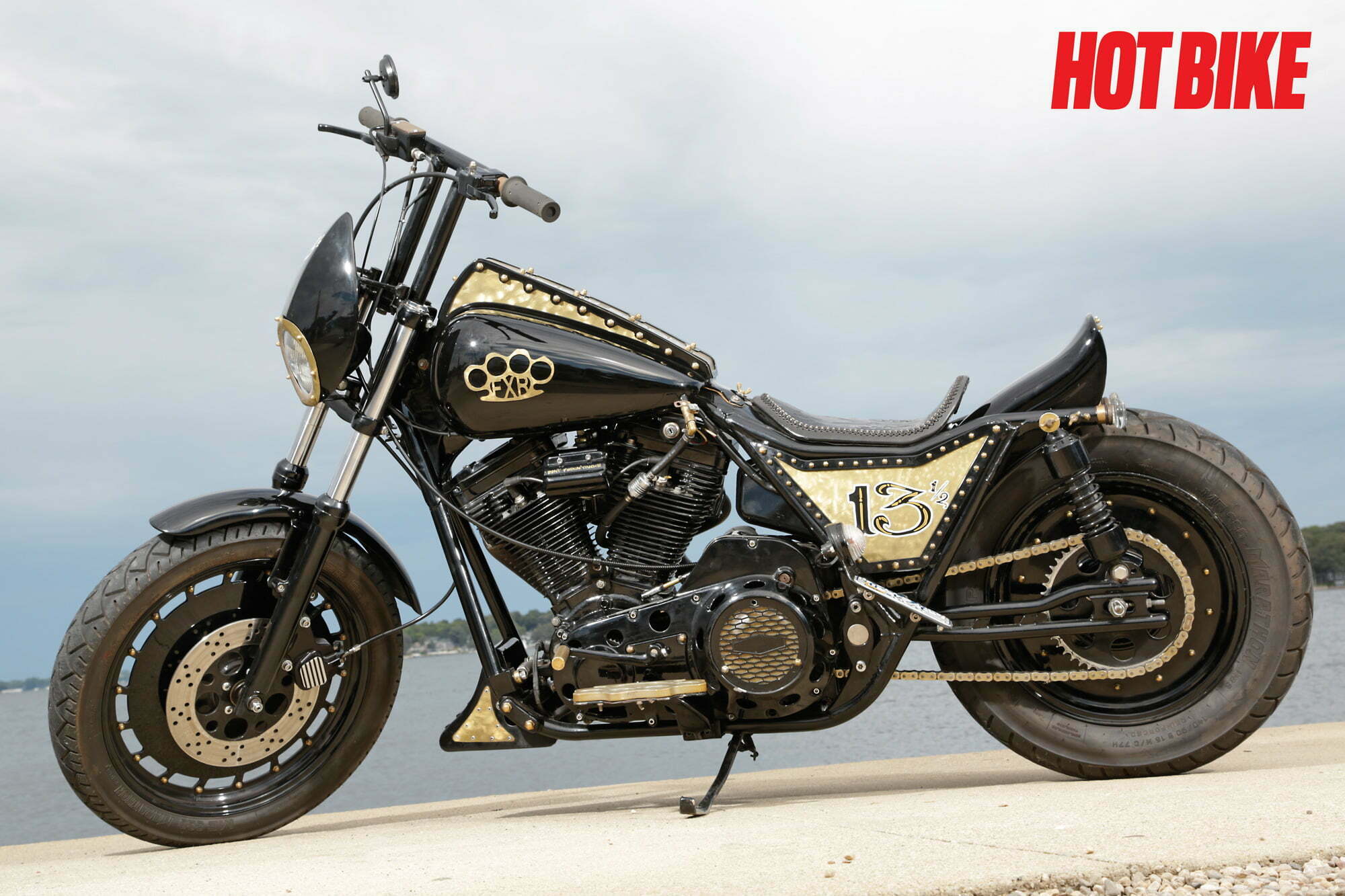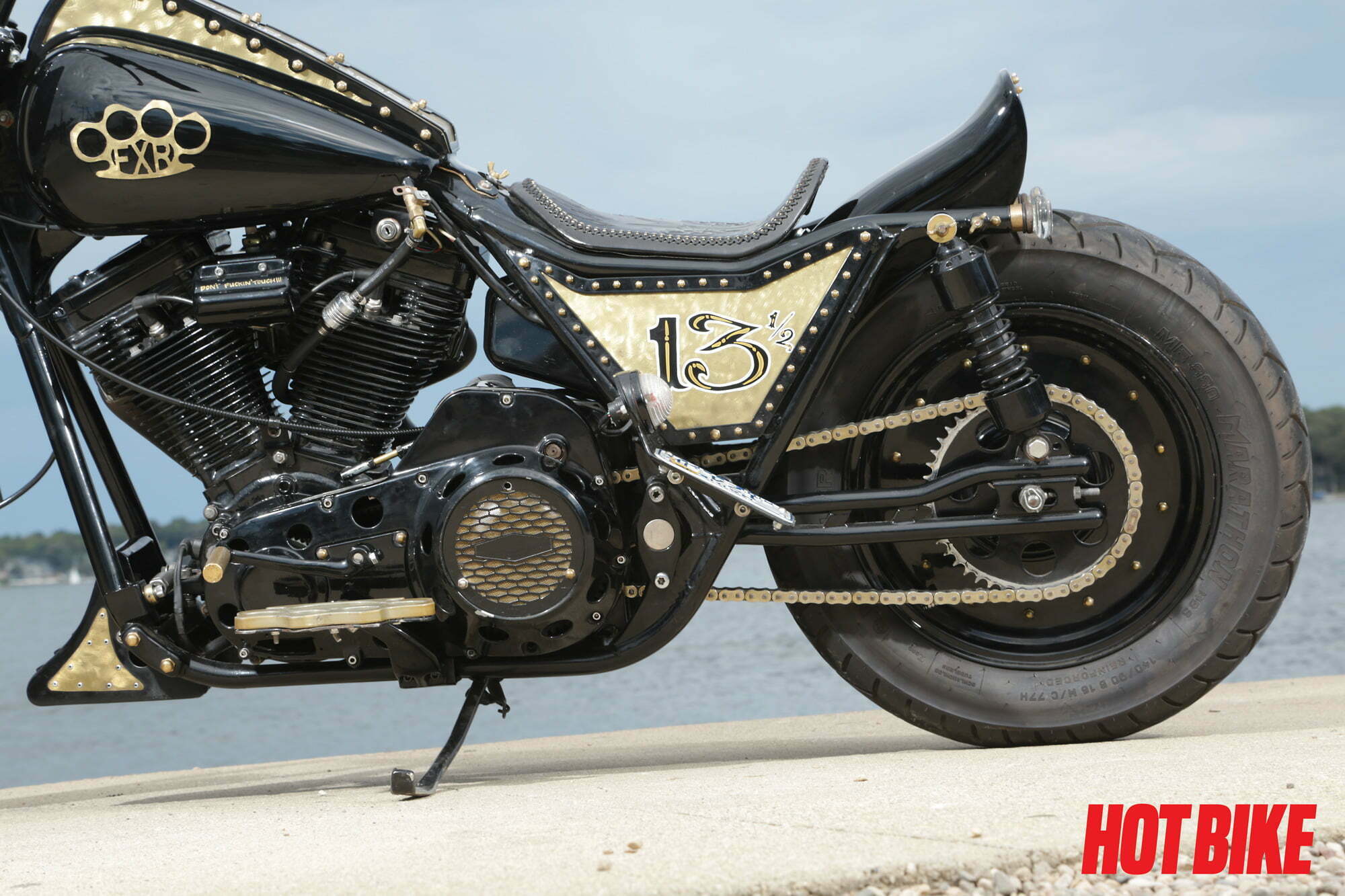 | Specifications | |
| --- | --- |
| Owner | Paul Ingledue |
| Shop | Northeast Chop Shop (NCS) |
| Shop Phone | (207) 239-7405 |
| Website | northeastchopshop.com |
| Year/Make/Model | 1984/Harley-Davidson/FXR |
| Fabrication | Jason Grimes |
| Build Time | 1 year |
| Engine | |
| Year/Type/Size | 1984/Evolution/Big Boy |
| Builder | Doug Rasmuson |
| Cases | H-D |
| Cylinders | H-D |
| Heads | H-D |
| Rocker Boxes | H-D |
| Cam(s) | Screamin' Eagle |
| Throttle Body | S&S |
| Carburetor | S&S| |
| Air Cleaner | S&S |
| Exhaust | SuperTrapp |
| Transmission | |
| Year/Type | 1985/JIMS 5-speed |
| Gears | JIMS |
| Clutch | BDL |
| Primary Drive | BDL/NCS |
| Frame | |
| Year/Type | 1984/FXR |
| Rake/Stretch | Stock |
| Suspension | | |
| Front end | XL |
| Length | 2 in. under |
| Triple Trees | H-D XL |
| Swingarm | NCS |
| Rear Shocks | Progressive |
| Wheels, Tires, and Brakes | |
| Front | |
| Builder/Size | Performance Machine/19 in. |
| Size | 19 in. |
| Calipers | GMA |
| Rotors | H-D |
| Rear | |
| Builder/Size | Performance Machine/16 in.| |
| Size | 16 in. |
| Caliper | GMA |
| Rotor | H-D |
| Sprocket | H-D |
| Finish/Paint | |
| Colors | Gloss Black |
| Paint/Graphics | Jillian Rossi |
| Plating/Polishing | NCS| |
| Powdercoating | Mr. Chips |
| Accessories | |
| Front Fender | XL |
| Rear Fender | Bobtail |
| Gas Tank | NCS |
| Dash | NCS |
| Handlebars | NCS |
| Grips | NCS |
| Hand Controls | BDL |
| Floorboards | NCS |
| Pegs | NCS |
| Headlight | NCS |
| Taillight | 1950 Chevy |
| License Mount | NCS |
| Seat | Leather |
| | |