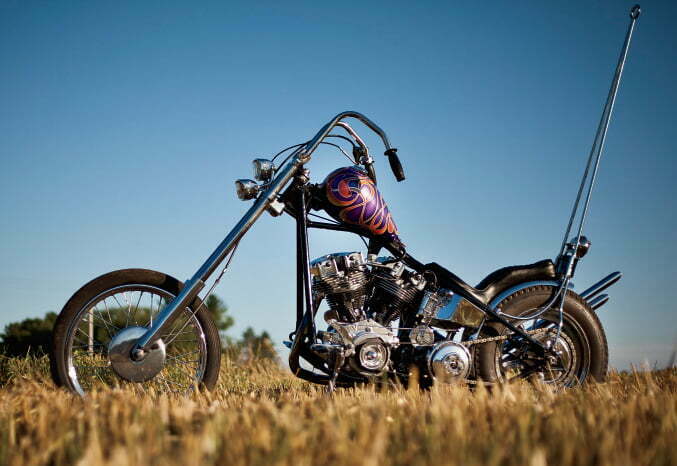 Eventually, I wound up with this Shovel after a long arduous search of eBay and Craigslist for almost a year (give or take). The auction for the bike was of the no-reserve persuasion that had just popped up one day. I emailed the dude and asked if he would just sell me the bike for x amount of dollars and he replied with, "Call me." After doing just that we ended up talking for hours about bikes and everything in between. He ended the auction and sold me the bike.
It turns out the guy was Terry Nails, bass player for the band Tommy Tutone. You will know the song "867-5309, Jenny Jenny." This dude has played with tons of great musicians and has had quite the list of awesome old Harleys. Anyway, I got the bike home from Florida to Minnesota but it needed some lovin', big time.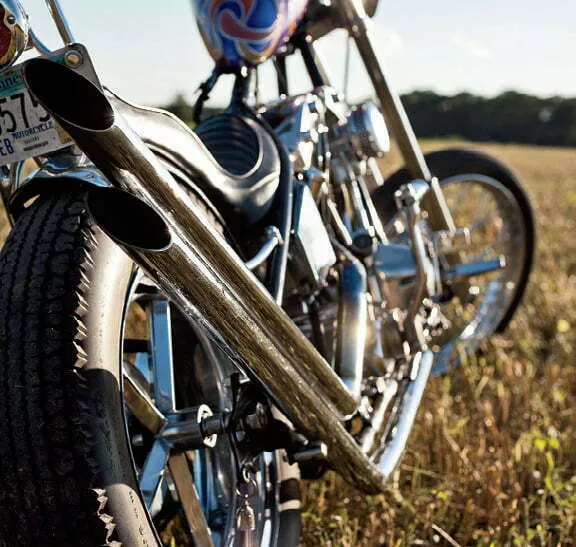 I rewired it first thing, swapped out beltdrives and handlebars, and rebuilt the frontend. Then I just rode it that way for a while. It was pretty fun but I couldn't wait to get it in the garage for a makeover. First thing's first, the frame was chopped way back in the good old days and had a sweet molding job. I mean I couldn't imagine the time spent on it as there wasn't a spot on the entire frame that didn't have bondo on it. I would have kept it that way but the neck appeared to be bent. After blasting all the bondo off, I realized the neck wasn't bent but it was welded on completely crooked over to the right. That made me wonder how someone could spend all that time molding it knowing the frame wasn't right. I guess they didn't.
The next step was to buy a new neck and sidecar loops. I was going to make this old pan frame a stocker. I sent the frame off to Gators. It ended up getting a little rake and stretch that really worked out in the end. After I got the frame back is when the fun started. I slapped on a 12-over frontend and rear wheel and finally saw the light at the end of the tunnel.
Next I thought to myself if I truly want a badass chopper; it has to shine like no tomorrow, so that's when the polishing started. I polished the cases, heads, trans, clutch basket, pressure plate, front drum, and turned down sliders for the frontend and polished those. I got the engine put back together and in the bike. I fabbed up some junk, such as a sky-high sissy bar, fender supports, shifter, a pretty cool headlight mount, and a set of super-narrow rabbit ears, which I only ran from St. Paul to Des Moines and back. I swapped those out for those super-sweet sixbend pull backs I got from my buddy Pete. It's funny how changing things like that can make such a huge impact on the bike. I made a seat pan and sent that off to Haifley Bros in Phoenix to cover. They absolutely killed it. I love that seat. I then mocked up the gas tank and modified the tunnel so it would sit higher and could mount to the stock tank mounts. I cut off the mounting tabs, made my own, and relocated the petcock. The sheetmetal was then sent out to Phoenix to Craigs Smith for some paint. Once I got everything back, it went together within a couple of days.
The bike started in two kicks and I rode it the next day. Glorious. I barely had time to shake the bike down before the Dice party in Iowa. Ever since then I have been riding the hell out this bike. It's the most fun I've had in years. The bike is now sporting a 21-inch Invader on the front thanks to Dave Polgreen.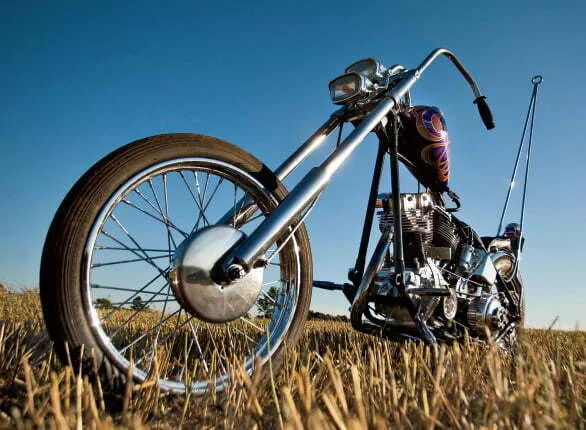 Now it really looks good! I also put on a set of Fingers mid controls that made a huge difference in handling. This winter I plan to put on a tin primary, make some new foot controls, and I just might for the sake of my riding buddies put baffles in my exhaust. If you have had the chance to ride with me you know exactly what I'm talking about!
Thanks to my chopper family. Thanks to Bob for all your help. If it weren't for you, this wouldn't have happened.
Get more chopper coolness in the latest issue of Street Chopper.