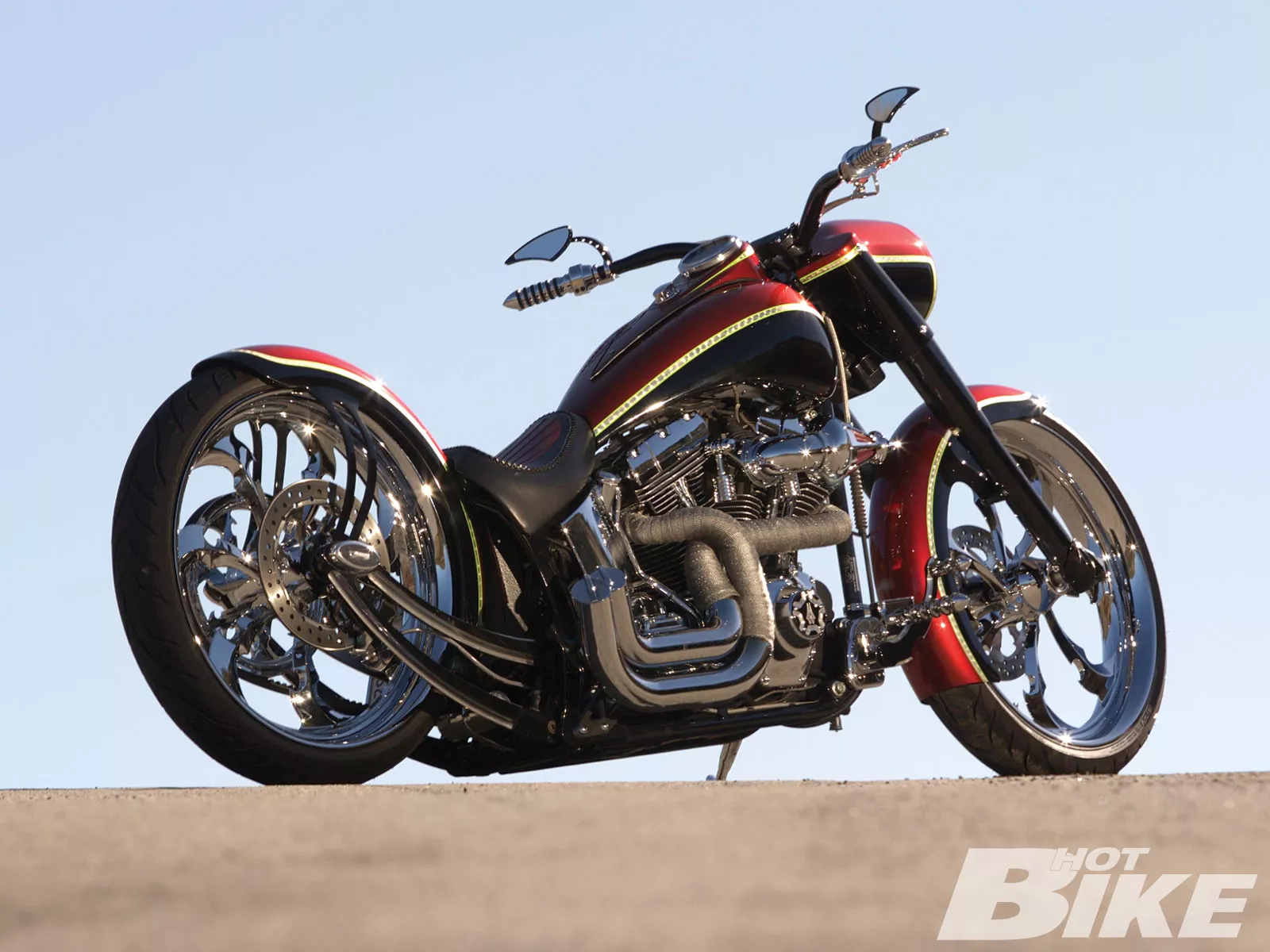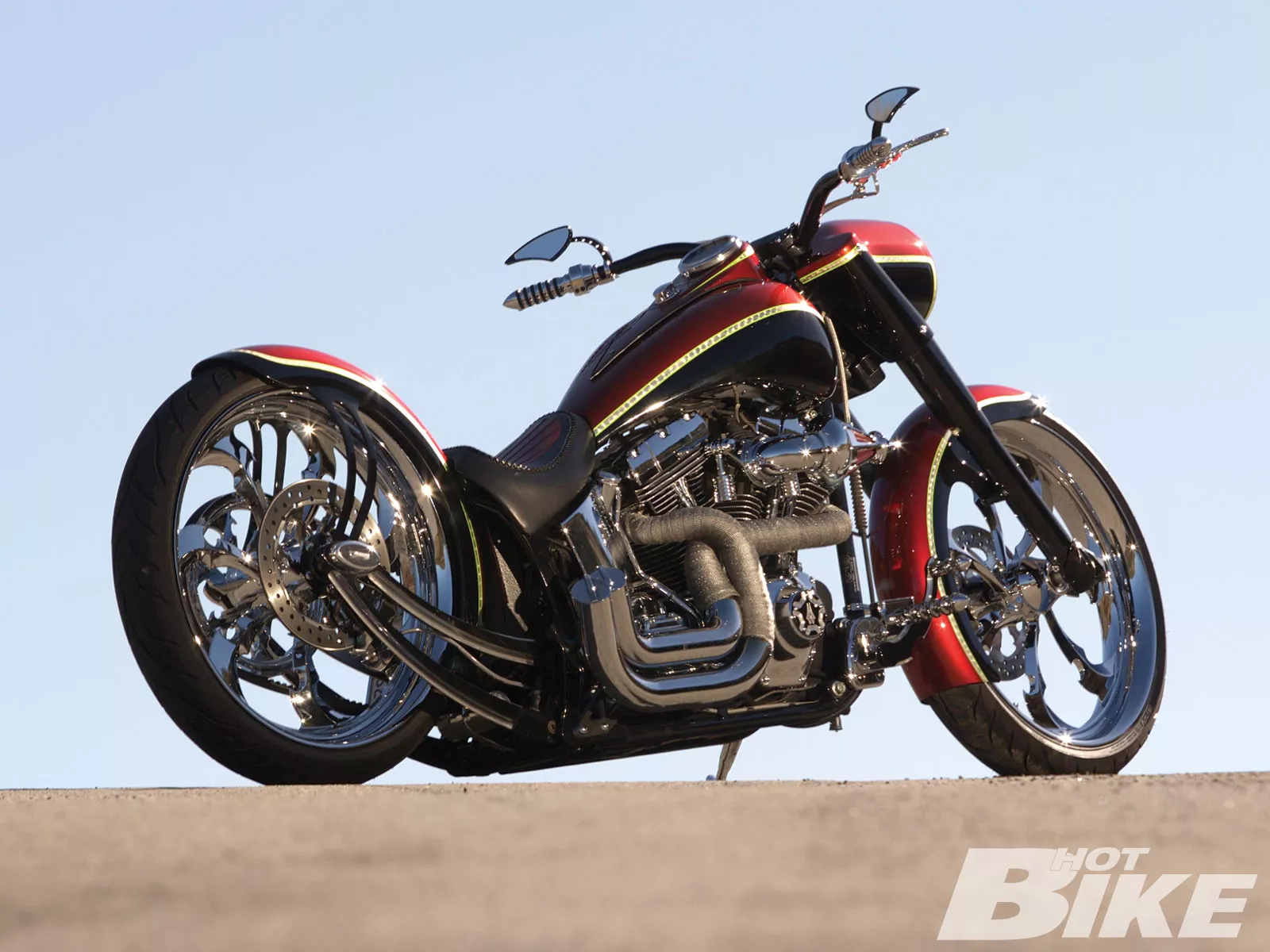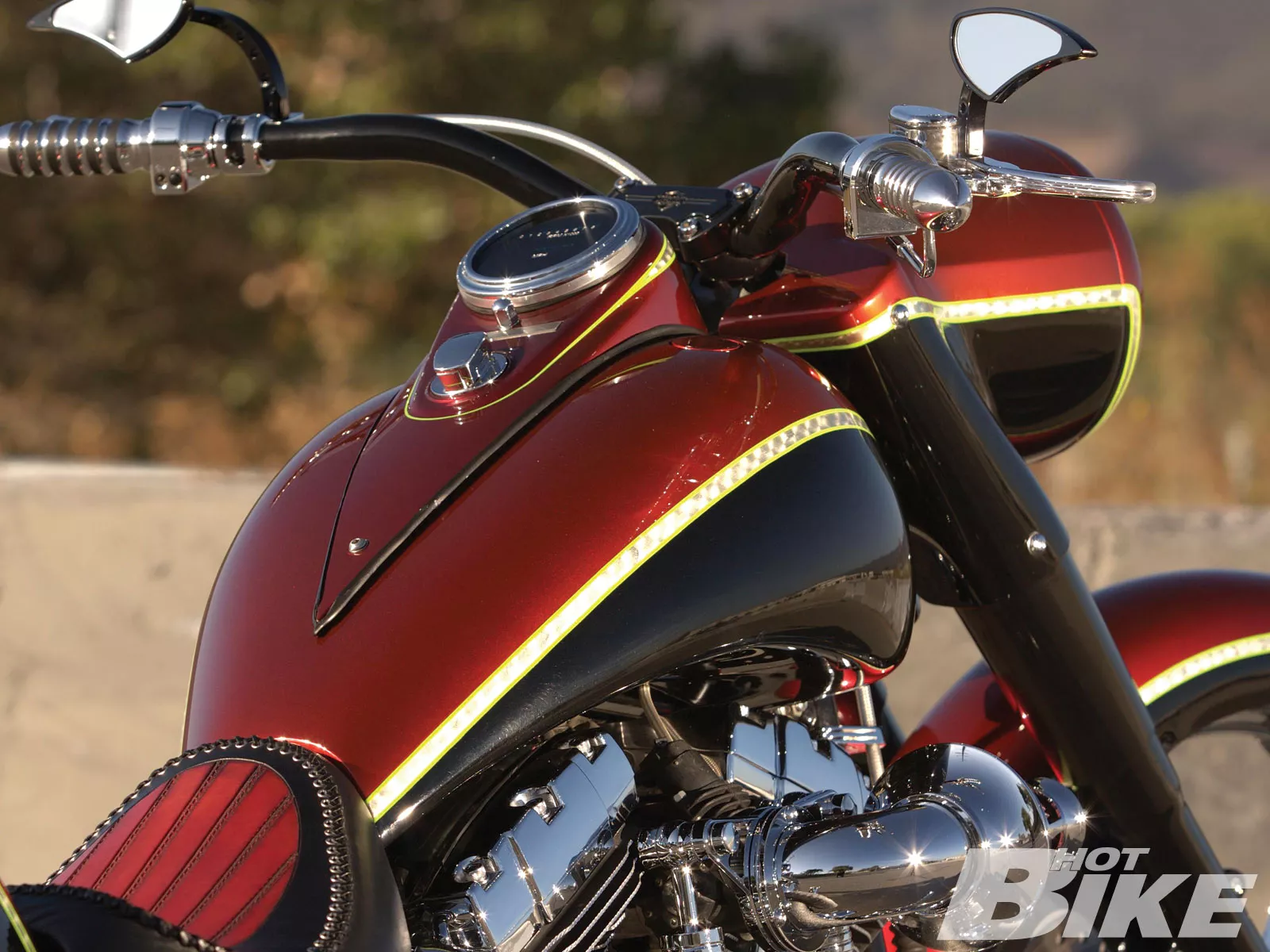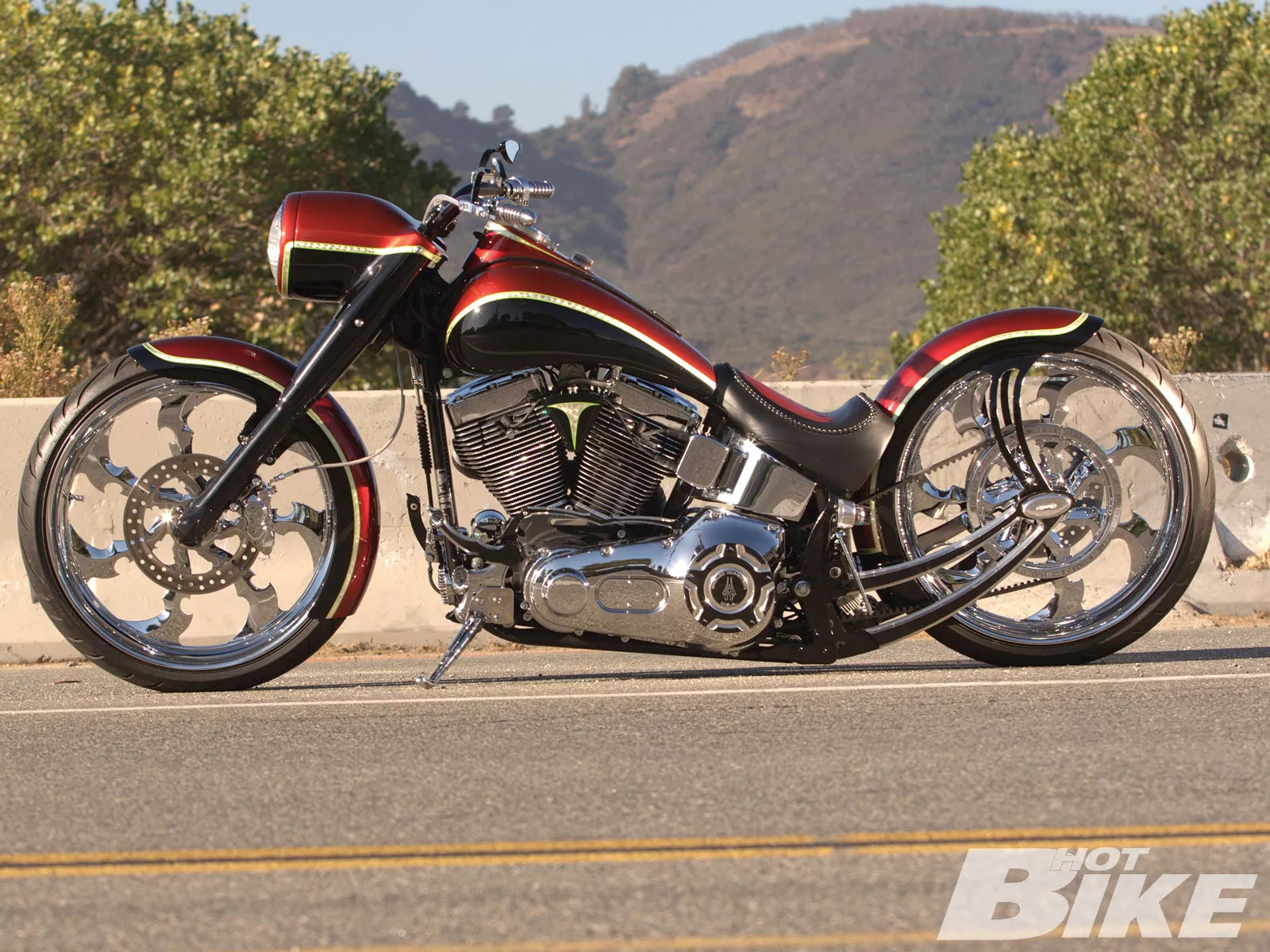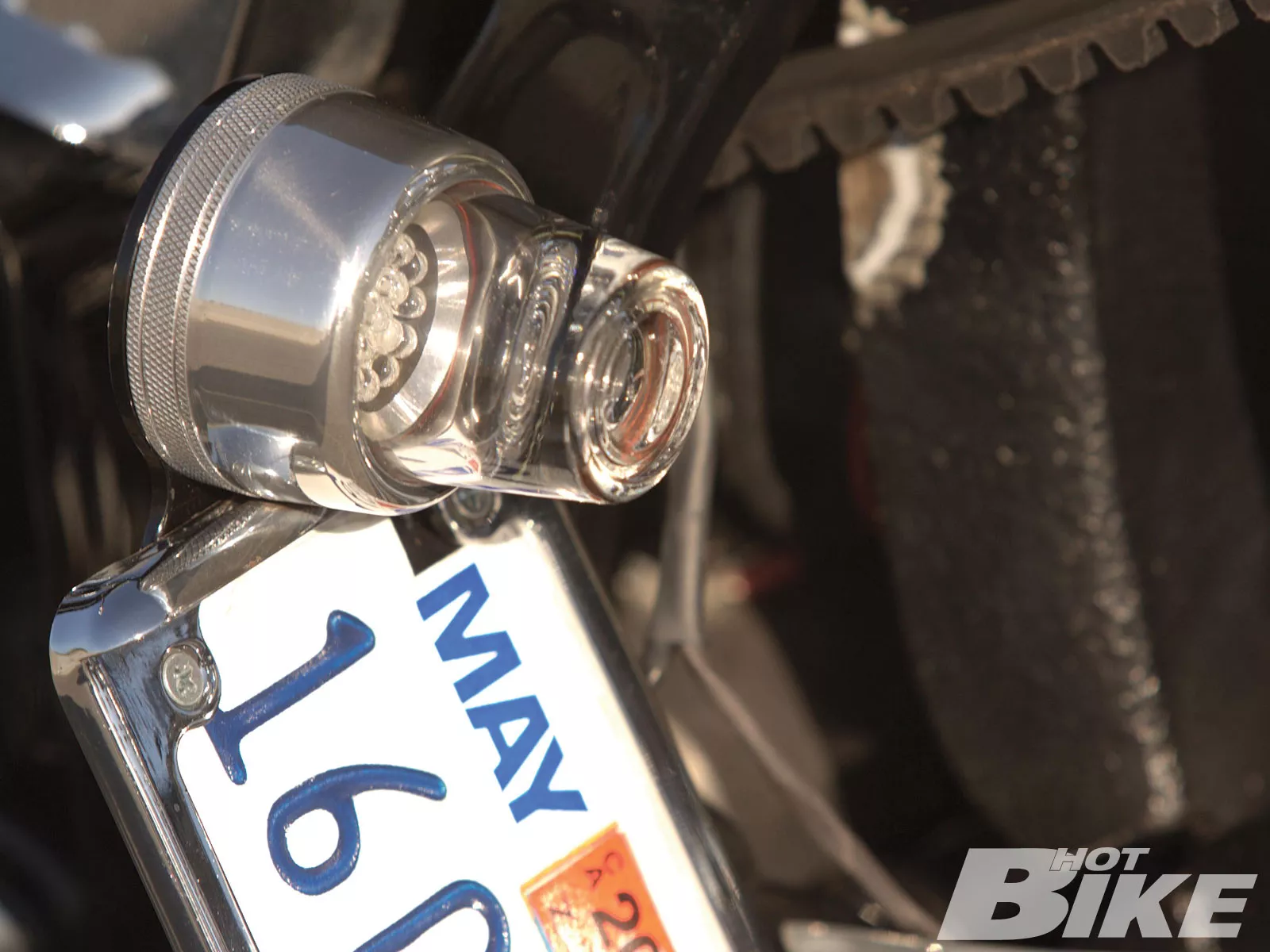 If you'll recall our July 2010 issue, we ran a Sporster that Tony Quinones of Wicked Image built with dual 21-inch wheels. Well, the shop that's normally known for producing shiny chrome parts like wheels and forward controls is back again, this time the shop's creation is bigger and better.
A few years back, Tony's friend Brian Wear had a line on an '02 Heritage Softail a friend was selling. Outfitted with the big saddle-style seat and studded leather bags, the Heritage was practically still in its stock form and not quite the "flashy, young man's bike" Brian was looking for. There wasn't anything too special about it, but the engine was good and it was a decent price, so Brian went through with the deal. A few days later, Brian called Tony to tell him about his new toy and wanted to put some of Tony's rims and a few other parts on it. Just add some cool to it.
Right about that time Tony was just finishing the dual 21 Sportster project. Brian really liked the look of the Sporty and so Tony dropped the idea of doing dual 23s on his Softail. Initially Tony thought it would be a cool project and a great new setup to sell alongside the new 21-inch Sporster kit. He figured he could use Brian's bike for R&D; and come up with a package price for rims, swingarm, and all the necessary hardware for the DIY guy to build a bike with dual 23-inch wheels in his garage.
As Tony dove into the build, he learned that putting a 23-inch wheel on the rear is a big task. There are many components that have to change and it creates a domino effect. "I realized half way in with the cost involved and the amount of work for the end user, this was not going to be a marketable product for us," Tony comments. "But we were too far in to turn back on this build."
As Tony and his Wicked Image team made progress, the project continued to change. "I call it the 'As Long As We're Here' syndrome," Tony quips. "For example, we needed to use an aftermarket rear caliper because the stock unit wouldn't work. So we figured as long as we were swapping the rear caliper, we should swap the front to match, and since we swapped calipers we replaced the hand controls as well. Most of the key features of this bike were never originally intended. Brian and I refer to this bike as 'The Afterthought.' We never set out to build a bike this nice and unique. It was an idea that got carried away. A small project that turned big."
When asked about the most challenging part of the build, Tony tells us it was designing and building the rear end. He says he put more than 100 hours into the swingarm and mating components, most of which was done after hours. "Wicked Image is a parts manufacturer; we don't build bikes for profit," states Tony. "No one would buy a $10,000 swingarm. So when I take on a project like this, it is done after hours or on the weekends."
There are a lot of custom and one-off parts that are easy to overlook on this bike. Obviously the swingarm is pretty significant, but Tony also put a lot of work into the rear caliper mount and the rear axle covers with flush-mount Radiantz LED lights. The handlebars were a set of beach-cruiser-style bars that were cut up and re-welded. The foot controls and shift linkage are also one-off parts. "We modified a flask and used it for the horn cover and at the back of the bike we used one of After Hours Choppers license mounts with a shot glass for the brake light," Tony states. "The custom exhausts feature flapper caps like you might find on a big rig. The funny thing about those caps is, we displayed the bike for the first time at Laughlin 2010 and you would not believe how many people stopped to look at the bike. After all of the time and money that went into this project, everyone got the most excited about the exhaust flappers. Who would have guessed? I would like to give a special thanks to master mechanic Steve Bright, master painter Uncle Bitchen, and master pinstriper Dennis Ridcliff. These guys were not in it for money."
When the project was complete, Brian was amazed at how his "boring, old man's bike" had been transformed into a kickass big-wheeled machine with tons of attitude. Actually maybe the bike is too flashy and attracts too much attention for Brian as he's already got it up for sale.
| | |
| --- | --- |
| SPECIFICATIONS | |
| BIKE OWNER | Brian Wear, [email protected] |
| SHOP NAME | Wicked Image Inc. (WI) |
| SHOP PHONE | (951) 894-2929 |
| SHOP WEBSITE | wickedimage.com |
| YEAR/MAKE/MODEL | '02/H-D/Heritage Softail |
| FABRICATION | WI |
| ASSEMBLY | Wicked Image/Steve Bright |
| BUILD TIME | One year |
| | |
| --- | --- |
| ENGINE | |
| YEAR/MANUFACTURER | '02/H-D |
| TYPE/SIZE | TC/88ci |
| BUILDER | Steve Bright |
| CASES | H-D |
| CYLINDERS | H-D/Diamond Heads |
| HEADS | H-D/Diamond Heads |
| ROCKER BOXES | H-D |
| EFI | H-D |
| AIR CLEANER | Wimmer Machine |
| EXHAUST | WI/Latest Concepts |
| | |
| --- | --- |
| TRANSMISSION | |
| YEAR/MANUFACTURER/TYPE | H-D |
| CASE | H-D |
| CLUTCH | H-D |
| PRIMARY DRIVE | H-D |
| | |
| --- | --- |
| FRAME | |
| YEAR/MANUFACTURER | '02/H-D |
| RAKE | Stock |
| STRETCH | Stock |
| | |
| --- | --- |
| SUSPENSION | |
| MANUFACTURER FRONT | H-D |
| LENGTH | 2 inches under |
| TRIPLE TREES | HHI |
| MANUFACTURER REAR SWINGARM | Wicked Image/Platinum Air Ride |
| | |
| --- | --- |
| WHEELS, TIRES, AND BRAKES | |
| MANUFACTURER FRONT/TYPE | Wicked Image/Assassin |
| SIZE-HEIGHT/WIDTH | 23×4 |
| TIRE/SIZE | Avon/130/60-23 |
| CALIPER | HHI |
| ROTOR | Wicked Image |
| MANUFACTURER REAR/TYPE | Wicked Image, Assassin |
| SIZE-HEIGHT/WIDTH | 23×4 |
| TIRE/SIZE | Avon/130/60/23 |
| CALIPER | HHI |
| ROTOR | Wicked Image |
| | |
| --- | --- |
| FINISH/PAINT | |
| COLOR | Candy Red, Green, Silver leaf |
| PAINTER | Uncle Bitchens Imagineering shop |
| GRAPHICS | Dennis Ridcliff |
| | |
| --- | --- |
| ACCESSORIES | |
| FRONT FENDER | RWD |
| REAR FENDER | RWD |
| FENDER STRUTS | RWD/WI |
| GAS TANK & CAP | RWD |
| OIL TANK | H-D |
| HANDLEBARS | Latest Concepts/WI |
| RISERS | None |
| HAND CONTROLS | Switchblade |
| FOOT CONTROLS | WI |
| FOOTPEGS | WI |
| HEADLIGHT | H-D/Bad Dad |
| TAILLIGHT | Radiantz |
| LICENSE MOUNT | After Hours Choppers |
| SEAT | Duane Ballard Custom Leather |