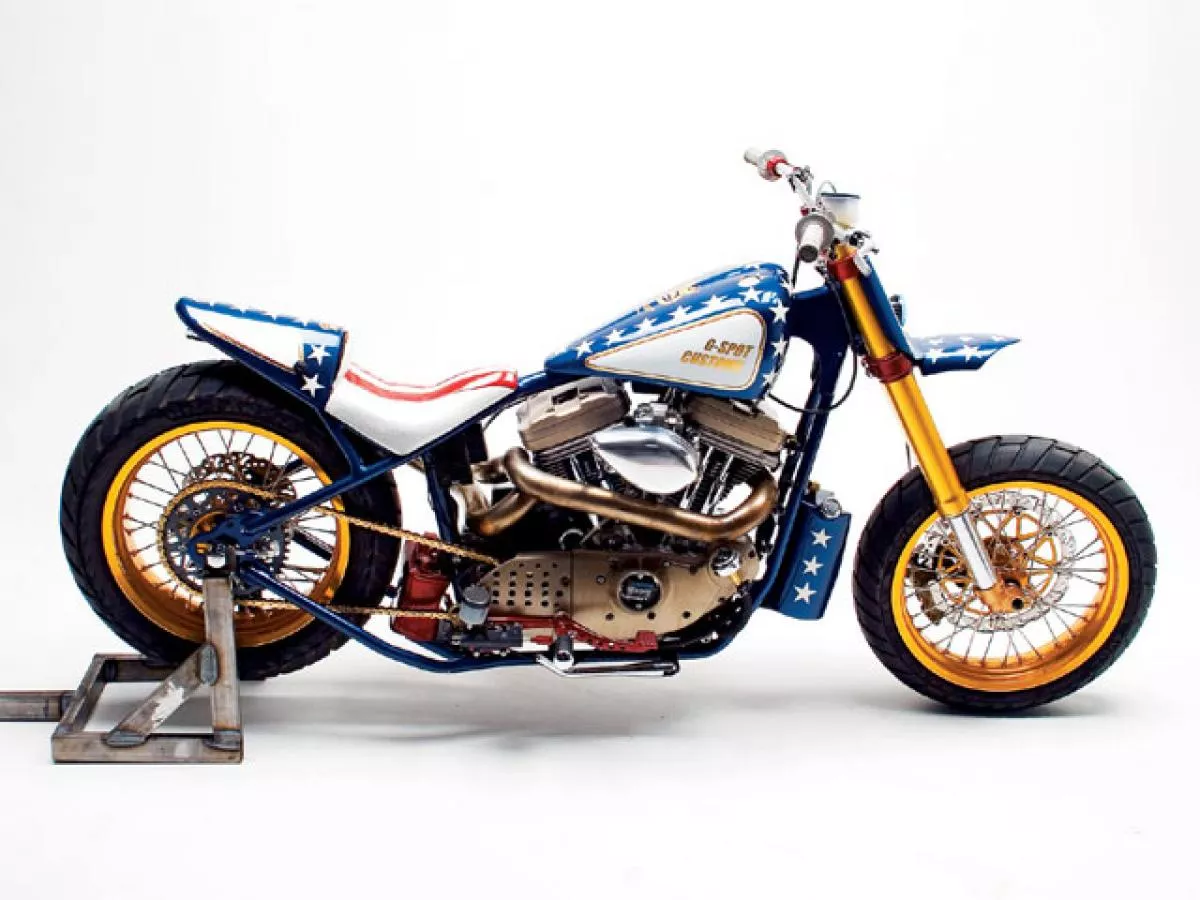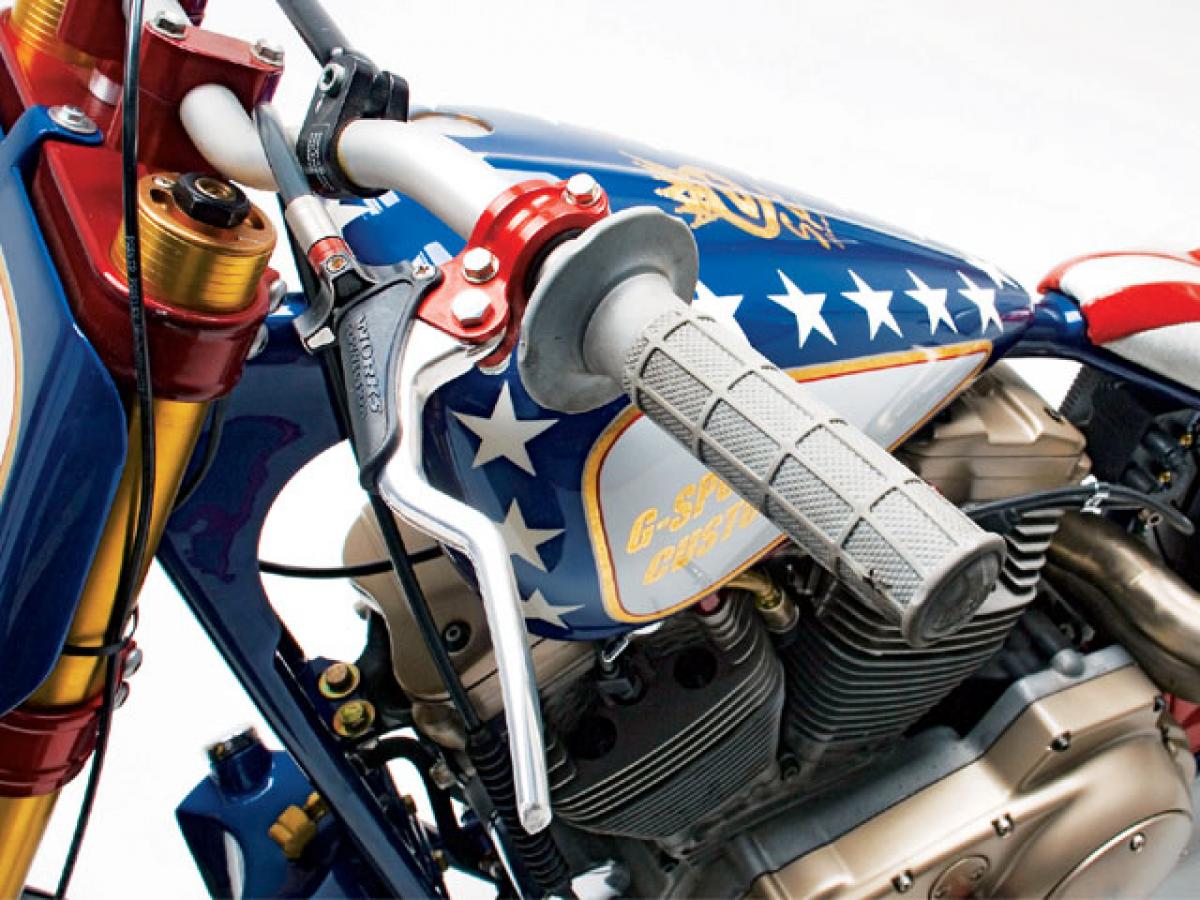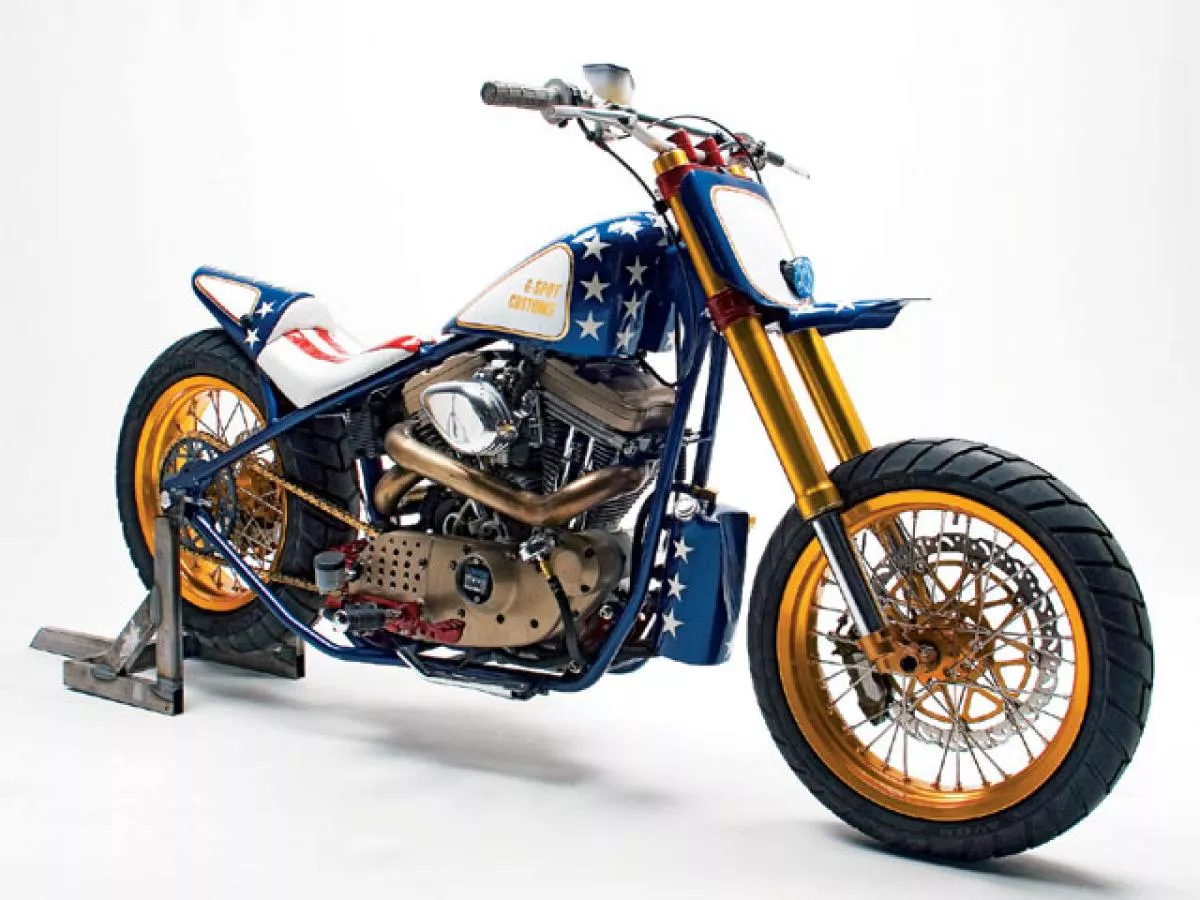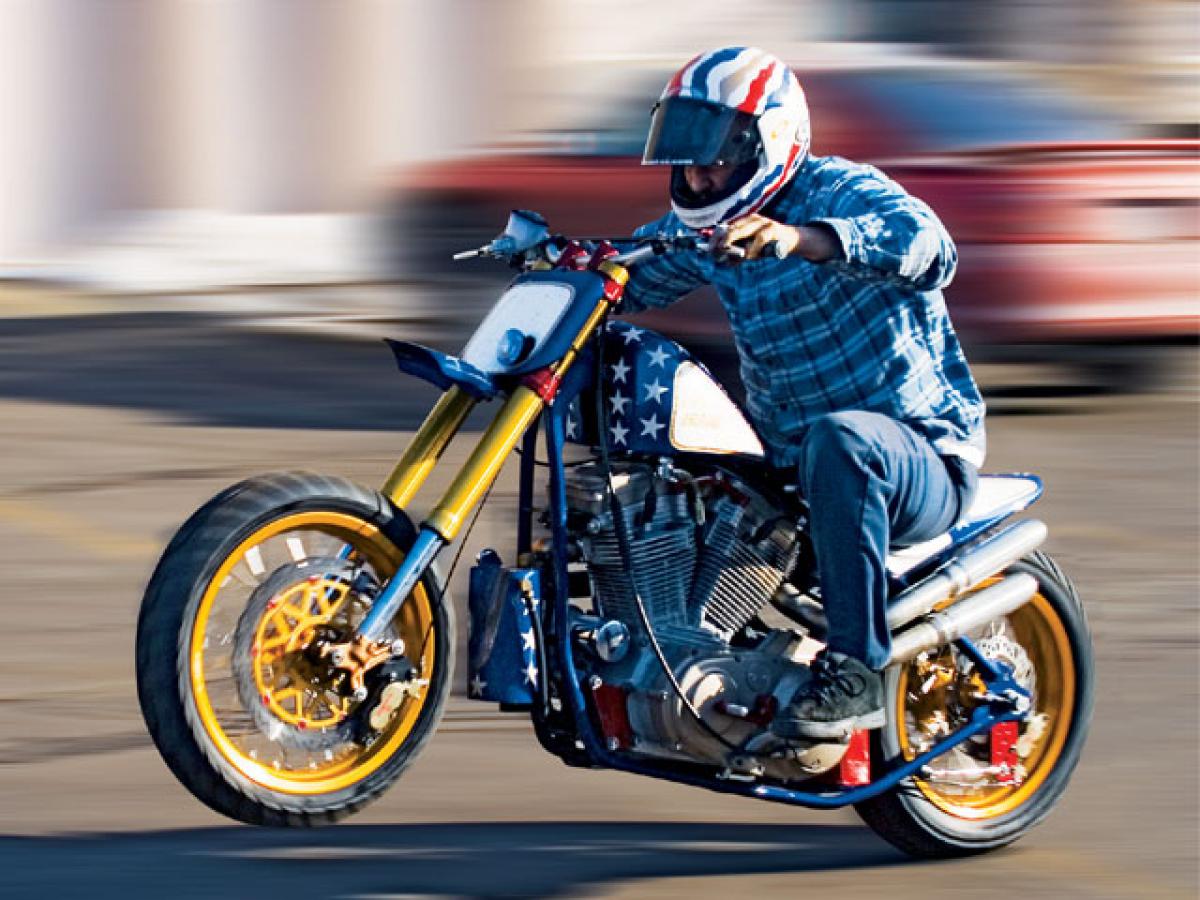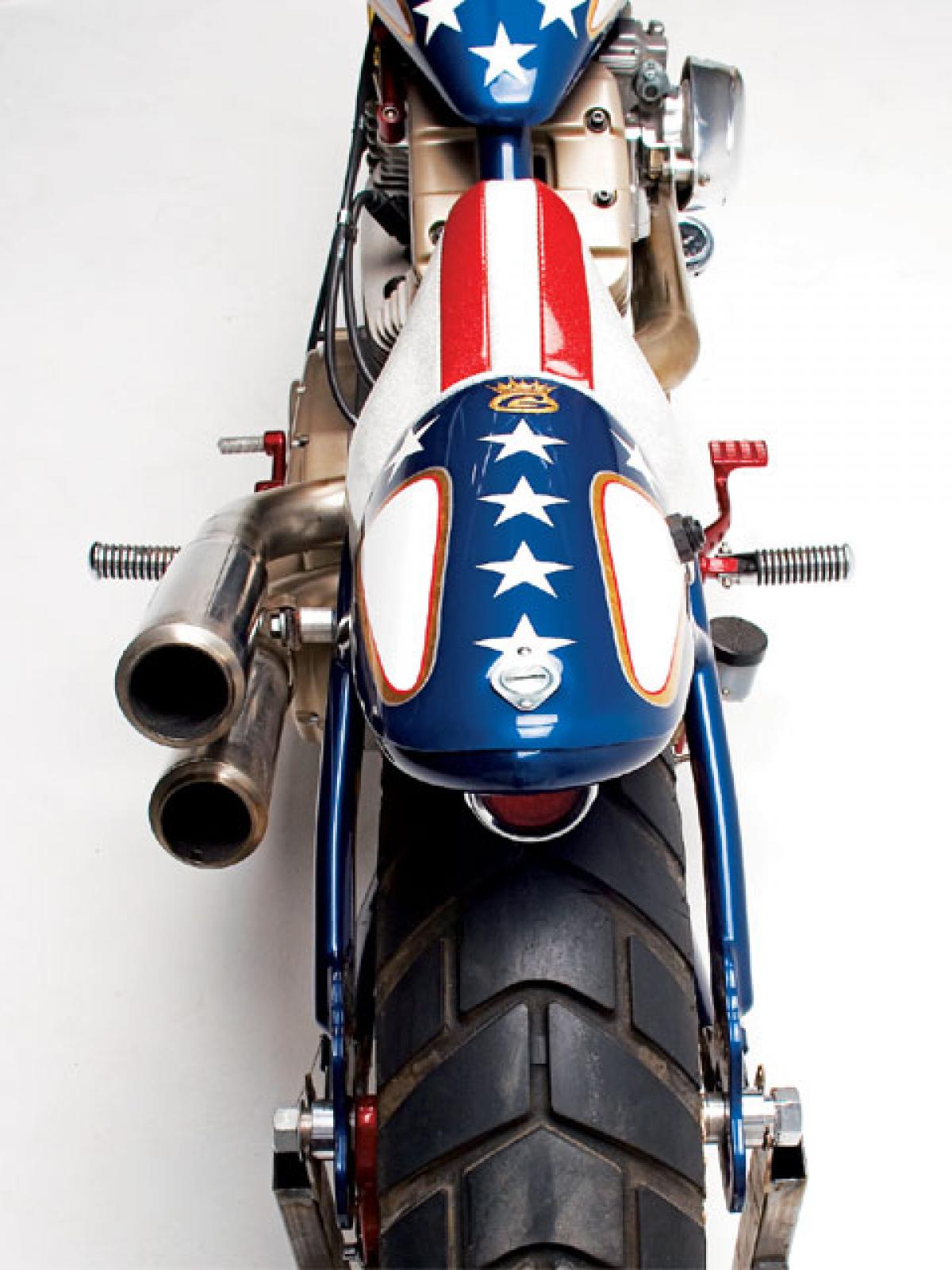 Heroes can influence the way we dress, think, even act, and for some, Evel Knievel was one of those heroes. Some would even argue he was the best motorcycle stuntman ever. Yes, people have jumped farther and higher, but no one has ever done the same jumps he did with similar equipment. Geoff Giles of G-Spot Customs, located in Denver, Colorado, has looked up to Evel Knievel, and this bike is his second foray into a custom motorcycle paying homage to his hero.
The first bike Geoff did was the Evel G-Bob, a bike widely recognized as cutting edge at the time for the pairing of a Big Twin motorcycle with dirt bike components. This new bike was supposed to be something similar to the bobber, but in Sportster form. Geoff had picked up a '98 Sporty from a pawn shop and was just waiting for the right opportunity to get creative with it. He originally wanted it to be a bobber similar to his first Knievel tribute bike, but then the bobber craze hit and he decided to do something else with it. He received the Paughco frame he ordered (his platform for the bobbed Sporty), and began cutting, de-raking the neck so that it had a more aggressive supermoto feel to it. He had finally found the right way to utilize the Sporty.
Geoff's background was in racing, and his power-sports career began with motocross. He quickly learned he was good, but not good enough to be really competitive on the professional MX circuit. He got the idea to road race, and raced all over the country as privateer pro in the 600 class during the early '90s. While he was doing this it became apparent he was going to need to be able to fix his own equipment and fabricate anything that could save him money. He learned his fabrication and mechanic abilities out of necessity and put his work to the test. He was always developing ways to save weight and make bikes stop better and go faster, and has applied this philosophy to all the bikes he has built, whether they are race bikes or bikes for customers. Geoff has received a considerable amount of recognition for his ability to cut through the fluff of custom bikes and get down to business with functional, agile, stripped-down V-twins.
The Evel Sporty was going to be along the same lines as several other bikes he had built, but was going to have the super-moto theme and be married to a Sporty drivetrain. The only piece of the original Sportster he used was the powerplant; everything else got sold or turned into something else. Geoff decided that the motor was going to need to be rebuilt, so he tore into it. He and Maynard Mills of Flowdyne port the heads, installed Andrews cams, and married it to a Mikuni 42-mm carb with a Goodson Aircleaner.
Now that the go-fast part of the build was handled, he looked to the motocross industry to figure out how to save weight and make it stop well. He really liked the way the CR450 looked and knew they were very light. He found an Ohlins frontend off a CR450, Billet trees courtesy of LSE Racing, and made a stem to fit the Paughco neck bearings. He then found a set of 17-inch Excel rims off another CR450. These two things, along with super-light billet aluminum Brembo calipers front and rear mated to lightweight rotors, save a ton of weight and make this bike a very quick stopper. He used motocross and superbike hand controls and Renthal handlebars to keep the bike compact and no-nonsense. The gas tank was a Salinas Boyz tank that he got a good deal on, and he cut the mounting tabs so he could mount it G-Spot style. There is no extraneous equipment; the bike needs everything on it just to run. Geoff fabricated an aluminum oil bag in his shop and mounted it up front, a move that is G-Spot signature style. Virtually all G-Spot bikes have the oil bag mounted on the downtubes in one fashion or another. The exhaust is stainless and was fabricated with the help of Geoff's buddy Eric "Spanky" Dorn.
The paint job and upholstery are Evel Knievel all the way, and Geoff knew exactly what he was doing. "I wanted this bike's paint job to closely resemble Evel Knievel's last bike that he jumped in Toronto." Said Giles. The bike's paint was done by Rich Olin from Custom Finishes in Denver. Geoff knew this was going to be his personal bike. He doesn't do too many customer bikes; he just builds what he likes and eventually someone buys them. He knew that the upholstery on this bike was going to have to match the rest of the Evel Knievel theme, so he turned to Billy Murphy at All Upholstery and had him stitch up a matching vinyl seat and battery box cover. The finishing touches to this bike were the tail section that Geoff fabricated to hide the electronics and the signature number plate that houses the headlight.
There are a ton of bobbers out on the market, and we all know how many choppers are out there, so it's great to see a performance- oriented bike that is unique and has heart and soul in it. G-Spot Custom Cycles keeps cranking out one-off customs that have a unique twist.
Find more hot iron in our Bikes section.