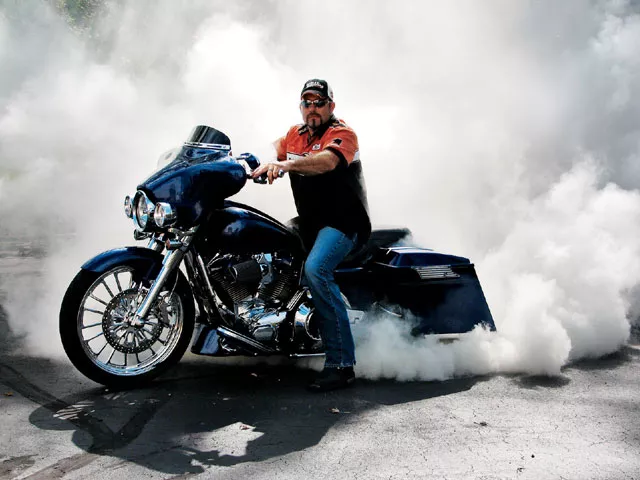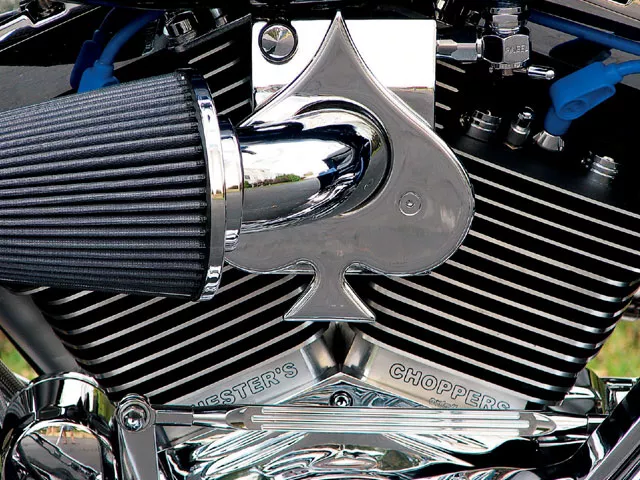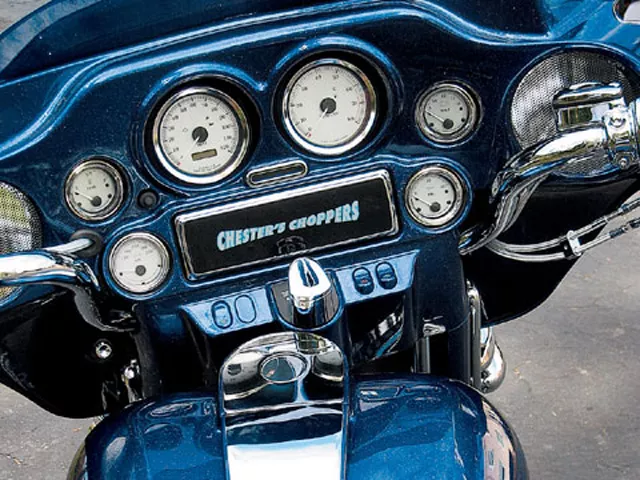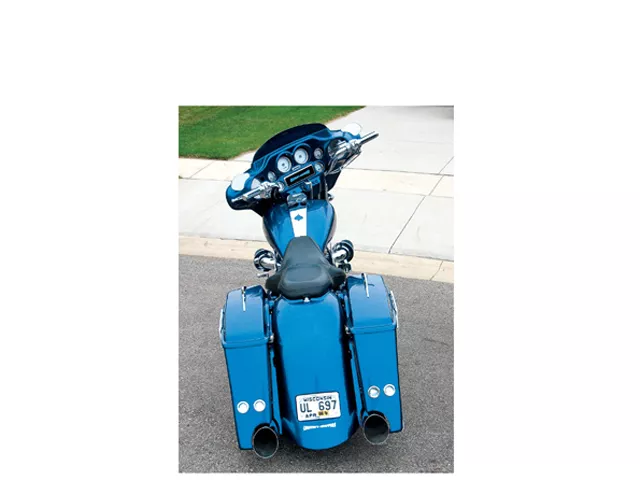 After messing around with a Deuce, Chad Vollmer of Chester's Choppers decided it was time for a little more comfort on long hauls. Rather than start with a brand-new bagger, Chad wanted to see what he could do with a wrecked bike. It didn't make much sense to him to pay all that cash for a perfectly good bike when he would just be taking half of the parts off to put custom parts on anyway. He found what he was looking for, a cosmetically damaged '02 Electra Glide, in Jackson, Georgia.
Upon arriving home with his "new" bike, Chad started his project. Underneath all the busted-up parts was a perfectly good frame and motor. Next, came a trip to the local H-D dealer to order some parts. While waiting for parts to arrive for the mock-up, Chad began designing and fabricating some extended floorboard brackets and a longer brake pedal. While he was at it he also built a chin spoiler to hide the voltage regulator. Next came the handlebars: Chad fabricated a set of 1-1/2-inch, drag-style, fatty handlebars set up for internal wiring.
With the bars out of the way, Chad focused his attention on the rear fender. He chopped off the back of the frame and fabricated his own shock mounts and fender struts. While he was at it, he decided to put in a hidden trailer hitch that bolted onto the full-length struts. He frenched the license plate into the custom fender he made and attached a receiver that slides into the hitch so that it's hidden; he just pulls it out and puts the ball receiver in.
Then, Chad started working on the gas tank. He stretched it about 3-inches and moved it forward 3/4-inch, closing the gap a bit between the ignition and tank. Next, he cut out the old fuel filler and welded in a flush mount unit. He also made a dash panel and two polished stainless steel trim panels to go on the tank dash, one with a spade cut out and one to go around the fuel filler. Chad made a box to go behind the motor to house the air compressor and switches for the rear air ride suspension and the coil. He had a Thunder Header 2-into-1 exhaust, but wanted the exhaust system to be symmetrical, so he fabricated his own "false" pipe to run along the left side of the bike. He used the Thunder Header exhaust system to get the torque numbers he wanted, but didn't like the looks of the ends of the pipes, so he rolled some steel into a megaphone and welded it to the back of the pipes for a megaphone look.
Chad had his good friend Chad Zdroik from Ground Pounder Performance build him a 107ci motor. The motor was completely disassembled, and the cases were machined to accept big Axtell cylinders. This process was held to very close tolerances to ensure an excellent cylinder-to-case seal. Next, they removed some material from the gear case to make room for a monster .625 lift S&S; gear drive cam set. The lower end was assembled using a stock Harley-Davidson flywheel that was rebalanced to the weight of the new forged JE flat-top pistons.
For the top end, Chad used a pair of machined cylinder heads from Slinger Airflow Werks. The valve seats were machined to accept larger intake valves to feed the large bore. The new combustion chamber was used to increase compression from stock 9:1 to 11:1. To ease starting, Chad had compression releases installed. The intake system Chad chose was a Mikuni 45mm flat slide carb, a Chester's Choppers air cleaner, and Screamin' Eagle air filters. To keep the motor cool on those long rides, Chad customized an oil cooler system and fabricated some brackets that he welded to the frame. With the Thunder Header finishing things off, Chad says he gets torque numbers of 125 lb-ft at 4,000 rpm and horsepower that pulls all the way to 6,500 rpm.
Since Chad lives in a condo with a small, two-car garage, he was unable to paint the bike there. He contacted his friend Bob Zoesch Jr., from Crystal Auto Body in Milwaukee, and asked Bob to help him out with the paint. A couple coats of primer, blue sealer, four coats of Candy Cobalt Blue, three coats of clear with medium flake, and three heavy coats of clear later, the bike was ready for reassembly.
It took Chad six months, but once he had everything back together, the bike fired right up without a hitch.
Spec Sheet
| | |
| --- | --- |
| NAME | Chad (Chester) Vollmer |
| | "Chester's Choppers" |
| PHONE | (262) 224-4020 |
| MAKE/MODEL | H-D/Electra Glide Classic |
| YEAR | 2002 |
| FABRICATION | Chester's Choppers |
| ASSEMBLY | Chester's Choppers |
| BUILD/REBUILD TIME | Six Months |
| | |
| --- | --- |
| ENGINE | |
| YEAR/MANUFACTURER | '02/H-D |
| TYPE/SIZE | Twin Cam/107ci |
| BUILDER | Chad Zdroik Ground Pounder Performance |
| CASES | H-D Modified |
| CYLINDERS | Axtell |
| HEADS | H-D/Slinger Airflow Werks |
| ROCKER BOXES | H-D |
| CARBURETOR | Mikuni 45mm |
| AIR CLEANER | Chester's Choppers Design |
| EXHAUST | Custom Thunder Header |
| | 2-into-1/Chester's Choppers |
| | |
| --- | --- |
| TRANSMISSION | |
| BUILDER/YEAR/TYPE | H-D/'02/Five-speed |
| CASE | H-D |
| CLUTCH | Screamin' {{{Eagle}}} |
| PRIMARY DRIVE | H-D |
| | |
| --- | --- |
| FRAME | |
| YEAR/TYPE | '02/H-D Electra Glide |
| RAKE | Stock |
| STRETCH | None |
| FINISH | Candy {{{Cobalt}}} Blue/Sparkle |
| SWINGARM | H-D |
| | |
| --- | --- |
| SUSPENSION | |
| MANUFACTURER FRONT | H-D |
| MODIFICATIONS | Fat Boy Lowers/-2under |
| TRIPLE TREES | H-D |
| MANUFACTURER REAR | Chester's Choppers |
| SHOCKS | Hi-Low Air Ride |
| | |
| --- | --- |
| WHEELS, TIRES, AND BRAKES | |
| FRONT | |
| MANUFACTURER FRONT/TYPE | PM |
| SIZE-WIDTH/HEIGHT | 3.5×31 |
| TIRE/SIZE | Metzeler/120/70-21 |
| CALIPER | PM 6 piston |
| ROTOR | PM |
| REAR | |
| MANUFACTURER REAR/TYPE | H-D |
| SIZE-WIDTH/HEIGHT | 16 |
| TIRE/SIZE | Metzeler/150/{{{80}}}-16 |
| CALIPER | H-D |
| ROTOR | H-D |
| | |
| --- | --- |
| FINISH/PAINT | |
| COLOR(S) | Candy Cobalt Blue/Sparkle |
| PAINTER | Bob Zoesch Jr. Crystal Auto Body/Chester's Choppers |
| BODYWORK | Chester's Choppers |
| | |
| --- | --- |
| ACCESSORIES | |
| FRONT FENDER | Chester's Choppers |
| REAR FENDER | Chester's Choppers |
| FENDER STRUTS | Chester's Choppers |
| GAS TANK∩ | H-D/Chester's Choppers |
| DASH | Chester's Choppers |
| GAUGES | H-D |
| HANDLEBARS | Chester's Choppers |
| MIRRORS | Drag Specialties |
| HAND CONTROLS | H-D/Kuryakyn |
| FOOT CONTROLS | Chester's Choppers |
| FOOTBOARDS | H-D |
| HEADLIGHT | Adjure |
| TAILLIGHT | Cycle Visions |
| TURN SIGNALS | H-D |
| LICENSE MOUNT | Chester's Choppers |
| OIL COOLER | Chester's Choppers |
| SEAT | H-D Road King |