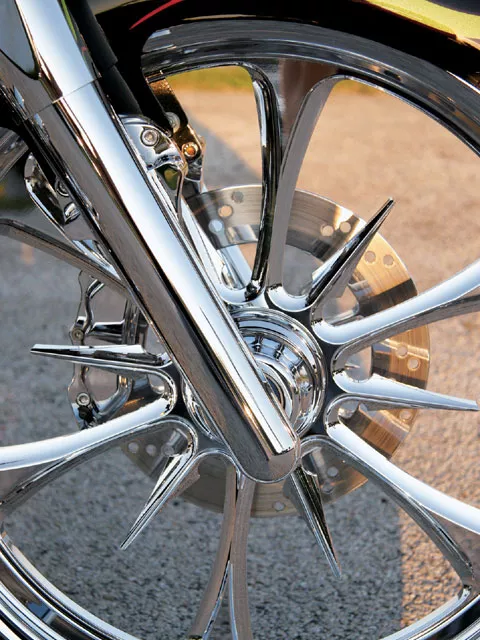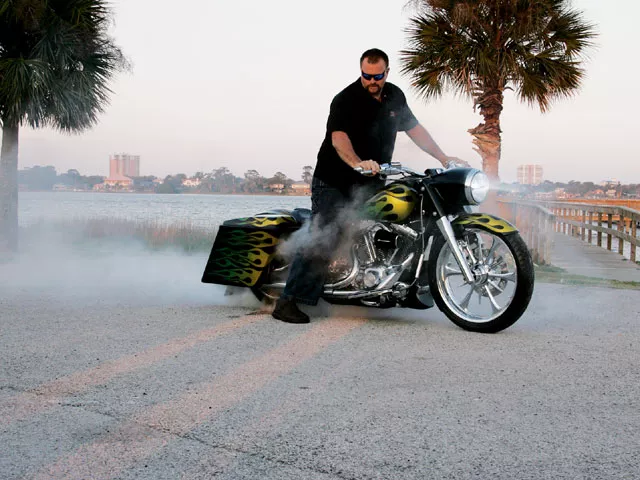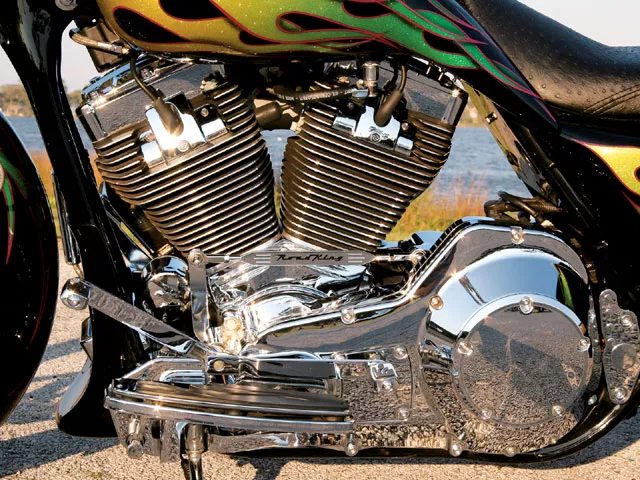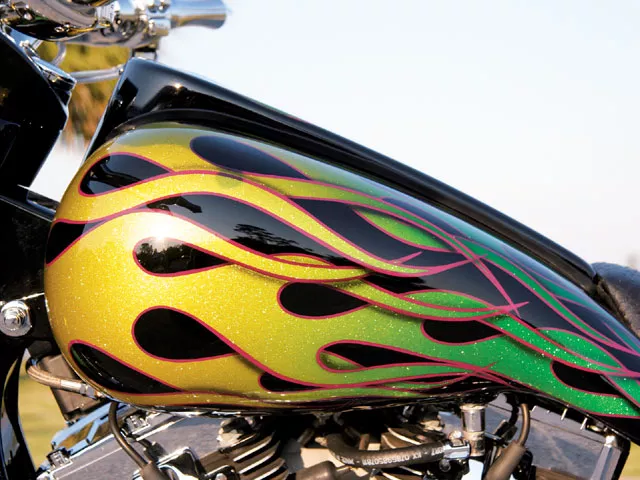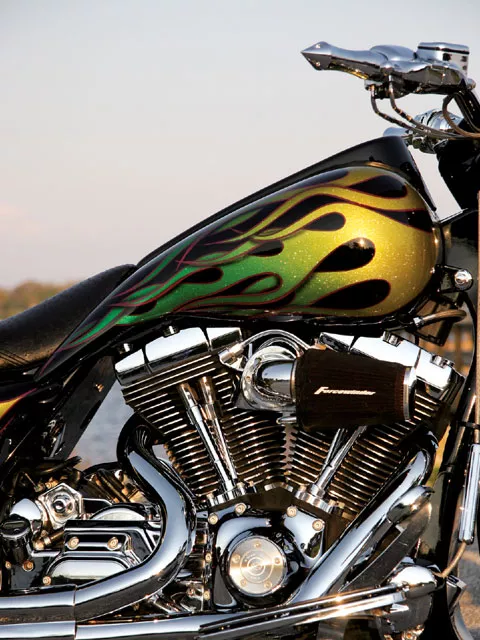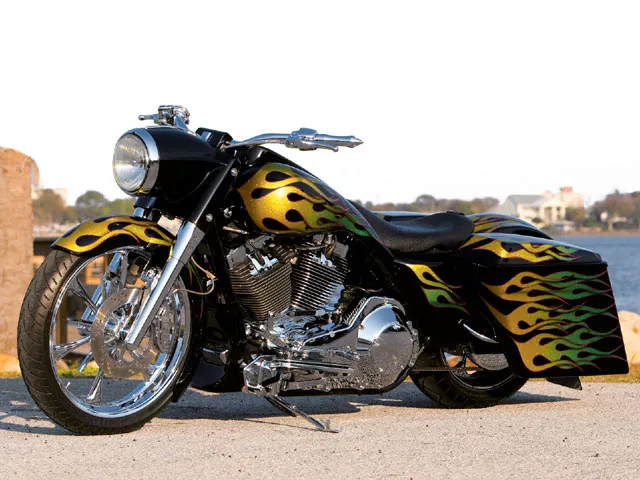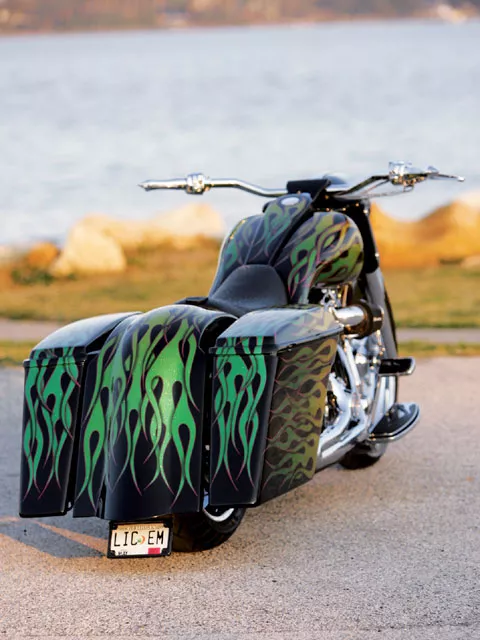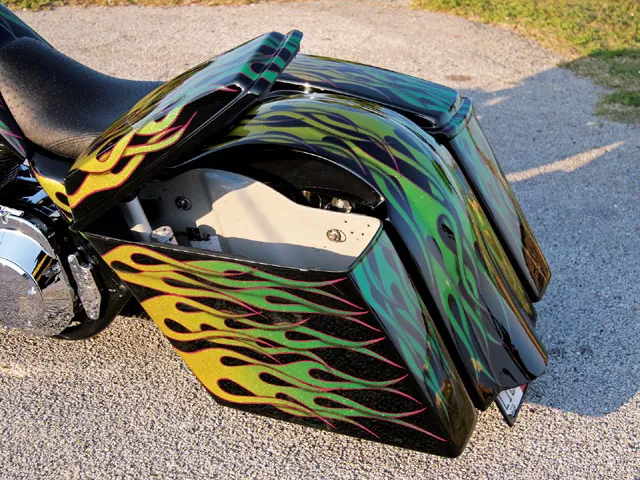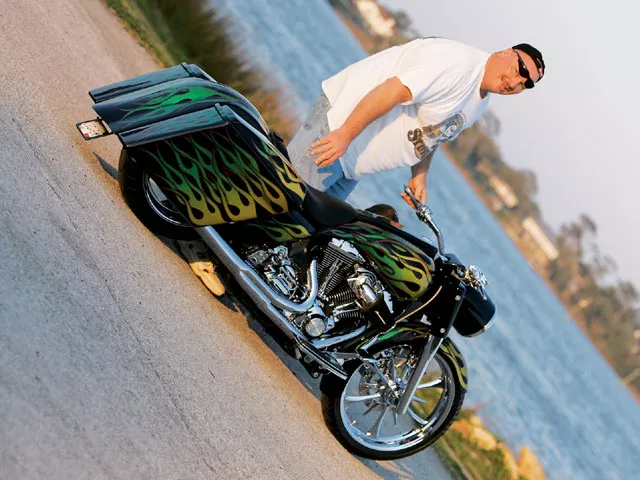 Ever since I mentioned in one of my early editorials that we were going to start putting more Harley-based bikes-bikes people can relate to-into the magazine, readers have been flipping out, thinking the HOT BIKE sky is falling. When I made the statement, I didn't mean walk in to your local H-D dealership, look left to right, and see the types of bikes we are going to fill the pages with. I meant go to one of the top-name bike shows across the country-Daytona Beach Bike Week Boardwalk Show, Rat's Hole Show, or the AMD bike show in Sturgis-and check out some of the entries that are based on either a H-D frame, drivetrain, or both. Those are the bikes I was referring to. Bikes like Ronnie Cooley's Road King-which, amazingly, we didn't find at a bike show, but stumbled across while cruising the vendor area at Destination Daytona this past Bike Week. Ronnie's bike is exactly what I had in mind.
We've all seen a Road King or two in our lives. Many of you probably even own one or have owned one at some time. So tell me, couldn't you imagine yourself in the seat of this badass, flamed machine, slipping through traffic, turning heads on Main Street in (enter your town here), or doubled up with your favorite female companion for a long weekend ride? Ronnie's a pretty interesting character and a good storyteller. I could just regurgitate the story he told us about how his RK came to be, but it'd be better if you just heard straight from him.
"This bike was built with one purpose: to piss off Harley owners. Now, I know that sounds mean, bold, or whatever, but that's the way it is. Several of my buddies with Harleys think they should be ridden the way Harley-Davidson designed them. Screw that! I started out when I was 15 years old, getting into VW drag racing. After a number of years of doing that, winning a couple of times, being points champion three years in a row, finally it was time to move on. I got into the lowrider scene, building custom trucks, criss-crossing the United States, going to every big show. But eventually I got burned out on seeing the same trucks all the time. One year while at the Truck Jam in Southern California, someone gave me a flyer for the HOT BIKE West Coast Super Show that was going to be held the next weekend. I told my girlfriend at the time, that we should stay and check it out so we did, and I was bitten by a new hobby.
After being at the show all day and checking out the bikes, I knew it was time for a new start. I told my girlfriend on the way home that I wouldn't mind having a bike. She just looked at me and said "Hell, no!" She told me I had too many projects already and the more she complained about it, the more I entertained the thought of getting a bike. When I got home I called a friend of over 20 years, Bill Edler. Bill had a Harley and I started talking to him about what bike he thought would be the best for me to start with. Bill told me to get a Road King, so my hunt was on.
While attending a street rod show in Daytona, I rode over to Daytona Harley to look at some bikes. After working out a deal on a used bike, I told them I wanted some different tires, and the salesman said they couldn't change them out. I thought that sucked, and since they weren't willing to change out the tires, I left. When I got home I told my girlfriend about the bike, and she said, "If you get a bike I'm leaving!" After hearing that, I thought to myself, Hmmmmmm, is that all I need to do to get rid of you? The next weekend I called Bill and we headed over to the Harley shop, where I bought an '03 Police Edition Road King with 800 miles on it. I ended up leaving the dealership with three boxes of goodies to put on when I got home. Needless to say, my girlfriend left, but I had a cool-ass bike.
After only three months I was bored with the bike. Everyone had the same bike with the same crap stuck on-it was time for some changes. I contacted a longtime painter friend of mine, Jeff Embrey of Embrey's Customotive in Tyrone, GA, and told him that I needed something different, because all those bikes looked the same. Jeff laughed and said, "That's the way it is." Well, not for me. I got on eBay and found every piece of sheetmetal that I needed. After Jeff got everything painted and put back together, it was time for Biketoberfest in Daytona, where it would be seen for the first time.
Two weeks prior it looked like every other bike, but now it was reborn. After hooking up with some friends, they saw it and said, "What in the hell have you done to that bike, and why did you do it?" I told them, "You gotta be different." They just shook their heads and walked away, saying, "You screwed up a good bike." Well, being from the lowrider scene, I know if you piss off the old people then you've done your job for the day. I got a good laugh out of it and rode off happy.
After checking the shows out in Daytona and getting some new ideas, I told Bill it was time for a change. He told me I had lost my mind and that I was never happy. After getting home I went back to work on eBay, looking for parts for my winter transformation. After rounding up most of the parts I contacted Jeff, told him what I had in mind, and said that I needed it done by March for Bike Week. Jeff said there wasn't enough time. I just told him to stop whining and get to work.
I had contacted Derk Hinsley from Bad Dad Customs out of Indiana and had him ship me a set of saddlebag extensions and a rear ender. I told Derk what I was doing and he said, "I got something else you need to check out-my stretched headlight nacelle." I told him to send it over. After getting the parts and checking them out, I decided they were the best quality I had seen.
While Jeff was stretching the bags (with no exhaust cutouts), the fuel tank, and mounting up the stretched rear fender, I called Gary Chipp from Fat Baggers and ordered up one of his front fenders and fender mounts. After seeing the 200mm tire setup on the back of a bunch of baggers in Daytona, I ordered a 18×5.5-inch rear Vega wheel from RC Components and a matching 21×3.5-inch for the front. Bill and I put the 200 Metzeler on the rear with a stock swingarm and belt. After getting everything worked out, I suggested making an air-ride system for the front. He told me I was nuts.
Bill ended up designing the front air cylinders, and after he put everything together, I told him the frontend needed something else. I got on the phone with Fat Baggers and ordered a Perse frontend. The only problem was that I wanted to run a single rotor and caliper up front, and Perse doesn't offer that setup for Road Kings. So it was off to the bandsaw to cut up this high-dollar frontend. After Bill had it all cut to perfection it was sent off with the swingarm, floorboard brackets, exhaust, and two boxes full of other parts to Tal Gardner at Best Metal Polishing and Chroming where he did his magic on everything.
While Jeff was getting everything ready for paint, I told him we should smooth out the dash. After forming some metal and pouring a mold, Jeff came up with a smooth dash along with a chromed pop-up, flush-mount gas cap. I wanted the rear of the bike smooth as well, so he flush-mounted the turn signals and brake lights into the bottom of the bags, then flush-mounted the brake light into the bottom of the rear fender. All together, there's 120 LED lights in the rear.
Next came the dilemma about what to do with the license mount. I said "Let's hide it," so Bill and I came up with an electric actuator to slide the tag up under the rear fender when the bike is off, and slide it down when the bike is running. It worked so well that I decided to shave the saddlebag latches and install actuators to open and close the lids by remote.
Even though the bike had a good stance, it didn't sit low enough, so I contacted Paul from Native Custom Baggers and ordered a Platinum Air Ride kit to drop the bike down. Everything was coming together pretty well, but time was running out and Bike Week was coming up quickly. I knew we would be doing a lot of riding, so I sent my Corbin solo seat to my friend Ted at Gibbs Trim Shop to put in gel pads and sew it up with some black ostrich leather (man, what a difference it made).
Once we had the bike together I told Bill the handlebars sucked-they just weren't cool. So my friend made a new set of bars, then it was back to the chrome shop. I didn't put any mirrors, gauges, etc. on the bike-that crap is for old farts on Harleys. When everything was finally done we went to crank the bike and the headlight blew, so it was replaced with a 10k HID light.
When we arrived in Daytona for Bike Week, no one had seen the bike yet, so we went over to a friend's house to show it off. When my friends came outside they just stood there looking at the bike. For about 10 minutes no one said a word. Then I reached under the tank where we hid all the buttons for the air ride, hit the switch, and the the bike dropped 10 inches-needless to say, they all went nuts. They said, "That shit is cool," and I thought, dammit, they like it. I couldn't have that, so I got on the bike, hit the front brake line lock button we installed (like they have on drag bikes to lock the front wheels for burnouts), and did one helluva burnout. I think they liked that even more!
I want to say without the help of my buddy Bill, this bike would have never been finished. He worked his ass off every night and weekends to help me get it ready for Daytona. I know he neglected everything else to make sure it was done, and my way of saying thanks was to let him ride it during the photoshoot and do a smoky-ass burnout for the camera. He loved it. I also want to say thanks to Bill's wife for being so understanding. I want to say thank you to my new girlfriend (the hot Russian) for supporting me. Big thanks to Jeff Embrey for the paint job and all the work he did. Thanks goes out to Tal Gardner for staying late and getting all the chrome work done, and Ted Wiggins for the kickass seat work. A big thanks goes out to two of the nicest people in the industry, Derk Hinsley and Gary Chipp. These are first-class guys who will bend over backwards to help out. Thanks to Taryn and Ernie for shooting the bike; I didn't expect that,I just wanted to go and piss off some people with it.
Oh, yeah, and about the personalized license plate: I had a set of chrome nuts hanging off the back that swung side to side, but the bike sits so low my balls were dragging on the ground, so I took them off. Since the shoot I've been working on my new bagger, trying to get it ready for Biketoberfest this year. It's going to be one sick puppy, with a bright-ass yellow paint job. Hell yeah, I'm ready to piss some people off.
Spec Sheet
| | |
| --- | --- |
| GENERAL | |
| OWNER | Ronnie Cooley |
| SHOP | Built by owner and Bill Edler |
| YEAR/MAKE/MODEL | '03/H-D/Road King |
| FABRICATION | Owner/Bill Edler |
| ASSEMBLY | Owner/Bill Edler |
| BUILD TIME | Two Months |
| | |
| --- | --- |
| ENGINE | |
| YEAR/ TYPE/SIZE | '03/H-D TC/88ci |
| BUILDER | H-D |
| CASES | H-D |
| FLYWHEELS | H-D |
| RODS | H-D |
| PISTONS | H-D |
| CYLINDERS | H-D |
| HEADS | H-D |
| VALVES | H-D |
| ROCKERS | H-D |
| ROCKER BOXES | H-D |
| PUSHRODS | H-D |
| PUSHROD TUBES | H-D |
| CAM(S) | H-D |
| LIFTERS | H-D |
| EFI | H-D |
| AIR CLEANER | Force Winder |
| IGNITION | H-D |
| EXHAUST | Thunderheader/Owner |
| | |
| --- | --- |
| TRANSMISSION | |
| YEAR/TYPE | '03/H-D |
| CASE | H-D |
| GEARS | H-D |
| CLUTCH | H-D |
| PRIMARY DRIVE | H-D |
| | |
| --- | --- |
| FRAME | |
| YEAR/TYPE | '03/Road King |
| RAKE | Stock |
| STRETCH | Stock |
| | |
| --- | --- |
| SUSPENSION | |
| FRONT | Perse/Owner |
| LENGTH | Stock-sort of |
| TRIPLE TREES | H-D |
| REAR | |
| SWINGARM | H-D |
| SHOCKS | Platinum Air Ride |
| | |
| --- | --- |
| WHEELS, TIRES, AND BRAKES | |
| **FRONT ** | |
| BUILDER/SIZE | RC Components/21 |
| TIRE/SIZE | Metzeler/120/70-21 |
| CALIPER | HHI |
| ROTOR | RC Components |
| REAR | |
| BUILDER/SIZE | RC Components/18×5.5 |
| TIRE/SIZE | Metzeler/{{{200}}}/50-18 |
| CALIPER | HHI |
| ROTOR | RC Components |
| | |
| --- | --- |
| FINISH/PAINT | |
| COLORS | HOK Black, yellow pearl, green pearl |
| | silver pearl |
| PAINTER | Jeff Embrey Embrey's Customotive |
| GRAPHICS | Embrey's Customotive |
| MOLDING | Embrey's Customotive |
| PLATING/POLISHING | Tal Gardner/ |
| | Best Metal Polishing |
| POWDERCOATING | Tal Gardner/ |
| | Best Metal Polishing |
| | |
| --- | --- |
| ACCESSORIES | |
| FRONT FENDER | FBI |
| REAR FENDER | Bad Dad Customs |
| FENDER STRUTS | H-D |
| GAS TANKS∩︀ | H-D/Embrey's Customotive |
| OIL TANK | H-D |
| DASH | PYO/Embrey's Customotive |
| HANDLEBARS | Owner/Bill Edler |
| RISERS | H-D |
| HAND CONTROLS | CCI |
| FOOT CONTROLS | H-D |
| FOOTPEGS | H-D |
| HEADLIGHT | Badd Dad Customs |
| TAILLIGHT | Embrey's Customotive |
| TURN SIGNALS | Embrey's Customotive |
| LICENSE MOUNT | Owner/Bill Edler |
| SEAT | Corbin/Gibbs Trim Shop |
| ELECTRICAL | Owner |