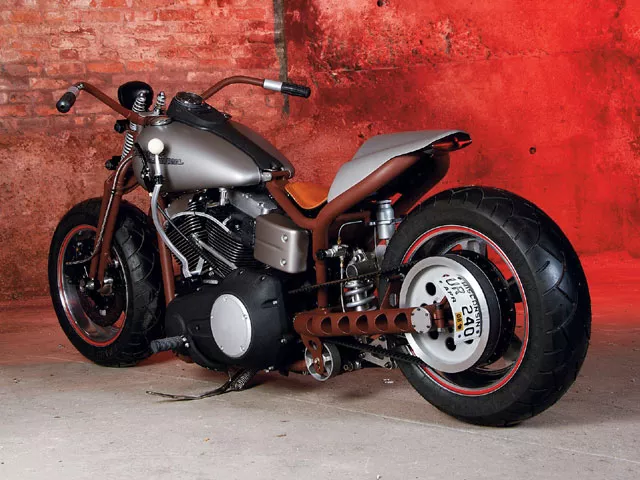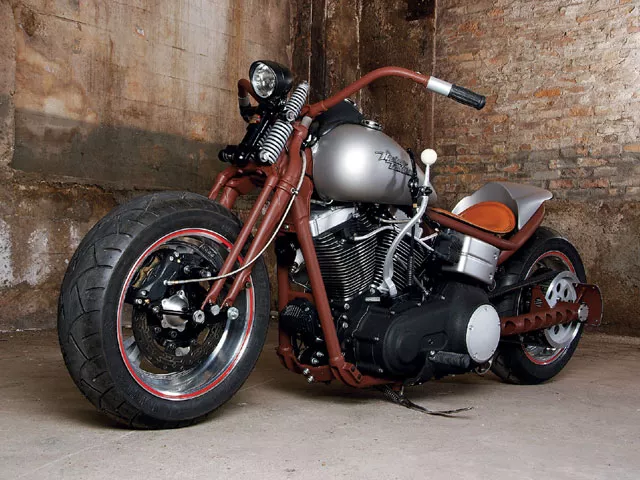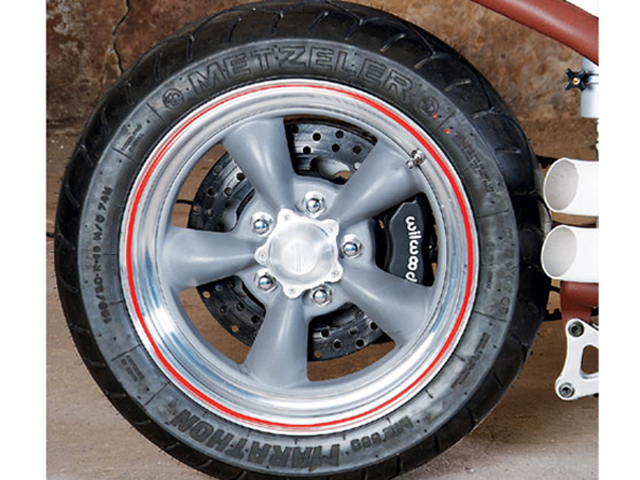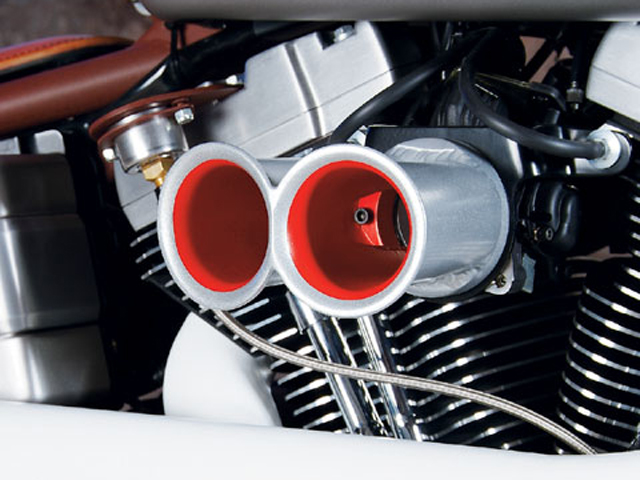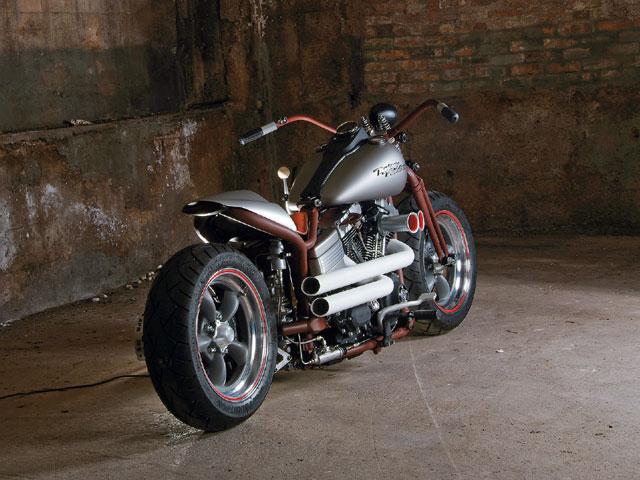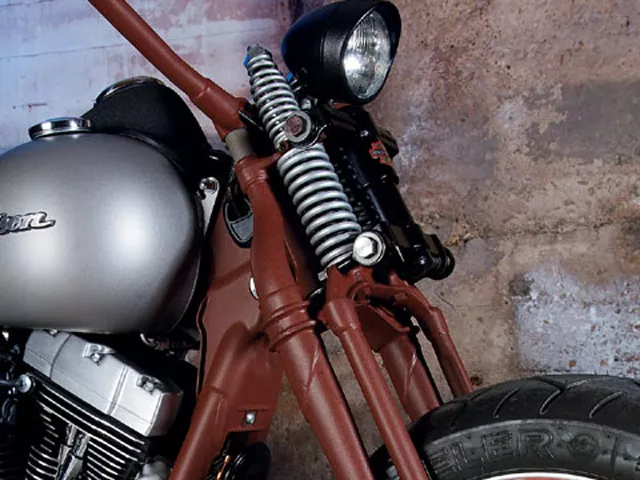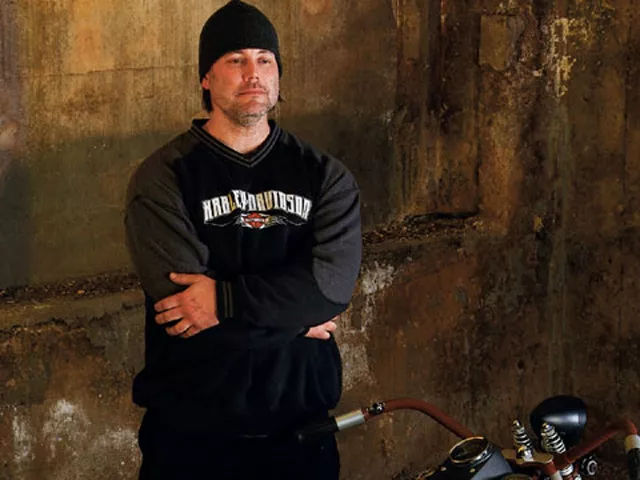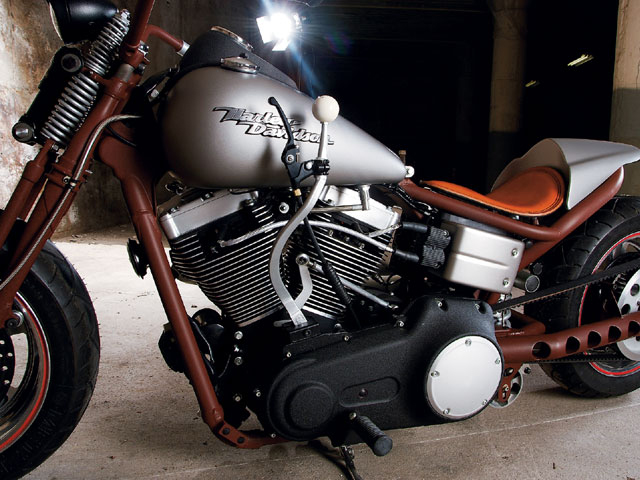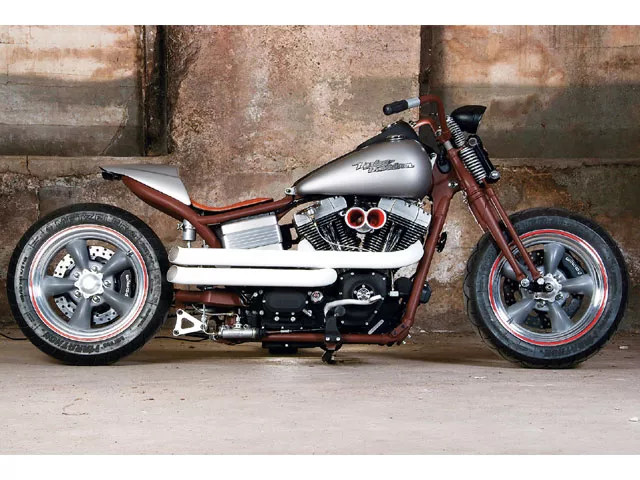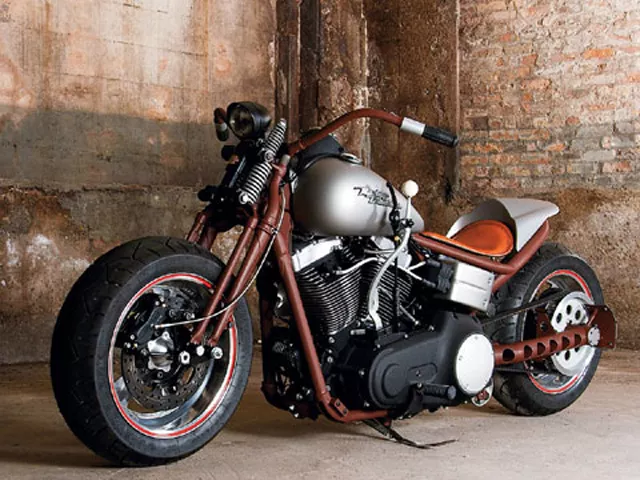 This past February, while cruising the mass array of new parts on display at the V-Twin Expo, we came across this crazy-ass bike in the Wilwood Brakes booth that stopped us dead in our tracks. But we weren't the only ones standing around slack-jawed, trying to figure out what we were looking at. There were other heavy hitters in the industry on their hands and knees crawling all around, trying to get a peek at all the intricacies of this wild bike.
At first we didn't realize-with the sport bike-ish rear section, Springer frontend, and suicide shifter-that this was/is/whatever a Dyna Street Bob. And within the first minute of speaking with the bike's builder Dave Neu of ASI Customs, we realized Dave is a man of few words, and likes to let his work speak for itself. But being the inquisitive journalists we are, we were able to get Dave to open up a bit about his background and the bike.
Hot Bike: How did you get into bikes?
Dave: It just evolved from what I was doing with hot rods and muscle cars.
Have you built a lot of hot rods?
Yeah, fabrication, chassis work, racecars, street rods, you know, it's the same thing-just one-fourth the parts. It's been my job for 20 years.
What does ASI stand for?
Applied Speed Innovations.
Do you just do Harley conversions, or do you do ground-up stuff as well?
Mostly Harley conversions. I think it's more of a pure thing with the pedigree being a Harley.
With this bike you started with a stock Street Bob?
Yeah, it was brand new when I got it. I like that chassis; it's classic muscle car thinking. It's a big motor in a smaller chassis, versus a Softail, which is a big motor in a bigger chassis.
What was your vision?
I wanted to build the anti-chopper, put a fat tire up front, keep the rake tight, stretch the swingarm, put in a rear suspension, keep a belt final drive, use as many car parts as possible, and best of all, start with a brand new fuel-injected Harley. I thought it would be cool to incorporate the hot rod car parts I use everyday into a bike. I like old-school traditions with modern input.
What about the decision to put a Springer frontend? Most people wouldn't associate a Springer with performance.
I used that for the mechanics of it. There are a lot of little moving parts.
The bike is very mechanical. So you've got a couple different themes going on here. It's kind of old school meets muscle car meets mechanical/industrial.
Right, it's just a working man's bike. Nothing to polish, no chrome to get rusty.
From its stock setup, what were the steps you took to get it to this point?
I stripped off all the parts I wasn't going to use: wheels, frontend, swingarm, suspension, etc., and then pretty much mocked it up from there. I set it at the ride height I wanted, then laid the wheels out where I wanted them to be. I cut the frame fabricated the tubes for the seat area and the suspension, and then made the swingarm.
Speaking of suspension, can you explain what you've got going on under the seat area?
It's a dogbone linkage suspension with a double adjustable shock, and a car-rated spring for the weight of the bike. It's all a ratio of-I think-four-to-one, where the spring has to be four times the rate of a stock spring because of the length of the swingarm. But it rides nice, like a Caddy.
That's a pretty beefy spring around that shock.
It looks beefy, but there's about four inches of travel in there. Because of the extended length of the swingarm and the shock is so far away from the axle, it has to be a heavy spring to compensate for all that weight hanging out there and the leverage disadvantages.
Tell us about some of the other unique features of this bike.
I left everything pretty much exposed, except for the factory wiring for the fuel injection, which was the toughest thing to hide. It's got all Wilwood braking components, sprint car rotors and calipers with small pistons, and aluminum rotor hats. I had to machine some hub adapters for the automotive wheels so I could incorporate the belt drive pulley and rear brake setup on the single-sided swingarm. The velocity stack is a hand-made piece. And I went with a jockey shift with the classic Hurst four-speed shifter ball. The swingarm isn't a solid piece, it's a tube; those holes are sleeved and welded, then ground down flush. It's more or less an aesthetic rat rod thing, like if you had a drilled frame on a '32 Ford or something. The white pipes are to replicate the gasser era. If you look at old straight axle Willys and '55 Chevys with the frontends way up in the air, back in the '50s before ceramics, you always had high-temp white paint. A lot of people don't get it until they see pictures of the old gasser cars.
How does it ride?
It rides more like a sport bike, it doesn't ride like a typical Harley. You can lay it down and grind the pegs for sure. I like the stretched swingarm because the wheel isn't under your ass and you're more cradled between the wheels. So when the suspension is working, you don't feel it right underneath you, you feel it behind you. It's hard to really describe.
Well, it looks fun as hell. Maybe you could let us take it for a little test ride? The El Diablo Run is coming up, Mexico's got some good roads to test out the cornering and suspension…
(silence).
Spec Sheet
| | |
| --- | --- |
| BIKE OWNER | Dave Neu |
| SHOP NAME | ASI Customs |
| SHOP PHONE | (262) 498-5229 |
| EMAIL | [email protected] |
| YEAR/MAKE/MODEL | '07/H-D/Custom |
| FABRICATION | ASI Customs |
| ASSEMBLY | ASI Customs |
| BUILD TIME | 120 Days |
| | |
| --- | --- |
| ENGINE | |
| YEAR/MANUFACTURER | '07/H-D |
| TYPE/SIZE | TC/96ci |
| BUILDER | H-D |
| CASES | H-D |
| CYLINDERS | H-D |
| HEADS | H-D |
| ROCKER BOXES | H-D |
| CARBURETOR/EFI | H-D |
| AIR CLEANER | ASI Customs |
| EXHAUST | ASI Customs |
| | |
| --- | --- |
| TRANSMISSION | |
| YEAR/MANUFACTURER/TYPE | '07/H-D |
| CASE | H-D |
| CLUTCH | H-D |
| PRIMARY DRIVE | H-D |
| | |
| --- | --- |
| FRAME | |
| YEAR/MANUFACTURER | '07/H-D/ASI Customs |
| RAKE | Stock |
| STRETCH | Stock |
| | |
| --- | --- |
| SUSPENSION | |
| MANUFACTURER FRONT | H-D |
| LENGTH | Stock |
| TRIPLE TREES | H-D |
| MANUFACTURER REAR | ASI Customs |
| SWINGARM | ASI Customs |
| | |
| --- | --- |
| WHEELS, TIRES, AND BRAKES | |
| MANUFACTURER | |
| FRONT/TYPE | American Racing/Torque Thrust |
| SIZE-HEIGHT/WIDTH | 16×8.5 |
| TIRE/SIZE | Metzeler/180 |
| CALIPER | Wilwood |
| ROTOR | Wilwood |
| MANUFACTUER | |
| REAR/TYPE | American Racing/Torque Thrust |
| SIZE-HEIGHT/WIDTH | 16×8.5 |
| TIRE/SIZE | Metzeler/180 |
| CALIPER | Wilwood |
| ROTOR | Wilwood |
| | |
| --- | --- |
| FINISH/PAINT | |
| COLOR | H-D Pewter Denim |
| PAINTER | H-D |
| POWDERCOAT | Motorsport Powdercoating |
| | |
| --- | --- |
| ACCESSORIES | |
| TAIL SECTION | ASI Customs |
| GAS TANK∩ | H-D |
| OIL TANK | H-D |
| DASH | H-D |
| GAUGES | H-D |
| HANDLEBARS | H-D/ASI Customs Speedster |
| HAND CONTROLS | ASI Customs |
| FOOT CONTROLS | H-D/ASI Customs |
| FOOTPEGS | H-S |
| HEADLIGHT | 3-1/2-inch Mini |
| TAILLIGHT | Cateye |
| LICENSE MOUNT | ASI Customs |
| SEAT | Anvil Customs |