Eric Bennett sparks a Marlboro Light and, like clockwork, he's back to honing the cylinder heads he's been tweaking for one of his loyal customers. Eric is dedicated to his work—driven and passionate. His Bennett's Performance customers always come first. And because of his devotion to his craft, he's established a solid reputation as the go-fast V-twin motorcycle shop.
When I first met Eric and Bob Bennett, the father-son duo behind Bennett's Performance in Signal Hill, California, in 2006, I was a bit intimidated. I was very green in the V-twin world and didn't know s—t about making horsepower. Luckily, I had the Bennetts to guide me and pass on their know-how during a Twin Cam hop-up article I was assigned to tackle, with Bennett's doing the work.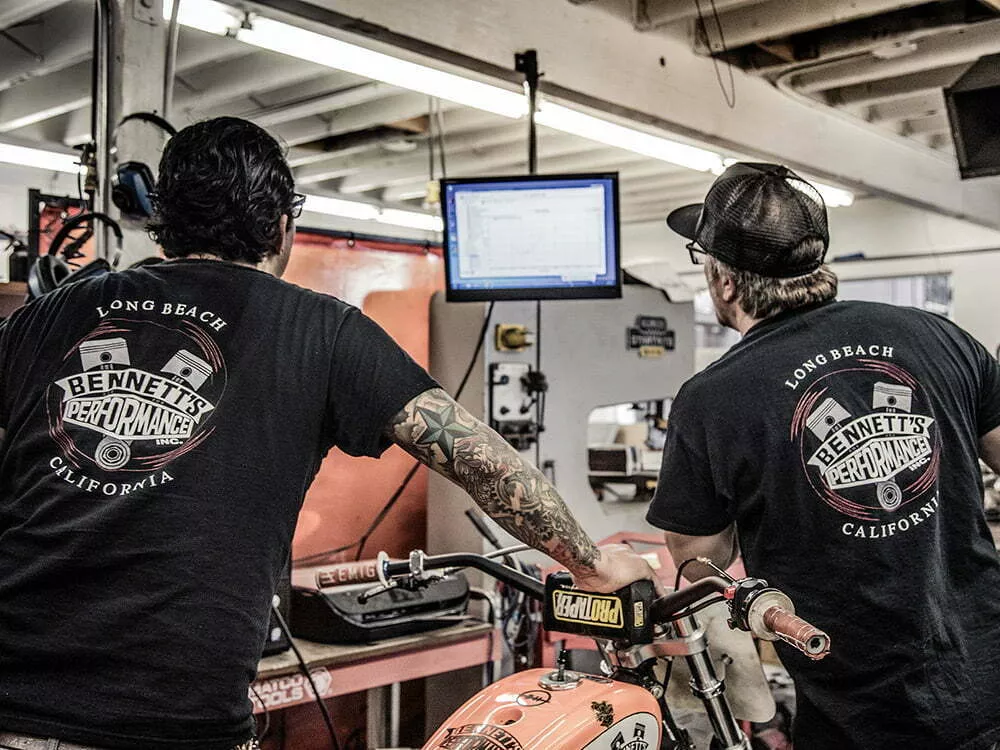 During that first encounter, I assumed Bennett's Performance was a classic case of nepotism. Turned out I was wrong. Before Bennett's opened the doors to its first shop in 2000, Eric was working as a full-time diesel mechanic for Caterpillar, building bikes on the side as a hobby out of his garage. After a conversation with Bob, who was living in Washington at the time, the two decided to give it a go and opened Bennett's. "He had a few bucks to invest and a few pieces of equipment, and that's how we started," Eric recalls.
Bennett's started out as a part-time shop at first because Eric was still working his daily gig at Cat from 7:30 a.m. to 3:30 p.m., but then he'd jam over to Bennett's from 4 p.m. to midnight every day, until financially he could focus his energy full time with Bennett's. In March 2001, Bennett's went full time, and hasn't looked back since. If you remember the early 2000s, you'll know the motorcycle business was booming. "It was right in the heyday of the custom-bike explosion, with TV shows, and the market was booming because people used the equity in their homes to buy toys," Eric says. Business at Bennett's started booming too.
It also helped that Bennett's shared—and still shares—the building with Branch-O'Keefe. If you know anything about Harley performance, you'll know Jerry Branch was a key player in revolutionizing Harley engine technology with his Type 4 Evolution cylinder heads with Branch Flowmetrics. How does that tie in to sharing the building with Bennett's? Well, Branch sold his business to Mikuni in the late '90s. After about a decade, Mikuni wanted out of the head business, and was about to close its doors—that is until longtime Branch employee John O'Keefe ponied up the dough to buy Branch from Mikuni around 2005. Since Bennett's and Branch had worked together for so many years, the Bennetts had become great friends with Jerry Branch and John O'Keefe, so the two businesses felt it made perfect sense to share shop walls. Branch offered the products; Bennett's installed them. Branch had a flow bench and the right equipment for machining engine parts; Bennett's had a dynamometer, and could tune those products to make them work. The performance pair has been working together for about 13 years, continuing to make things haul ass to this day.

Eric and Bob had a good run for about a decade, until 2010, when the two had different ideas as to the future of Bennett's Performance. "In 2010, my dad and I kind of got divorced," Eric says. "You can't pick your family. We were just going in different directions, and rather than see the shop close, we worked an agreement where I ended up buying him out and became sole owner of the business." It wasn't the most amorous of splits at first, and after about a year of silence, the two made amends at Bonneville, and Bob came back to work on projects part time at Bennett's. (Until last December, when Bob retired completely and moved to Alabama.)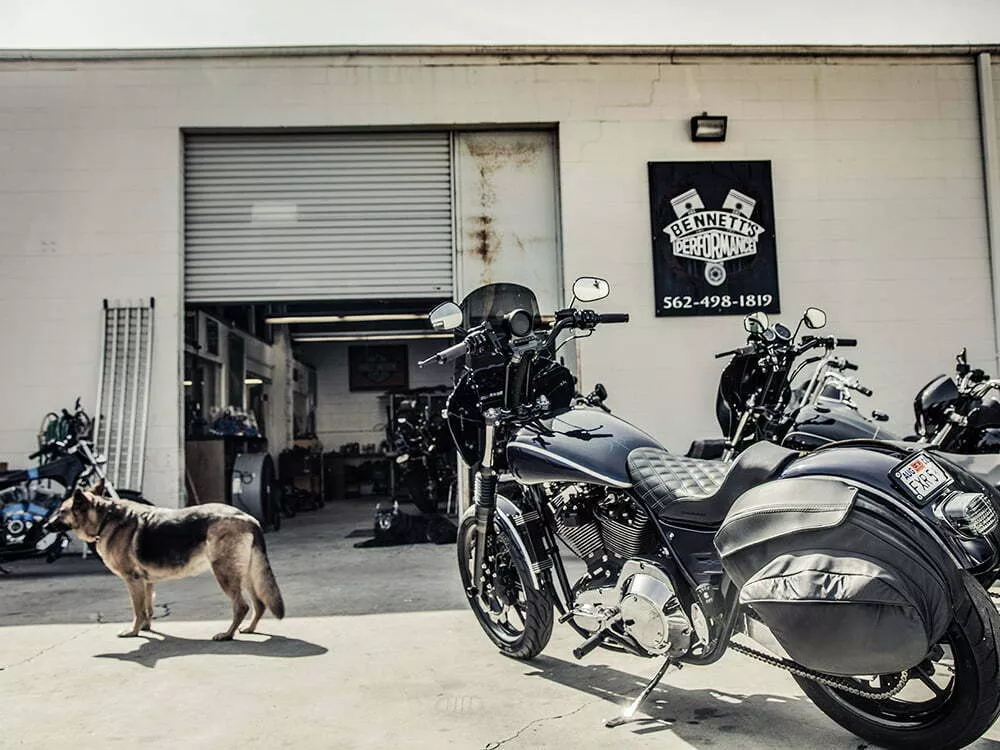 Bennett's made a name for itself by giving its customers the most bang for their buck. That mantra is still paramount. Eric has always understood that he needed to be in sync with how his customers were actually going to use their motorcycles. "Bigger isn't always better; more isn't always better. Our thing is to be on the same page with what the customer wants and what they're going to do with the bike," Eric says. "If a guy wants huge horsepower and an unreliable bike, then that's cool, as long as he understands that's what it is." But Eric also understands that performance isn't always making a bike go fast. It has to stop fast. It has to handle well too. "We're doing a lot more suspension work and brakes than we ever have." Four or five years ago, Eric started noticing that Harley riders were changing and people actually cared about suspension. "Back in the day, we took suspension away from motorcycles—we got paid to f—k your bike up, all in the name of looking cool!" Eric recalls.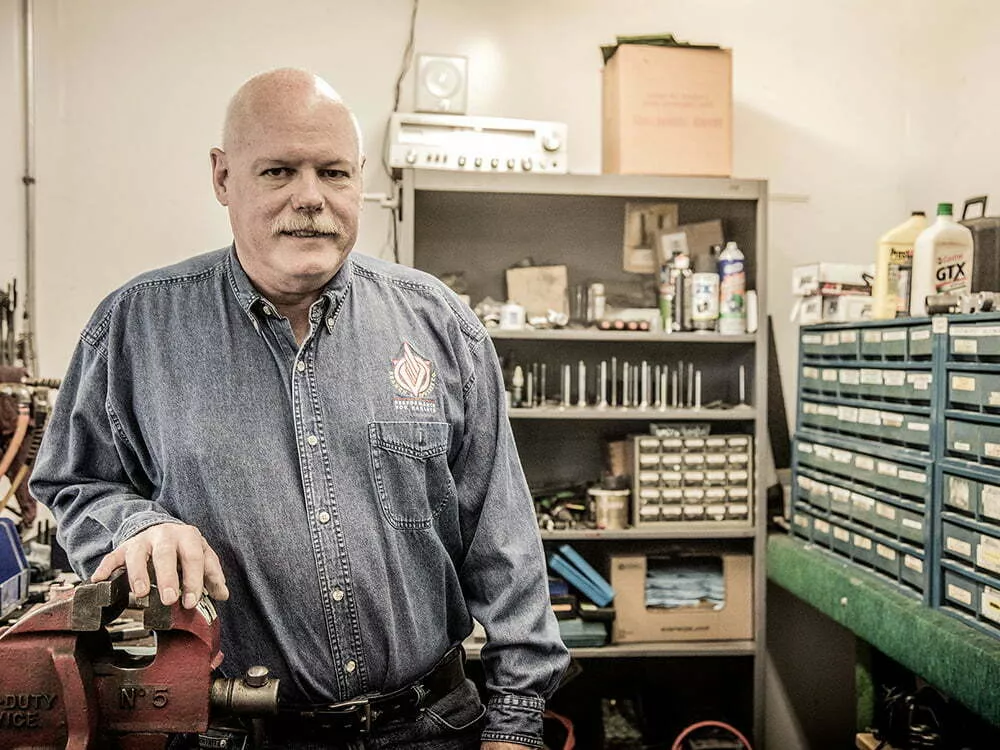 The resume of builders Bennett's has worked with through the years is vast. Gard Hollinger, from Arch Motorcycle and LA County Choprods, has collaborated with Eric on several projects. "I first met Eric from Bennett's Performance back in 2005 or 2006. I was doing an episode of The Great Biker Build-Off, and I think Sandy Kosman told me I should look them up because they were the guys in SoCal that were building some crazy fast engines.
We hit it off right away, and they were all in to help with the Build-Off bike. They knew the guys at G2 Motorsports and, with their support, built us a crazy fast naturally aspirated 126ci engine that made our bike run in the mid-9 seconds. That was with my lame ass on the bike; who knows what it could have done with an experienced drag racer on it. Anyway, quite a number of years have passed, but whenever I'm looking for something special out of an engine, Eric and Bennett's Performance are my go-to," Gard says. "It doesn't hurt that Eric and his dad, Bob, held a number of their own land-speed records in addition to helping a lot of other guys get theirs. Cool guys, and a cool shop that has become something of an institution when it comes to American V-twin performance."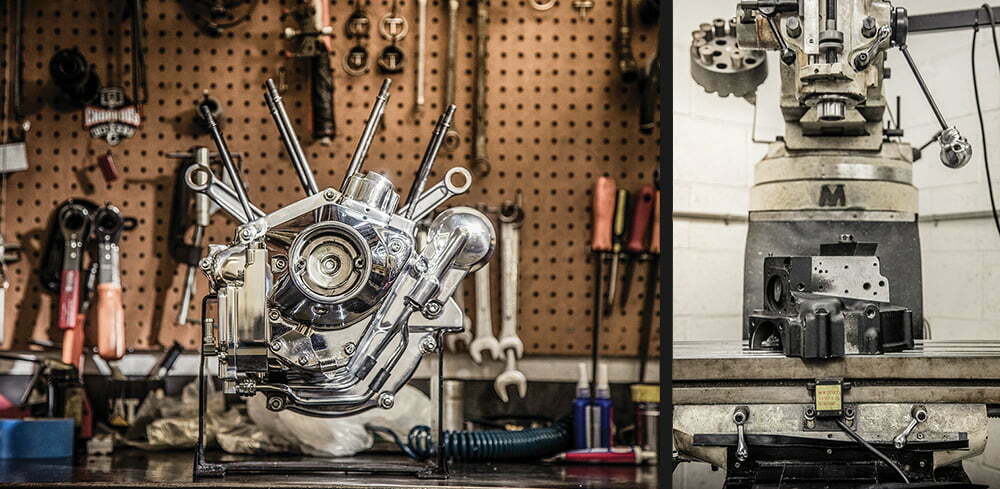 Bennett's also reaped the rewards of its performance expertise with Bonneville salt flats racing. In 2003, Eric helped a guy dial in his 100 hp Zipper's Sportster for the salt. But the engine had four bent pushrods, the valves needed to be adjusted, and it was missing a lot of parts. With Eric and Bob's help the guy set a record that year. Eric witnessed that feat with his own eyes, and he wanted in. Eric read the Bonneville rule book cover to cover and vowed to return to the salt with his own bike. "I already had a donor motor and a frame and a few other parts, so we built a bike to go after this guy's record, which was really my first lesson about salt-flats humility. I thought it would be a piece of cake to go out and beat that piece of s—t." It ended up taking 19 attempts to actually break that record, but Eric's 168 mph run did just that. Eric was bitten by the proverbial bug during the 2004 AMA Bonneville Motorcycle Speed Trials. In total, Eric has set five records in the 10 years that he's attended Speed Week. He's lost a few of them, but still holds a record in the APS-PG 1650 class with 186.777 on a Sportster.
Talking to Eric about the current state of the motorcycle business, and how it's continuously evolving, it seems clear that he has developed the skill set to tackle all facets required for owning an independent motorcycle shop. "It's interesting. We just roll with the changes. We have a good knowledge of motorcycles overall. Bennett's has never been known as a 'custom shop,' but we've built plenty of custom bikes," Eric says. "At the end of the day, it's a job that I like doing, with the right kind of clientele who understands and doesn't fight you."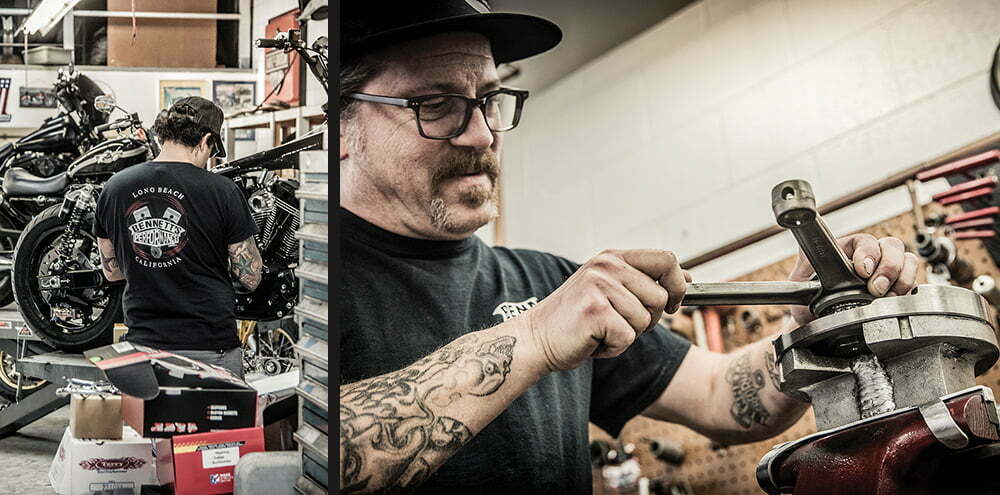 Bennett's Performance is one of those shops that rolls with the changes. It's established a respectable reputation in the industry, with customer satisfaction being Eric's number one priority. Roland Sands has worked with Bennett's on several projects over the years. "The Bennett family has been around building solid Harley motors for as long as I can remember. Eric is a no-bulls—t guy who I trust with the bikes I care about. I feel he treats a customer's bike like his own. He has high standards," Roland says.