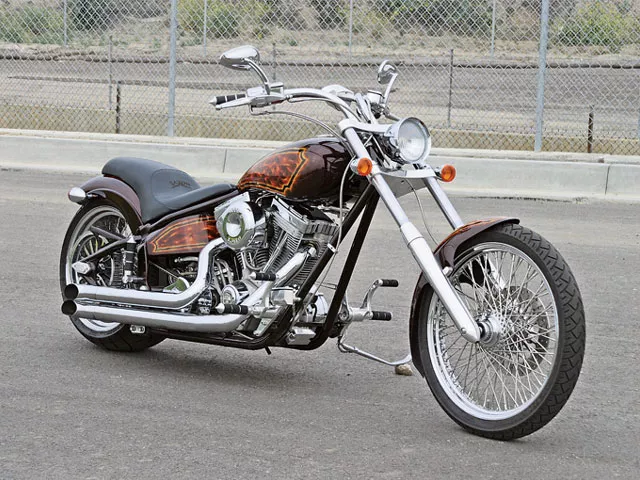 When it comes to buying a new motorcycle, the choices can seem daunting at times. There are so many models built by scores of different manufacturers, all trying to entice Joe Motorcycle Buyer to toss some cash their way. From the custom shop down the street that might build one or two customs a year to the folks in Milwaukee pumping out somewhere in excess of 325,000 motorcycles each year, the sky's the limit when it comes to making a buying decision.
There are so many factors that influence this decision, including style of bike (Pro Street, chopper, or retro), tire size (fat or skinny), horsepower ratings, price, and warranty. While these are all excellent points to consider when bike shopping, many people never even give a thought to the company that built the bike and its business philosophy.
Off the get-go this may seem like a trivial aspect of the sale, but when you look at it logically, the way a company views the proper way to conduct business can spell the difference between the company succeeding or failing.
Saxon Motorcycles is a relative newcomer to the business of building production custom motorcycles. The company actually refers to them as "semi-custom motorcycles." This small, privately held company was started and is still run by four partners. While all four are avid motorcycle riders and have been for years, they come from a background far from the motorcycle business. The majority of their business expertise comes from running Pulte Homes, a large developer of homes in the Phoenix, AZ, area. While home building and motorcycle building may seem like strange bedfellows, there are certain similarities in regards to how to most effectively run a successful business.
Prior to establishing Saxon, the principals did their homework. They studied what was taking place in the existing motorcycle-building arena and found areas that they knew they could improve upon. Many of the new ideas came in the form of how to do business more efficiently, not just how to build a good motorcycle. And while the company builds the best bikes it can, Saxon realizes that without the proper philosophy steering the company, it might not make it in the long run. As far as Saxon was concerned, that was never an option.
Saxon's strategy includes investing on the front end to keep from incurring higher costs on the back end, a solid infrastructure on which to build, producing high-quality products that are offered to buyers at a fair price, continued product improvement, superior customer support, and a lifelong relationship with its customers.
The '05 model year saw Saxon produce 400 motorcycles from its 40,000-square-foot facility located in Casa Grande, AZ; this was quite a feat for the fledging company. For '06, Saxon is on pace to build 600 motorcycles, all of which will be sold through a growing dealer network that boasts 33 dealers in 20 states. In addition, Saxon has certified approximately 2,000 service centers across the country that have the ability to take care of most any issue which may arise with one of the company's bikes.
Buyers have a choice of five models, including three choppers (Griffin, Warlord, and Black Crown) and two Pro-Street models (Sceptre and Firestorm). As with other companies, Saxon has many features that span the entire line, such as a driveline consisting of a 96-inch S&S; Evo-style motor, chain-drive enclosed primary, and Road Max right-hand-drive six-speed transmission. Other features include Thunder Heart four-piston calipers and hidden shocks.
Saxon's Firestorm begins with a proprietary frame, designed and built to Saxon's specs by Frameworks. The Arizona-based company builds the Firestorm's skeleton with dimensions that include a 4-inch backbone stretch and a neck rake of 40 degrees. The A-style swingarm, also produced by Frameworks, is designed to carry a 260/40/18 Metzeler rear tire fitted to an 8.5-inch-wide spoked wheel. Up front, Saxon went with a beautiful Mean Street 41mm 4-inch-over frontend. The 5-degree trees are designed to give the bike the proper trail numbers for both nimble handling and smooth steering. The front DNA 21/2.250 spoked wheel anchors a 21/90/90 Metzeler tire. Rotors are supplied by RC Components, and four-piston calipers are compliments of Thunder Heart.
One of Saxon's missions is to provide its bike buyers with a good value, and this becomes apparent when you look at the Firestorm's powerplant. The 96-inch S&S; Evo-style engine boasts bore and stroke numbers of 3-5/8 inches by 4-5/8 inches, with a compression ratio set at 10.1:1, thus giving it the ability to run easily on a variety of pump gas. Unlike some manufacturers, Saxon buys the motors assembled at S&S;'s plant in Viola, WI. It makes no difference whether you opt for a motor with an optional black ($250) or polished finish ($1,500), or decide you just can't live without the larger 111-inch motor ($1,600, plus the cost of an optional finish)-they are all assembled by S&S; employees in S&S;'s plant. All of Saxon's bikes are carbureted for '06-carrying an S&S; Super E air/fuel mixer and electronic compression releases. Also from S&S; is the ignition, while the two-into-two exhaust pipe is a piece built specifically for Saxon.
As with many fat-tire bikes these days, Saxon has opted to go with a right-side-drive final-belt setup. This frees up the chain-drive primary to be mounted to the motor and Road Max six-speed transmission without the need for additional spacers. Stashed inside the primary is a 32-amp charging system designed to keep the 550 CCA battery topped off.
Sheetmetal on the Firestorm consists of a 5-gallon, one-piece fuel tank (the largest of all Saxon's '06s), standard under-seat oilbag, and a pair of steel fenders that carry a V-theme cut into them. The front is a smallish piece sans fender spacers, while the rear is complete with hidden struts. Rider amenities consist of standard DOT hand controls and billet forward controls with rubber-banded, spiked footpegs designed to match the hand grips and passenger pegs.
Utilizing some solid-state circuitry, Saxon has a well-designed, good-looking speedometer tucked nicely between the handlebars. Functions include a tachometer, speedometer, trip meter, and indicators for turn signals, high-beams, oil, and Neutral. Firestorms come with a solo seat with the option to upgrade to a two-up model, which our test bike had ($395).
All Saxon bikes come standard with a monochromatic paint scheme and matching powdercoated frames. Upgrades are available as Level One, Two, and Three, and include items such as simple flames (Level One, $1,000) crossover flames and skulls (Level Two, $1,500), and custom airbrush (Level Three, $2,900). Our test bike was decked out with black-cherry paint and a Level Two graphic consisting of a beveled real fire scheme.
So what did we think of the bike? To begin with, our hats are off to Saxon for going about this endeavor. We like the passion its founders have, not just for their own products but also for motorcycling as a whole. Our general feelings about the bike were favorable. The bike delivers what Saxon has promised. Beginning with good looks, which parlay into performance and good manners, we believe Saxon has struck a balance between many variables and has delivered an affordable motorcycle to the marketplace.
Even with the 96-inch mill, the bike has plenty of power. It showed no signs of cold-bloodedness or hesitation under acceleration. Since it weighs just 621 lbs, a quick twist of the throttle is all that's needed to motivate the bike down the road. Does that mean we're not interested in the 111-inch motor? To the contrary-this is what we do for a living, so we can never get enough power. That being said, for a lot of folks out there the standard motor should satisfy them just fine. The solid-mount motor ran smoothly and did not exhibit any excessive vibrations we could feel through the chassis, although we did notice a distinct vibration that made its way through the handlebars in the 2-3K rpm range.
Shifting the Road Max six-speed is smooth and predictable, gear changes are solid and sure, Neutral is easy to find, and we liked the fact that the Saxon included a sixth gear instead of going with just a five-speed gearbox.
The Firestorm handled quite well in a variety of situations and conditions. The frontend is well-balanced and shows no signs of flopping from side to side. Slow-speed maneuvering is a snap, as the bike turns equally well to the right and the left. Once you get the bike up to speed, the feeling is neutral, with very little input needed to toss the it through turns to either side. Once it's in a turn, the bike wants to stay there without too much coaxing. We did notice, however, that the bike touches down far too soon on both sides, because of the pipes on the right and the kickstand on the left. The bike we had was outfitted with a pair of turned-out pipes; a pair of slash-cuts would go a long way in giving a few more degrees of lean angle. We would not be surprised to see a modified kickstand design coming soon.
When we first rode the Firestorm and grabbed the front brake, we were surprised by how much pressure was needed on the lever to bring the bike to a stop. After checking the line for air and making sure the master cylinder was topped off, we gave the company a call. We were informed that some bikes have exhibited the same condition. The fix? A trip to a dealer/service center for an inspection, cleaning, and reassembly. We did ride another one of Saxon's bikes and did not find the same situation with the front brake.
Ergonomics on the bike are good; the layout of the seat and controls have a good relationship to one another. If you are out of the norm-either very short or tall-don't stress-Saxon has components available to move the forward controls as well as an optional seat designed for shorter riders.
As with so many other facets of the motorcycle industry, time will tell how things will go in the future. Based on what we've seen in a short period of time from Saxon, it looks like the company has set itself up for success. We can't wait to see what's in store for '07.
| | |
| --- | --- |
| SPEC SHEET | |
| Saxon Firestorm | |
| Wheelbase | 79 inches |
| Length | 105 inches |
| Seat Height | 26 inches unladen |
| Dry Weight | 621 lbs |
| Driveline | |
| Engine/Displacement | S&S; 96ci |
| Induction | S&S; Super E |
| Primary Drive | Enclosed wet chain |
| Transmission | Road Max six-speed |
| Frame | Frameworks/Softail-style |
| Rake | 40 degrees/5-degree trees |
| Front Tire | 21/{{{90}}}/90 Metzeler |
| Rear Tire | 260/40/18 Metzeler |
| Price as tested | $25,900 |