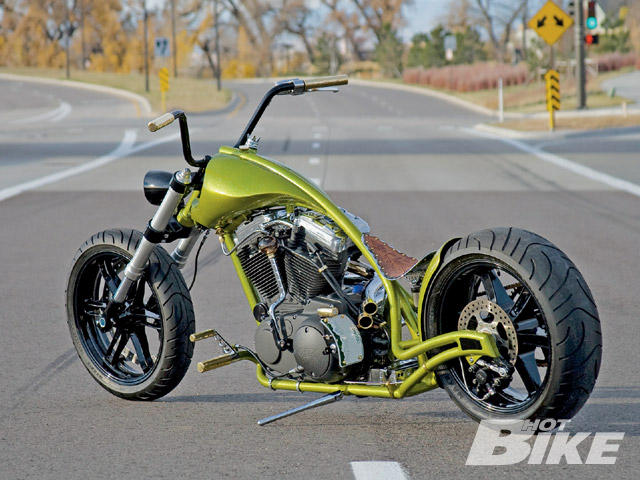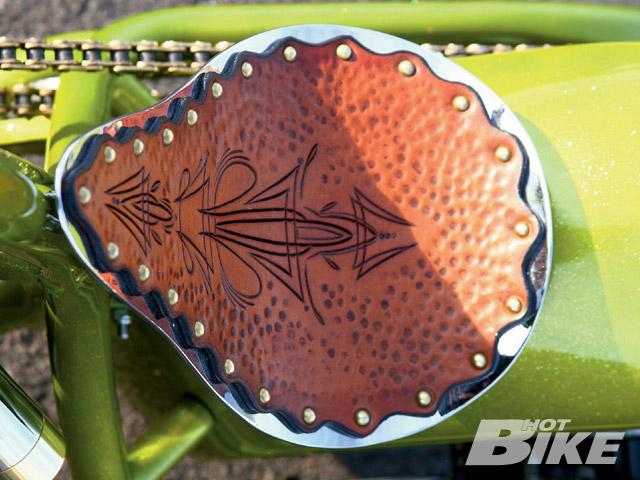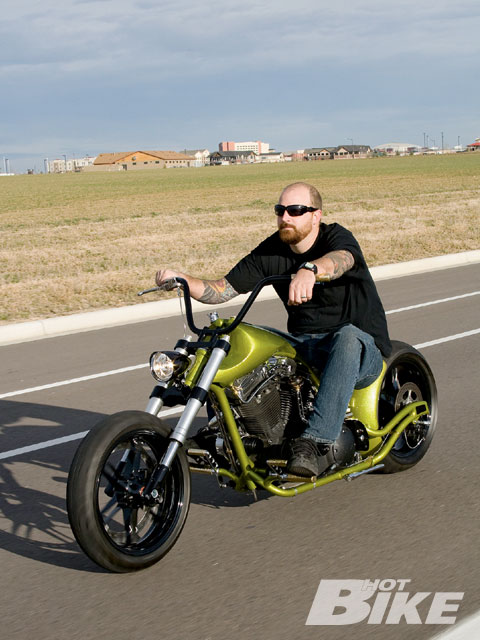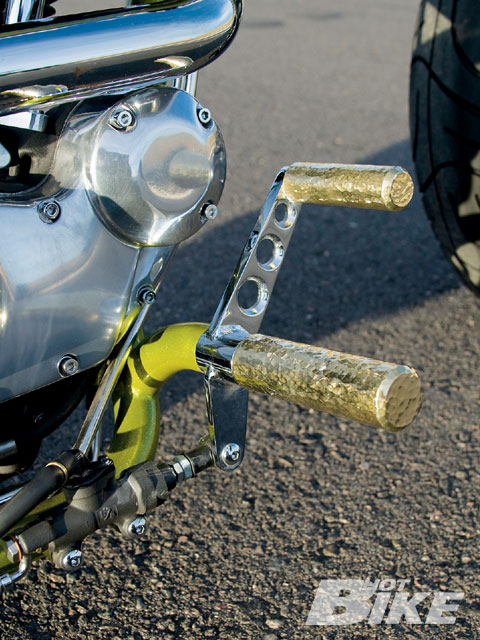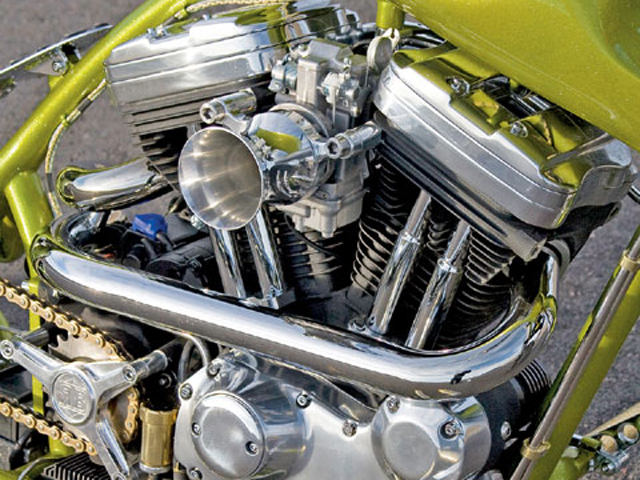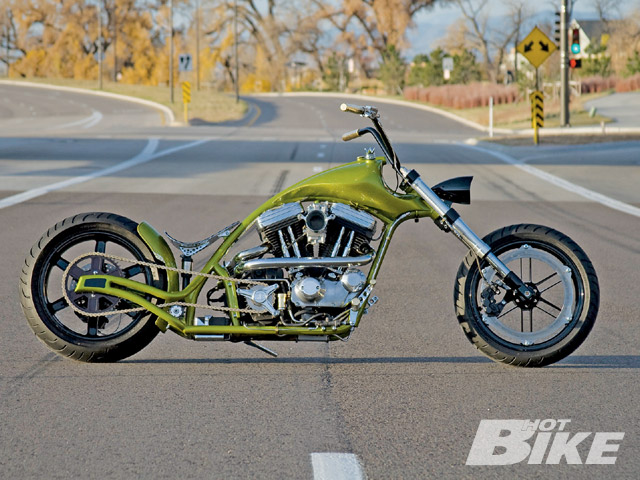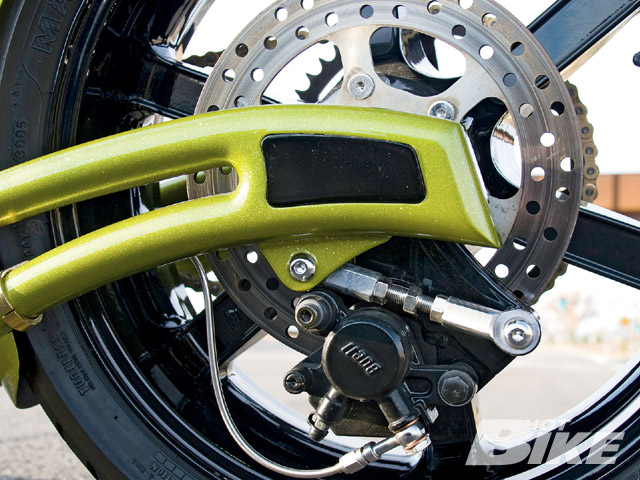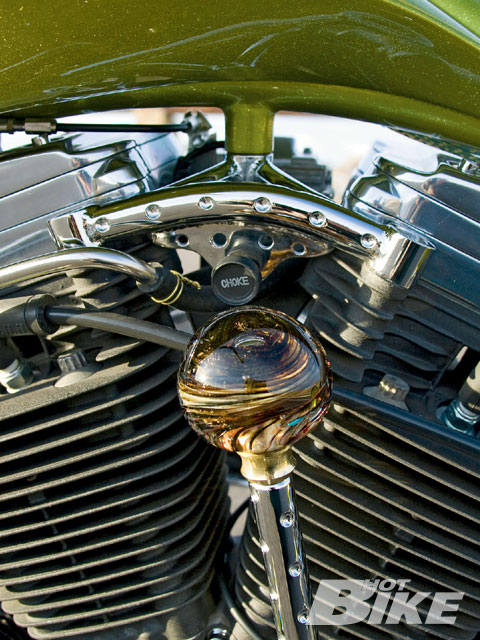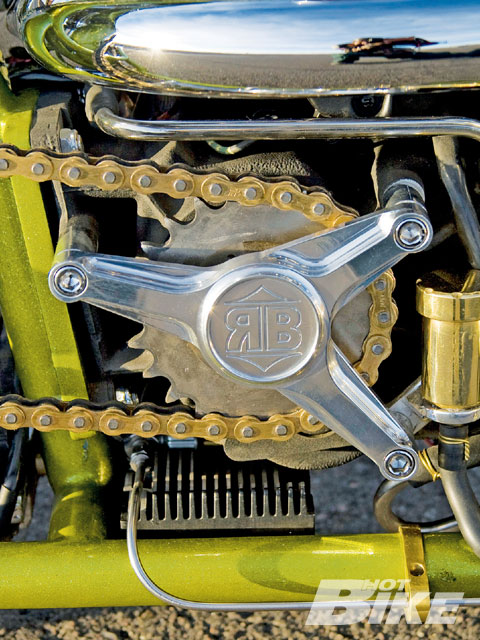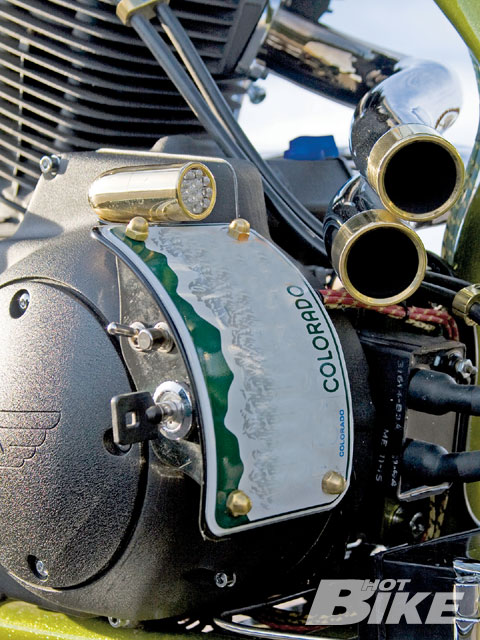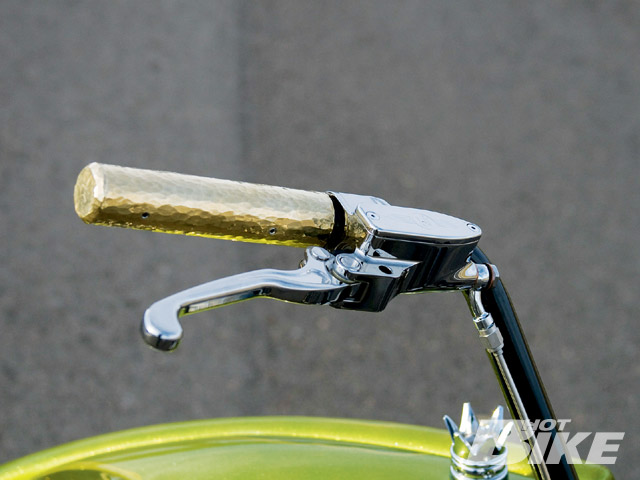 Ryan Boyd looked to a Buell drivetrain as the basis for his first solo full-blown custom project. Sure, he had helped out on friends' projects, including a Buell-based project, but this was going to be the first time he could do a build on his timeframe and with his own influence. He has an attitude that with the right machines, anything can be handmade, and if you look closely, that is what makes this bike stand out in a crowd.
Back when he was 14 years old, Ryan really got into mechanics. He started putting together mini-bikes, and although no one in his family was into cars or bikes, he pursued it with everything he had. He took vocational classes in high school and realized that while everyone else was struggling to understand what was going on, it all made sense to him. He started as a wash tech at a car dealership and worked his way up. He even enrolled in mechanics' classes at the local community college, only to be bored to tears. Ryan would fall asleep in class, the teacher would ask him a question and he always had the right answer. Normal people drive him crazy because he just intuitively understands how things work. If he doesn't get something, he works until he completely understands it. He saw a need for a CNC machine in his shop, so he taught himself the computer program to design and produce high quality CNC-cut parts. All of these projects are done in his time off from work as a mechanic at the car dealership, where he has worked for 11 years. He became an ASE master technician at the age of 20, so it is no wonder he takes on projects like this Buell to keep his interest.
For his personal ride Ryan started with a 1995 Buell that had been wrecked but came with the title. For $2,000, it was a great way to see if he could make his dream build a reality. He also picked up a few pieces from a newer Buell, like the wheels and frontend Ryan didn't want to re-use the stock frame or an aftermarket frame because he felt he could make one that looked cooler, was more his style, looked like no other frame he had seen, and he also wanted to run the oil in the frame. So he started by building a frame jig and bending some tubing. After he had the frame welded up, it was time to work on the tank. Ryan hand hammered the sheetmetal and put in over 100 hours to get just the right shape. He knew the centerpiece of this bike was going to be the gas tank, but he also knew the details were what mattered. What started as an experiment quickly turned into his masterpiece. Building something different and fabricating everything he possibly could by hand were both things Ryan prided himself on. He made the handlebars with integrated risers, the foot controls were hand machined, including the rear brake master cylinder, the front forks were shaved, and he handmade a jockey shifter as well as the license plate holder and taillight housing. Ryan decided to send the motor out to get a little more horsepower out of it and had 10.5:1 NRHS pistons installed and the cylinders bored out to 1212cc.
The bike was nearing completion but there were a few details Ryan felt he needed to take care of. First on the list was the paint. He wanted it to stand out, so he picked a heavy metal flake green as the base and had his friend, Tattoo John, pinstripe the bike and handtool the leather seat cover. But even with the new paint and seat, there were still a few things Ryan didn't like. The hoses and brake lines were just hanging in limbo, and zip ties weren't going to cut it on this bike. He devised a plan to machine brass clamps to hold them in place and clean things up. That brought all the brass parts together, and when he finally got it off the lift for the first ride, he knew his creation was exactly the bike he had been thinking about for years. A few weeks after the build, word about the bike traveled and he was asked to participate in Michael Lichter's "Stay Gold" exhibit in Sturgis. He commented that it was a huge honor to be included in such a prestigious exhibit and really enjoyed having his bike on display with such a great variety of other bikes.
Ryan still has a day job but he helps friends out and takes on the occasional project here and there. He has a couple of projects waiting in the wings, and it's no surprise that he has some pretty extensive plans for these bikes as well.
| | |
| --- | --- |
| SPECS | |
| BIKE OWNER | Ryan Boyd |
| SHOP NAME | RB Fabrications |
| SHOP PHONE | (970) 443-1380 |
| YEAR/MAKE/MODEL | '08/Custom |
| FABRICATION | RB Fabrication |
| ASSEMBLY | RB Fabrication |
| BUILD TIME | One Year |
| | |
| --- | --- |
| ENGINE | |
| YEAR/MANUFACTURER | '95/Buell |
| TYPE/SIZE | Buell/1212cc |
| BUILDER | RB Fabrication |
| CASES | Buell |
| CYLINDERS | Buell/Bored |
| HEADS | Buell/NRHS |
| ROCKER BOXES | Buell |
| CARBURETOR | Mikuni 42mm |
| AIR CLEANER | Velocity Stack |
| EXHAUST | RB Fabrications |
| | |
| --- | --- |
| TRANSMISSION | |
| YEAR/MANUFACTURER/TYPE | '95/Buell/5-speed |
| CASE | Buell |
| CLUTCH | Buell |
| PRIMARY DRIVE | Buell |
| | |
| --- | --- |
| FRAME | |
| YEAR/MANUFACTURER | '07/RB Fabrications |
| RAKE | 45 Degrees |
| STRETCH | |
| | |
| --- | --- |
| SUSPENSION | |
| MANUFACTURER FRONT | Buell XB |
| LENGTH | Stock |
| TRIPLE TREES | Jeremy Robinson/Nick Augustine |
| MANUFACTURER REAR | Rigid |
| | |
| --- | --- |
| WHEELS, TIRES, AND BRAKES | |
| MANUFACTURER FRONT/TYPE | Buell/XB |
| SIZE-HEIGHT/WIDTH | 17×3 |
| TIRE/SIZE | Maxxis/120/70-17 |
| CALIPER | Buell |
| ROTOR | Buell |
| MANUFACTURER REAR/TYPE | Buell/XB |
| SIZE-HEIGHT/WIDTH | 17×5.5 |
| TIRE/SIZE | Maxxis/{{{200}}}/50-17 |
| CALIPER | Buell |
| ROTOR | Buell |
| | |
| --- | --- |
| FINISH/PAINT | |
| COLOR | Candy Green over Champagne |
| PAINTER | Royce Payton-Custom Design |
| GRAPHICS | Tatto John Pinstriping |
| PLATING/POLISHING | Meclec |
| POWDERCOAT | Front Range Powder |
| | |
| --- | --- |
| ACCESSORIES | |
| REAR FENDER | RB Fabrications |
| GAS TANK∩ | RB Fabrications/Westbury Hot Rods |
| OIL TANK | RB Fabrications |
| HANDLEBARS | RB Fabrications |
| HAND CONTROLS | PM |
| FOOT CONTROLS | RB Fabrications |
| FOOTPEGS | RB Fabrications |
| HEADLIGHT | eBay |
| TAILLIGHT | RB Fabrications |
| LICENSE MOUNT | RB Fabrications |
| SEAT | RB Fabrications/Tattoo John |