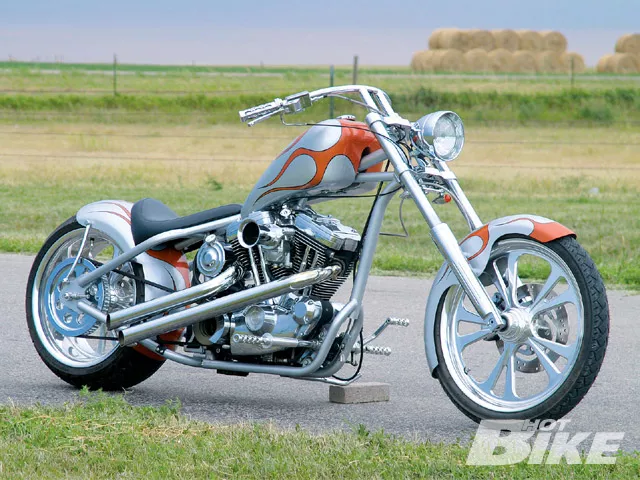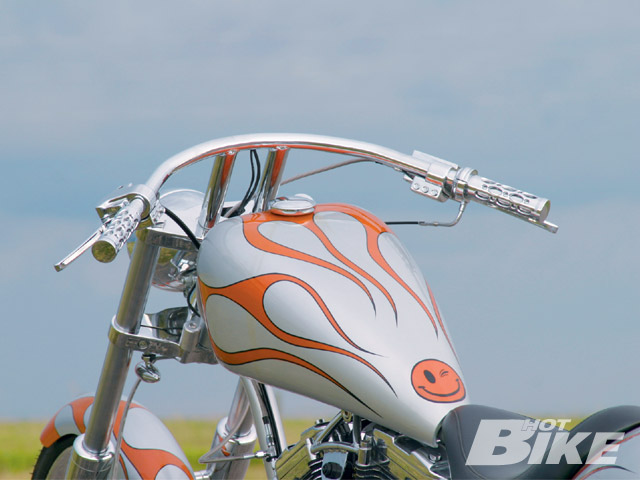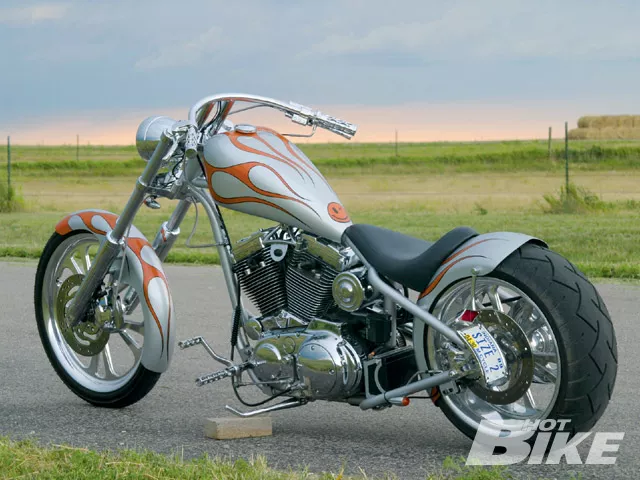 Pat Patterson, of Led Sled Customs based in Dayton, Ohio, opened the shop's doors in 2003. Pat and his Led Sled crew are widely known for building bikes based around Sportster powerplants. In fact one quick look at the collection of bikes on the Led Sled website and you'll notice that the majority of the shop's builds have Sportster engines. Where the majority of people might walk right past a Sporty in favor of a Big Twin, Pat and his guys know the Sportster is a solid drivetrain capable of sufficing the power needs of any true chopper enthusiasts and therefore seem to snatch up every XL they can get their hands on. Then again, sometimes Sportster projects just fall into their laps such as this bike here.
Gene Sizelove, the owner of this 2002 Sporty always had a need for speed. Shortly after getting out of the Service in '68 he was in an accident and lost his right leg. Gene was given a prosthetic leg, but didn't let it slow him down. A machine tool builder by trade Gene knew the Led Sled crew could take the bike to a new level of true chopper heritage creating the machine he was after. "I talked to several builders in the area and they all told me Pat specialized in Sportster-based customs and had a great reputation in the industry for not only his custom builds but also his line of Sportster parts," Gene said. While having a prosthetic leg didn't stop Gene from his desire to have his dream chopper, it was something that Pat had to take into account when considering building Gene's Size 2 Sportster–we'll get into the name behind the bike later. Due to the limited movement of Gene's prosthetic leg and foot, Pat would have to extend the right footpeg mount out a little further. And rather than running the rear brake off the right foot control, Pat decided to run both the front and rear brakes off of the front hand brake lever.
Gene wanted the defiant attitude of a chopper with a big back tire. So Pat started by building a custom rigid frame from the ground up with a rear section wide enough to fit a 240-rear tire. Once all the cutting and welding was finished, Pat had created a single downtube gooseneck-style frame with 6 inches of stretch in the downtube, 4 inches extra in the backbone, and 40 degrees of rake creating the chop exactly the way Gene had always envisioned. For the only suspension on the bike, Pat used a 2-inch over V-Twin frontend and placed a billet five-spoke 21-inch wheel between the fork legs while an 18×8.5-inch wheel went out back. Skinning the chop consisted of Led Sled fenders front and rear; a Size Two fender tightly wrapped around the 21 and a 240 Bob fender in the rear. To handle the fluids, Pat went with a Wyatt Gatling Chopper tank with 2 inches of stretch and under the seat he mounted one of his own Hub Cap oil tanks.
The nimble Sporty with a five-speed tranny, delivers plenty of power. However, an S&S; carb and Led Sled Low Key intake were added and the crew slightly modified the V-Twin exhaust to fit up with the custom frame. They also created the laid-back style drag bars and risers as well as shaped and covered the solo seat. With all the fabrication complete, the frame and sheetmetal were taken into the in-house paint booth for some color. Gene owns a silver Corvette and therefore wanted his chopper's basecoat to match. So the Led Sled team applied several coats of Corvette Silver and then once the base had cured, they added some hot rod burnt orange flames to the fenders and gas tank, along with Gene's special request of a winking smiley face on the gas tank.
Pat, a self-proclaimed glorified garage builder said, "Without trying to sound cheesy, this was a build, built out of respect for my elders. I wanted to build the chopper that Gene had dreamt of." Oh yeah, and as for the name of the bike "Size 2 Sportster," well, for his Corvette, Gene hacked off the last part of his name and dubbed it Size1, and so it just made sense to call his Sporty chop Size 2.
Specs
| | |
| --- | --- |
| BIKE OWNER | Gene Sizelove |
| SHOP NAME | Led Sled Customs |
| SHOP PHONE | (937) 879-4645 |
| SHOP WEBSITE | www.ledsledcustoms.com |
| YEAR/MAKE/MODEL | '08/Custom Sportster |
| FABRICATION | Led Sled Customs |
| ASSEMBLY | Led Sled Customs |
| BUILD TIME | Seven Months |
| | |
| --- | --- |
| ENGINE | |
| YEAR/ MANUFACTURER | '02/H-D |
| TYPE/SIZE | Sportster/1200 |
| BUILDER | H-D/Led Sled Customs |
| CASES | H-D |
| CYLINDERS | H-D |
| HEADS | H-D |
| ROCKER BOXES | H-D |
| CARBURETOR | S&S; |
| AIR CLEANER | Led Sled |
| EXHAUST | V-Twin |
| | |
| --- | --- |
| TRANSMISSION | |
| YEAR/MANUFACTURER/TYPE | '02/H-D |
| CASE | H-D |
| CLUTCH | H-D |
| PRIMARY DRIVE | H-D |
| | |
| --- | --- |
| FRAME | |
| YEAR/MANUFACTURER | '08/Led Sled |
| RAKE | 40 |
| STRETCH | 6 out, 4 up |
| | |
| --- | --- |
| SUSPENSION | |
| MANUFACTURER FRONT | V-Twin |
| LENGTH | 2 inches over |
| TRIPLE TREES | V-Twin |
| | |
| --- | --- |
| WHEELS, TIRES, AND BRAKES | |
| MANUFACTURER FRONT/TYPE | Midwest/"V" Spoke |
| SIZE-HEIGHT/WIDTH | 21×2.15 |
| TIRE/SIZE | Metzeler/{{{90}}}/90/21 |
| CALIPER | H-D |
| ROTOR | H-D |
| MANUFACTUER REAR/TYPE | Midwest/"V" Spoke |
| SIZE-HEIGHT/WIDTH | 18×8.5 |
| TIRE/SIZE | Metzeler 240mm |
| CALIPER | H-D |
| ROTOR | H-D |
| | |
| --- | --- |
| FINISH/PAINT | |
| COLOR | Silver/Burnt Orange |
| PAINTER | Led Sled Customs |
| GRAPHICS | Led Sled |
| PLATING/POLISHING | Led Sled Customs |
| | |
| --- | --- |
| ACCESSORIES | |
| FRONT FENDER | Led Sled Customs |
| REAR FENDER | Led Sled Customs |
| FENDER STRUTS | Led Sled Customs |
| GAS TANK∩ | Wyatt Gatlin |
| OIL TANK | Led Sled |
| HANDLEBARS | Led Sled |
| RISERS | Built in |
| HAND CONTROLS | Midwest |
| FOOT CONTROLS | Led Sled Customs |
| FOOTPEGS | V-Twin |
| HEADLIGHT | H-D |
| TAILLIGHT | Midwest |
| TURN SIGNALS | Midwest |
| LICENSE MOUNT | Midwest |
| SEAT | Led Sled |