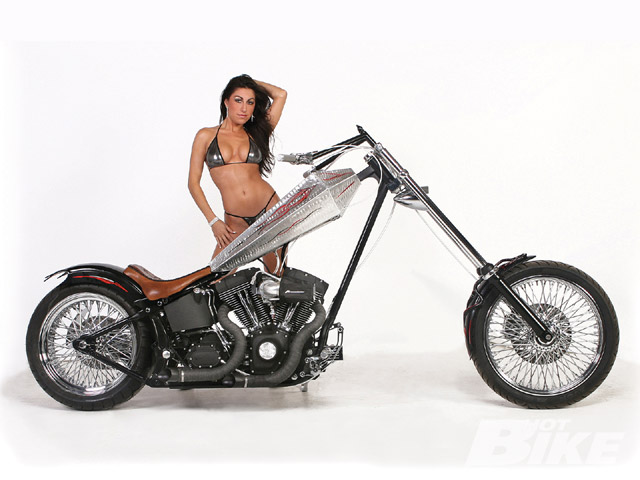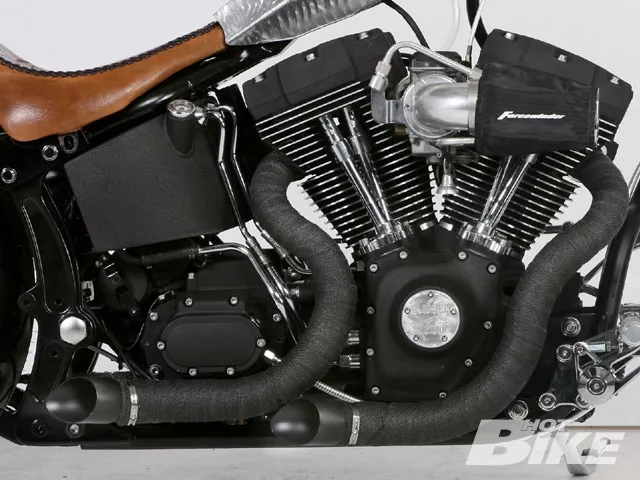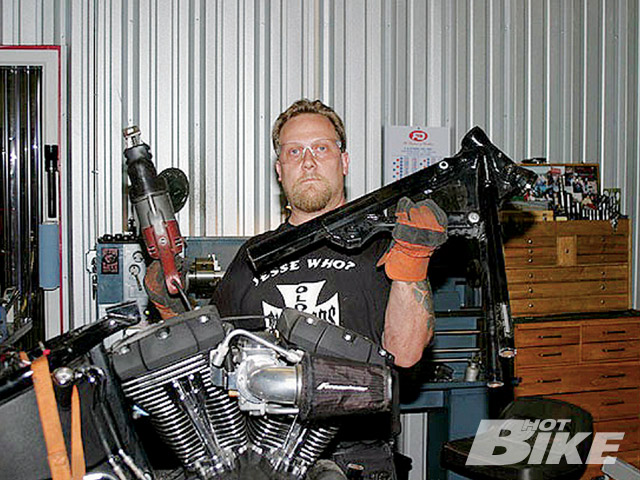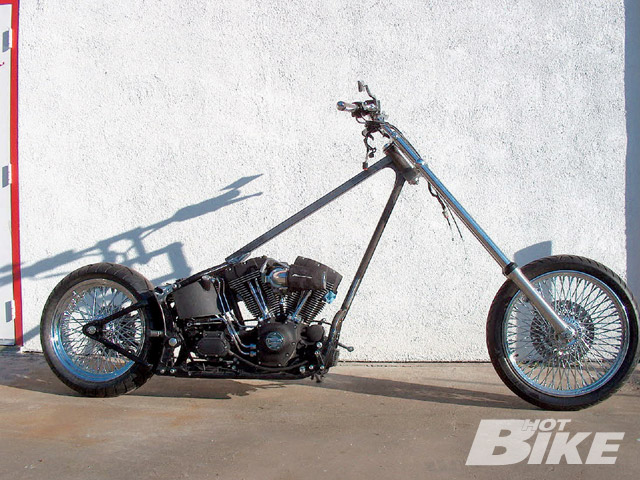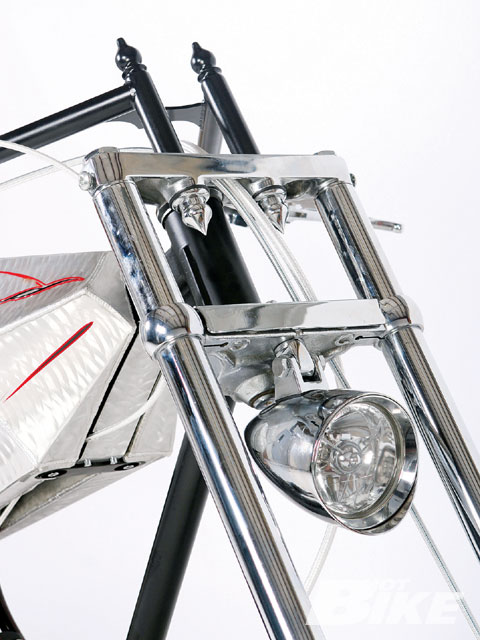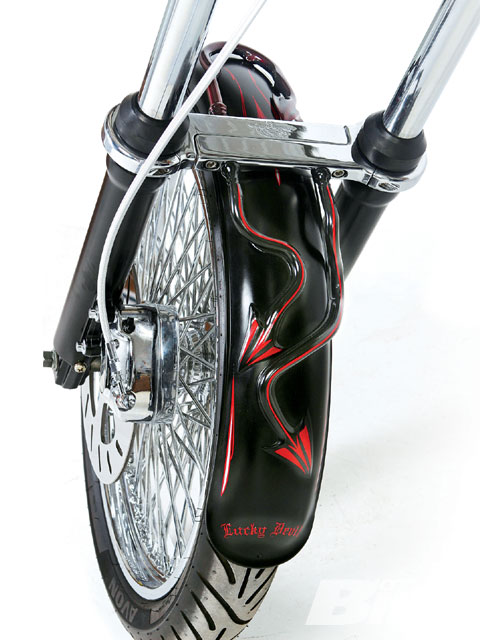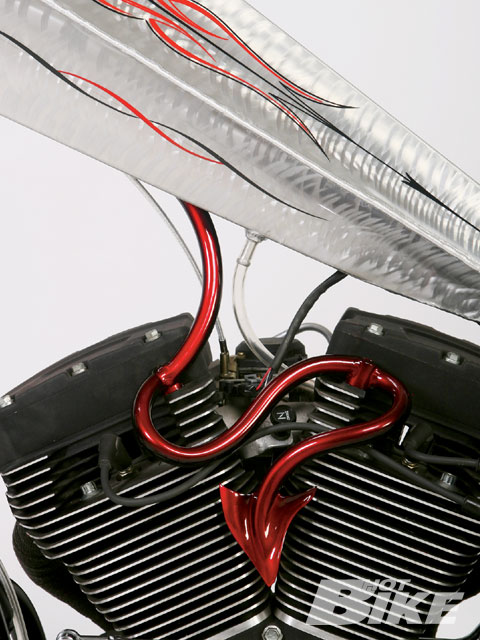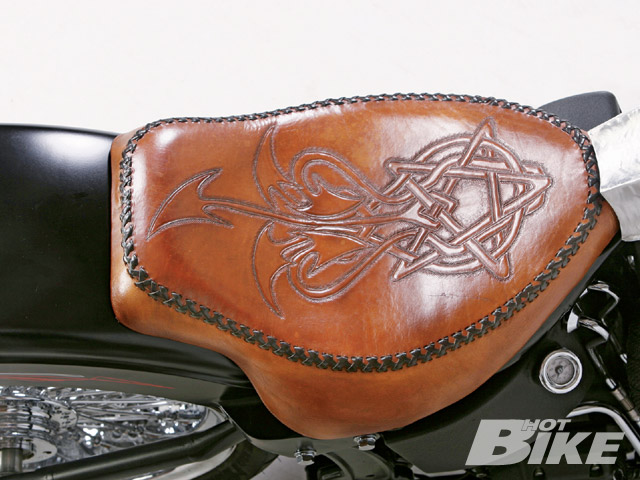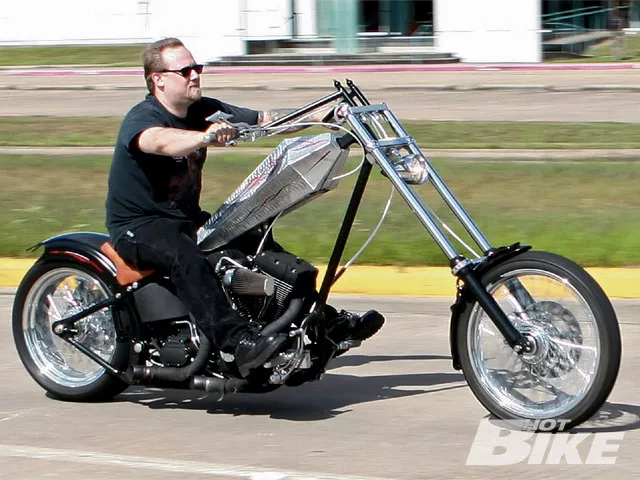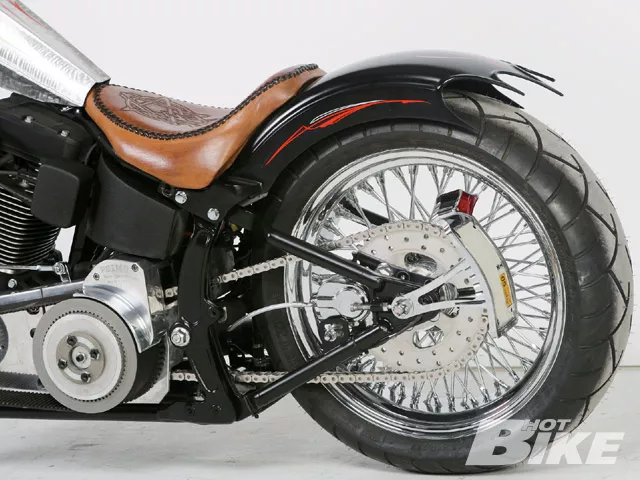 Editor's note: When we were getting ready to run this koffin-chopped Night Train, we had some info on the project from the builder Kent Weeks, owner of Lucky Devil Metal Works, in Houston, Texas, but we also wanted to get some input from the owner of the bike. We made a few attempts at contacting the owner, Gavin Starling, with no response. Then we received a late night email from Gavin. It turns out Gavin is a project specialist in the oil industry and works on hydro-electric control systems for blowout preventers used on ultra deepwater wells, 6,000 feet of water or more. Which means Gavin spends a lot of time out at sea where sometimes communication with non-emergency contacts can be limited. As luck would have it, just as we were getting ready to send this issue to the printer Gavin had just docked in Brazil and was able to fire off the following email about his bike and the build.
It's actually quite coincidental that I am in Brazil as I am writing this. When I bought the Night Train from Stubbs Harley-Davidson in Houston, Texas, I had to leave for Brazil the very day I picked her up. I spent eight very long weeks out on a drill ship very anxious to get back and play with my new toy. I haven't made a trip down here since then, and that was back in 2001.
That's sort of been the story with the bike. Shortly after getting back from Brazil I met a guy by the name of Eric Jolly, a mountain of a dude from Quebec, Canada, he worked for another shop at the time I met him but became Kent's partner soon after and that's how I met Kent and his wife Holly.
When we first started the project I just wanted some spokes and a Primo open primary. We had a hell of a time getting our schedules together as I was jet-setting all the time back then and didn't seem to be able to get the scoot over to Lucky Devil. With a fresh set of fancy wheels and a new belt drive sitting over at Kent's shop it was eating me up. Finally we got our shit together and made it happen.
I had been over to Kent's shop several times prior to picking the bike up after the new upgrades and was fully aware of his metal working talents. We hadn't really hung out much before that night. Yes, night, I was in town and wanted to ride. Kent hadn't quite finished everything. When I explained that I was in town for just a few days and wanted to ride, he immediately said it would be ready that night. I arrived at the shop and bull-shitted with the guys as they wrapped up the job. While I was there I was looking at a totally custom Triumph that Kent was working on and the bells went off in my head. I decided the wheels weren't quite enough individuality for me. I already wanted to customize it more and I hadn't even taken her for a ride yet. I didn't mention the idea that night, but I knew that sooner or later Kent was going to be doing some more to the bike.
It was about four months after that night I let Kent know I wanted to rake the frontend out and turn her into a big chopper. He immediately lit up. I think he just likes cutting fairly new stock frames in half with a Sawsall. Then it started. What about a tank? What about the rear fender? What about the front fender? So on and so on. Not that day, but over next three-and-a-half to four years. With my schedule and the fact I wasn't running a global ponzi scheme to fund the project the anxiety for my scoot began yet again. Over that time we kicked around so many ideas. I think if you have to pick out one thing that makes her different it's the tank. Kent was doing some work on a bike for Rick Fairless, in Dallas, and he had made a really cool koffin tank. He suggested it to me. I was sold, but if you know Kent you know it just can't be a regular run of the mill part. It had to have some "sex appeal." We kicked around some ideas and he suggested we make it out of aluminum. I have always loved aluminum-bodied vehicles. My dad and I restore old '50s era Land Rovers, which have aluminum bodies because of the surplus of aircraft aluminum after WWII. So needless to say that was right up my alley.
The inspiration for the devil tails on the fenders and motor mount came from one of the first bikes I saw from Kent's shop the "Blue Devil." It had the wicked looking devil tails made out of metal incorporated into the pipe mounts. I had to have some. So Kent came up with the design and again I was sold on the idea. The seat was very cool because it just sort of came about in a BS session at a party Kent had at the shop. Sometimes inspiration can be found in that 14th bottle of good old Texas Shiner Bock beer. All the while I was so excited about the bike, but again it takes time and money. Neither of which I had an over abundance of. So the waiting and anxiety persisted. I actually had some buddies of mine think I was bullshitting about this badass chopper I was always talking about. In the time we took to come up with the ideas, get the parts, do the work, and put it all together I got married, bought a house, and my wife had a beautiful baby girl. It was a really fun journey working with Kent and Holly and a great experience. It was sort of a give and take deal. When I had some cash for the next idea we had come up with Kent would work it into his busy schedule to do the job. Then of course some other great idea would come up and so on. The paint was a three or four month design process too. We kicked around scallops, then scallops that turned into devil tails and so on. All the while I didn't want to hide that sexy tank under a mound of epoxy. I think that when you can see the craftsmanship in something like that it really shows how unique the piece is. We decided to go with flat black and some pin striping. I gave full artistic freedom to Joe Cartulo and he did an amazing job. The combination of the fishscale effect Kent did with the grinder on the tank along with the striping is fantastic. The pipes were the last thing we did. I mean you can't really go and slap some bolt-on aftermarket pipes on a chopper like that. They have a badass sound and are just as unique as the rest of the bike.
Specs
| | |
| --- | --- |
| BIKE OWNER | GAVIN STARLING |
| SHOP NAME | LUCKY DEVIL METAL WORKS (LDMW) |
| SHOP PHONE | (281) 477-3590 |
| SHOP WEBSITE | WWW.LUCKYDEVILMETALWORKS.COM |
| YEAR/MAKE/MODEL | '01/H-D/NIGHT TRAIN |
| FABRICATION | LDMW |
| ASSEMBLY | LDMW |
| BUILD TIME | FOUR YEARS |
| | |
| --- | --- |
| ENGINE | |
| YEAR/MANUFACTURER | '01/H-D |
| TYPE/SIZE | TWIN CAM/88CI |
| BUILDER | H-D |
| CASES | H-D |
| CYLINDERS | H-D |
| HEADS | H-D |
| ROCKER BOXES | H-D |
| CARBURETOR | H-D |
| AIR CLEANER | FORCE WINDER |
| EXHAUST | LDMW |
| | |
| --- | --- |
| TRANSMISSION | |
| YEAR/MANUFACTURER/TYPE | '01/H-D/FIVE SPEED |
| CASE | H-D |
| CLUTCH | PRIMO |
| PRIMARY DRIVE | PRIMO-RIVERA |
| | |
| --- | --- |
| FRAME | |
| YEAR/MANUFACTURER | '01/H-D/LDMW |
| RAKE | 38 DEGREES |
| STRETCH | A LOT |
| | |
| --- | --- |
| SUSPENSION | |
| MANUFACTURER FRONT | H-D/LDMW |
| LENGTH | 12 INCHES OVER |
| TRIPLE TREES | H-D |
| MANUFACTURER REAR | PROGRESSIVE SUSPENSION |
| SWINGARM | H-D |
| | |
| --- | --- |
| WHEELS, TIRES, AND BRAKES | |
| MANUFACTURER FRONT/TYPE | AMERICAN WIRE WHEEL |
| SIZE-WIDTH/HEIGHT | 21X2.15 |
| TIRE/SIZE | METZELER {{{90}}}/90/21 |
| CALIPER | CUSTOM CHROME |
| ROTOR | CUSTOM CHROME |
| MANUFACTURER REAR/TYPE | AMERICAN WIRE WHEEL |
| SIZE-WIDTH/HEIGHT | 18X5.5 |
| TIRE/SIZE | METZELER/200M |
| CALIPER | EXILE |
| ROTOR | EXILE |
| | |
| --- | --- |
| FINISH/PAINT | |
| COLOR | HOT ROD FLAT BLACK, CANDY RED |
| PAINTER | CHIN/LDMW |
| GRAPHICS | JOE CARTULO |
| | |
| --- | --- |
| ACCESSORIES | |
| FRONT FENDER | LDMW |
| REAR FENDER | MILWAUKEE IRON/LDMW |
| GAS TANK∩ | LDMW/CUSTOM CHROME |
| OIL TANK | H-D |
| HANDLEBARS | LDMW |
| RISERS | LDMW |
| MIRRORS | YAFFE |
| HAND CONTROLS | NESS |
| FOOT CONTROLS | SUPREME LEGENDS |
| FOOTPEGS | SUPREME LEGENDS |
| HEADLIGHT | DNA |
| TAILLIGHT | V-TWIN |
| LICENSE MOUNT | V-TWIN |
| SEAT | JOE/LDMW |