The 2018 Harley-Davidson Road Glide Special has a starting suggested retail price of $26,299 and is available in four colors, Vivid Black, Wicked Red, Bonneville Salt Pearl or Hard Candy Hot Rod Red Flake. Powering this American machine is an air-cooled, single cam driven, 107 ci v-twin.
We did some engine upgrades to our Road Glide Special, all from Harley's Screamin' Eagle department. For starters we installed the High-Flow Exhaust System with Street Cannon Mufflers. We finished the mufflers off with a set of their Defiance End Caps (sold separately). To go with the new exhaust system, we also installed an Extreme-Flow Air Cleaner paired with the Ratchet Round Cover (sold separately). We also dove into the cam chest and swapped out the stock cam with the Stage II Power Kit which, is a new cam along with new adjustable pushrods. To wrap up the project we used the Pro Street Tuner to re-flash the ECU for the new setup.
We ran the upgraded Road Glide Special on our rear-wheel dyno in fourth gear to determine peak output from the beefed-up v-twin. We documented 101.10 hp at 5,500 rpm and 101.83 pound-feet of torque at 4,810 rpm.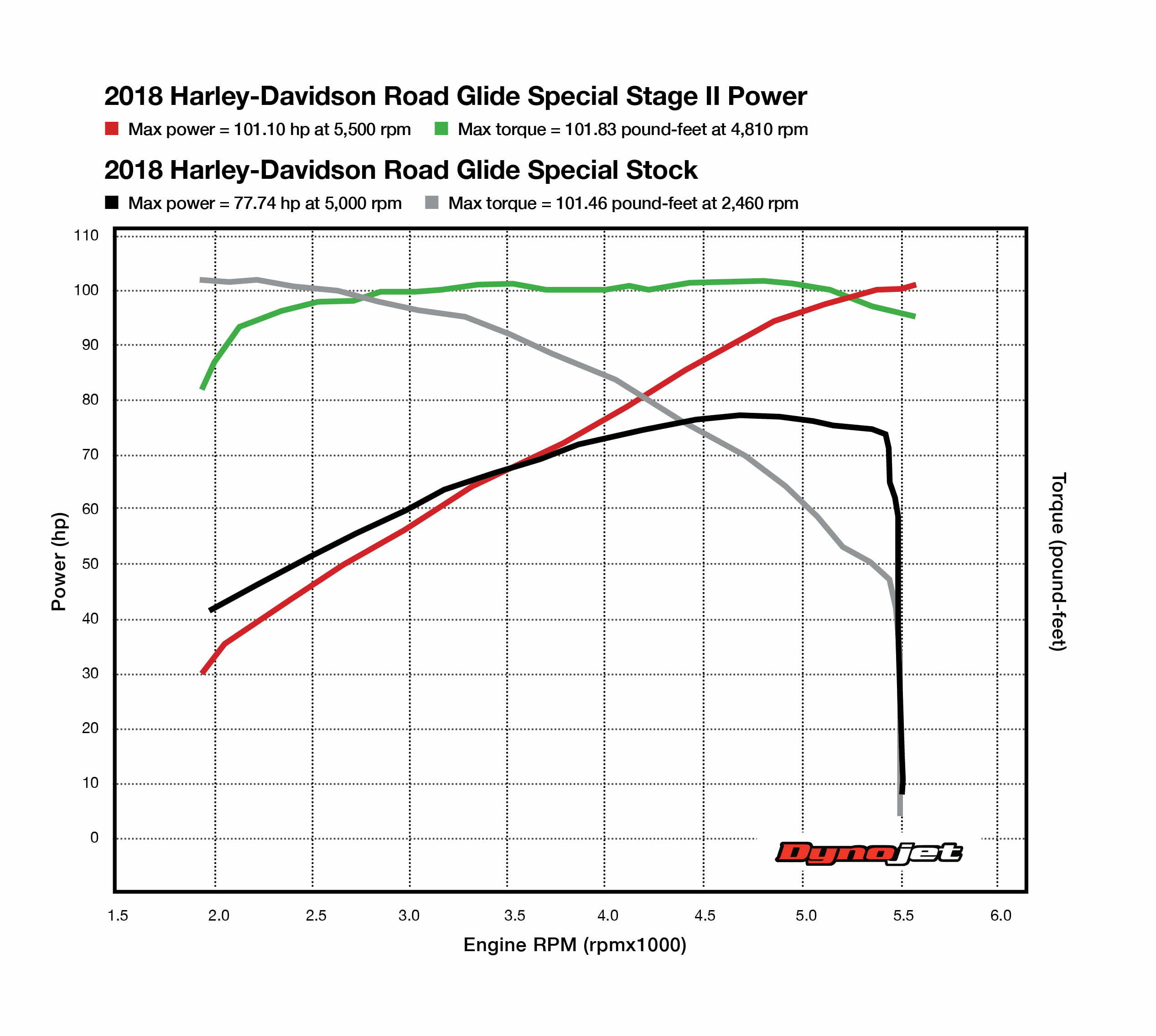 Compared to the stock, the modified Milwaukee-Eight 107 produced 23.76 more hp and 0.37 additional pound-feet of torque. The big gain in performance is not the highest number in this case, but the actual torque curve. Compared to stock, which drops off right around 2,500 rpm, with the new cam you stay in high performance all the way through the power band. It is actually useable power not just a singular point where you get that amount of torque, like you do with stock. And in the horsepower department, you get a huge gain of almost 24 additional ponies as well as a faster increase rate through the power band.