The 2019 Harley-Davidson Street Glide Special has a starting suggested retail price of $27,089 and is available in seven colors. Powering this American machine is an air-cooled, four-valves-per-cylinder, 114ci (4.016 x 4.5 inches) V-twin. We upgraded our FLHXS with a Stage I kit from Screamin' Eagle which includes the High Flow Exhaust System with Street Cannon Mufflers, Heavy Breather Air Cleaner, and Pro Street Tuner.
We ran the upgraded Street Glide Special on our rear-wheel dyno in fourth gear to determine peak output from the Stage I-equipped V-twin. We documented 83.64 hp at 4,660 rpm and 113.14 pound-feet of torque at 2,660 rpm.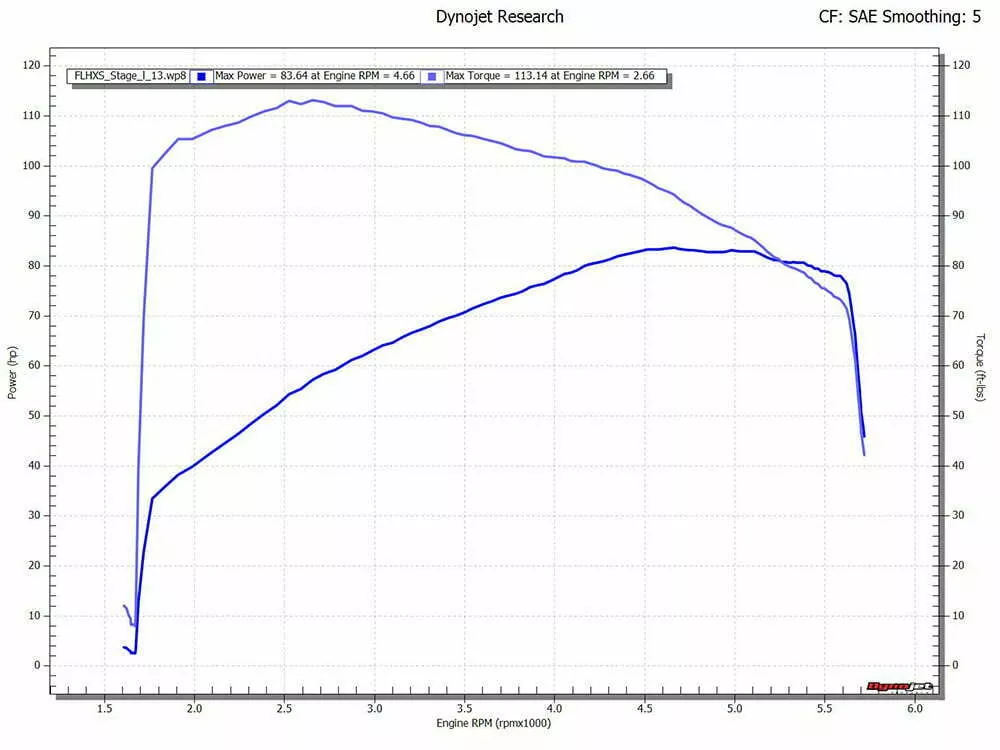 Compared to the bike in stock form, the hopped-up FLHXS produced 2.93 more horsepower and 0.49 less pound-feet of torque. The Milwaukee-Eight motors have proven to not give the same jump in numbers from a simple Stage I kit like the previous Twin Cams did. If you are looking to see a serious jump in power, you need to get a cam in there as well. We have installed Screamin' Eagle's Power Kit and Torque Kit and that is where you will see big gains. If you are looking for a bit better throttle response and a deeper exhaust note but are happy with the power delivery, then this setup is perfect for you. The Stage I did give a bit more horsepower and it did bring peak power to a sooner rpm. Not by much, but it gives you peak horsepower at 4,660 rpm instead of in stock form, which was 4,730.
Engine Specifications
| | |
| --- | --- |
| Engine Type: | Air-cooled, two-cylinder four-stroke; 4 valves/head, wet-sump lubrication |
| Bore x Stroke: | 4.016 in. x 4.5 in. |
| Displacement: | 114ci |
| Compression Ratio: | 10.5:1 |
| Fuel Delivery: | Electronic fuel injection |
| Emissions Control: | Closed-loop three-way catalytic converter, Euro 4 emission standard |
| Exhaust: | Screamin' Eagle High Flow System with Street Cannon Mufflers |
| Air Cleaner: | Screamin' Eagle Heavy Breather |
| Tuner: | Screamin' Eagle Pro Street Tuner |