Ironic, isn't it? Even though motorcycles are cheaper, more environmentally friendly, and more efficient modes of transportation than cars, the past few years have seen dwindling motorcycle sales, aging ridership, and a general loss of interest compared to the halcyon days of Biker Build-Off. To combat that, Harley-Davidson has announced an aggressive plan to completely change its business model in an effort to attract today's younger generation to the joys of motorcycling.
But until those new Harleys come out, there are a host of models available right now that have the classic style, iconic prestige, and legendary performance that characterize The Motor Company. Here are three of our favorites.
Want to stand out from the typical Harley pack? Harley's newest offering is the FXDR 114, a sport cruiser that looks like it would be just as at home on the track as it is in the city. Sharp, powerful, and aggressively styled, it's unlike anything Harley has done before.
Simply put, the FXDR is built for performance. Usually found only in CVOs or as a high-priced accessory, the Milwaukee-Eight 114 engine is one of the largest V-twins Harley makes. Here, it pounds out an astounding 119 foot-pounds of torque—making the FXDR one of the most powerful and lightest Harley-Davidsons in the entire lineup—and it's not just for showing off; rather, it's tangible power that feels even more dynamic because the bike weighs only a bit over 600 pounds. Throw in a raked, drag-style fork, track-inspired airbox, a lean-friendly 2-into-1 sport exhaust, aluminum swingarm, and a sleek fuel tank, and you end up with a sport cruiser Editor Morgan Gales referred to as "a well-thought-out, properly engineered bike with performance that can actually back up its aggressive styling."
---
Related Video
---
The key is in the trail. Because H-D engineers found a way to increase the rake while lessening the trail (click the link above for a more complete explanation), the FXDR handles far better than do most long-forked cruisers—see, by comparison, Harley's drag-inspired Softail, the Breakout. The end result is a raked-out power cruiser that dives into and screams out of corners in spite of its long fork and fat rear tire. If you're one of those who thinks Harley's designers have gotten a bit too complacent lately, we dare you to throw a leg over the FXDR and take it for a test ride.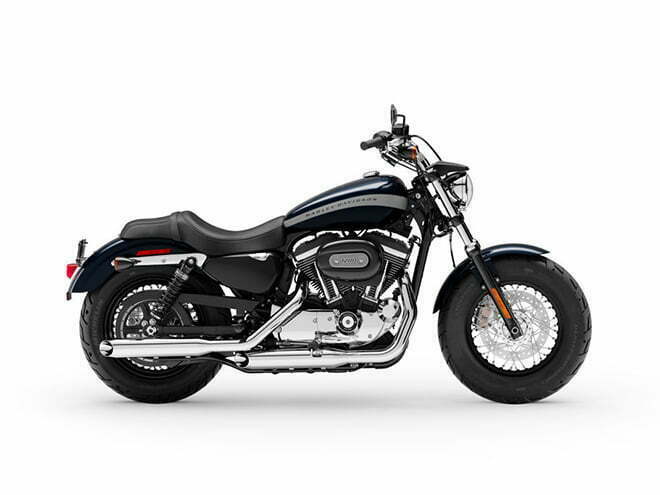 Looking for a more classic Harley that's easy on the eyes—and the wallet? Try the 1200 Custom. Starting at just $10,999, it's one of the more affordable Harley-Davidsons you can get that's not a beginner bike. The 1,200cc Evolution motor is far more highway-ready than its 883cc counterpart—it just feels more grown up—and the Custom has clear, bold graphics, a stocky front tire, and plenty of chrome to keep it simple and refined.
That straightforward approach to design is refreshing. Harley has been guilty of trying too hard to replicate what's hot in the custom scene, in the process neglecting what makes it such an excellent platform for customization. The plain graphics, chrome pipes, and spoked wheels give the 1200 Custom a more traditional look than, say, the Iron or Roadster, but the Parts & Accessories catalog is full of options to make the Sportster Custom all your own, from seats and handlebars to pegs and pipes.
If you prefer the bagger style of cruiser—and judging by the sales numbers, tons of Harley enthusiasts do—you can go that route while still blazing your own trail. The Road King Special is less pricey than Harley's more popular Street Glide and Road Glide, mainly because it foregoes the fairing and windscreen for the face-in-the-wind approach. And that's okay; with modern in-helmet communications systems, the only riders who need a booming audio system are those who need to show off.
The King Special offers roomy, stretched hard saddlebags, a blacked-out engine, exhaust, and components, and, best of all, that aforementioned Milwaukee-Eight 114. Hand-adjustable rear suspension allows to you adjust the ride while in the saddle, and linked Brembo brakes provide serious stopping power. The Special also features a 9-inch, mini-ape handlebar, 19-inch turbine-style wheels (blacked out, of course), and a bold, black headlight nacelle. And there are plenty of optional accessories in the P&A catalog to style it just the way you want.
So if you're in the market for a new cruiser, there are a lot of directions you could go without opting for Harley-Davidson. But if you want serious performance with classic styling and legendary panache, Harley-Davidson is the cruiser for you.