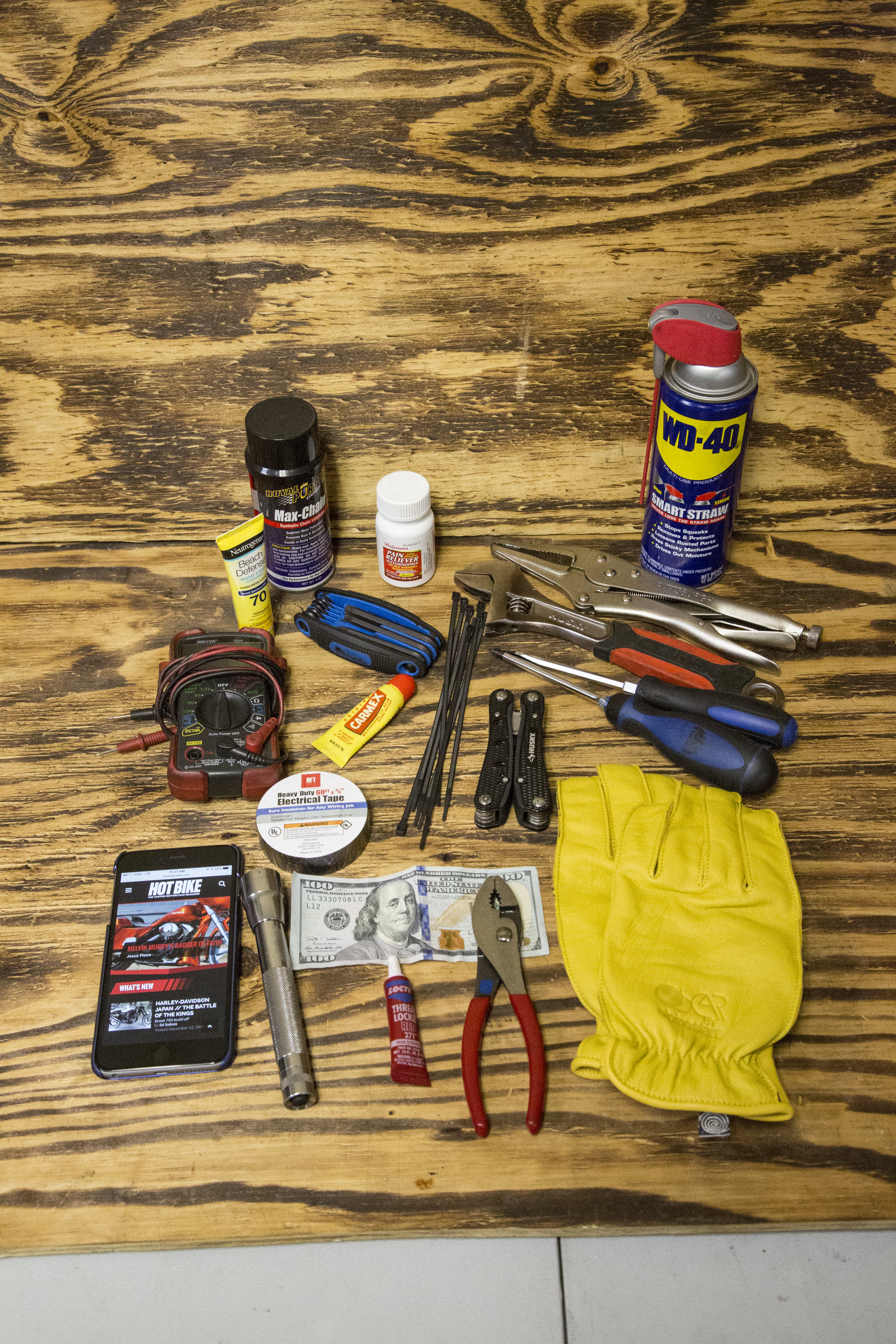 Yes, we are mostly "T-shirt and jeans" types of riders, but when we want to get out on the open highway for a day or so, being prepared should be thought number one.
The first goal of outfitting both you and your bike is to keep you from being stranded, starving, and cold on the side of the road. A rule of thumb is to be prepared for any mechanical issue short of total drivetrain failure and to be ready for 45-degree weather in the a.m. 85 degrees in the p.m. and the enviable sheeting rain that will pour on you when least expected.
We have amassed a list of must-have items for long-distance rides, but remember that no tools or gear are going to be useful if you don't know how to use them, so get your travel kit together and be well versed with all of it before you hit the road.
For You:
First-aid kit
Aspirin
Bee-sting kit
Sunblock
Chapstick
Super glue
Pocket knife
Big-ass knife
Earplugs
Flashlight
Road flares
Canteen
Emergency blanket
Fire starter
Tyvek raincoat
Second set of gloves
Road maps
Glow sticks
Hand wipes
Waterproof matches
Extra bike key
Cell phone
AAA card
Calling card
$100 bill
For your bike:
Selection of hand tools
Selection of fasteners
Locking pliers
Strap wrench
Spare spark plugs
Tire irons
Tire-repair kit
Tire pump
Tire-pressure gauge
Assorted zip-ties
Safety wire
Electrical tape
Duct tape
Funnel
J-B weld
Loctite
WD-40
Chain lube
Voltage meter
Electrical wire
Spare light bulbs
Selection of fuses
Bungee cords
Siphon hose
Shop rags
You might call us a must-have for your custom bike fix. Subscribe to Hot Bike here.