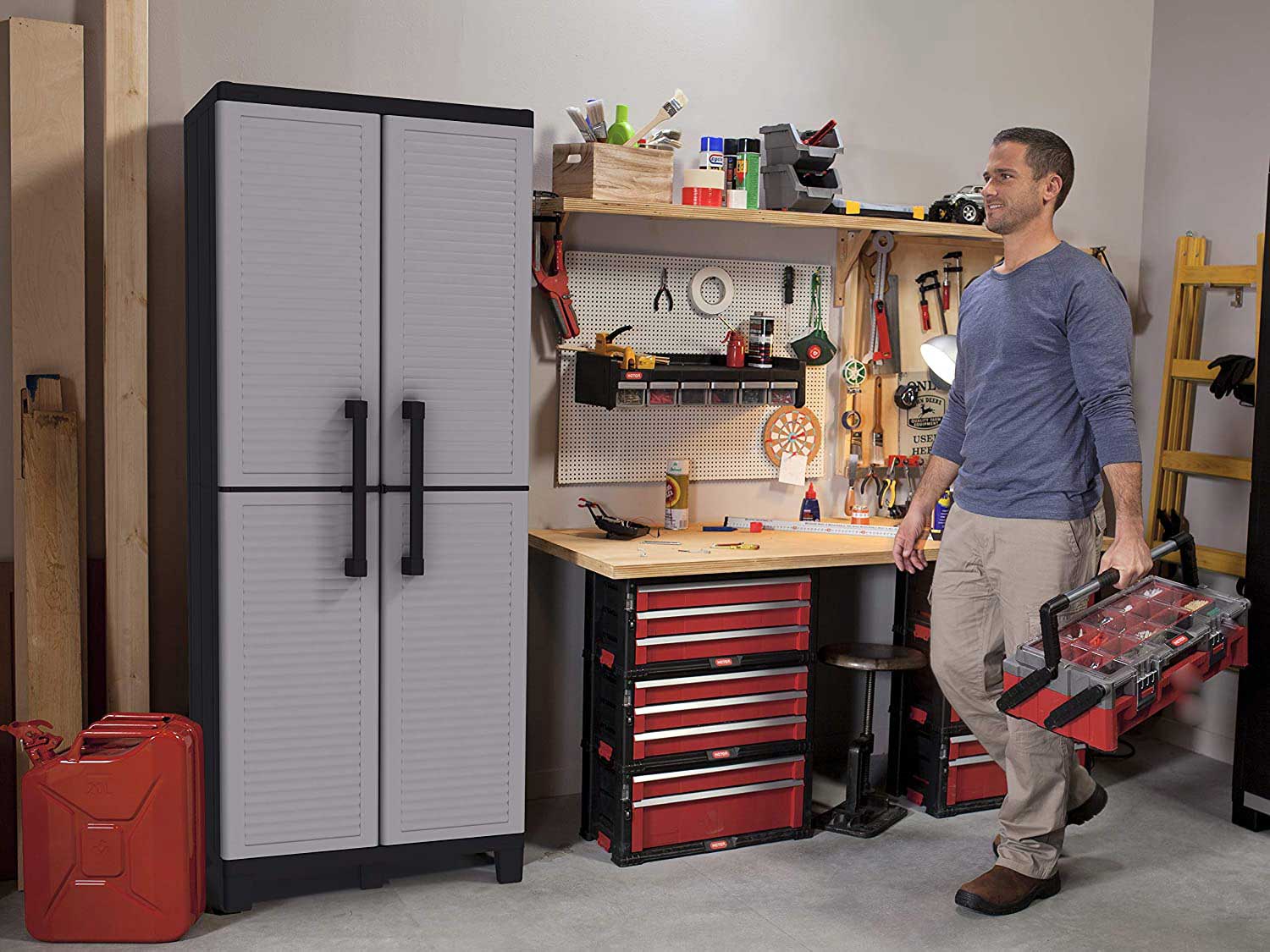 Cluttered garage? It's easy to leave a power tool here and a bucket of bolts there, but eventually the garage starts looking like a sty. Yes, yes, you will get to that project tomorrow, but you said that a week ago. When you stay organized it will not only keep your garage clean and tidy, but it will also help you be more efficient in finding the tools you need when you do get around to that custom build or motorcycle maintenance. With storage boxes, shelving, and wall mounting systems available you could make sure when you say, "There's a place for everything and everything in its place," you mean it.
Simple Storage
Nothing fancy. Just simple, stackable storage boxes like these will keep items out of the way and safe from dust, water, and critters. Its clear walls will still allow you to tell what's stored within so you won't waste time searching each and every box. The buckled lid is easy to remove or secure on too.
Enclosed Shelving
An enclosed cabinet like this one is also a great way to store oil canisters, cleaners, polishes, etc. The four shelves can be adjusted to varying heights so you can be sure whatever is stored has enough room. Measuring 26.77 x 14.96 x 67.32 inches (LxWxH), this unit's compact design makes it appropriate for smaller garages as well. Constructing it is also an easy task, just be sure to have a screwdriver handy.
Raised Structure
Keep things off the ground to further protect them from potential water damage. A simple shelf like this has adjustable shelves to suit your needs, and its leveling feet allow you to make small tweaks to ensure it is well balanced on uneven surfaces. The shelf is made of steel with a powdercoated black finish so it will look good in any garage. The product measures 36 x 14x 72 inches (LxWxH).
Declutter Cables
You have extension cords, the compressor's power cable, bungee cords, wiring, hoses, etc., snaking around on the garage floor is quite a trippable mess. Keeping all of those cables, wires, hoses, and cords looped and hooked onto the wall will help mitigate the problem and make the garage space look much nicer too. This nine-pack strap set the way to go because each holds up to 50 pounds with a strong hook-and-loop-fastened nylon strap and can be hung on the wall via the metal grommet.
Neat As A Pin
A pegboard wall mount system is a wonderful way to transform your garage from shabby to professional. One like this from Wall Control keeps your tools organized with 10.5 square inches of pegboard space and its metal structure allows you to not only peg tools on, but magnetize them on as well. It is even versatile with the option of adding Wall Control shelf attachments. It can mount to studs or Sheetrock, no frame required. Its powdercoated finish is the cherry on top.