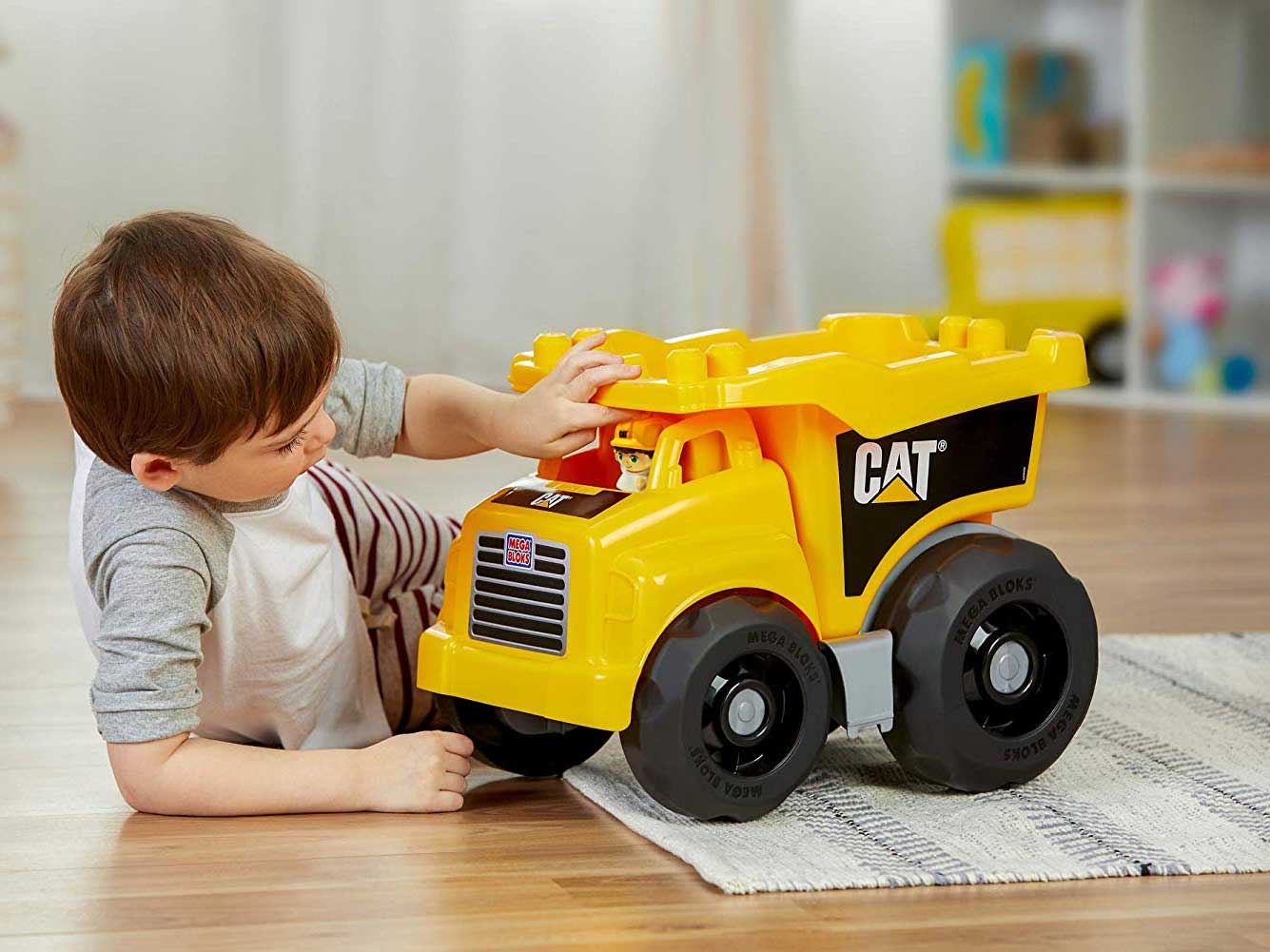 Tonka Classic Steel Mighty Dump Truck
This is the one you remember as a kid, a classic dump truck that is built well. The bucket is constructed from steel and the wheels are made of hard plastic. It rolls well on most surfaces and is a must-have for any kid who likes trucks. Strong enough to be outside or in a sandbox and a good size for pushing around indoors. Ideal for kids who are walking and running.
Tonka Toughest Mighty Dump Truck Toy
Big and tough! This truck is built really well, and a great size for kids to push around. Hard plastic wheels roll great and the rest of the body is built out of metal. If you are looking for a toy dump truck that could stand up to a day care or being left on the playground or in the backyard, this is the truck. Built tough enough for anyone, perfect for kids 2–10 years old. A premium toy but still a great value that will last and last.
Mega Bloks Caterpillar Large Dump Truck
Perfect for young kids from little crawlers to toddlers. This is great for indoor use or even a beach day. Mega Bloks are oversize, so smaller children can pick them up, haul them around, or build a full construction site. This truck comes in two sizes, with the larger size perfect for a child who can walk or stand. The smaller truck is great for children who can crawl or walk. Whichever you choose, your toddler will love to load up the dump truck bed with the blocks and build their latest creation.
Green Toys Dump Truck
Made in the USA from 100 percent recycled milk jugs, Green Toys are more than just a toy with a cause. Green Toys are top-quality and this dump truck is no exception. Tough enough for outdoor use and everything a toddler can do to it. Great for indoor use or in a sandbox. Simple and perfect for younger kids. The beauty of this dump truck is its simplicity and eco-friendliness.
Paw Patrol Ultimate Rescue Construction Truck
If your little one is a fan of Paw Patrol, this Rubble Ultimate Rescue truck might be a paw-fect choice. While it's not a classic dump truck, the Ultimate Rescue line from Paw Patrol has the ability to fit all of your favorite Paw Patrol pals in it and go for a ride. The Ultimate Rescue Construction Truck features multiple moving parts and sound. This toy is designed to be used indoors and might not stand up to dirt and rocks as well as the dump trucks on this list.