Judging by the CMP Turbo on this Softail Slim's 110-inch Screamin' Eagle mill, I'm pretty sure it's as evil on the streets as it is parked. It's also SOP for any vehicle owner Chris Johnson keeps in his stable. He runs turbo kits on all of them. The sweet music of a Harley motor and a turbo working together is a wonderful thing, and he digs it. Needless to say, he's got one on the bagger that matches his Softail. That's not the only cool thing the two bikes have in common. Like his touring bike, Chris' 2016 Softail Slim is a lay-frame design.
This whole project was born of Chris wanting a bike for those times when he didn't want to ride said touring scoot. When he came across the Softail Slim, it was mostly what he was looking for. He liked the Softail but didn't like the Softail; it needed some custom lovin' to really evolve into the ideal version in his head: something old-school looking yet new at the same time. Hence the lay-frame work and the CMP Turbo.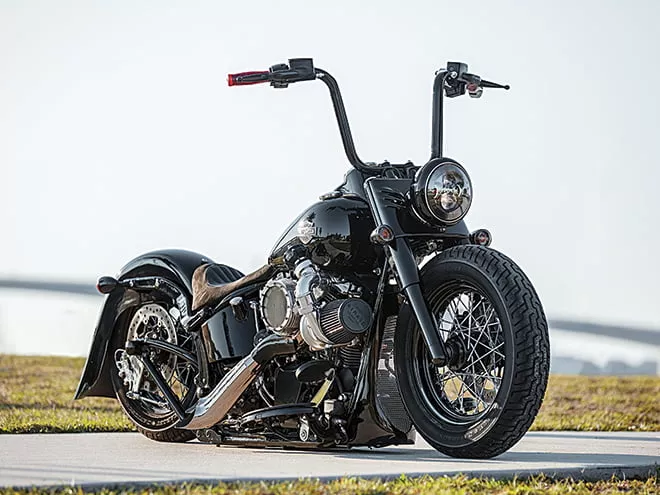 "I love the sound of turbos," Chris says. "Mix a Harley-Davidson with a turbo and that's the best sound in the world to me. With a 110-inch in the bike, it's a nasty little machine."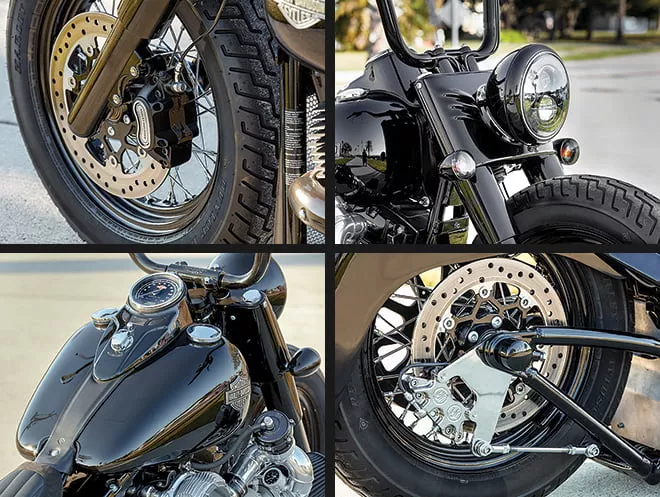 Michael McNamer fabricated the new swingarm that transforms the Softail frame into a lay-frame design. Chris switched over to an SAS air suspension while they were customizing the back end and shaved 2 inches off the fork setup for the low look. A lot of this bike is still Harley-Davidson. Some of it was modified; some was kept stock. Chris knew what he wanted to do going in and didn't see a whole lot of reason to swap everything over to full custom.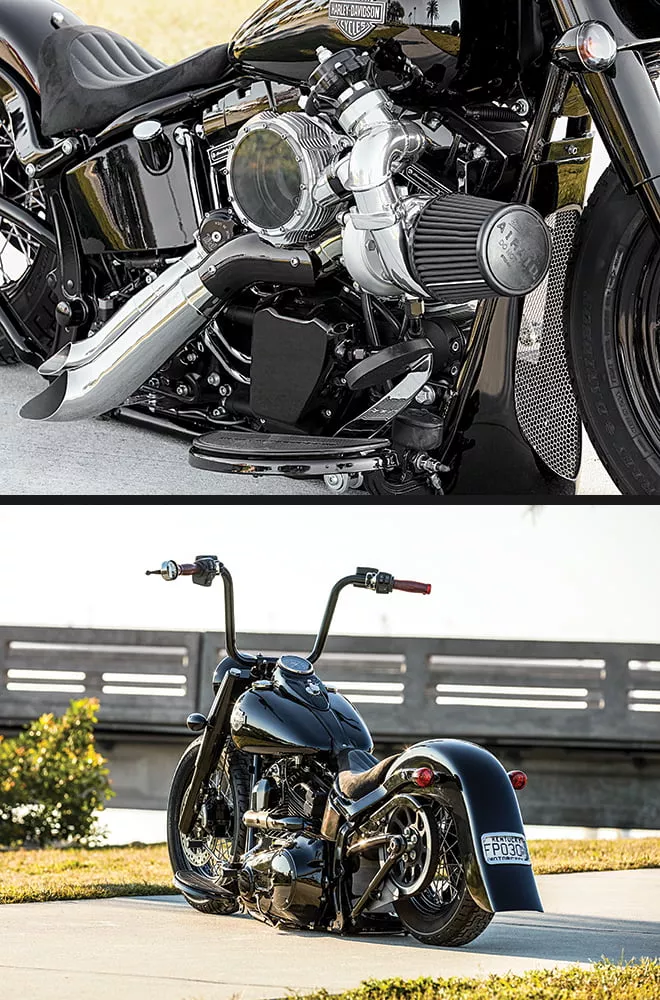 By keeping part of the Harley-Davidson look and feel to the Slim, Chris helped tie it to his bagger in a way. Both have that vibe going for them. What sets them apart from their stock brethren also serves to unite them though: the melding of turbo-powered muscle in a lay-frame chassis. When running turbo kits on every form of transportation you tweak and modify is your signature move, giving them a similar look to go with that move is not just understandable—it's pretty cool.

Specifications
General
| | |
| --- | --- |
| Owner | Chris Johnson |
| Year/Make/Model | 2016/Harley-Davidson/Softail Slim |
| Fabrication | Michael McNamer |
| Build Time | 90 days |
Engine
| | |
| --- | --- |
| Year/Type/Size | 2016/Twin Cam/110ci |
| Builder | Michael McNamer |
| Cases | H-D |
| Cylinders | Screamin' Eagle |
| Heads | Screamin' Eagle |
| Rocker Boxes | Screamin' Eagle |
| EFI/Carb | Thundermax |
| Air Cleaner | CMP Turbo |
| Exhaust | CMP Turbo |
Transmission
| | |
| --- | --- |
| Year/Type | 2016/H-D |
| Case | H-D |
| Clutch | H-D |
| Primary Drive | H-D |
Frame
| | |
| --- | --- |
| Year/Type | 2016/H-D Softail |
| Rake/Stretch | Stock/None |
Suspension
| | |
| --- | --- |
| Front End | H-D FL lower legs |
| Length | 2 in. under |
| Triple Trees | H-D |
| Swingarm | H-D/Michael McNamer |
| Shocks | SAS Air |
Wheels, Tires, and Brakes
| | |
| --- | --- |
| Front | |
| Builder/Size | Performance Machine 16 x 4 in. |
| Tire/Size | 16 in. |
| Calipers | H-D |
| Rotors | H-D |
| Rear | |
| Builder/Size | Performance Machine 16 x 4 in. |
| Tire/Size | 16 in. |
| Caliper | Performance Machine |
| Rotor | Performance Machine |
Finish/Paint
| | |
| --- | --- |
| Colors | H-D Black Chrome Edition |
| Paint/Graphics | H-D |
| Plating/Polishing | H-D |
| Powdercoating | H-D |
Accessories
| | |
| --- | --- |
| Front Fender | None |
| Rear Fender | Klock Werks |
| Gas Tank | H-D |
| Handlebars | 12-in. apehangers |
| Hand Controls | H-D |
| Foot Controls | H-D |
| Footpegs | H-D |
| Headlight | H-D Daymaker |
| Taillight | Klock Werks |
| Seat | Guy's Upholstery |