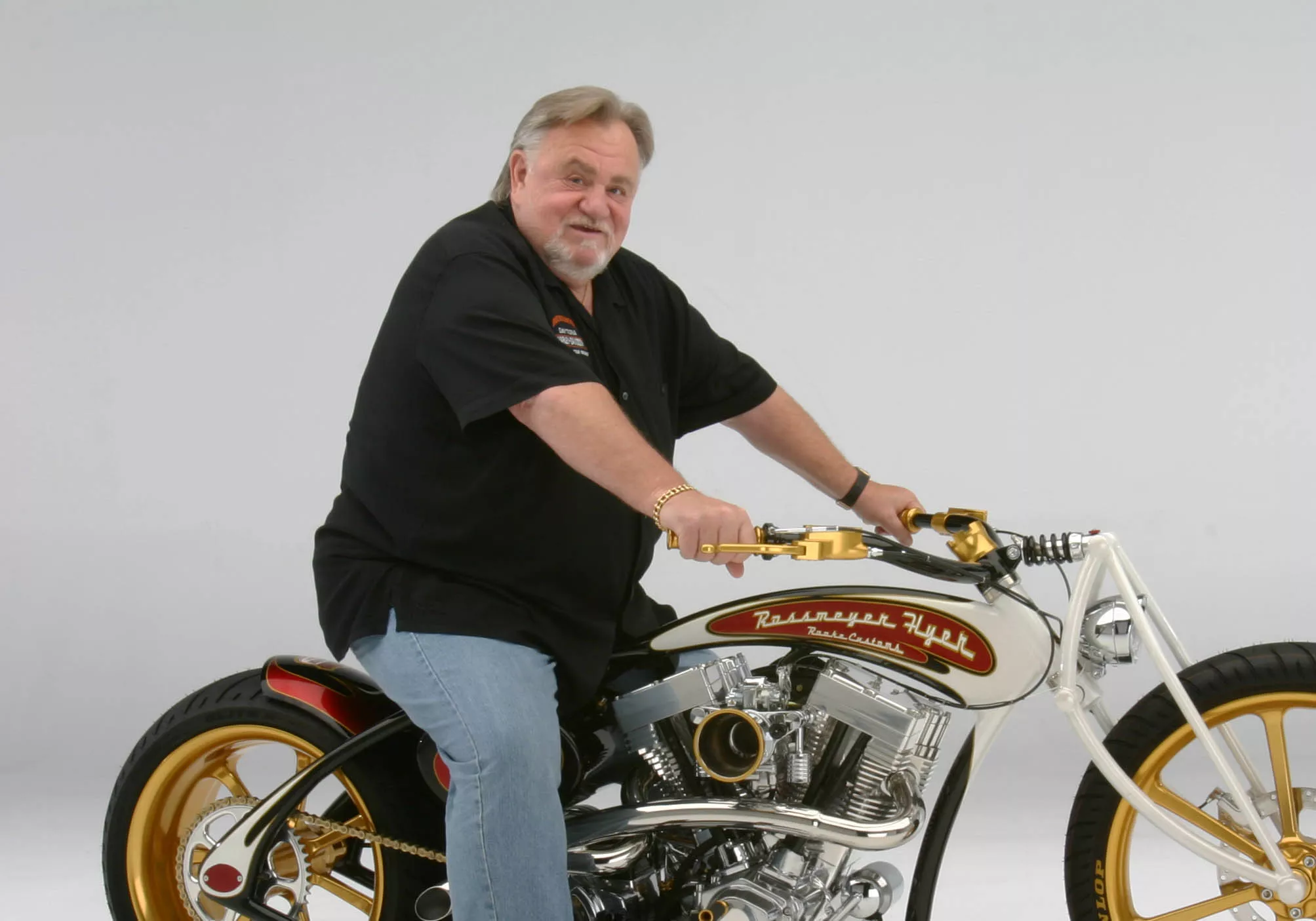 It's with great sadness for me to report the death of Bruce Rossmeyer, the owner of the largest Harley-Davidson dealership in the world. On a personal note, anytime we were in Daytona Beach, the HOT BIKE/Source Interlink Media Staff was treated very well, like family. From my first trip to Daytona, in 2003 Bruce and all the Rossmeyer team were glad to help out and gave us whatever we needed, from a place to meet with different builders for photo shoots, to lending us a bike to get around town on, the Rossmeyer team was there. We were also lucky enough to be one of the first to see the new dealership "Destination Daytona" in Ormond Beach before any other media. It was calls like that where we felt like family. Bruce was very much the giver; just ask any of the charities he was involved with raising money for the Boys & Girls Club of Broward County and the Joe DiMaggio Children's Hospital, hosting charity bike parades and dinners. I once overheard someone say "Bruce was a big guy so there would be room for his big heart." for being retired he seemed to be one of the hardest working guys in the industry and from everyone here on staff, Bruce will be missed.
Bruce was killed around 11:00 a.m. on July 30, outside of Rock Springs, Wyoming. He was riding with a group of friends heading from a Harley-Davidson dealer summit in Denver heading to Sturgis. The group Bruce was riding with started to pass a truck pulling a camper, which Bruce collided with while the camper was making a left turn when Bruce was trying to pass, according to officials. Bruce was also not wearing a helmet, according to officials.
http://www.cyclenews.com/articles/industry-news/2009/07/30/bruce-rossmeyer-killed
Bruce Rossmeyer, the owner of what is billed as the largest Harley-Davidson dealership in the world, was killed today in Wyoming while riding with friends from the Harley dealer meetings in Colorado to Sturgis, South Dakota, the site of the Sturgis Rally, according to the Daytona News Journal.The Journal is reporting that a family friend of Rossmeyer's said he was riding in a group of several motorcyclists when they pulled out to pass a recreational vehicle. Rossmeyer was the last in line and was killed when the RV strayed into his lane and struck his motorcycle.
According to the Lt. Shawn Dickerson of the Wyoming Higway Patrol, Rossmeyer was traveling east on Wyoming Highway 28 between Farson and Lander about 11 a.m. with five other motorcyclists when they came up to a pickup pulling a camp trailer and tried to pass. "The pickup slowed and activated his left signal," Dickerson said. "Four of the motorcycles passed to the left… When Mr. Rossmeyer attempted to pass, the truck made its left turn and he hit the driver's side door. The sixth motorcycle swerved to the right and avoided collision."
Rossmeyer, who was not wearing a helmet, was ejected from his bike and came to rest under the camp trailer, Dickerson said.
Dickerson described the road as "straight, dry and flat." He said the "extremely rural road" is an option to Sturgis, but not the primary way to travel there.
After a career in the automobile business, Rossmeyer opened Daytona Harley-Davidson in January of 1994 and he followed that up with New Smyrna Harley-Davidson in 1997, Grand Junction Harley-Davidson in 1997, Ft. Lauderdale Harley-Davidson in 1998, Harley-Davidson of Pompano in 2002, and Aspen Valley Harley Davidson in 2002. In 2006, he opened another South Florida dealership, Sunrise Harley-Davidson, and Southern Thunder Harley-Davidson in Horn Lake, Mississippi.
Rossmeyer is survived by his wife, Sandy, five children and nine grandchildren.
http://www.news-journalonline.com/NewsJournalOnline/News/Headlines/frtHEAD01073109.htm
Update 07/30/09 10.20pm EST. The Wyoming Highway Patrol says that Rossmeyer and 5 other bikers were headed east on Highway 28 in Sweetwater County, WY when they were trailing a Ford pickup truck pulling a 2-axle camper style trailer. The truck driver Robert L. VanValkenburg, 73, of Rock Springs, WY, slowed down and began making a left turn and Rossmeyer tried to pass him when they collided. The highway patrol report states that Rossmeyer was not wearing a helmet and that VanValkenburg's truck and camper turn signals and brake lights were working at the time of the crash.