Let loose the fire and brimstone, grab the pitchforks, and storm the castle, because Wannabe Choppers has built a—gasp!—electric chopper. We may sound melodramatic, but that's only because when Wannabe revealed it had built an electric chopper during the "Biker Build-off" at Germany's Custombike Show 2017, you'd have thought they'd just pulled back the sheet off Frankenstein's monster. While Wannabe's build-off competitor, Harley-Davidson Wurzburg, took a more traditional approach by squeezing a Milwaukee-Eight engine into a specially built Softail frame with a single-sided swingarm, Ricky de Haas opted for the road less traveled, crafting a scoot from cast aluminum pieces that at first glance looks like a chopped Ironhead. He called the bike "AlSi9Mg" after the aluminum chemical mixture used throughout the build. Needless to say, once they learned it was electric, European purists were none too happy about the result.
That didn't stop Wannabe Choppers from breaking down the bike, packing it up in cardboard boxes swaddled in packing tape, and flying it from Germany to LA like so much carry-on luggage. Seems you can get away with that when your creation weighs only about 80 kilograms (176 pounds). The look on the faces of the customs officers was undoubtedly priceless!
"There were four bags of luggage, except for the battery. We had to send that one up front. This is why we only have a very small battery…because it's dangerous, and we have to pay for weight," de Haas said.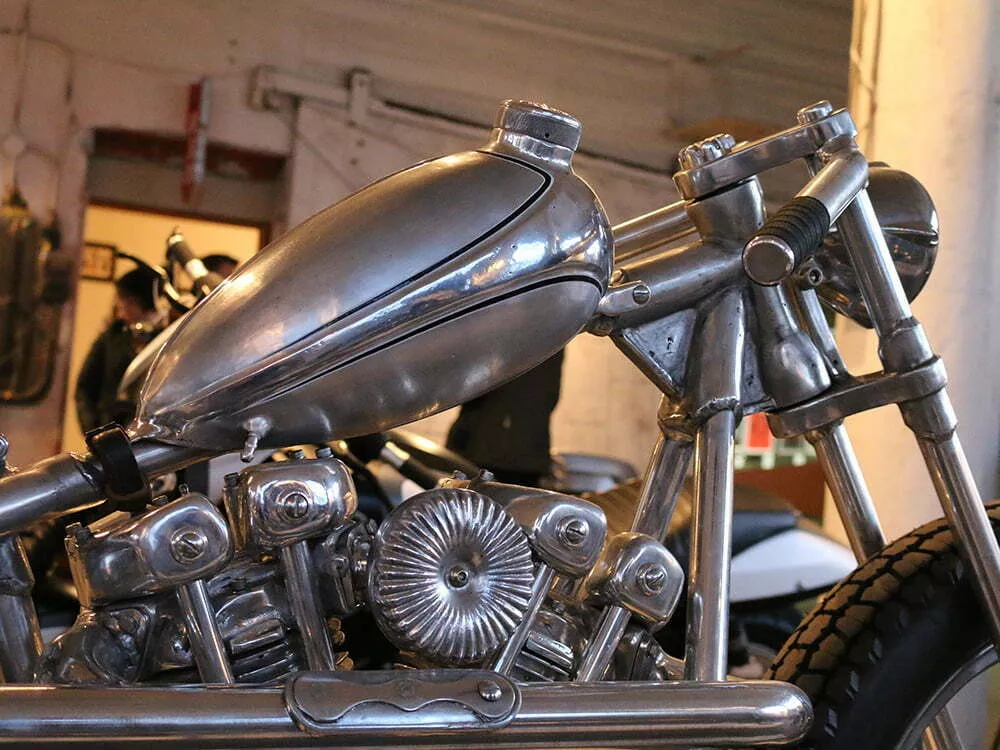 After landing in LA, the chopper was pieced back together, shoved in a van, and shuttled up to Portland, Oregon, for its US debut at The One Moto Show. Right after that, it was shipped off to Milwaukee for a stint at the Mama Tried event. The e-chop even got a chance to take a spin on El Mirage's dry lake bed during its US tour. In stark contrast to its reception overseas, Wannabe's creation was a hit with the American custom motorcycle scene, and AISi9Mg became an Instagram star, even getting its own centerfold session in front of famed photographer Michael Lichter.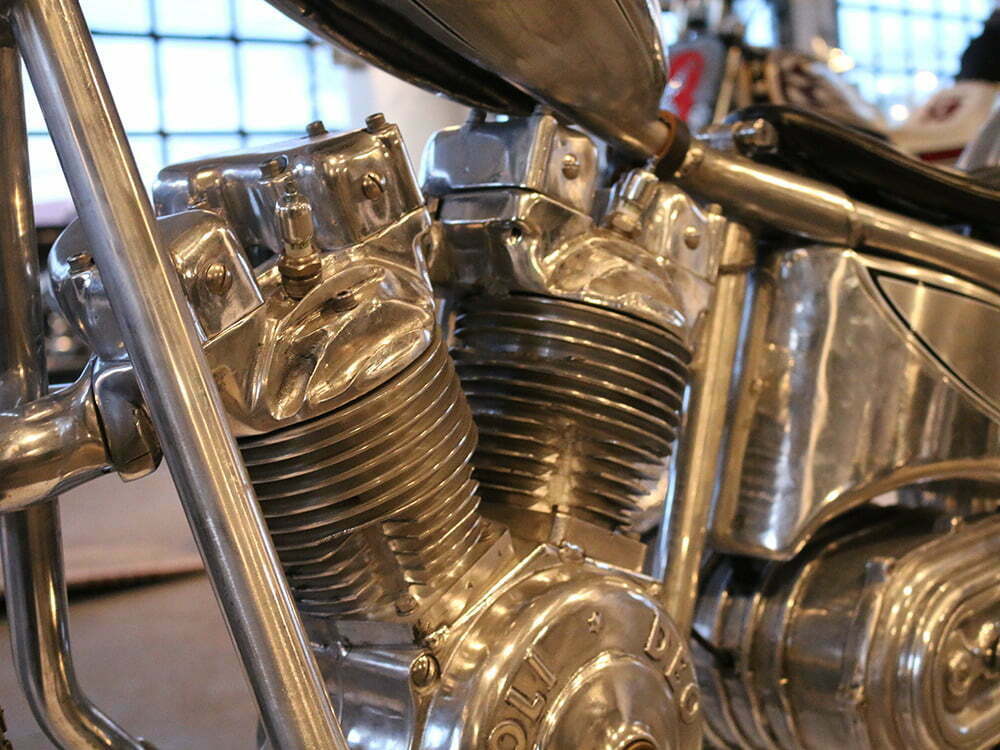 The AlSi9Mg build could serve as a tutorial on casting alone. Nearly everything on the bike was cast—gas tank, frame joints, oil bag, transmission box, cylinder heads, air cleaner cover, triple trees, wheels-—everything save the tubing.
"The motor's in the hub," de Haas said. The electric, brushless 48-volt motor residing in the rear hub was ripped from an electric scooter that's popular in Europe. "And it's not only the motor. If you look on the right side, you see the brake on it too. So this is the brake, a small drum brake, scooter-ish I would say. This one here (the knob to what looks like a jockey shifter on the left side of the bike) is the switch for on and off. Just switch it on, hit it, and go. The battery is in that thing you'd call an oil tank, and all the electronics, the controllers, are in the transmission," he added.
That small drum brake on the back is activated by a brake pedal that's in its traditional place. It also uses a standard twist throttle. Ultra-light and rigid, primarily a collection of castings sandwiched between two chunky Firestones, de Haas says this chopper is "almost fun to ride. It does between 50 and 60 mph. It's so short and the weight point is so low it handles almost like a bicycle. Steering is light. It's a good rider."
De Haas said the idea of building an electric chopper has been swirling around in his head for a long time. Wannabe Choppers has a solid foundation in both modern-end electronics and time-honored craftsmanship, and AlSi9Mg provided the opportunity to mash the two worlds together.
Initially Wannabe intended on mounting a traditional combustion engine in the chopper for the build-off with Harley-Davidson Wurzburg but, "Time ran out, so we had to do something else. We figured this combination would represent our company best…a modern-technology electric bike with old fashioned craftsmanship to show people electric bikes don't have to look ugly. I would say it's a pretty decent look," de Haas surmised.
Wannabe's success in building an electric chopper that appeals to the masses could be measured by reactions at The One Moto and Mama Tried shows. Many people didn't realize it was an electric motorcycle at first glance. It's the first electric chopper I've come across that wouldn't hurt your street cred with buddies if they saw you riding it.
And for all the purists eager to run de Haas out of the kingdom, his daily rider is a 1971 Ironhead—his first Harley, bought when he was 18. He's got the word "Handmade" tattooed above his knuckles as another testament to his devotion to the craft of custom building. Sometimes it takes courage to embrace change, and the times they are a-changin'. Even the kings of the V-twin kingdom, Harley-Davidson, have an electric motorcycle in the works. If you ask us, Ricky de Haas is more pioneer than pariah.