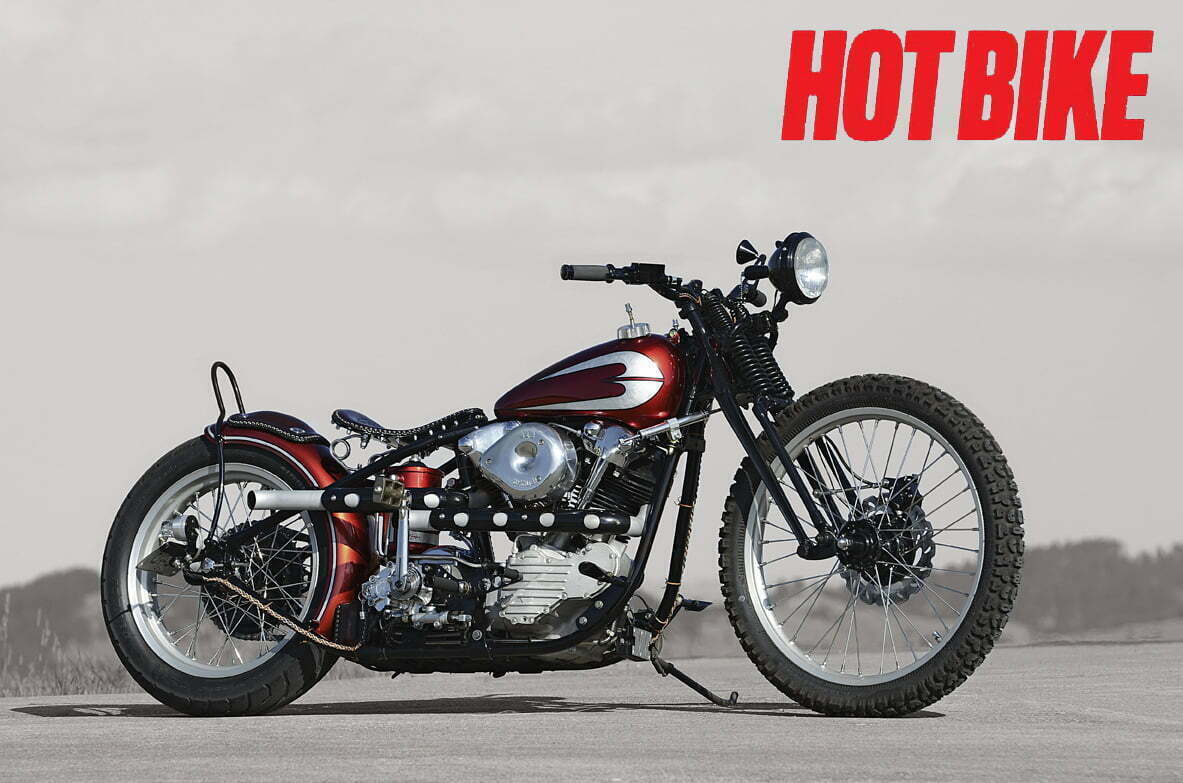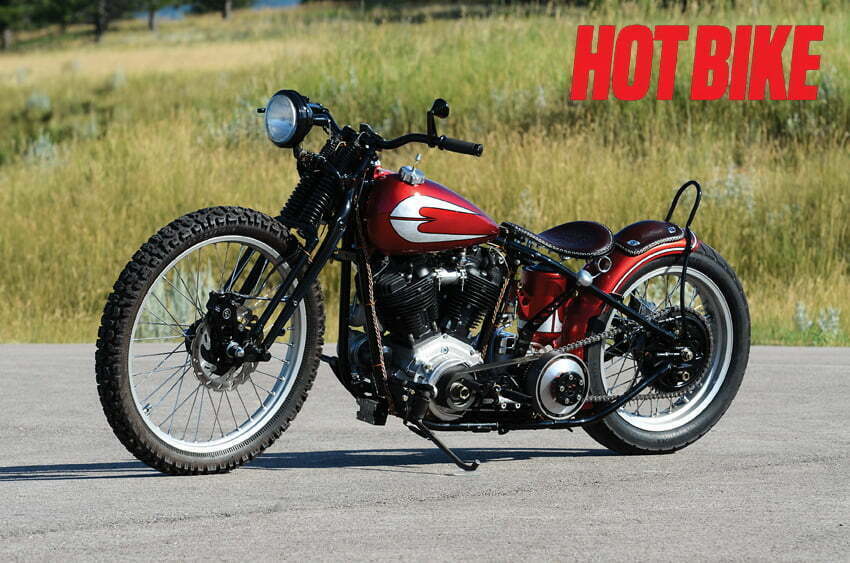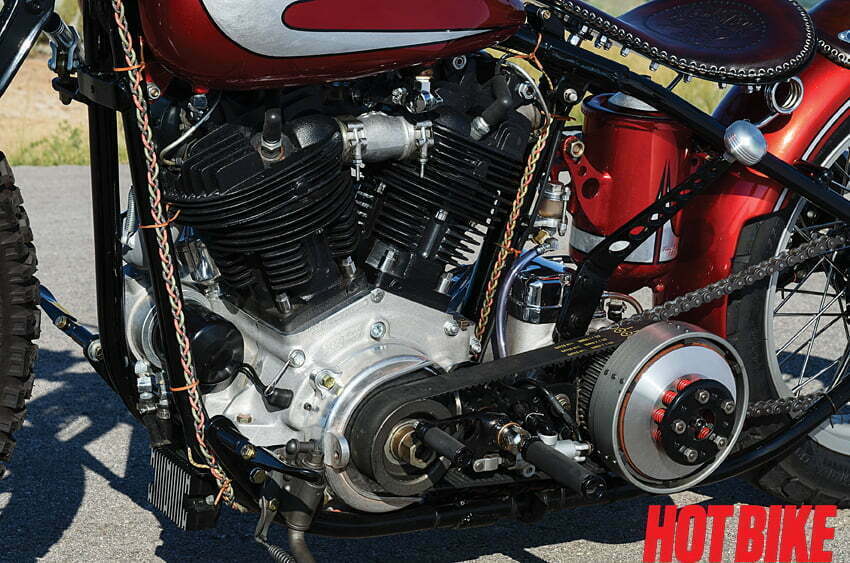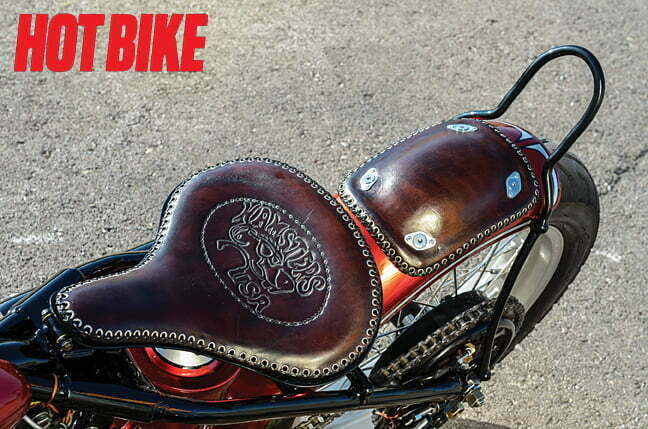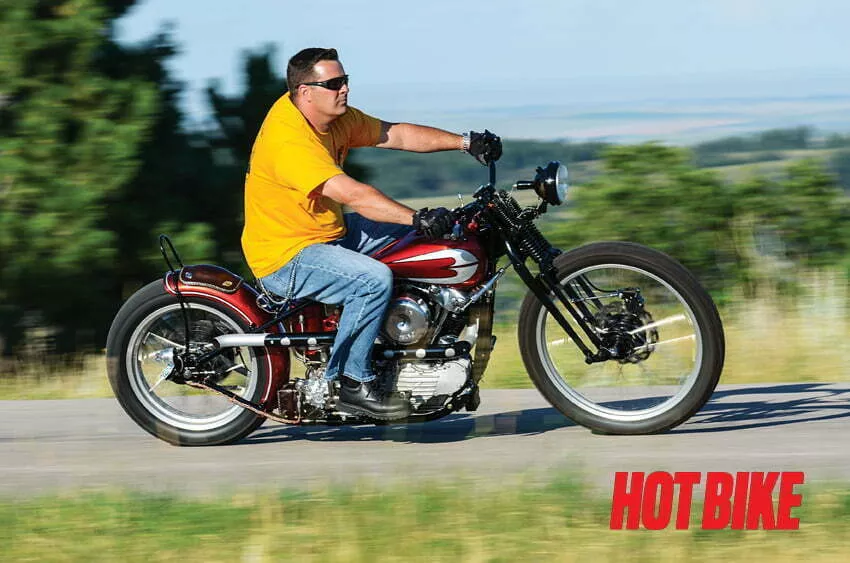 Franklin Church Choppers (FCC) has been in business for 13 years now. We started out as a two-car garage attached to the house. We love and live motorcycles and plan on being here for many years to come.
This bike started as a 1981 frame that I bought at the Harrisburg Super Swap for $600. It had a bent downtube and no paperwork. At the same swap meet there was an old heavily raked and cut-up old Panhead frame at the spot beside mine. At the end of the show I scooped that up for $200. The only part left that was good was the rear section. I already knew I was going to use it to hardtail the FX frame I bought earlier that day. Once back at the shop I sectioned both frames and hardtailed the Shovel frame. I then went through the court process with help from one of my riding buddies, AB Bob, and got rights to the title. I love Springer front ends and had a desire to use a Harley I beam. I found one on eBay for a fair price. At the time I was building this bike I saw a few bikes with the 23-inch front wheel and liked the look. I sourced a 1979 Honda XL 500 wheel and drum brake. Once the front end was mounted I threw the front wheel on along with an 18-inch rear wheel. I wanted the look of the small front drum brake and rear Harley drum brake setup. I went ahead and fabricated the brake stay and risers and now had a roller.
I had been looking for a Knucklehead engine for a long time but just wasn't able to find one that was acceptable. I then decided to get a new S&S KN 93. That's quite a purchase, so I had to sell a few things. I contacted Baker Drivetrain and ordered a kick only 6-into-4 with an N-1 shift drum and hydraulic clutch. Now that all the major components were sourced I started in on fabricating my mid-controls. I started with drawing out the design and getting them laser cut. I then contacted Matt Barnes at Barnes Motor World and sourced two Victory rear brake master cylinders. Mid-plates were fabbed up and brass lawnmower deck bushings were fit in the newly fabricated controls. I wanted to use a chain drive primary but didn't want to pay the big price for it. I took a four-speed clutch basket and cut off the sprocket and welded a Hayabusa rear sprocket and machined it to fit. I then took a 23-tooth front sprocket, bolted it, and welded it together. It looked mean and was a great addition. Unfortunately, the look was awesome but the longevity was not. I rode the bike 1,100 miles the first week I had it done to a show in North Carolina and back. As I rode the chain continued to stretch and stretch. I readjusted the trans and poured oil on the chain, but it just didn't take the heat. Once back at the shop I removed the chain drive and installed the BDL belt drive.
Once the engine trans and roller were complete I took a set of four-speed tanks and cut 2 inches out of the center at the caps and narrowed them. Bill Dodge at Bling's Cycles was contacted for a set of aluminum motocross caps. I sell a seat pan that customers can bend to their liking, so I used one on this bike. I wanted more detail to the seat, so I decided to drill and bolt a row of cap nuts underneath at the outer area. The top pan was made smaller, and Craig Ammons tooled up a cover and riveted it to the pan. Craig also made the rear P-pad and battery cover. I found a 1930 flathead oil filter and cut it down and drilled the bottom tube so it would feed through the bottom and return and vent through the top side; it holds about 2.2 quarts.
The front headlight was found at the Spring Carlisle swap meet for $20. I liked the look and wanted the switch to be unique. I drilled out the rear and installed a pull cord from a ceiling fan to switch from high to low beam. A custom mount was made, and then it "bolted" right on. An After Hours Choppers shot glass taillight/license-plate mount was then bolted to a few bungs that were welded onto the frame in the rear. A Led Sled fender blank was purchased and cut down to cover the rear tire. The small sissy bar was bent up to support the fender. Now that all the fabrication work was complete, I tore it down and had it painted and powdercoated. Reassembly went relatively easily, and wiring was braided and run outside the frame to be seen.
Thinking the bike was ready, I backed it off the lift and found a huge mistake. The front drum brake stay was too short, and when the front brake was held to keep from rolling backward, the springer would unload and the drum would flip over backward, rendering it useless. Back to the drawing board. I pulled the front one and sourced a Suzuki Talon hub and wave rotor, sent them and the rim back to Buchanan's, and had spokes made and the wheel re-laced. A Performance Machine dual piston caliper was installed with the newly reworked wheel, and now good brakes and a better look were had.
Since this bike has been finished, I have around 8,000 miles on it. The ride was good; however it was quickly learned the old RL front end was spent. Every time I hit a bridge it would unload and I would get a nice wobble. I kept it on and took the bike to Sturgis where I rode the hell out of it that week and decided once home I would change the front end out. I took it back to Sturgis the following year and killed Needles highway and Custer State Park. I even drag raced it at the Hamsters USA drag races in Vale. The hand–shift mid-control clutch make it easy to handle and really comfortable. This bike is a staple to my shop and will continue to stay—unless of course a whole lot of money is exchanged.