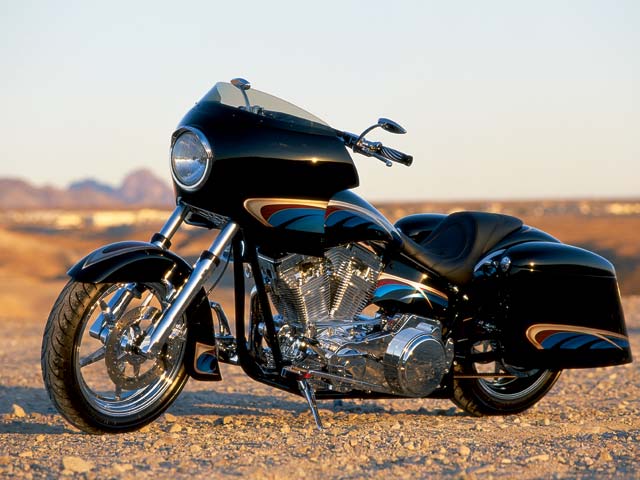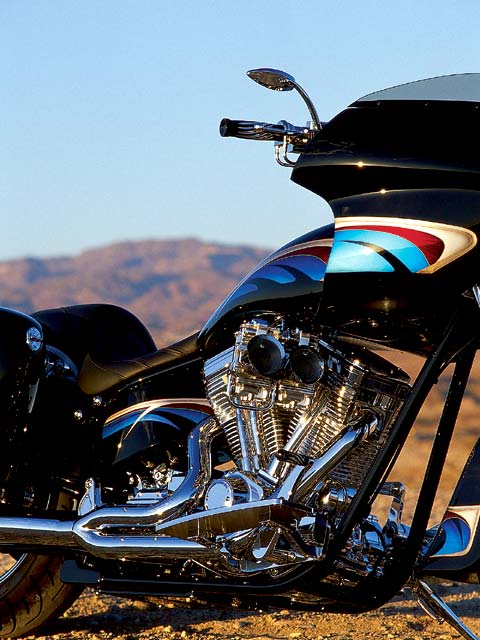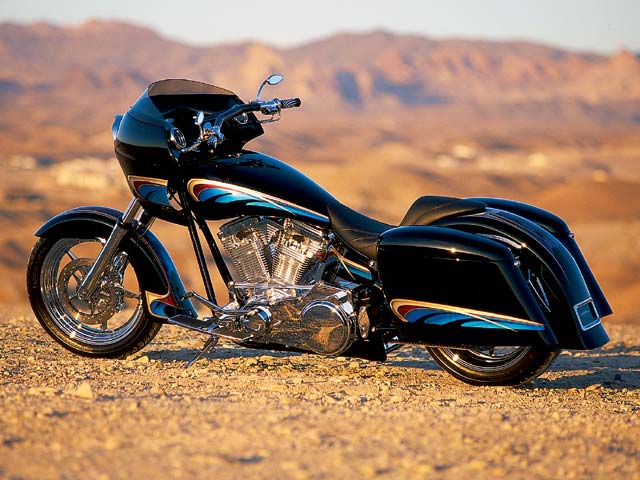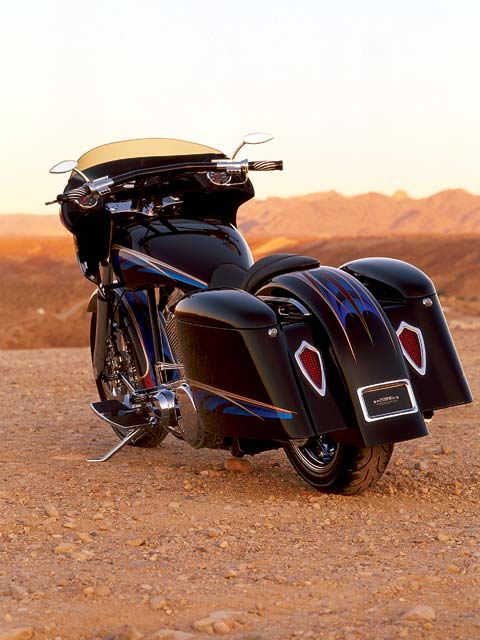 When it comes to getting the most out of a Sunday ride or a long weekend on a bike, the thrill of owning a full-blown street racer is diminished quickly. Hours spent on a saddle (designed to give you something besides a fender to sit on) become painful, and ergonomics laid out to cheat the wind at full-throttle do nothing good for your back on a twisty two-laner. Brad Turold was aware of all these things as he started penciling out his next custom bike. He was going for the perfect blend of comfort and power — and would not cut any corners.
Aside from the drive to get what he wanted, Brad had a slight advantage — Mark Bachman, owner of Bachman's Custom Cycles in Woodland, California, had been his friend since childhood. After a long day of looking over Brad's sketches and matching them up with available components, Mark had a plan. He took Brad with him to the Indy Powersports show and turned him loose on the manufacturers to see what he could find to fit his vision.
The first and by far the most important part of the puzzle was the motor. After a long chat with Nigel Patrick at the Indy show, Brad and Mark both knew what they wanted: a Patrick Racing 113. Starting with S&S; cases, wheels, and rods, J&E; pistons are shrouded by Patrick Racing cylinders and heads. A Patrick cam, dual Mikuni carbs fit with Mark stacks, Crane ignition, and a Mark's modified exhaust round out the polished jewel. To ride aft of the motor, a polished JIMS six-speed was ordered.
Chassis concerns were another item the trip to Indy eliminated after an afternoon spent with Phil Day. Phil explained how one of his Daytec touring frames would offer the riding comfort Brad was after and the durability that Mark's motor plans necessitated. They settled on a 3-inch stretch in the rubber-mount chassis with a 35-degree neck for the Storz trees and a 43mm fork to reside in. A pair of Progressive Suspension 418 shocks works with the Daytec swingarm out back.
Rolling the bike around are 18-inch Carriage Works wheels — an 18×4 up front and an 18×5.5 in the rear. Avon tires in 130- and 180-widths, respectively, were selected to cushion the beautiful wheels, and P.M. calipers squeeze Carriage Works rotors to stop things.
Dressing up the ultra-smooth chassis was going to be a collaborative effort. Mark took stock Daytec fenders, saddlebags, and a fairing, and tweaked them to his liking. Then, he turned to Don at Fat Katz to form a one-off gas tank that completed the flowing shapes of the comfortable cruiser.
Next, Mark fabbed some slick-shaped taillights to ride in the bags, then built a speedo and tach into the inner fairing panels. Countless small touches were added before he finally called it ready-for-paint and handed things off to one of the best painters around, Carl Brouhard. We don't need to say anymore about the work Carl can do, other than look at this bike — it says it all.
Getting the bagger on the road was as simple as adding a set of Mark bars, P.M. hand controls, a headlight created in the Mark shop, and a Danny Gray seat. One neat trick that Mark did for Brad was to wire a garage door opener into one of the P.M. control switches to help maintain the super-clean machine.
What do you think Brad said when he saw his dream come true? Mark says it wasn't very much because he was busy twisting the throttle cables to the end, seeing just how fast a bagger could really be!