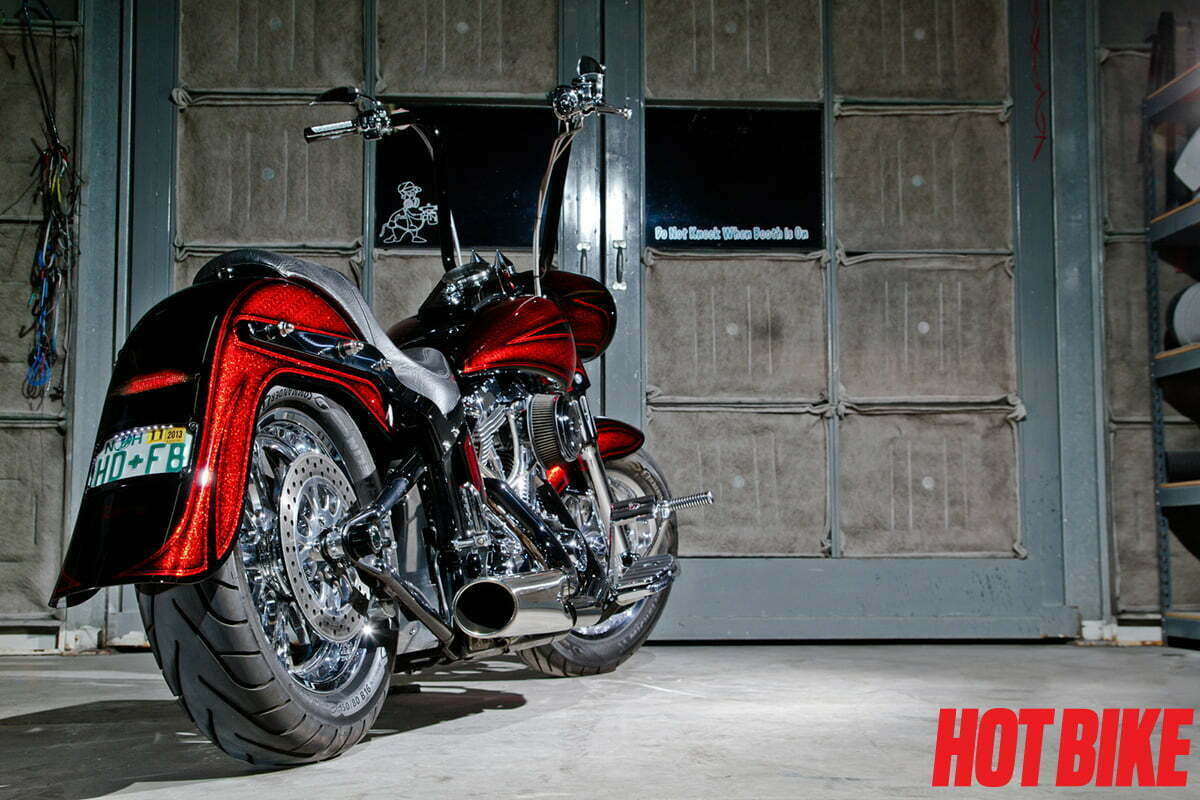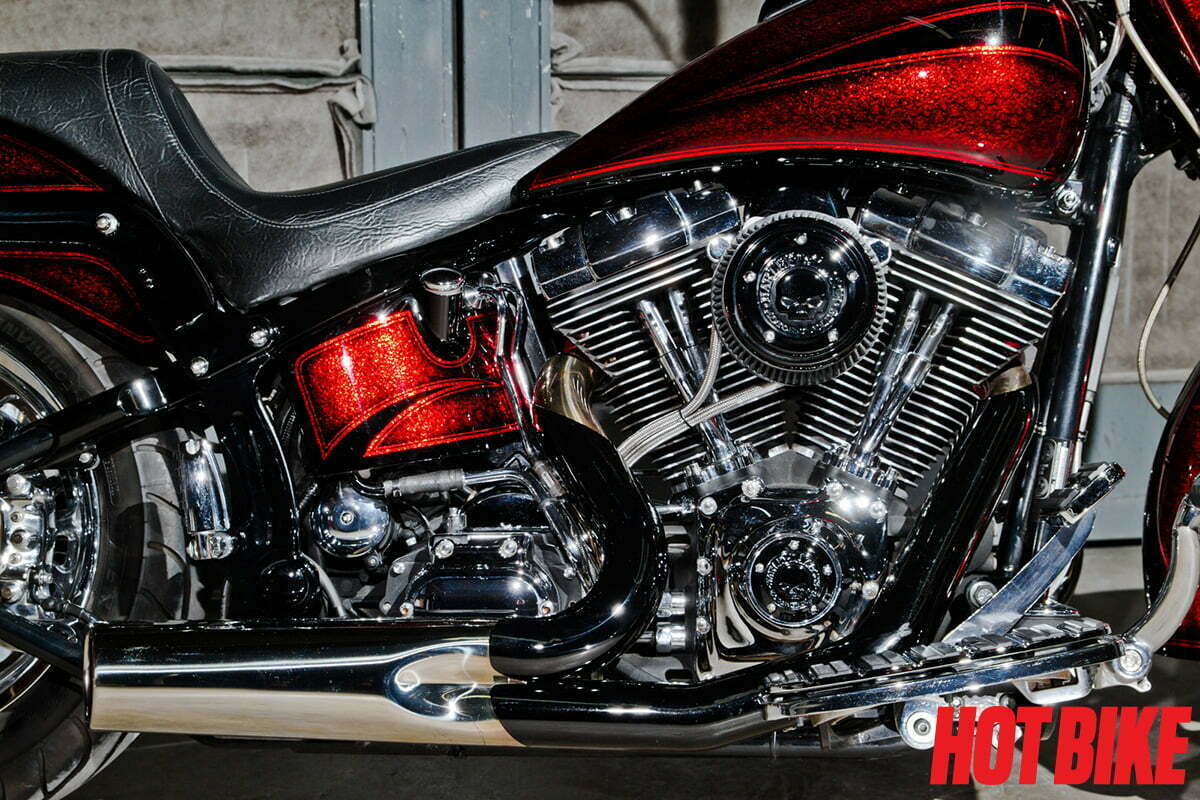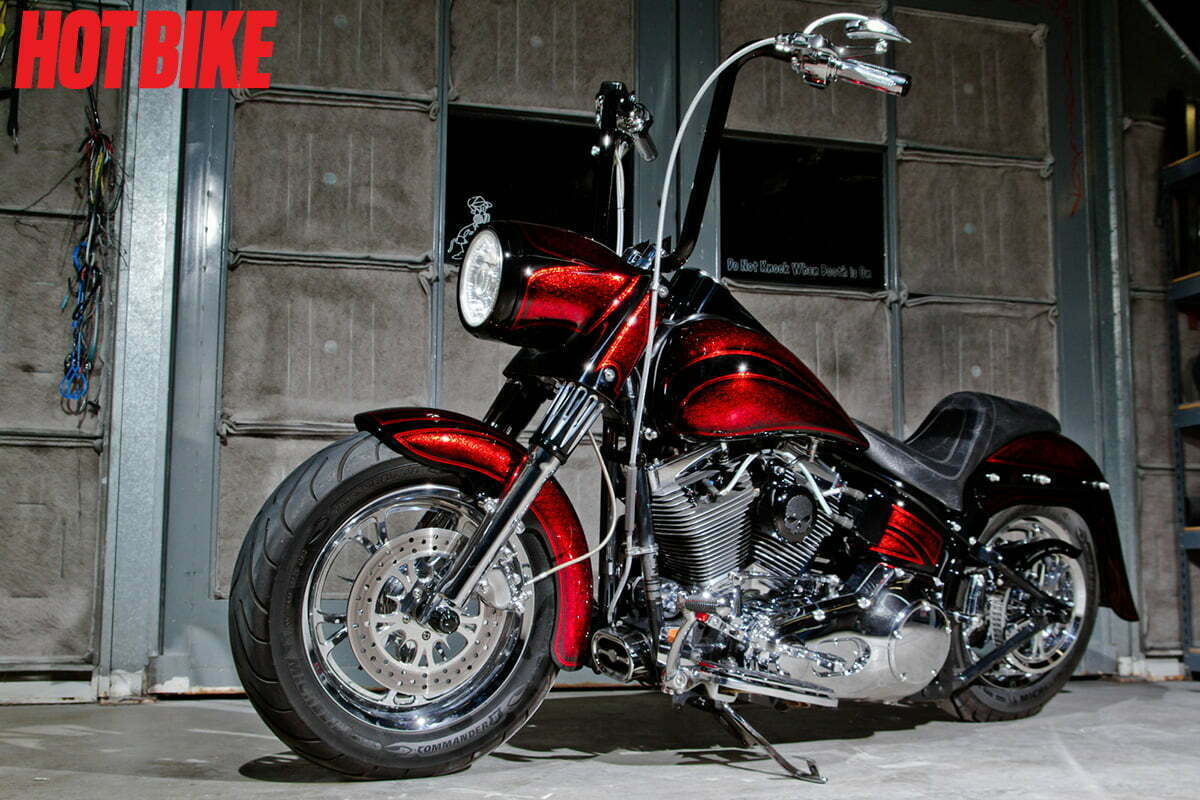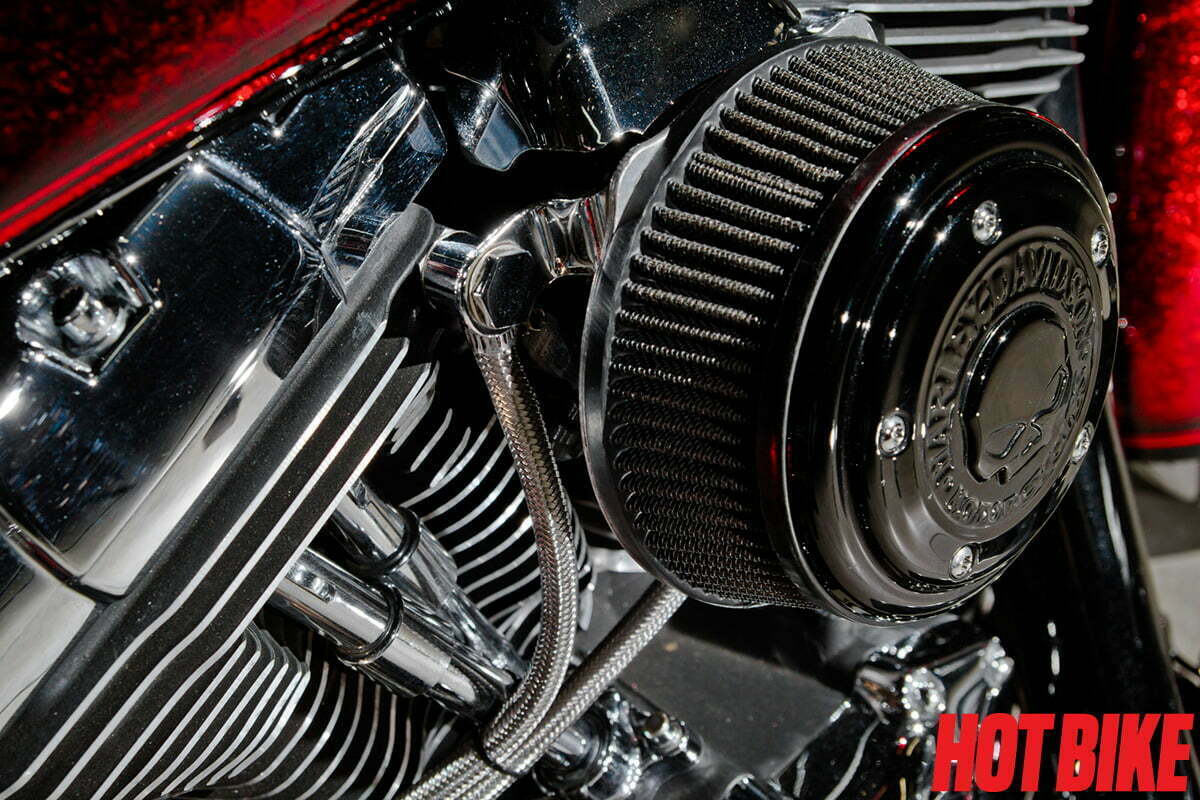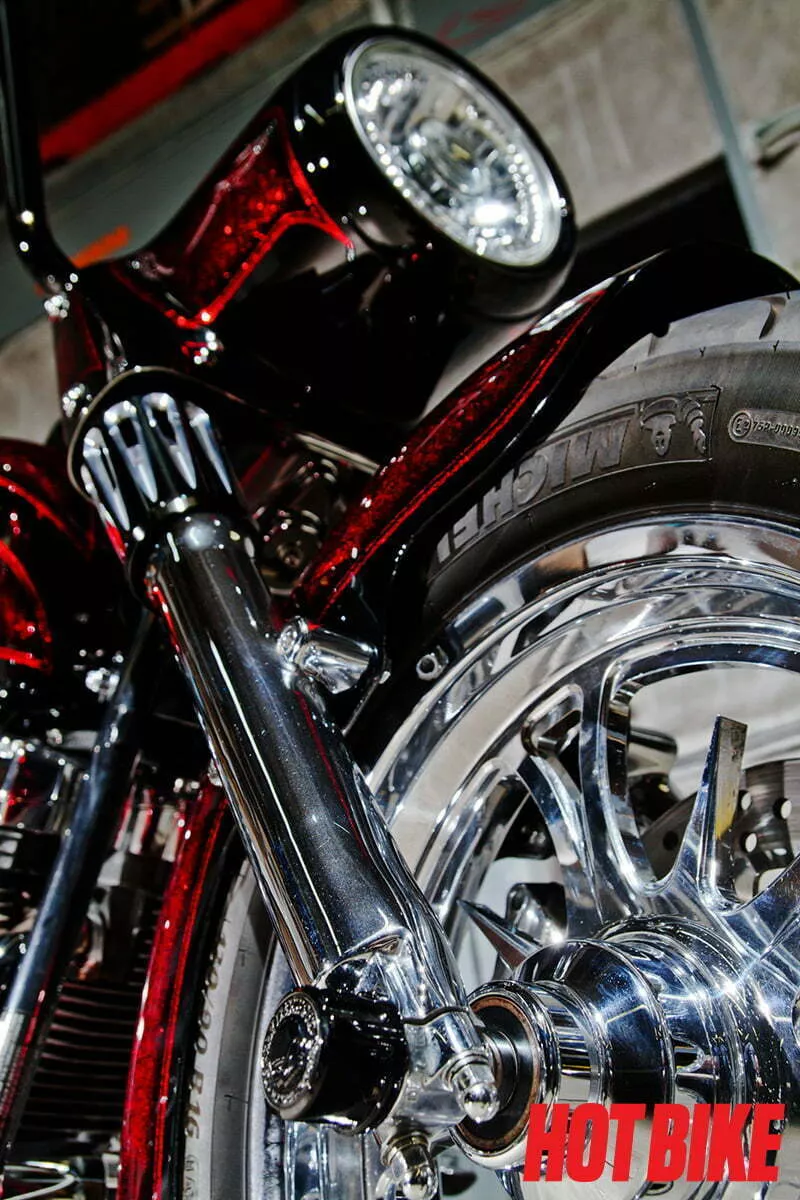 Duane, the owner of this 2001 Harley Davidson Softail Fatboy, soon realized he didn't want to look like "all the rest" and started looking for ways to stand out, yet keep it simple and clean. Time to move from the cookie cutter to originality..
A child of the 70's, Duane knew he wanted metal flake to be part of the design and he began the search for a custom paint and fabrication shop. One name, Krazy Kustoms, Inc., kept coming up as an industry leader in the New England region. So Duane took the drive down to Wilmington, MA to see what the shop and owner, Eric Silverio, could hash out for a design and concept. After discussing the must haves, most of the design was left up to the Krazy Kustoms team to make it stand out from the crowd. This meant the bike was going old school, just as the owner wanted, with a new school twist.To start, a stretched gas tank was modified by welding the stock tank fillers into the stretched tank, allowing the new digital gas caps to fit. The rear fender is a Clockworks stretched tail dragger fender with tail lights that Krazy Kustoms frenched-in. Next a stretched front headlight nacelle was installed keeping with the theme allowing the bike to visually look lower and moving fast. Directionals were incorporated into the front headlight, the Fatboy was lowered all around by two inches ,and Rev Tech Spike rims and Michelin tires were installed. A new stainless two-into-one exhaust is fed by the Stage 4 motor.
The chrome was then blacked out on the rear fender struts, air cleaner, exhaust shields, timing cover, frame covers, horn cover, dash, gas cap, handle bars, and belt guard. The sheet metal was then sand blasted and prepped for paint by getting all the body work perfect. The metals was then primed, sealed, and painted with a silver .062 hex metal flake with a clear coat, then sanded flat. Krazy Kustoms then combined two House of Kolor Kandys to create a unique custom color and applied a total of nine coats to the sheet metal. This was clear coated and sanded flat again followed by taping out the artwork. With the final stage ready, the bike was painted a PPG black with a lace pattern airbrushed in the graphics. After another clear coat, block sanding with 1200 grit and then with 3000 grit, the Harley was compounded and polished to perfection.
After re-assembly, Duane came to pick up the bike, ready to hit the black tar with the sun lighting up the red flake showcasing the lace and other lines.
| Specifications | | |
| --- | --- | --- |
| Bike Owner | Duane Doiron | |
| Shop | Krazy Kustoms | |
| Year/Make/Model | 2001 FLSTFI Fatboy | |
| Fabrication | Eric and Matt at Krazy Kustoms | |
| | | |
| Engine | | |
| Year Manufacturer | 2001 Harley-Davidson,FLSTFI | |
| Builder | R&R Cycles Inc., Manchester, NH | |
| Ignition | Power Commander | |
| Displacement | 95 Cubic Inches, Stage IV, 107 hp | |
| Pistons | 3.875 JE Dome PIstons | |
| Heads | H.D. Stage IV Head Work from R&R Cycles | |
| Cam | T.W. 60 | |
| Carb | EFI | |
| Air Cleaner | HD | |
| Exhaust | Patriot Defenders | |
| Transmission | | |
| Year/Manufacturer/Type | 2001 H-D, 5 speed | |
| Frame | | |
| Year/Type | 2001 Softail | |
| Rake/Stretch | Stock | |
| Wheels, Tires, and Brakes | | |
| Manufacturer Front/Type | Rev Tech, Spike 16″ | |
| Tire/Size | Michelin Commander II 130/90B/16 | |
| Manufacturer Rear/Type | Rev Tech, Spike 16″ | |
| Tire/Size | Michelin Commander II 150/80B/16 | |
| Finish/Paint | | |
| Painter | Eric at Krazy Kustoms | |
| Color | Mix of Brandy Wine + apple red Kandy over big flake | |
| Type | House of Kolors + PPG | |
| Accessories | | |
| Front Fender | H-D Street Stalker | |
| Rear Fender | Klock Werks 4″ Stretch Frenched Plate | |
| Gas Tank | 5.1 Gallon, 2″ stretched ( J.P. Cycles) | |
| Gauges | Mooneyes oil pressure | |
| Handlebars | Wild Looking 1 1/4″ Fat Ape Hangers 16″ | |
| Risers | 5″ Chrome Billet Spiked | |
| Hand Controls | H-D | |
| Foot Controls | H-D | |
| Headlight | Bad Dad Stretched Nacelle w/7″ headlight w/built-in LED turn signals | |
| Taillight | HiTech Flush mount LED brake light with turn signals | |
| Seat | Mustang | |