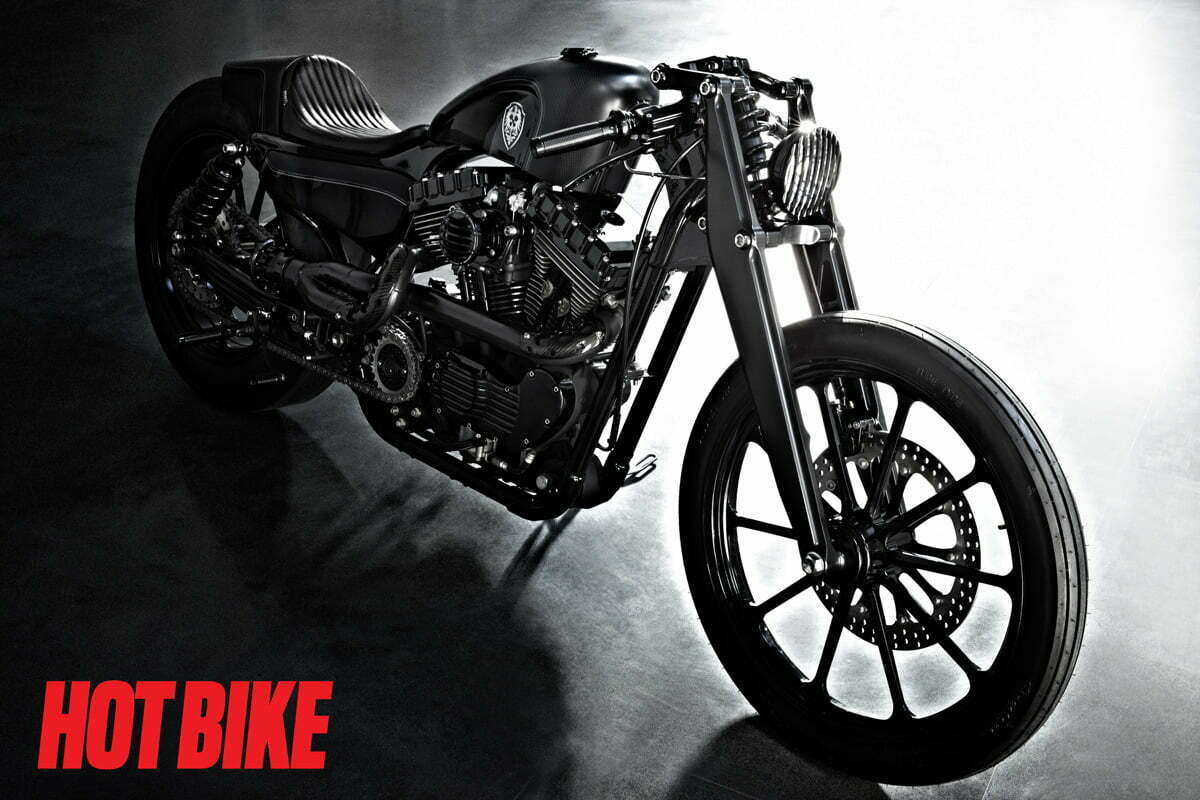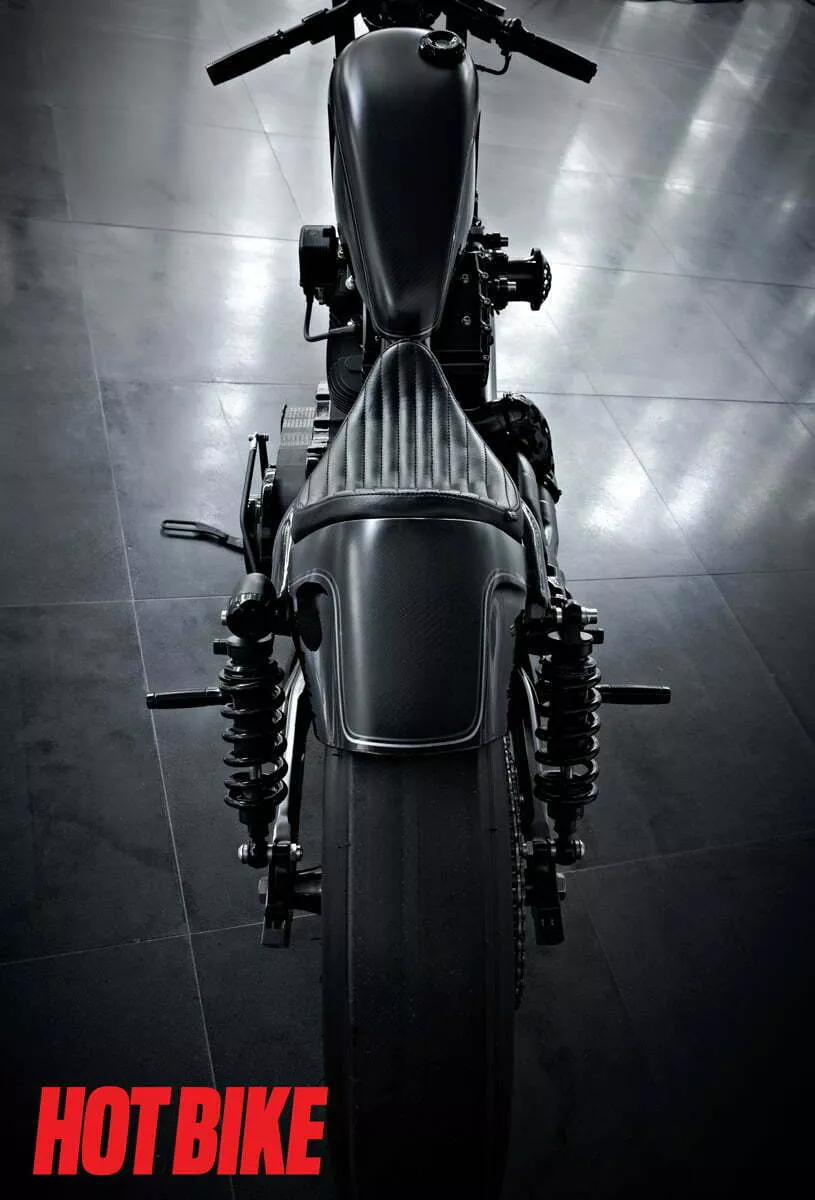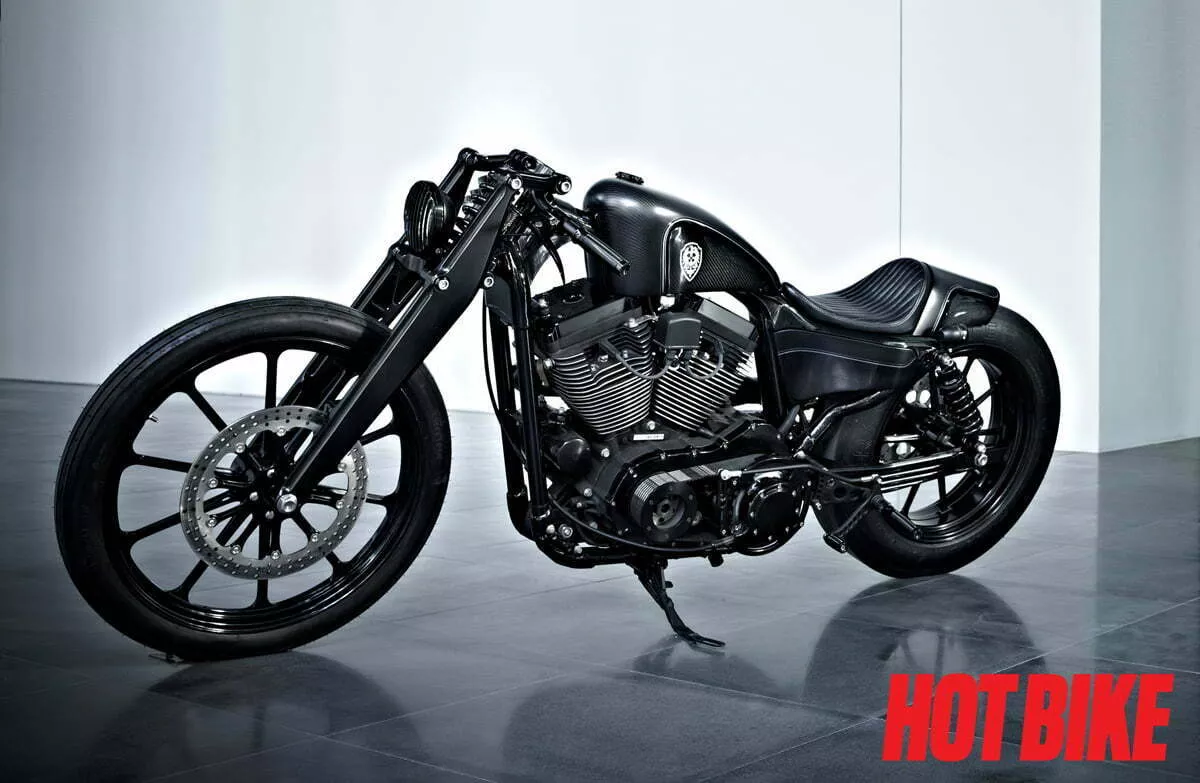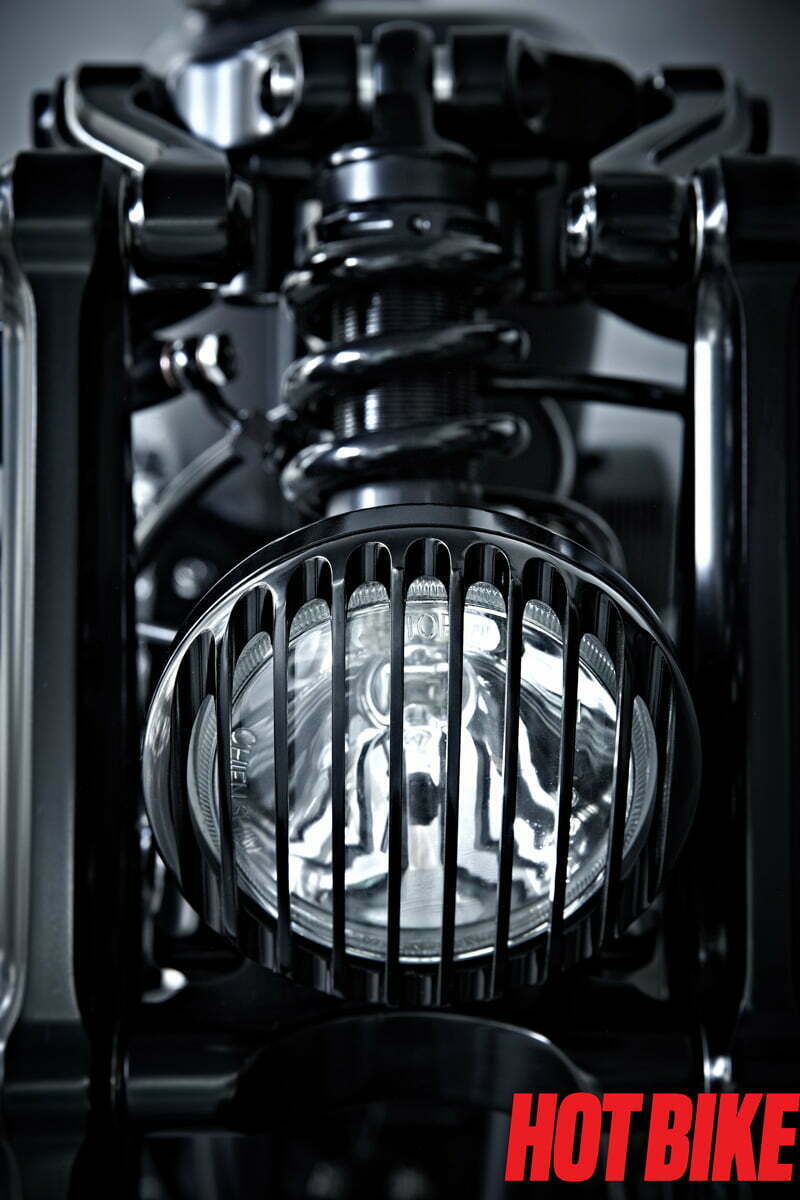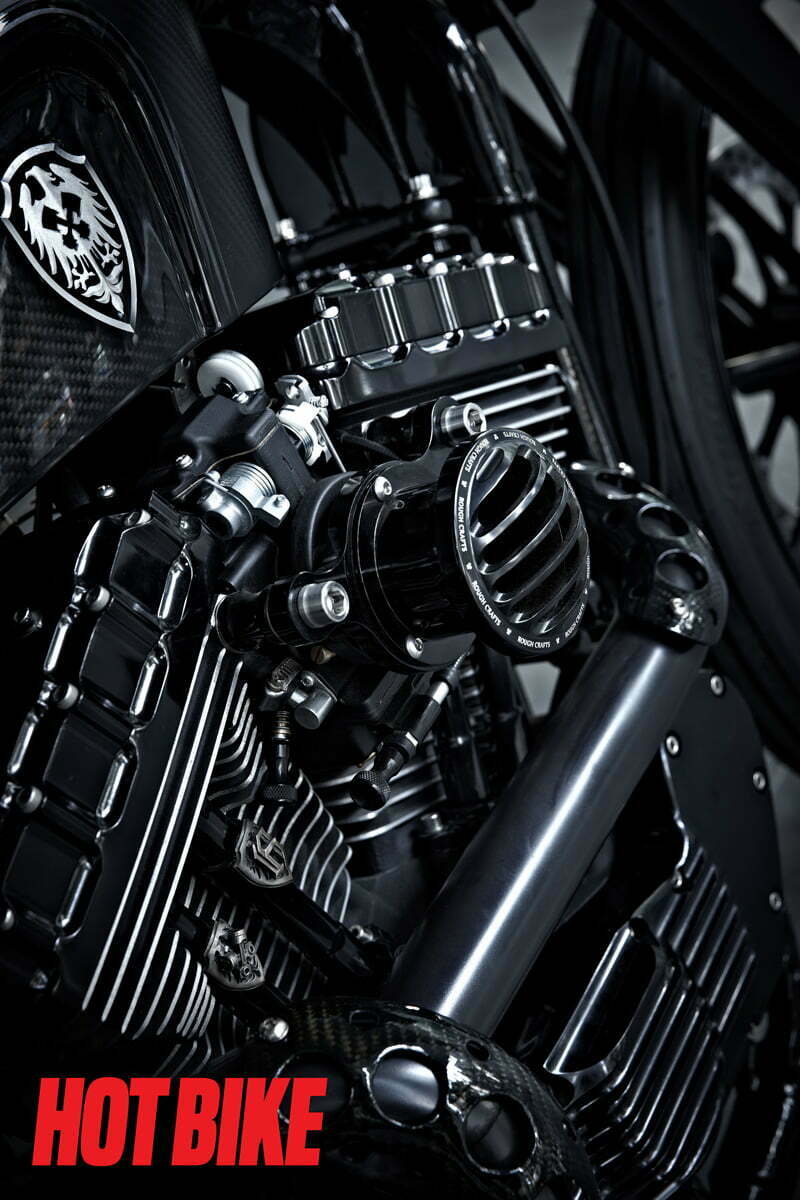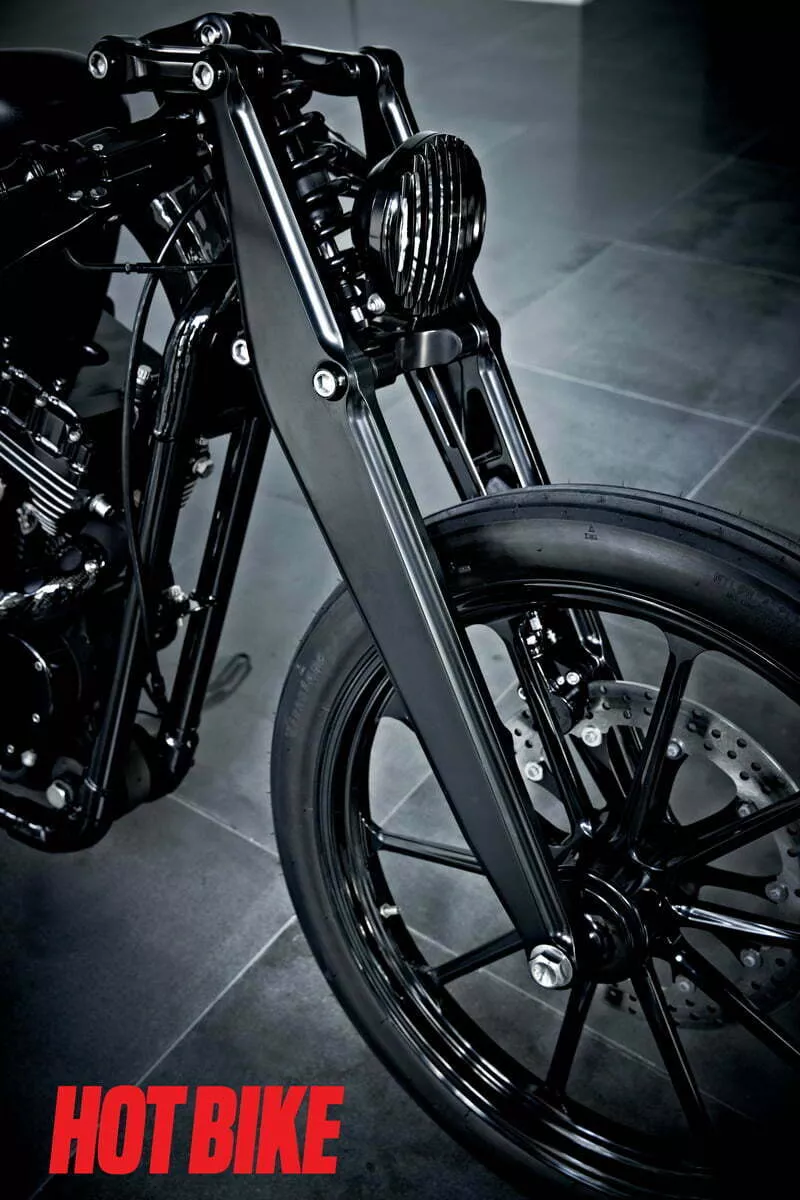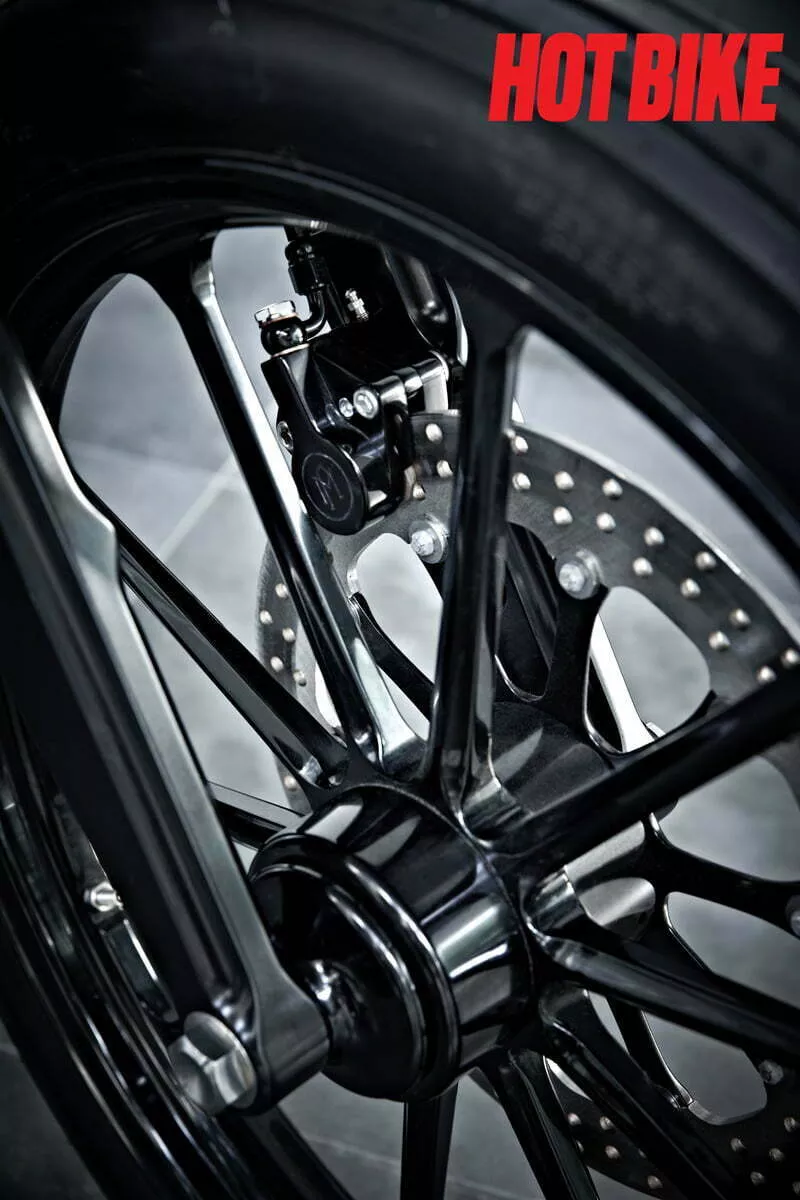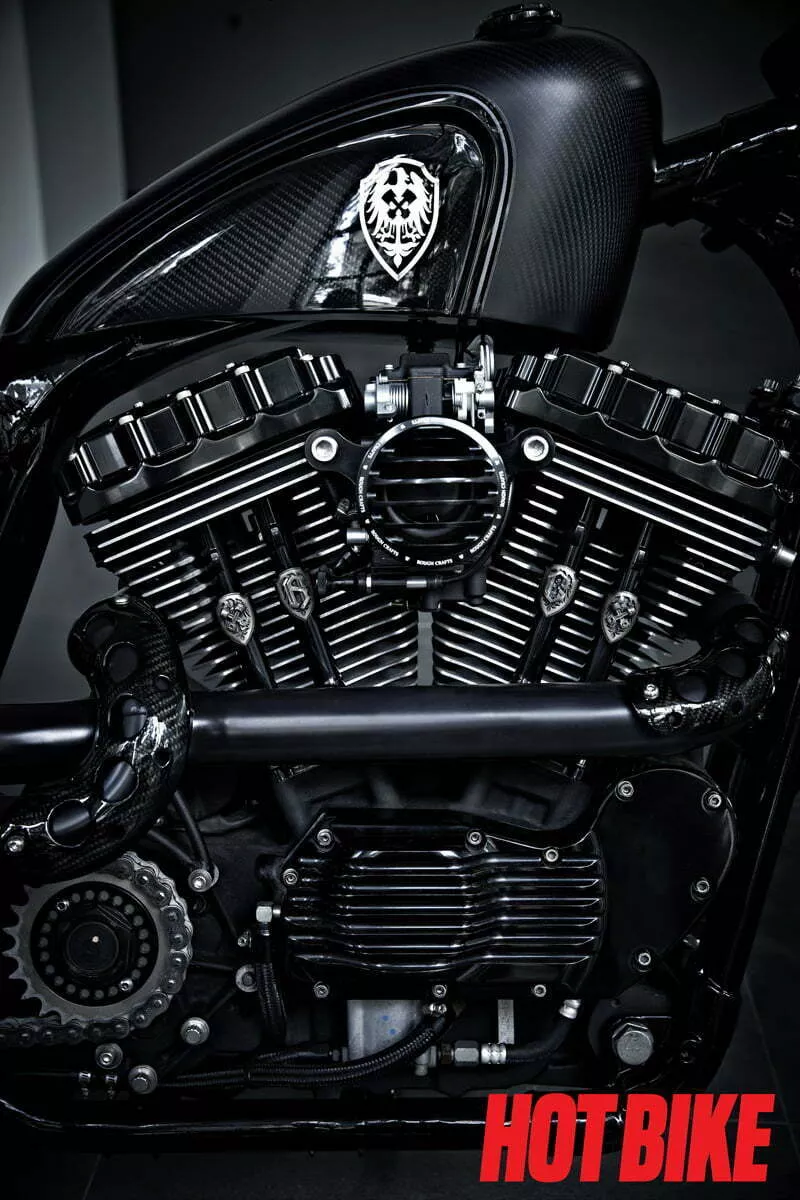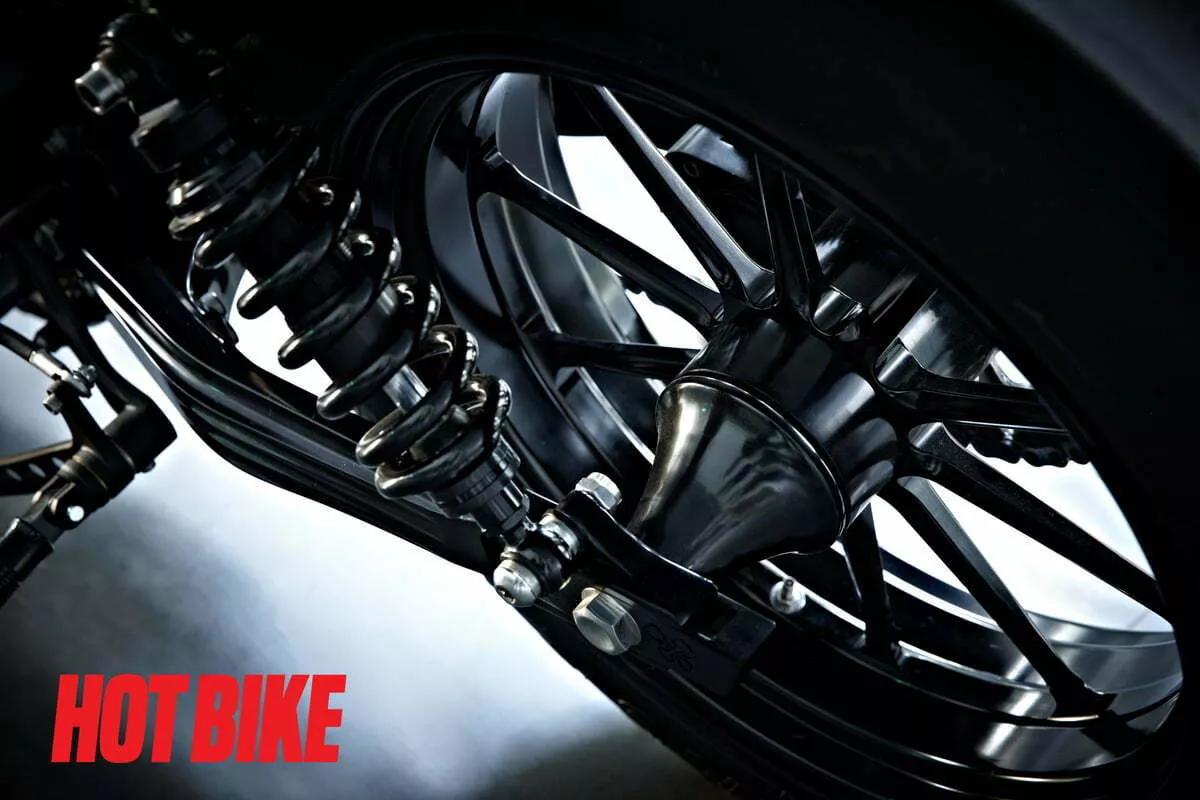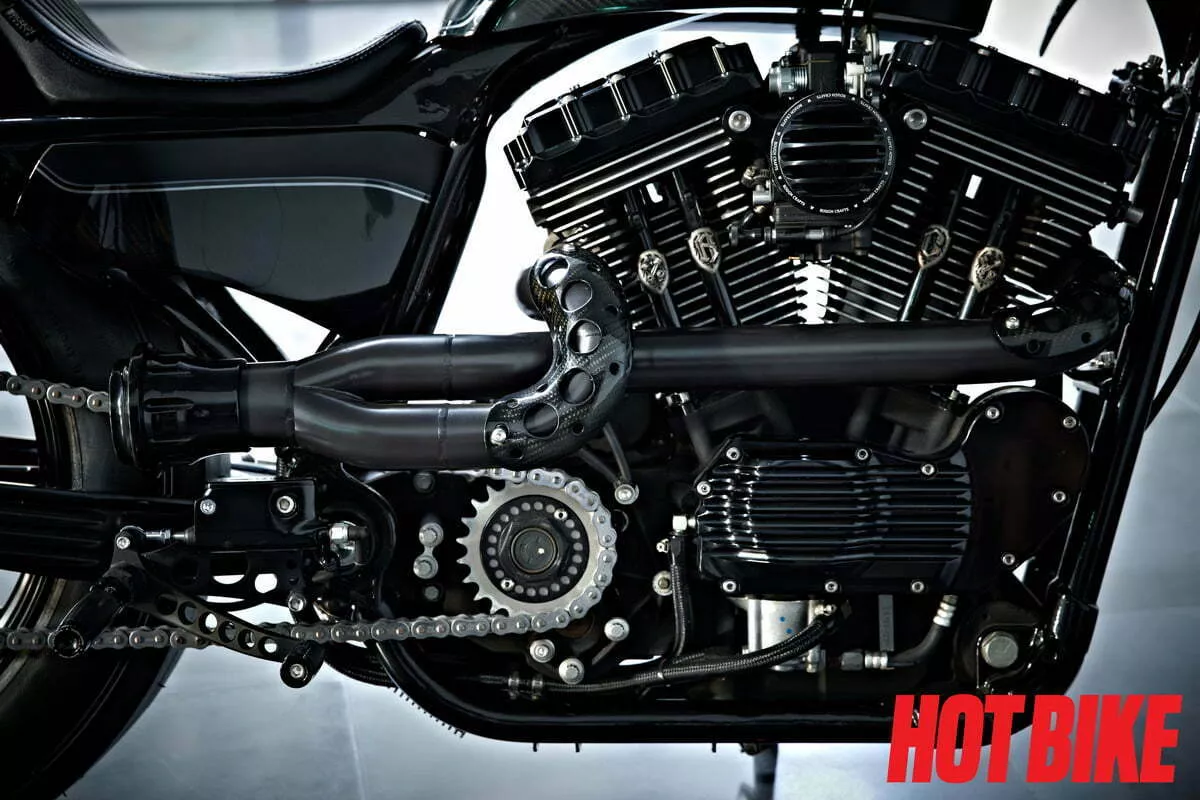 I met Winston Yeh in Japan a few years back at the Mooneyes Yokohama show and have seen his bike builds and line of custom parts flourish with imagination, styling, and tons of black. This year I ran into him in Italy at the Verona Motorbike Expo and sat down to discuss his latest creation dubbed the Stealth Bullet. Here's how it went.
HB: So I see that you have really changed it up with this bike. How did the design elements come about?
Winston Yeh: I'm always inspired by vintage racers, dirt trackers, board trackers, and café racers, etc. I'm not a performance rider though, and many of my builds have fat tires and minimal suspension. What I'm trying to take from vintage racing is a sense of purpose and a purity of form and function. That purity is what always attracts me.
HB: So what is the essence of this bike's design cues from?
Winston Yeh:This build's theme was to be vintage dragracing. You can see it in the bike's whole proportion.
HB: You also worked for a bit at RSD with Roland, is that correct?
Winston Yeh:Yes, it was the chance of a lifetime for a kid from Taiwan! The set of 21-inch front and 18-inch rear Vader wheels on this bike Roland gave me as a gift when I left RSD in 2006 to come back home. I think they are perfect for this build.
HB: What's up with the frame? It looks like a stock Harley. Is it?
Winston Yeh:I did the most I can without really changing the line of the frame, and it's cool to explore what could be done to the exact same frame that everybody was so familiar with.
HB: It sure doesn't sit in its stock "OEM" location though, does it?
Winston Yeh:No, because the proportions of the wheels, custom billet swingarm, the handmade billet girder, low-mounted bars, and rearsets I built change all the lines up so much. It all just falls together naturally like it first did in my head.
HB: There is a lot of black on this bike, but it looks classy and not just murdered out.
Winston Yeh:Yes, I do usually work in all black, but I use different finishes and textures of black to make it more of a layered effect of darkness—not just a total blackout.
HB: You sure do know how to operate some CNC machines, my man. All of that shiny anodized aluminum is nice, but that cam cover is a thing of beauty.
Winston Yeh:Yes, the billet cam cover, billet rocker covers, and the whole package ties together with any bike they are put on.
HB: What else went into this bike? I notice it doesn't have those ugly H-D side covers.
Winston Yeh:Shin Metal Works helped with all the metal fabrication, including the oil-in-frame system and removal of the oil tank. RCE made the custom triangular-shape battery to fit inside my small side panels, and my man Chou from CT Garage helped with my hiding all the wiring in the minimal space under that battery. The company 2 Abnormal Sides made the amazing silver head badge and pushrod collars.
HB: Thanks for showing off your newest creation, and we at Hot Bike as well as our readers look forward to your next one. Got any plans you can share with us?
Winston Yeh:Well, I can tell you that it's not going to be black. That is all I can say for sure.
| Specifications | |
| --- | --- |
| General | |
| Bike Owner | Winston Yeh |
| Shop Name | Rough Crafts |
| Shop Website | roughcrafts.com |
| Year/Make/Model | 2003/H-D/Sportster |
| Fabrication | Winston Yeh/CT Garage |
| Build Time | 3 months |
| Engine | |
| Year/Type/Size | '08/H-D/1200 |
| Builder | Winston Yeh |
| Cases | H-D |
| Cylinders | H-D |
| Heads | H-D |
| Rocker Boxes | Rough Crafts |
| Cam Cover | Rough Crafts |
| Throttle Body | H-D |
| Air Cleaner | Rough Crafts |
| Exhaust | Rough Crafts |
| Transmission | |
| Year/Type | '08/H-D |
| Gears | H-D |
| Clutch | H-D |
| Primary Drive | Rough Crafts |
| Frame | |
| Year/Type | Modified H-D |
| Rake/Stretch | Stock |
| Suspension | |
| Front End | Rough Crafts |
| Length | 2 in. over |
| Triple Trees | Rough Crafts |
| Swingarm | Rough Crafts |
| Rear Shocks | Progressive Suspension |
| Wheels, Tires, and Brakes | |
| Front | |
| Builder/Size | PM/21×2.00 |
| Tire/Size | Duro 21×2.50 |
| Calipers | PM 2-piston |
| Rotors | PM Vader |
| Rear | |
| Builder/Size | PM/18×4.00 |
| Tire/Size | M&H 18×4.00 |
| Caliper | Exile |
| Rotor | Exile |
| Pulley | Exile |
| Finish/Paint | |
| Manufacturer | PPG |
| Colors | Black, Black, and Black |
| Paint/Graphics | Rough Crafts |
| Plating/Polishing | Rough Crafts |
| Powdercoating | Rough Crafts |
| Accessories | |
| Rear Fender | Rough Crafts |
| Gas Tank | Modified H-D |
| Dash | Rough Crafts |
| Handlebars | Rough Crafts |
| Grips | Rough Crafts |
| Hand Controls | Rough Crafts |
| Foot Controls | Rough Crafts |
| Headlight | Rough Crafts |
| Taillight | Rough Crafts |
| License Mount | Rough Crafts |
| Seat | Rough Crafts |
| | |