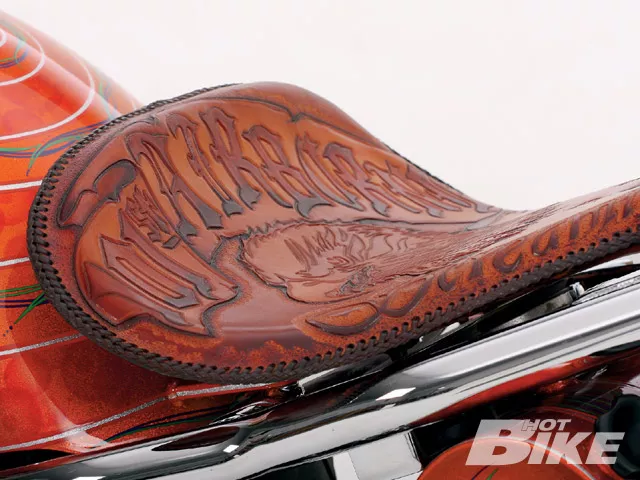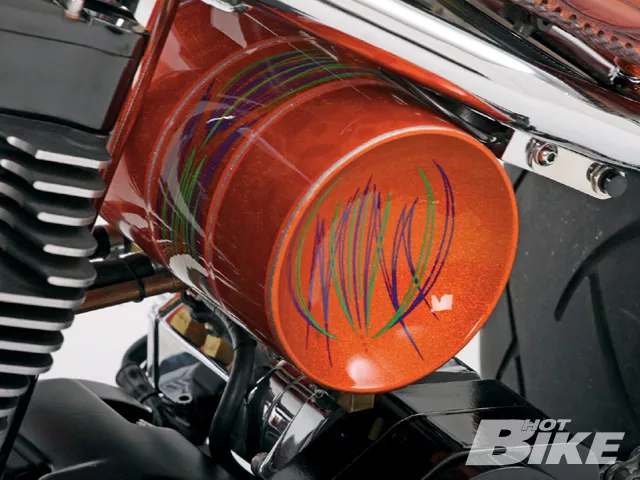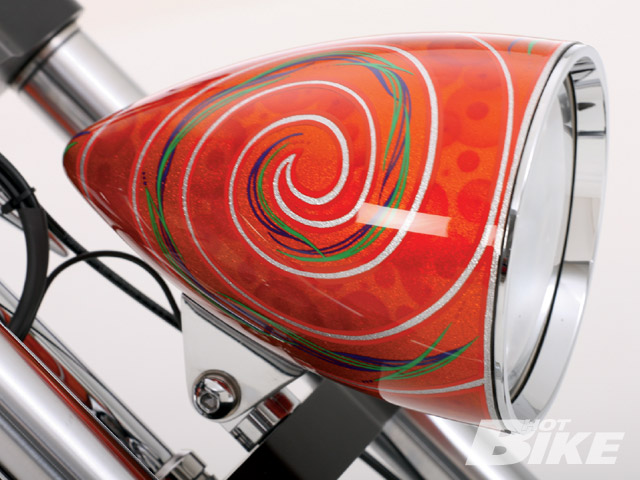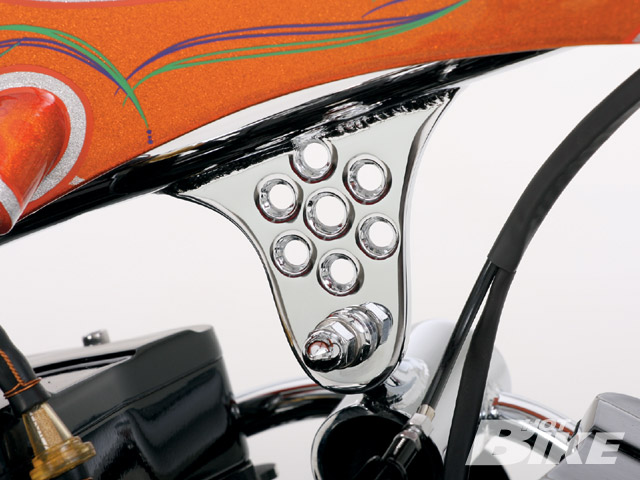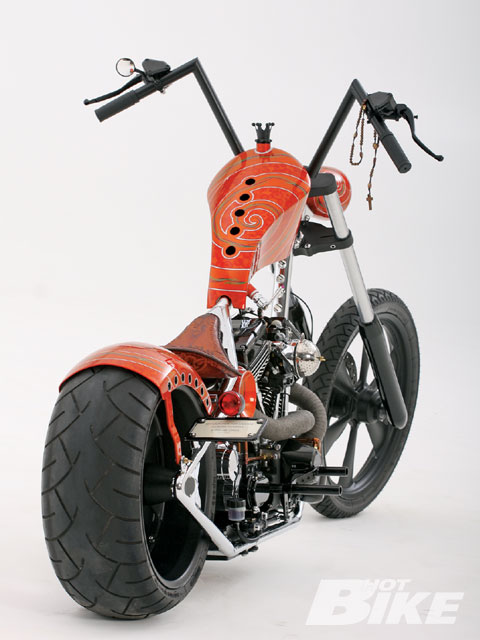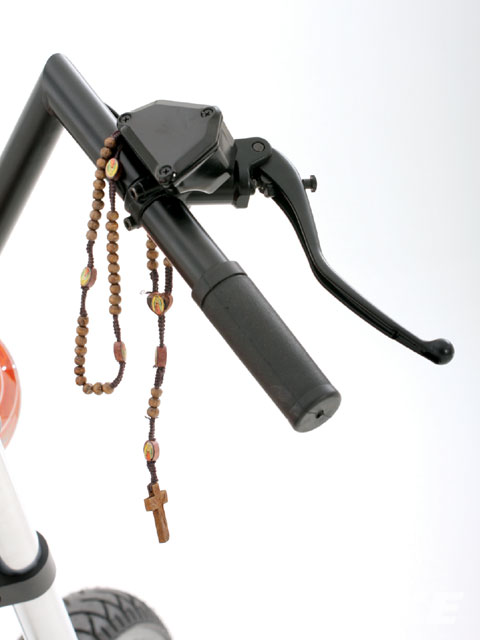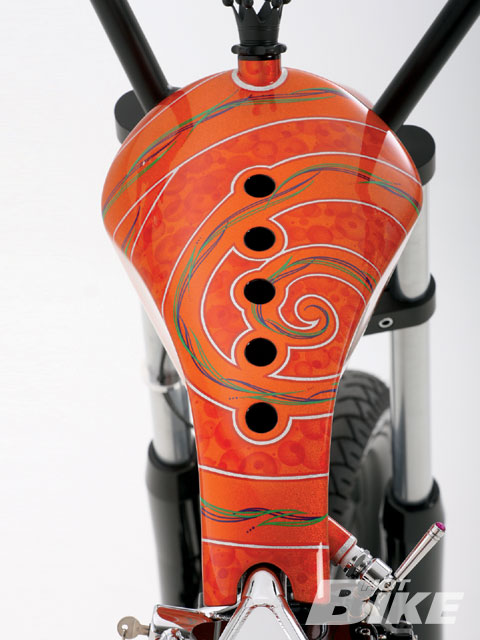 While Hennessey is a famous brand of quality French cognac, Xtreme Cycle Tech (XCT) lives up to its name by pouring out a steady stream of finely brewed bikes that run the gamut from pro street to bobber to chopper, even vintage British, you name it, the Aurora, Illinois shop has been taking it to the max for the past 10 years. XCT's honcho "Little John" Lewis says it all started with a broom. "I began working in a bike shop when I was 15, sweeping the floors, and I was able to buy the place, a 10,000 sq-ft late 1800s warehouse, when I was 24." As for his bike building philosophy, he adds, "Stuff you can ride. Stuff you can beat on. Stuff that's real."
As for his customers Little John says, "Where we are is like the Long Beach of Southern California except we're 20 minutes outside Chicago. Aurora has a lot of old industrial factories, a blue color type place. We have a 1000 sq-ft retail store and the dcor is barbed wire punctuated by punk rock music. My customers include guys who work construction to guys who own construction companies. Our bikes run the spectrum from $25,000 to $50,000. We also run a full service shop and offer frames, tanks, and our special mid-controls that fit four, five and six speed transmissions, open or closed primaries. They let you ride aggressive, plus they let you stand up on them which is good because the roads here suck."
You'll find those mid-controls on the Hennessey custom and like most everything on the bike they were hand made by Little John including the frame, gas tank, motor mounts, brake set-up, handlebars, oil tank, pipes, etc. Aiding him in the endeavor was Eric Murphy who's been learning the ropes in an apprentice role, having started working at XCT as a 15-year old, a direct echo of Little John's own experience. "Eric actually did most of that bike's frame. Maybe someday he'll buy this shop from me and I'll head out to warmer weather and better roads in.
SoCal."Speaking of the bike's frame, totally chromed out to perfection, it carries a powder coated Ultima 124ci motor. "They are stout motors. We use a lot of them. We haven't been able to blow one up yet and we ride hard. Riding that bike is like riding a Porsche, it's so smooth." It also stops on a dime since Little John also fashioned the custom brake hardware base around Brembo four-piston units as well as the in-board rear brake setup. And about that air cleaner, that's a spaghetti strainer. Says Little John, "Hey, I thought it'd look cool and it also worked."
As for the paint job and swirling graphics, intricately executed by Lez Balestero, it's a series of orange candy set in layers over silver metal flake. Says Little John, "We're into that bright '60s flake look and in the sun the paint job really pops." How about those holes in the gas tank, yep, they do go all the way through.
Hennessey was commissioned by Chris Hurst who had seen Xtreme Cycle Tech's other bikes and basically said, "Hey, Little John build what you want to build." "I always have several finished bikes in my head. I can see the whole thing and at this point I had one bike in mind and this customer got that one. Call it luck of the draw. Then we hand tailored it to his physical specs so it fits him like a glove. I also added two little adjustable air-bags to the seat. You can add or detract air to your preference. Our bottom line is, if you can't ride it, why would you want a $30,000 coffee table. This bike's as comfortable as a bagger, just faster," said Little John.
| | |
| --- | --- |
| SPECS | |
| BIKE OWNER | Chris Hurst |
| SHOP NAME | Xtreme Cycle Tech (XCT) |
| SHOP PHONE | (630) 859-8497 |
| SHOP WEBSITE | www.xtremecycletech.com |
| YEAR/MAKE/MODEL | '09/Custom/Hennessey |
| FABRICATION | Little John |
| ASSEMBLY | Little John/Eric |
| BUILD TIME | Six Months |
| | |
| --- | --- |
| ENGINE | |
| YEAR/MANUFACTURER | '08/Ultima |
| TYPE/SIZE | Evo/124ci |
| BUILDER | Ultima |
| CASES | Ultima |
| CYLINDERS | Ultima |
| HEADS | Ultima |
| ROCKER BOXES | Ultima |
| CARBURETOR | Mikuni |
| AIR CLEANER | Spaghetti Strainer |
| EXHAUST | XCT |
| | |
| --- | --- |
| TRANSMISSION | |
| YEAR/MANUFACTURER/TYPE | '08/Ultima/Six Speed |
| CASE | Ultima |
| CLUTCH | Barnett |
| PRIMARY DRIVE | Ultima |
| | |
| --- | --- |
| FRAME | |
| YEAR/MANUFACTURER | '08/XCT |
| RAKE | 45 Degrees |
| STRETCH | 8 up, 4 out |
| | |
| --- | --- |
| SUSPENSION | |
| MANUFACTURER FRONT | Mid West |
| LENGTH | Six inches over |
| TRIPLE TREES | Mid West |
| MANUFACTURER REAR | None |
| SWINGARM | None |
| | |
| --- | --- |
| WHEELS, TIRES, AND BRAKES | |
| MANUFACTURER FRONT/TYPE | Weld/Billet Six Spoke |
| SIZE-HEIGHT/WIDTH | 21×2.15 |
| TIRE/SIZE | Metzeler/{{{90}}}/90-21 |
| CALIPER | XCT/Brembo |
| ROTOR | Weld |
| MANUFACTURER REAR/TYPE | Weld/Billet Six Spoke |
| SIZE-HEIGHT/WIDTH | 18×8.5 |
| TIRE/SIZE | Metzeler/240mm |
| CALIPER | XCT/Brembo |
| ROTOR | Weld |
| | |
| --- | --- |
| FINISH/PAINT | |
| COLOR | Orange candy/silver metal flake |
| PAINTER | Lez Balestro |
| GRAPHICS | Lez Balestro |
| | |
| --- | --- |
| ACCESSORIES | |
| FRONT FENDER | XCT |
| REAR FENDER | XCT |
| FENDER STRUTS | XCT |
| GAS TANK∩ | XCT |
| OIL TANK | XCT |
| HANDLEBARS | XCT |
| RISERS | Mid West |
| HAND CONTROLS | Brembo |
| FOOT CONTROLS | XCT |
| FOOTPEGS | XCT |
| HEADLIGHT | Drag Specialties |
| TAILLIGHT | Drag Speacialties |
| LICENSE MOUNT | Drag Specialties |
| SEAT | XCT |