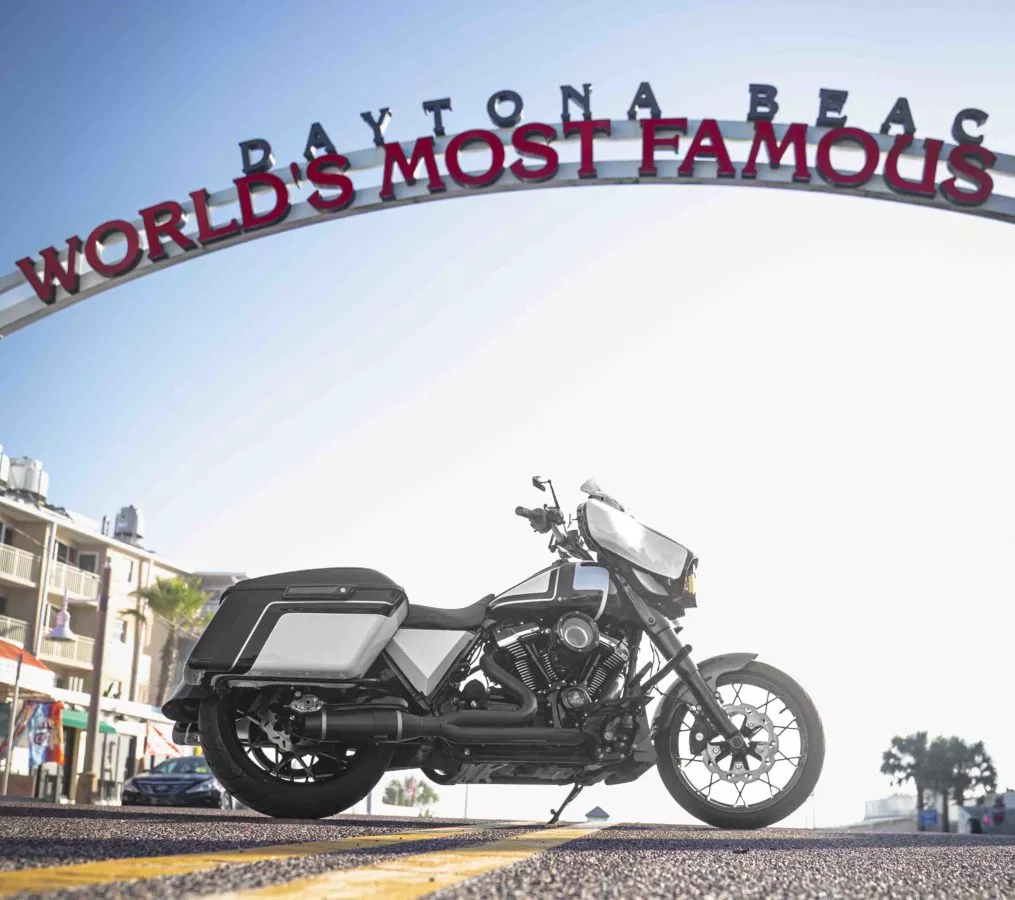 What's black and white and rad all over? No, not a newspaper. Does anyone read those things anymore? It's Dillon Hayslip's custom 2020 Harley-Davidson Street Glide.
Building a performance bagger out of a stock Street Glide was Dillon's ultimate goal. Yes, the Motor Company has come leaps and bounds with better performing baggers in recent years, but there is still plenty of work to be done. Like many riders in the V-twin space, taking a Harley bagger and retrofitting performance components to make it more functional was key. "It goes against the grain, which I like," Dillon says. Taking a stock bike and making it rip down the straights and handle the twisties like a pro is always the goal with performance, but doing so on a bagger affords the ability to still retain the functionality of comfort and storage. With Harley's current bagger lineup, cruising the interstates is not problem. It's when you want to tear up the backroads that the Touring Model family falls a bit short.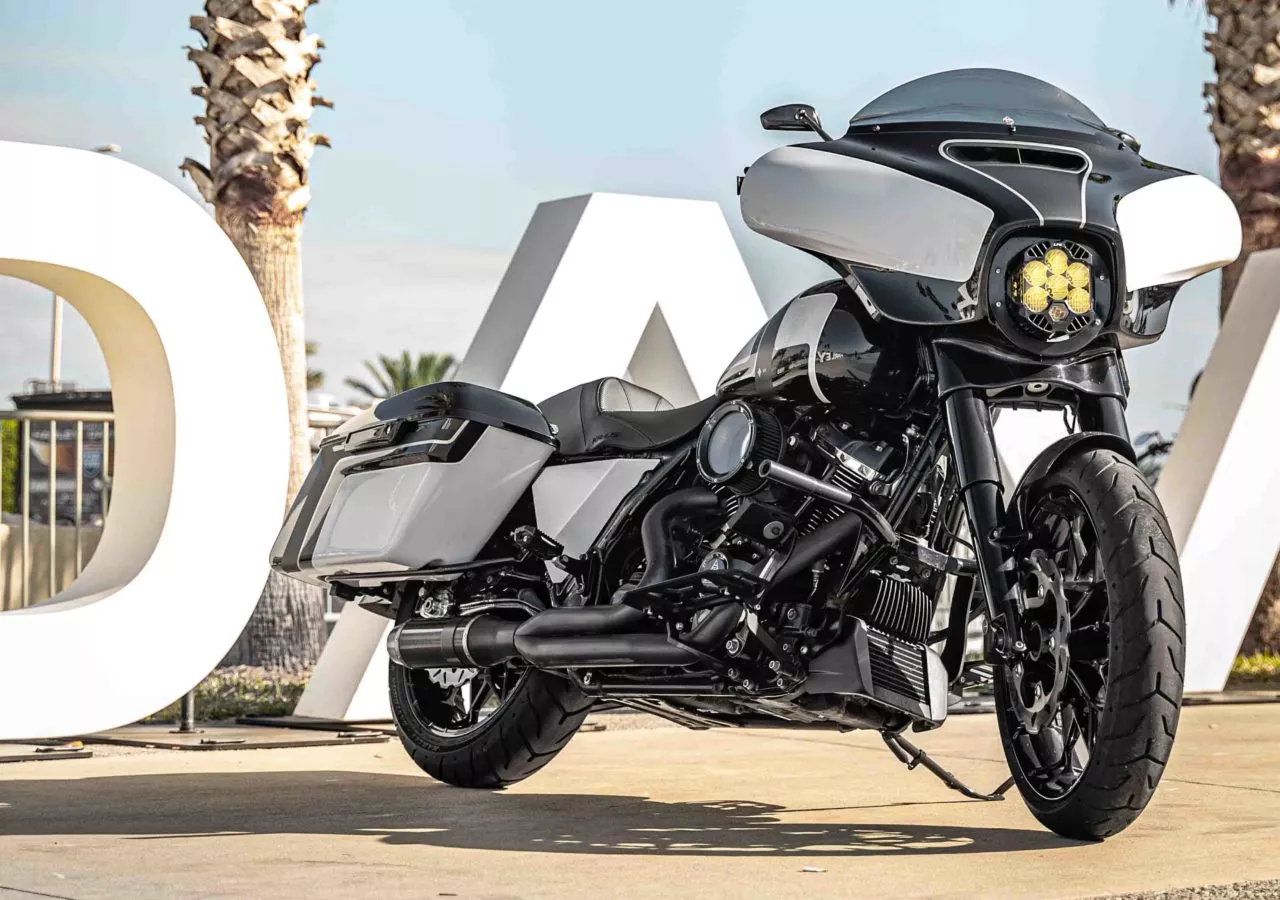 "My previous bike, a 2011 Street Glide, was the opposite end of the spectrum as far as performance goes and I became increasingly frustrated with the limitation of that build," Dillon says. But as the whole performance bagger scene started to take shape  Dillon felt like it was exactly the direction he wanted to go. Dillon's pal, Chris Newkirk, had been building performance baggers for a while. "He gave me the nudge in the right direction years ago and his Road Glide build really inspired me to make the right changes with mine."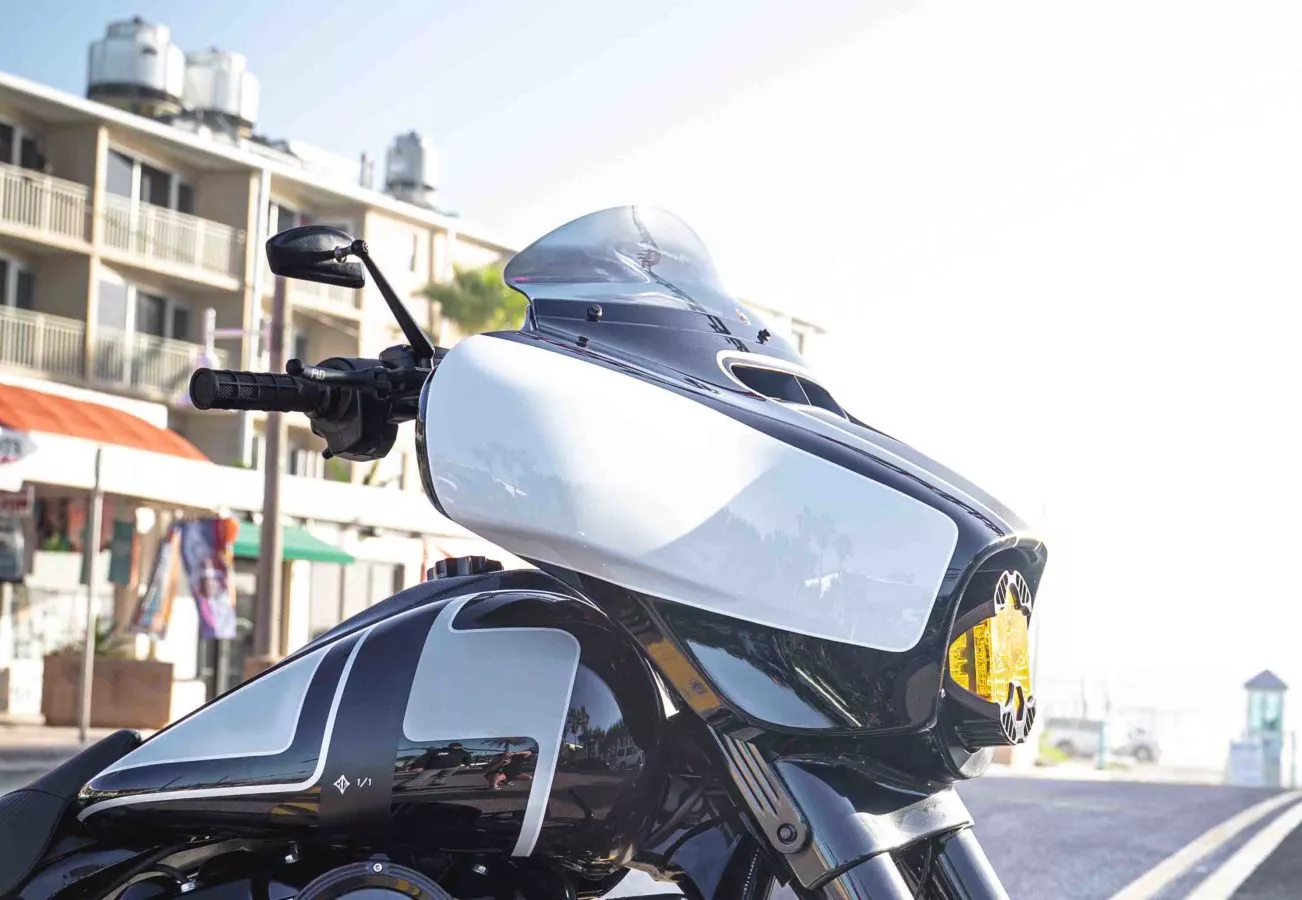 Dillon digs the functionality and versatility of performance baggers. "I think the goal for most of the people doing these builds, including me, is to create a bike that not only looks good, but is also reliable and can perform [well] if you're an aggressive rider." And perform it does. Dillon went with a S&S Cycle 475 Cam Chest Kit tuned by Horsepower, Inc. in Indianapolis. He also added a +2 Legends AXEO Front suspension setup and Legends REVO Arcs Rear shock setup.
As with every build, there are always challenges. The rear fender setup and the wiring involved with the rear lights on this Street Glide was Dillon's achilles heel on this project. There was a lot of trial an error and luckily some great help from Kyle Bertsch, owner of Forever Rad, where Dillon pulled the inspiration from. And then of course there's always the tireless scouring of the interwebs in search of the perfect products for your project. "What goes unnoticed is the countless amount of hours that goes into keeping up with new innovative products in this market, researching the products and finishes in order to make sure the parts and colors flow and complement each other throughout the entire bike," Dillon says.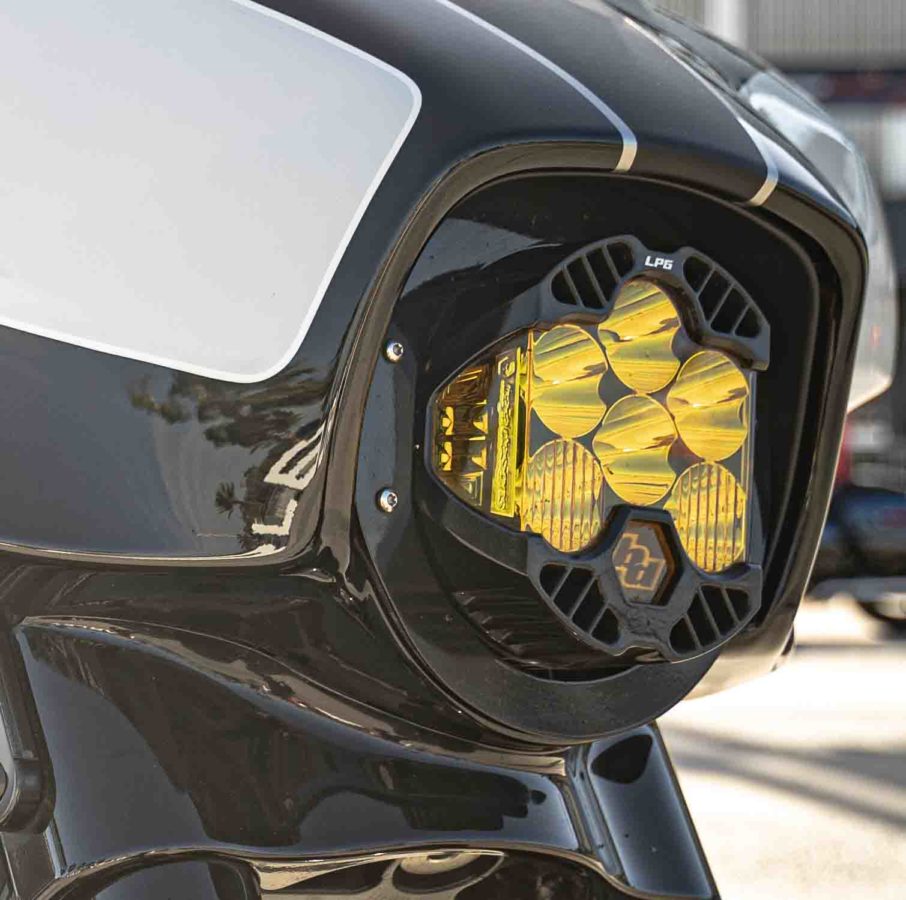 We especially like Dillon's custom Street Glide because he just a passionate dude that wanted to build his own killer bike. "I want to be clear that I wouldn't consider myself a builder. I didn't ride my first motorcycle till I was 29 years old, a 2006 Harley Night Train and I made it all of 15 feet before I dropped it! I took a riding course and the rest is history. I am probably an above-average Harley enthusiast, at best. If I can inspire one person to take on riding or wrenching on one, that is a win for me. I've always had creative side in me and tossing around ideas and exploring the different options to build the 'look' is rewarding. But with that said, I believe if you want to learn something, do it yourself, its cheaper lol.  I'm more tech savvy than I am mechanically and I've had my share of mistakes working on the bike over the years and it's been a learning experience and this bike will be my first of many.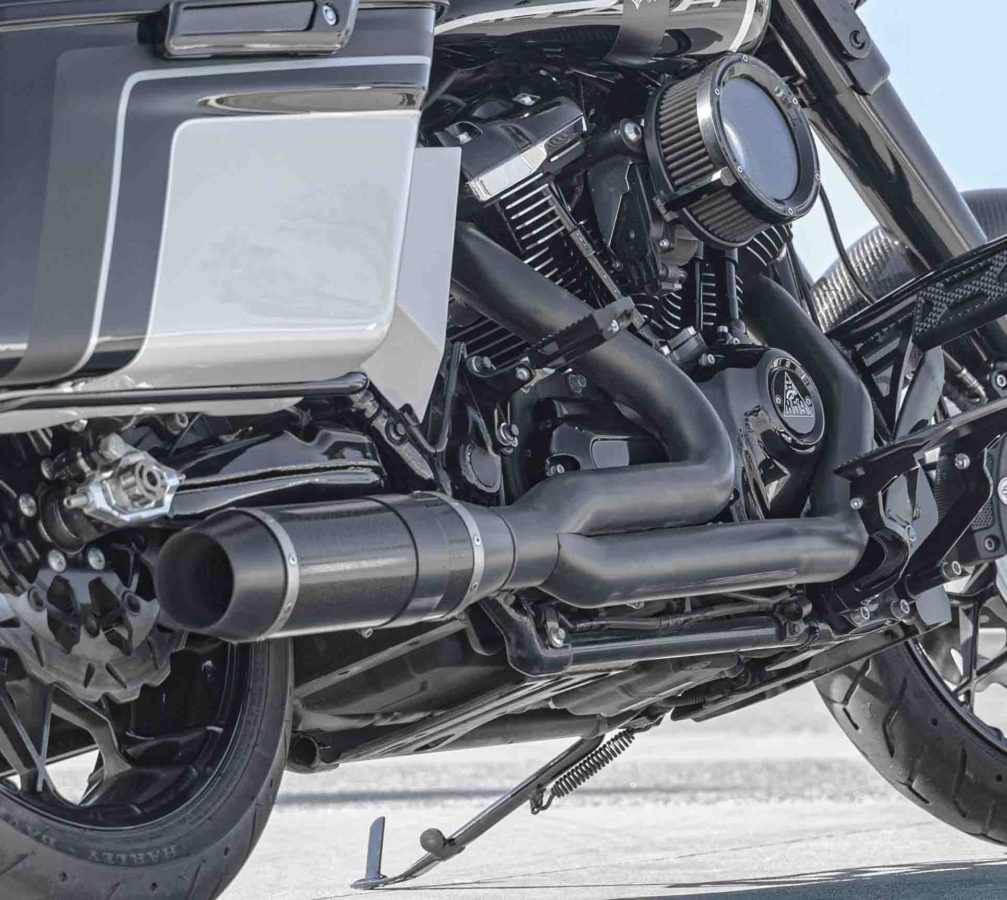 Clearly there are plenty of custom parts galore on Dillon's Street Glide. He added the following accessories: 5.5" Klock Werks Dark Smoke Windshield, 10" Kraus Risers w/ Fly Moto bars and Hart Luck ODI Grips, Kraus Seat by Saddlemen, FLO Motorsports Clutch and Brake Levers, Galfer Wave Rotors front and back, SBC Performance Race Series Floorboards, Screamin' Speed & Fab's FXR style side covers, Hofmann Designs Carbon Fiber fenders and dash, Arlen Ness's Tearchop Mirrors, Baja Designs LP6 Led headlight setup, custom rear light setup using Kuryakyn Kellerman Atto lights, plate holder by CMP Motorcycles.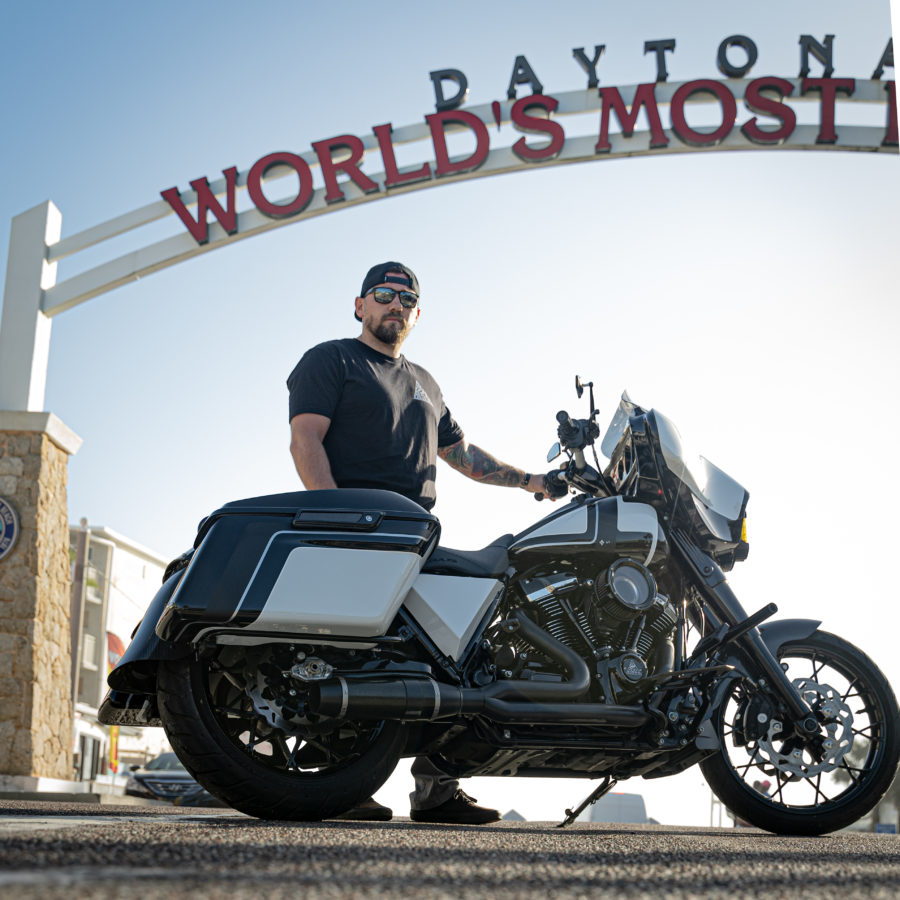 When we asked Dillon what the most rewarding part of the overall was for him it was simple. "The paint scheme," Dillon says. "I put pencil to paper drawing out different schemes for a few several weeks, from the fairing to the bags. Handing those renderings to my painter and working closely with him through the process and to see it come to life was really rewarding to me." Once the renderings were complete, he handed off the tins to KC Elkins at Krossover Kustoms to bring Dillon's dreams to reality.