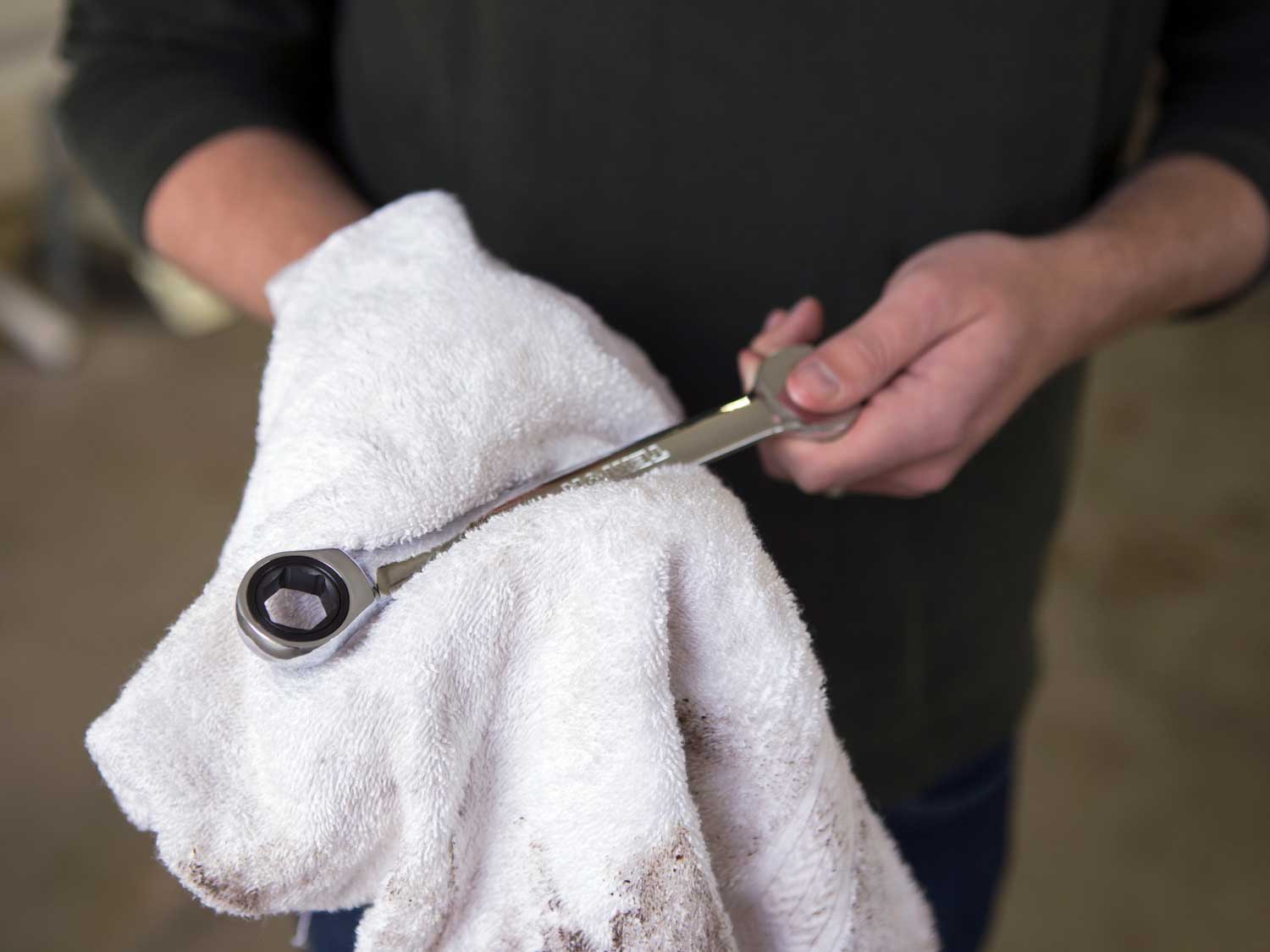 A good shop rag or towel is so often an underrated item in the workshop. Dirty, nonabsorbent rags don't make for clean surfaces, which is why you should always invest wisely in your cleaning supplies. We all know that cleaning up messes in the garage with budget paper towels simply won't cut it when the grease and grime is more hardcore than your average kitchen crud. And don't even think of "skimping" and using toilet paper when there's nothing else around. Instead, pick up a pack of heavy-duty reusable or disposable towels to get the job done right. You won't have to spend a lot, and you'll thank yourself when you knock over that used oil container…again.
The Use-Anywhere Reusable Option
Looking for a pack of towels that will absorb spills quickly, and that dry fast? If so, these 100 percent cotton towels from Utopia provide both of those desirable traits, and more. The 12-pack of towels are made from the highest-grade natural cotton, and are free from harmful chemicals and synthetic materials, so they can be used on just about any surface. Use these around the garage, shop, or in the house, but whatever you do, don't throw them away when you're done cleaning! They are machine washable, and can be reused to eliminate the hassle of having to constantly restock.
Heavy-Duty Paper
These are no mere limp and scrawny paper towels, Scott shop towels are strong and durable, and can take on grease, oils, and spills in the garage head on. Each roll of 55 towels comes in handy whether you're changing your bike's oil, refilling any essential fluids, or needing any kind of quick cleanup. Messes happen in the garage quite often, and cheap paper products just aren't up to the challenge. If washing and reusing rags or towels just isn't your thing, Scott's shop towels are definitely the way to go to keep your garage or workspace tidy between jobs both big and small.
Commercial-Grade Cleaning Power
If you work from a home garage, this Simpli-Magic towel pack is definitely the way to go. Split them up between the house and garage, and you'll be set no matter where you happen to be in your castle. Use them in the kitchen, gym, and, of course, the garage. They were made to be washable and durable to clean up tough messes.
Absorbent And Fast Drying Power
Capture dirt and dust better than any other cleaning cloth you may have used in the past with this Polyte Microfiber Cleaning Cloth 24-pack. These microfiber towels have been infused with ultra absorbent properties that help clean up virtually any hard surface without worrying about leaving unsightly scratches behind. So not only can these be used to clean up messes, they can also handle more delicate surfaces like your bike's painted parts and other finished pieces. Also use these 12×16-inch towels to clean glass with a streak-free shine. This might be one of the most ideal multipurpose cleaning solutions around.