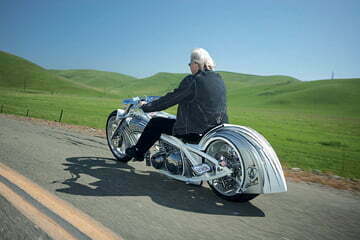 There are maybe a handful of bike builders on the planet who come close to Arlen Ness when it comes to talent and experience. Maybe. Of those elite few, I don't know of any other who has three generations of family running the shop. That's another first (among many) Arlen can add to the list. His son Cory built his first Sportster custom at age 15, Cory's son Zach followed suit when he turned the same age, and now all three lead one of the most famous and successful custom motorcycle businesses in the world.
Not only is Arlen Ness' name a hell of a legacy for his progeny, but it's the start of a dynasty created from chrome, fire, steel, and innovation. I got ahold of each of them to talk about the four-decade journey that made that dynasty possible.
Arlen Ness
HB: It's cool that you have three generations of Ness at the company. How often do you have to beat the other two over their heads to make things run right?
AN: Actually, not a bit. Cory runs everything nowadays—has for 15 to 20 years. He's over Zach. Everyone has their own thing to do. I get to fool around doing PR stuff, building a few bikes, and I deal with the banks.
HB: All kidding aside, the three of you came into bike building at very different stages of its history. You were there for all three. How was training up Cory different from the way you learned? How was training Zach different from you or Cory?
AN: Both of them were brought up around motorcycling. They built their first bikes at age 15. They used what we were doing at that time in our careers stylistically then developed their own style; that's how we get a lot of our new products—from their building their own bikes.
HB: If you'd known back in the 1960s and early 1970s that your son and his son would follow in your footsteps, how would you have prepared them?
AN: Well, I learned on the seat of my pants, by trying stuff. We had a lot of parts when they started. I think the peanut tank was a big deal back when I was starting out.
HB: What's the most rewarding part of having them involved so heavily?
AN: It's great. We get along good. We ride to Sturgis and do all the events together. Cory and Zach went to Verona, Italy, recently. Zach couldn't walk two steps there without people stopping him because they were playing his TV show [Let It Ride on National Geographic] there. We've been in business a long time, have the passion for motorcycles, love the business, and motorcycle people are great, fun people. The last 40 years have been pretty darn good.
Cory Ness
HB: What's your earliest memory of working with Arlen in the garage at home or the shop?
CN: I remember helping him with prepping paint jobs, assembling our springer front ends, and modifying our Sportster exhaust clamps for extra money. I was probably 10 or 12 years old.
HB: At what point did you first realize you wanted into the business?
CN: Although I worked for my dad since I was in junior high, I didn't decide on a career with the family business until I got out of high school.
HB: Tell us about your development as a bike builder.
CN: My first project was a motocross bicycle. I took it apart and custom painted it when I was about 10 years old. Then I built my first Sportster when I was 15. That's when I learned how to get my hands dirty. Since then, I have generally built one or two bikes a year. I spend more time now developing products for our business. That's the best part of the job.
HB: How was growing into the builder you are now different from Arlen's and Zach's evolutions in motorcycle creating? What advantages did they have in that regard? What advantages did you have that they might not have?
CN: I think each successive generation has had more tools and assets to work with. We have all learned from prior generations. My dad had it the toughest. He didn't have the money or a teacher to help him. He had to figure it out on his own. I was fortunate to have a good teacher in my father. I could ask him questions then I would do it myself. Zach has the benefit from learning from both of us. We have a lot of knowledge to share. Zach is a smart guy and will use it to his advantage. He is capable of taking the business to the next level.
HB: How did Zach's first Y2K build come about when he was 15?
CN: He wanted to build a bike and get his hands dirty. Our Y2K builds were very successful and seemed to be a good place to start. Zach built it at home in my garage. I made him wait until he was 15. That's when I built my first one.
HB: As Zach gets more and more involved, what challenges await him in the industry that he might not have foreseen?
CN: Zach is capable of taking this to the next level. He did well in college, has the passion for custom bikes, and he just gets it. His only challenge is staying focused on what's best for the business.
HB: How did Arlen prepare you for the business side, and how are you bringing that experience to your son?
CN: My dad taught me to always do the right thing. Do what you commit to; be nice to your customers and staff. Basically have good common sense and have passion for what you do. So far it's worked pretty well. I love my job and my life!
Zach Ness
HB: Tell us about that first custom bike you built when you were 15. What roles, if any, did Cory and Arlen play in it? How did they react to the finished motorcycle?
ZN: My first custom bike that I built at 15 was a full custom chopper based on a Ness Y2K 8-inch-up frame. It had a 250mm rear tire and custom sheet metal from front to back. I built the bike in my dad's garage; both my dad and G-pa would give advice and instruction when I needed help. They would teach, but they wouldn't touch. I had to build the entire bike myself.
When looking back I can remember their reactions, and they were proud reactions. That really meant a lot. Our family isn't really too vocal about emotional stuff or heavy on the cheerleading…
HB: At what moment did it click that you wanted to be a part of the family business?
ZN: I would say the moment I turned the last bolt on my first bike and finally was able to ride it down the street. Building something with your own hands that you designed yourself was a satisfaction that I never felt before.
HB: What's your greatest strength as a builder?
ZN: That's hard to say because I still have a lot to learn. If I had to say something, it would be diversity and performance/ride ability. A lot of builders are always stuck to one style, and they never leave that realm; I am always excited to build a different style and dig into each style the best I can.
HB: What area do you feel you need to work on, if any? Why?
ZN: Everything—you can never stop learning. You can always better yourself.
HB: Tell us about training up. Did they make you do all the shit duty first?
ZN: Yessir. At about 13 I started sanding frames and sweeping floors in the warehouse when pops would bring me to the shop. From there I moved to packaging and assembly where we packaged and built all our products. I worked every summer from age 13 to 16 in the warehouse, and once I turned 16, I could drive myself so it turned to weekends and summers. I moved from retail parts counter, phone sales, production bike assembly, to I think almost every area in the company. These days I spend most of my time designing and creating the Ness catalog, heading up the marketing department, and working with my dad designing the Ness product line.
HB: How do you, Cory, and Arlen share duties these days?
ZN: My dad is the headman in charge and the flat-out leader of the company; it all funnels down from him. G-pa is still the core, but he is less involved in the day-to-day business. He spends most of his time working on his multiple builds, and he still turns out product ideas. I head up marketing, catalog, and work with my dad on the product line. We all share the responsibilities and do a lot of traveling.
HB: What sort of motorcycle experiences did you have as a small kid? Any dirt bikes or racing?
ZN: I was into dirt bikes at a very young age—no serious racing, just recreationally. Besides the dirt bikes I was just always around motorcycles because of the family business.
HB: When did you become a Hamster?
ZN: At 18 years old.
HB: What are your father and grandfather like as bosses? What are the greatest lessons you've taken from each of them so far?
ZN: They are pretty cool bosses to have; they know how to lead by example instead of ordering tasks or laying down a set of rules. Most bosses act like they are above you. They treat and talk to me like I'm an equal; they take my opinion into account in our discussions. For a younger guy involved in a larger company that is pretty rare.
I've learned so much from the both of them it's hard to say. I'll mention a few things.
My dad is extremely intelligent and has built this business to where it is today. He has style and the passion, but he can keep levelheaded and calm when a tough decision needs to be made. Ego can control a man and lead to a non-informative decision… Sometimes the decision won't be glamorous or flashy, but it's the right decision. Many times when I'm fiery and ready to go all out on a part or subject, he brings me back down to earth and teaches me how to think before I act. I learn more and more from him every day.
Grandpa… There is not a single person I have ever heard say a bad thing about him. He is someone who I strive to be like; he teaches me who I want to be as a person. He is living proof that nice guys don't finish last and treating people with dignity and respect will bring you far in life. He is a hardworking man who came from nothing to being the best to ever have done it. He never follows the crowd and has set countless trends. Without him the motorcycle industry wouldn't be where and what it is today. He is the undisputed king, but no matter how much he has achieved he has time for everyone no matter who it is.
All in all I'm very lucky to have both of them in my life. I probably don't let them know that enough.