Yes, it's true. Robert "Evel" Knievel's dream of creating a museum to "house his life's memorabilia" is now a reality. As early as 1976, Knievel announced his plans to build a museum. Surprising to many, the Evel Knievel Museum is not located in Butte, Montana (Knievel's hometown); nor is it in Las Vegas, Nevada (the venue of his infamous Wide World of Sports Caesars Palace jump). It is, in fact, in Topeka, Kansas. And when you hear the story of "Why Topeka," Topeka, Kansas not only makes sense, but it leaves museum attendees wondering if Knievel's influence from above isn't as powerful as his earthly impact that created an enthusiastic generation of thrill-seekers and daredevils, inspired the X-Games, and earned him the irrefutable title of the "Godfather of Extreme Sports."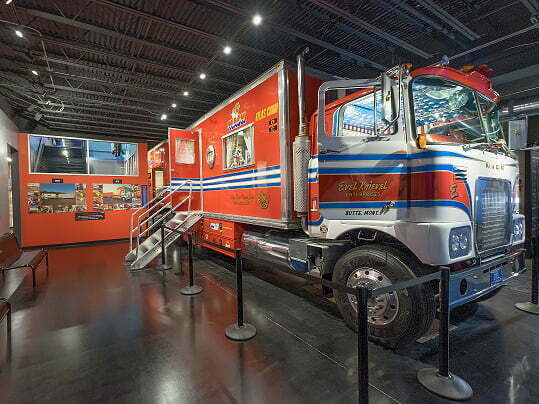 One of the best stories yet, was that George "Joie" Chitwood (of the Joie Chitwood Thrill Show) got his racing start right here at the Topeka Shawnee County Fairgrounds, less than 100 yards from the home of the Evel Knievel Museum. Following Chitwood's racing career, which included seven Indianapolis 500 races, the Joie Chitwood Thrill Show made a chance visit to Butte, Montana in 1953. 15-year-old Bobby Knievel was in the stands that day, and as they say, the rest was history.
Fast-forward nearly six decades to 2012. Lathan McKay, a young professional skateboarder inspired by Evel Knievel, had grown up admiring Knievel as the quintessential fulfillment of individuality and the American Dream. What started as a purchase of three sets of Knievel's leathers turned into a four-year venture collecting Knievel memorabilia across the country. "This museum is the fulfillment of a dream for many people," says actor, producer and entrepreneur, Lathan McKay. "It's been an arduous but magical road." He termed the worldwide hunt for Knievel memorabilia, "Evel Archaeology."
Shortly after his quest began, McKay personally met the Knievel Family, including Alicia Knievel Vincent, Evel's youngest daughter, who was also present at today's Ribbon Cutting. She shared with the crowd, "He always wanted a museum. We looked at sites together all across the nation. I want to thank everyone who made his dream a reality. I wish my dad could see it."
After meeting the family, McKay was further inspired to preserve Knievel's legacy, and took his quest to a new level, adding "Big Red," Knievel's '74 Mack Truck to his collection in 2013. Due to their outstanding work on Jerry Lee Lewis' 1959 Harley-Davidson Panhead, the Lewis family will later recommend contacting Historic Harley-Davidson (Topeka, Kansas) for "Big Red's" restoration. In the meantime, McKay's quest for preserving Knievel's legacy has become a passionate, full-time venture. The idea for building an Evel Knievel Museum developed as the partnership between Patterson, McKay, Historic Harley-Davidson and the Knievel Family grew, along with McKay's collection.
Patterson states, "Our vision grew quickly alongside Lathan's collection, which was both sizable and significant. We knew we had something the World would want to see, and we had to do it justice. We had one shot at this, and we were going to do it right." Patterson's commitment included reserving 13,000 square feet of the dealership's 16,000 square foot expansion for the Museum. "As more items surfaced, we dedicated more space to the Museum; we even reconfigured the floorplans to accommodate several special items we received toward the end. It's been an amazing journey, and we're thrilled that the time has come to share this incredible collection of American history with the world."
During its two-week, soft opening the museum has earned 5-star ratings on both Trip Advisor and Facebook, with rave reviews from self-proclaimed Knievel enthusiasts. Patterson is honored and humbled by the accolades, "When you have race fans, drivers, riders and enthusiasts who grew up watching and loving Evel Knievel telling us they have goosebumps and are definitely coming back, we know we have hit the mark. You can't measure how much those comments mean to us."
Forty-six percent of visitors have come from outside of Kansas, including thirteen states and four foreign countries (Australia, Germany, Sweden and Switzerland). Patterson is thrilled, stating that it supports the state and city's tourism vision and commitment to enhancing our community as a destination. "People are coming. They've called us, messaged us, and emailed. Just yesterday a gentleman from England bought two VIP Tickets to the Grand Opening Celebration, which will be the end of June. Guests have told us they specifically drove I-70 so they could stop and see the Museum. It's great to hear those stories."
The Grand Opening Celebration will be June 30 and July 1. Patterson shared that the Celebration is being held to honor Knievel's Family and Crew. Special activities will take place all weekend. "It's an opportunity to thank them, hear their personal stories and celebrate Knievel's legacy and the impact he had as an American icon. This is really a once-in-a-lifetime event, and it's only a month away. It still feels a bit surreal."
Tickets are limited and can be purchased online.
https://www.eventbrite.com/e/evel-knievel-museum-grand-opening-celebration-tickets-34710397734
When visitors come they can see Evel's motorcycles, including the original sheet metal painted by Evel's artist, George Sedlak. On display is the X2 Skycycle launched at Snake River Canyon, perched on Evel's ramp and installed over dirt brought in from the original location. Peek inside "Big Red," Evel's traveling rig and dressing room, resplendent in red, white & blue metal flake vinyl in the original stars and stripes motif. Another centerpiece of the collection is Knievel's 1966 Bell Star helmet worn for the Caesar's Palace jump. Hidden from view for decades, it's still beautifully battered and likely saved his life that day.
Visitors can view clips of Evel's Hollywood stints in a 1970's-era movie theatre complete with marquee and costumes. Giant touch screens target Knievel's broken bones, connecting injuries to the jumps that caused them with video of the actual events.
Museum guests can experience the rush of being a daredevil through the 4D Virtual Reality Jump Experience. Put on the virtual reality goggles and pilot a jump bike mounted on Evel's actual jump ramp. This immersive jump experience is complete with rushing wind, and a rumbling motorcycle.
Bike enthusiasts enjoyed seeing the "Knievel"-styled red, white and blue BriggsAuto.com Flat Track racing team bikes, which were also on display today. Russ Briggs is a founding board member of the Museum.
After four decades in the making, the Museum is a fitting tribute to confidence, individualism and epic courage—characteristics that describe the bold life of Evel Knievel. The Museum is like Knievel himself; there's no describing it, you simply have to experience it!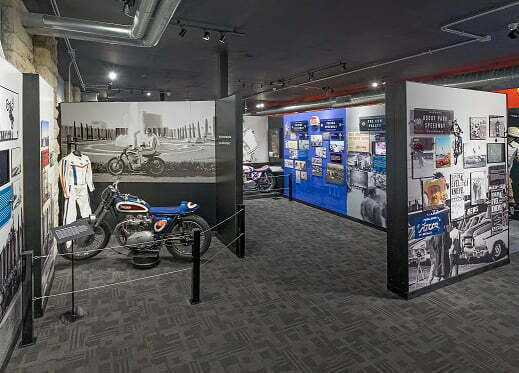 About the Evel Knievel Museum
A permanent tribute to an American icon, this new facility is the preeminent destination for would-be daredevils and dreamers of all ages. After three years of "Evel Archaeology," collector Lathan McKay joined forces with Historic Harley-Davidson owner Mike Patterson who added 16,000 sq. ft. to his dealership to establish the Museum.
About Historic Harley-Davidson
Historic Harley-Davidson of Topeka is a third-generation franchised Harley-Davidson dealership located in America's heartland. Established in 1949, it's among the ten oldest family-owned dealerships in America and prides itself on straightforward transactions and unparalleled customer service. Including Henry's Grill, H.O.G. village, and now the new Evel Knievel Museum, it's a don't-miss stop on your next road trip.
Historic Harley-Davidson, 2047 SW Topeka Blvd., Topeka, KS 66612, 785-234-6174, www.historicharley.com
About Evel Knievel
Robert "Evel" Knievel was an American pop-culture icon who made headlines from the mid '60s to the early '80s for his daring motorcycle jumping and risk-taking attitude. A man of unabashed courage and brashness, he derived as much fame from the jumps he failed to make, and the injuries he sustained, as the many he completed. The ultimate daredevil, his fearlessness was imprinted on the imagination of the generation that witnessed his antics and inspired the next one who regard him as the godfather of extreme sports.