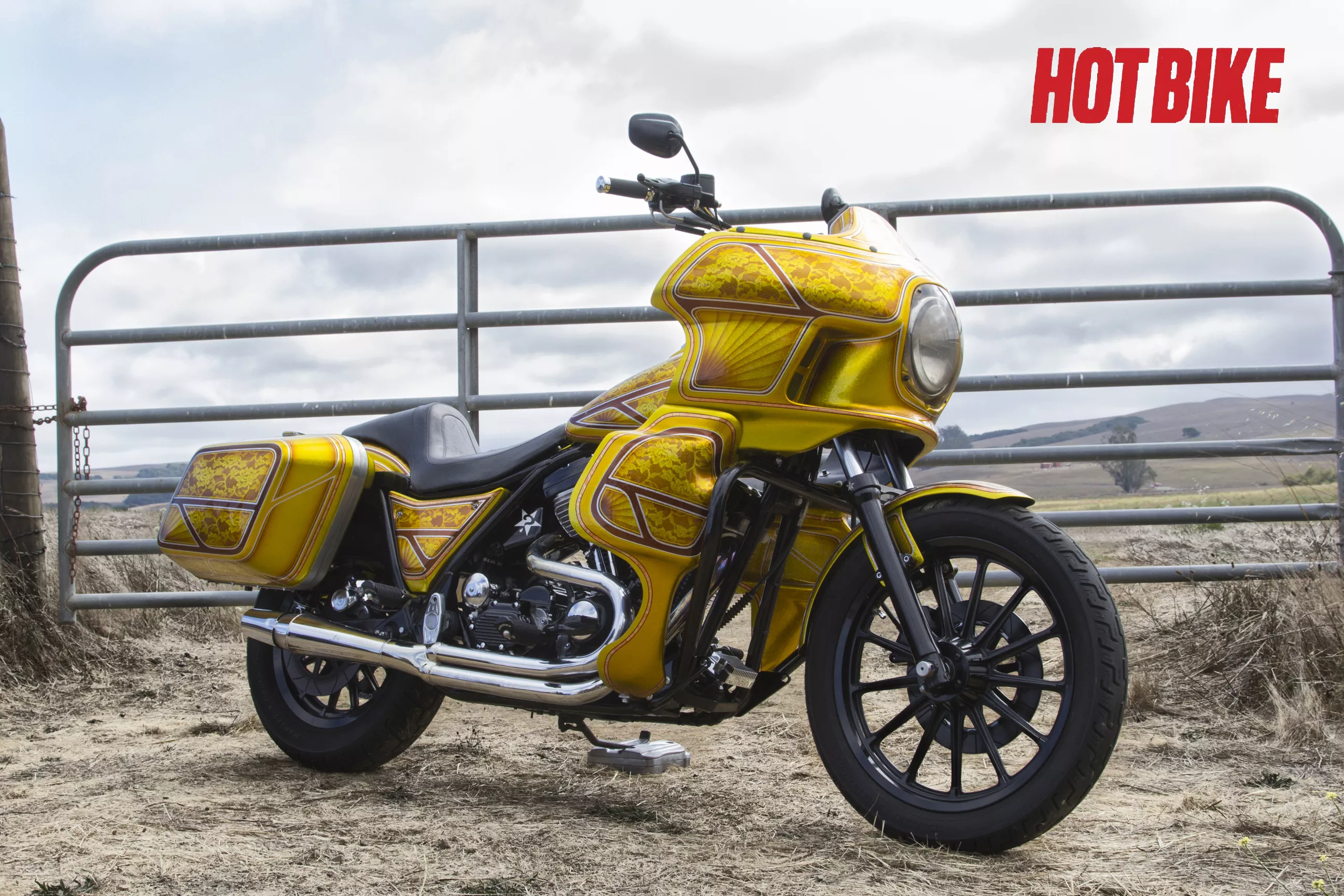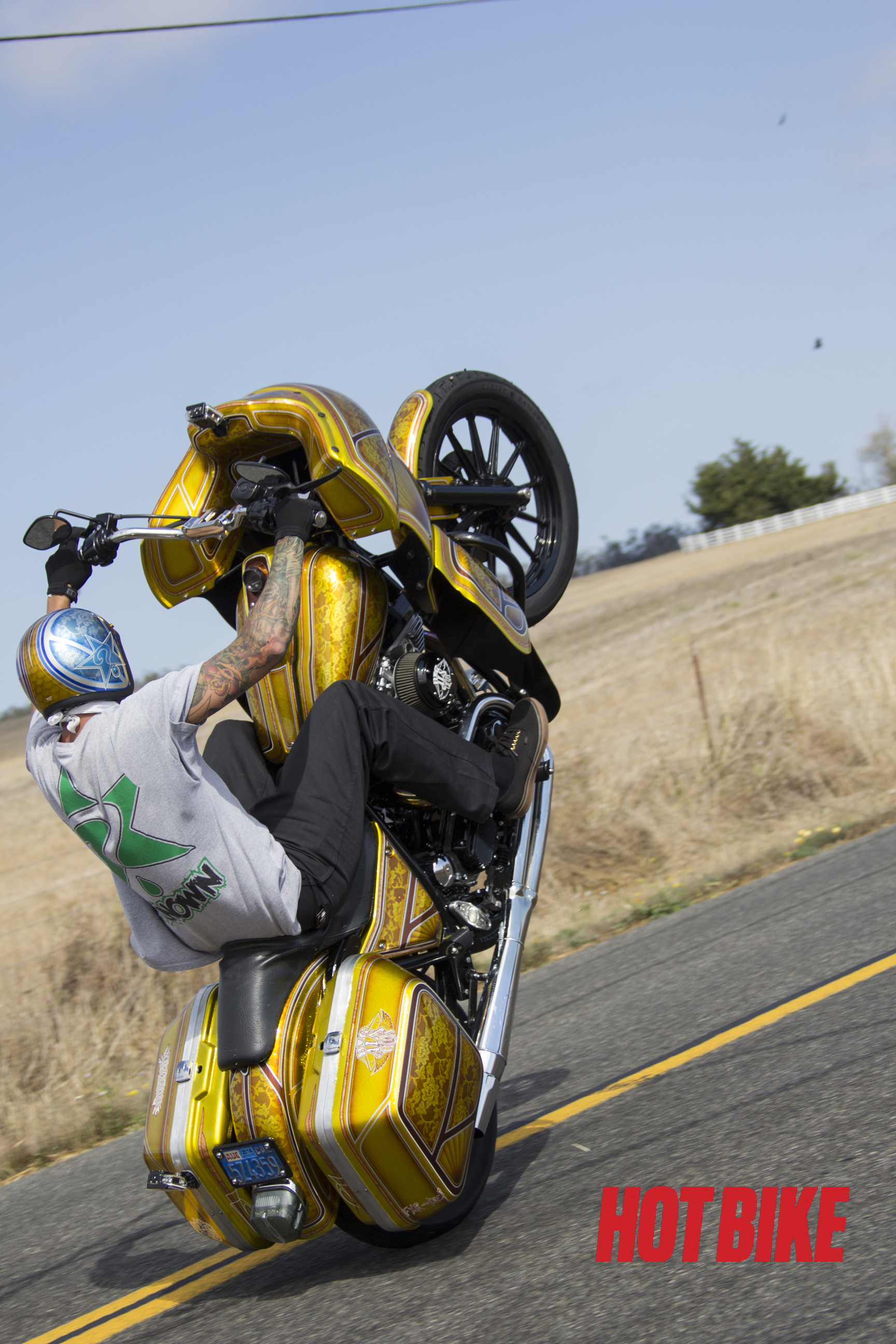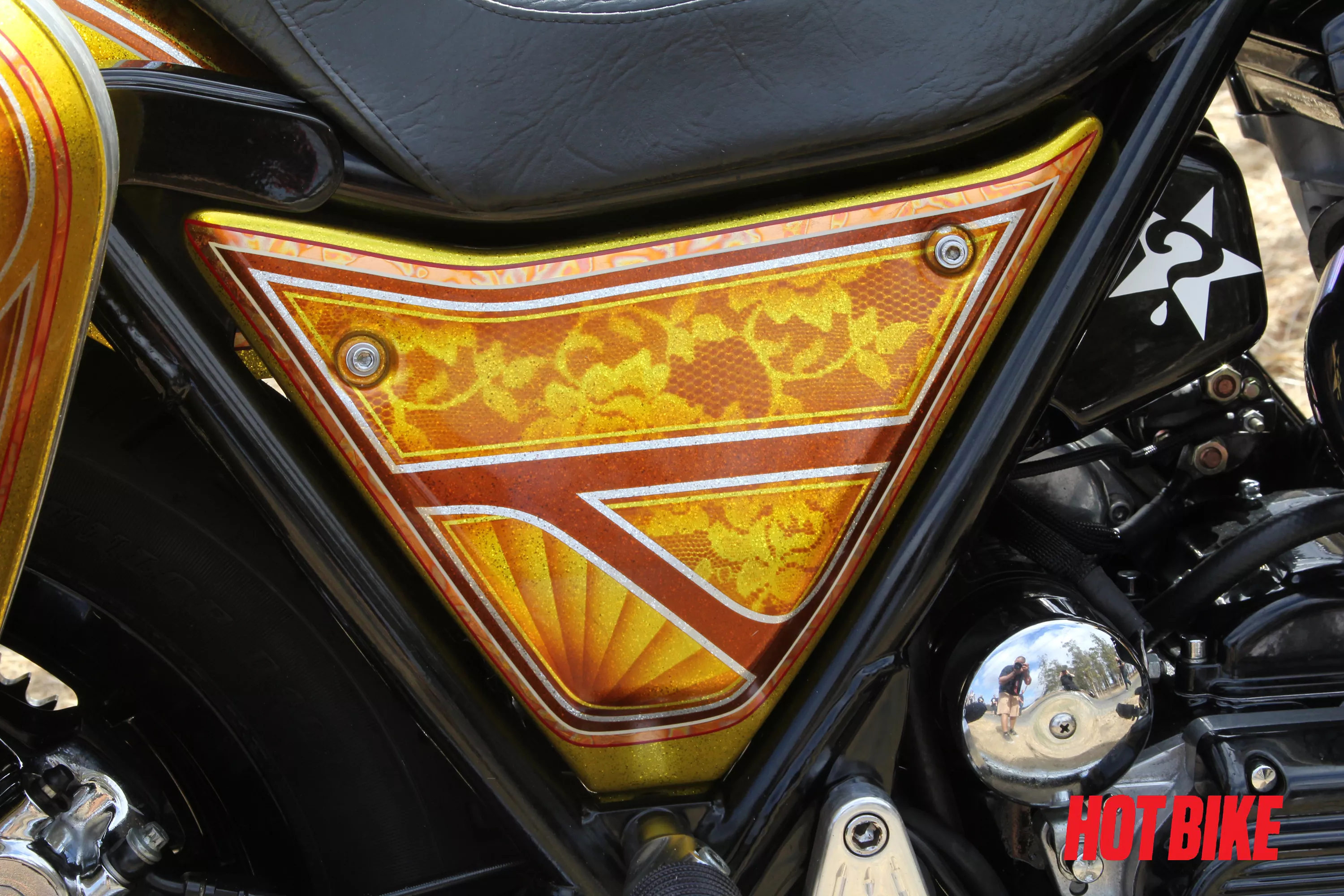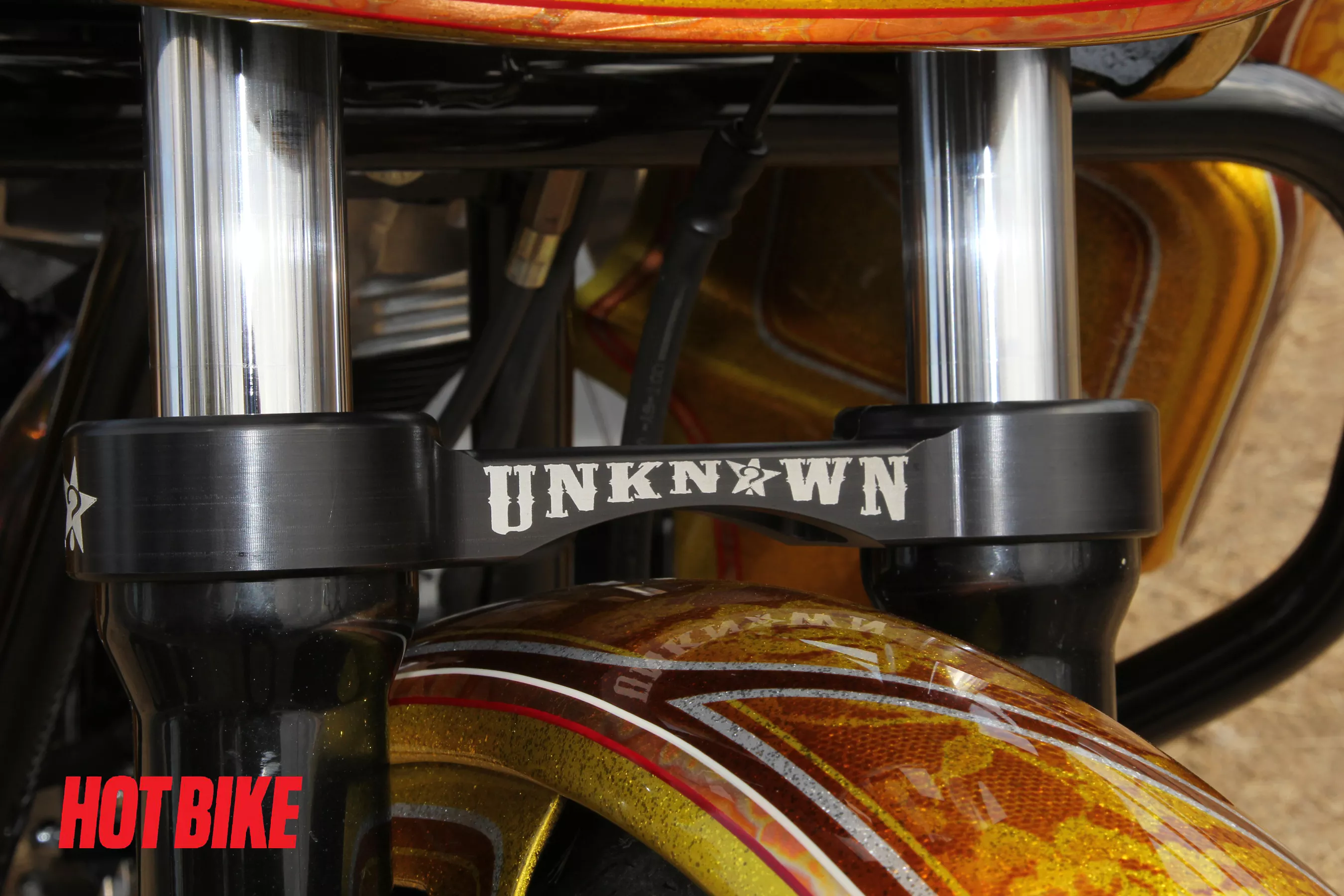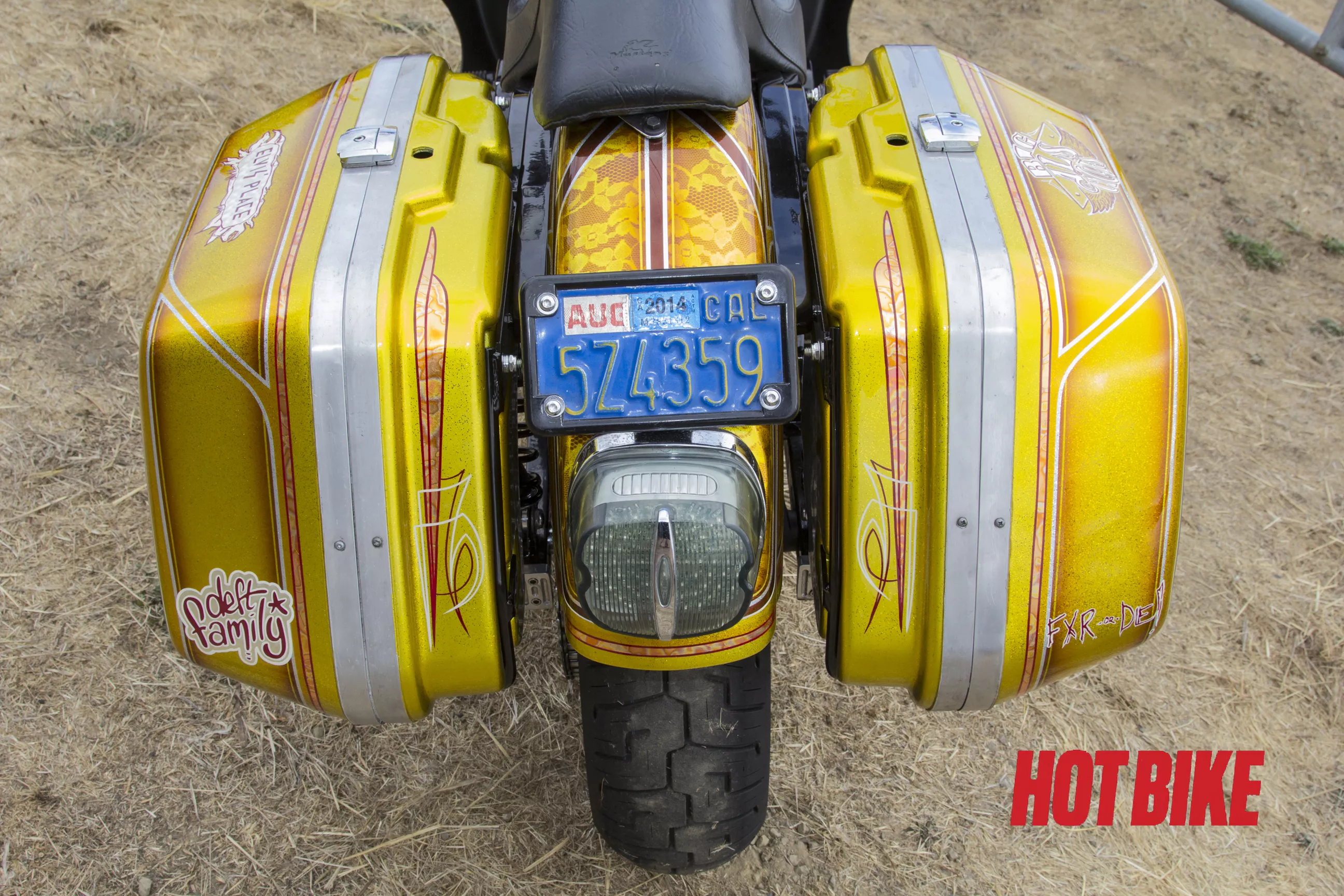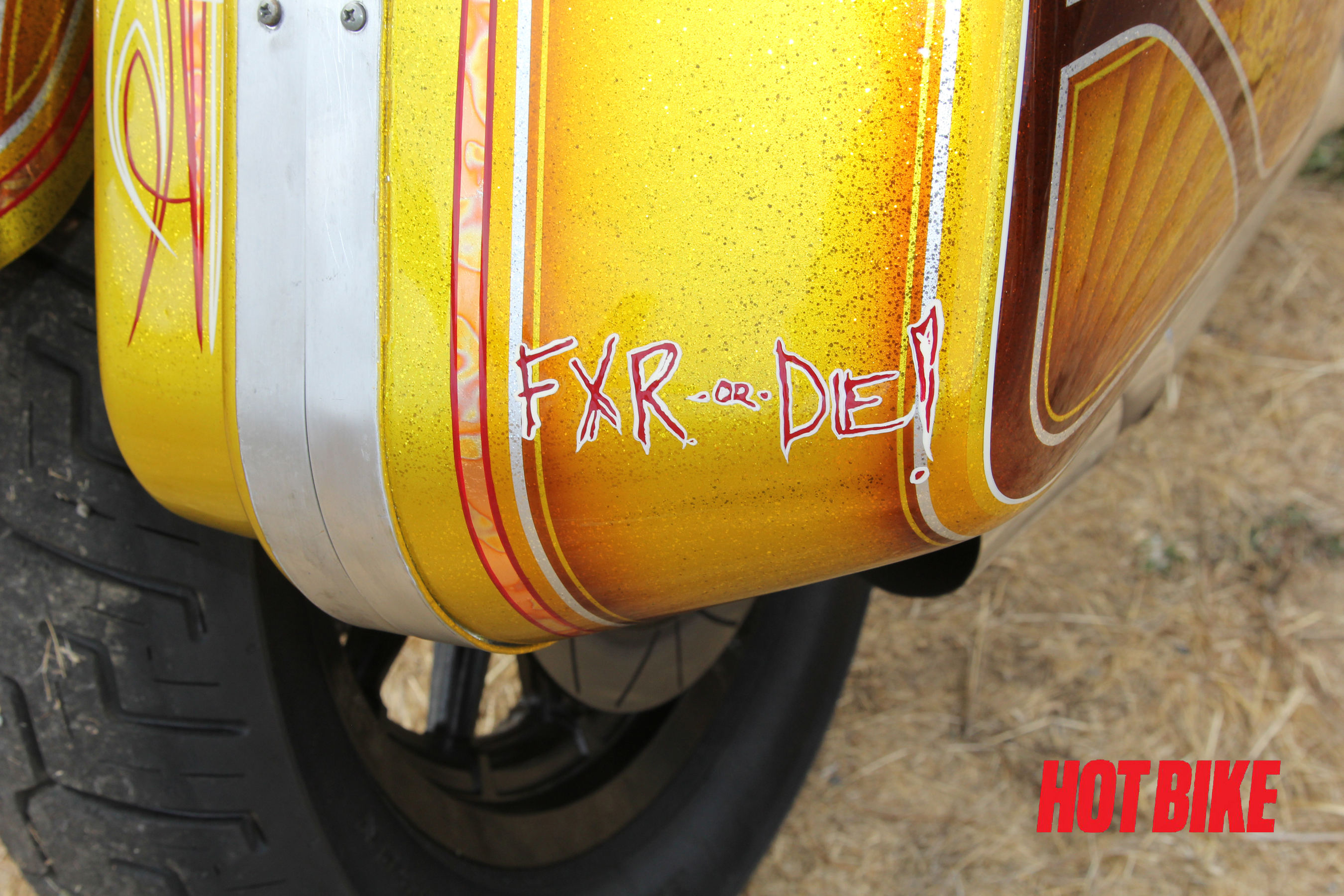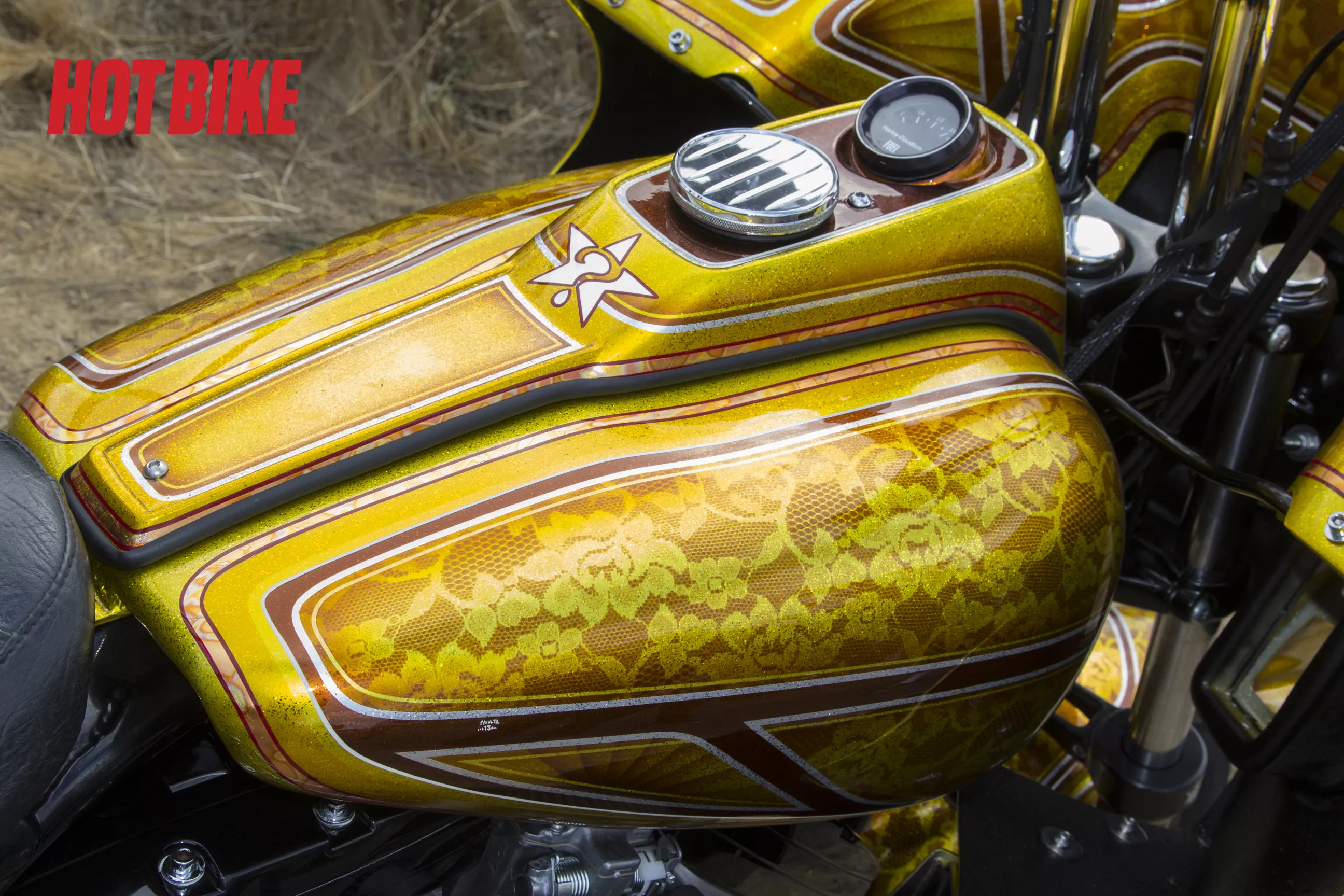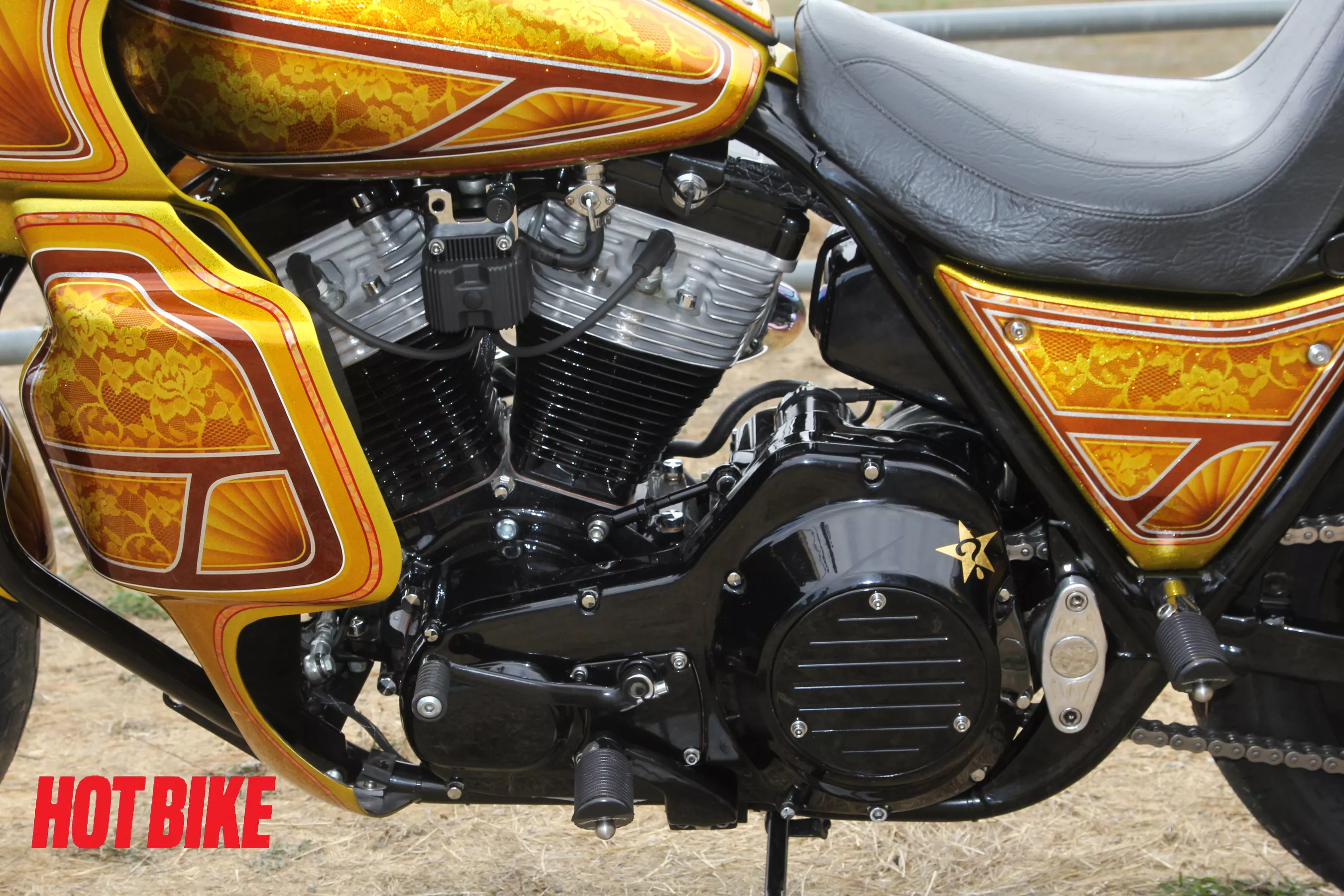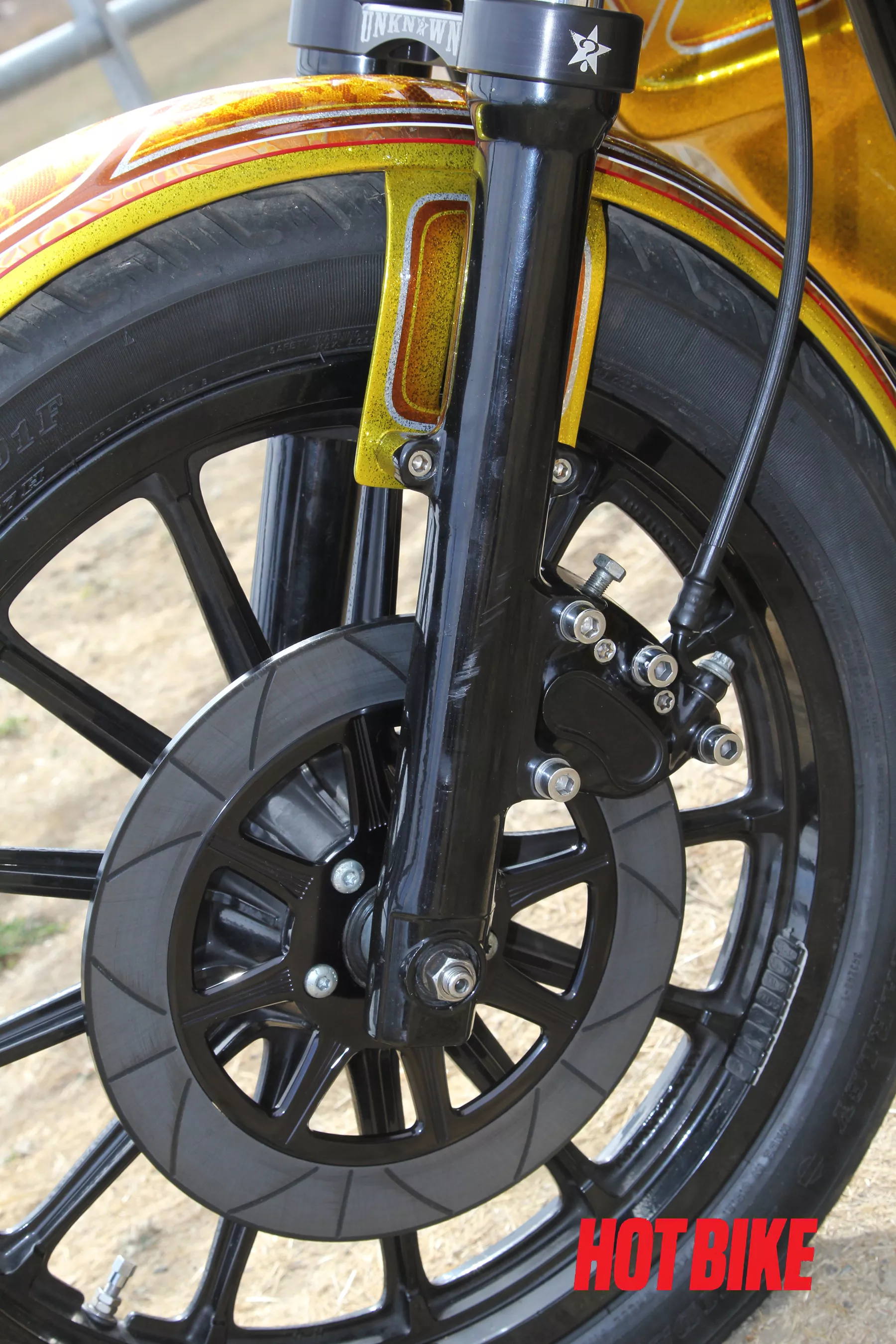 When we first laid eyes on this bike, we had to pause for a moment to wrap our minds around it. It's definitely a throwback, but what is it exactly? Upon closer inspection, we realized it's American—more specifically, a 1985 Harley-Davidson FXRT. You don't see those every day. The paint and color… Vhut is dat, velvet? No, it appears to be gold paneling framed by root-beer-brown accents. And what's with that stance? It appears to be popping enough wheelies to be more like a motorized unicycle than a two-wheels-to-the-asphalt motorcycle. It's just such a unique package that we had to find out more.
It turns out this little golden gopher is property of Nick Leonetti of Unknown Industries. Simply put, Nick and the guys at Unknown are into Harley wheelies. Between all the wheelies and donuts on their YouTube channel, you get the impression they don't put much wear on their front tires. Their videos play like the moto-sibling of DC's popular Ken Block Gymkhana auto-drifting video series, though when we heard a Die Antwoord jam playing behind one of Unknown's videos, we started to think that they're more like Block's twisted second cousins. If you're not familiar with the South African alternative-rap group, a quick scan of their videos on YouTube should give you an idea of how mind-melting their vibe is. Needless to say, we dig their steez.
Nick had dreamed of doing up his FXRT before he scored a sponsorship and parts from Elvis' Place FXR motorcycle parts. "It was my first Harley that I bought, and it was always just something I wanted to do, but the parts are so expensive and hard to find that I was never going to have enough money to do it," Nick recollects.
With parts in hand, the most challenging aspect of the build became apparent: the bodywork. Given the age of the rare parts, there were lots of cracks that had to be mended and reinforced to endure the rigors of Nick's profession. Taylor Schultz of Schultz Designz in Rohnert Park, California, stepped in to fill the cracks and handle all the fiberglass work. Once ready, Nick knew he wanted an old-school paint job with a gold-and-brown-color scheme. With only those requirements, he let Taylor do his thing.
"We didn't want to use a lot of different colors; we really wanted to keep the same tone of gold and brown throughout so it wouldn't get that 'Easter egg' look," Taylor tells us.
And with more than 200 hours in the paint job, when you see the bike in person, you really appreciate all the time spent. "We wanted to make everything just flow in one direction," Taylor continues. "Nothing contrasts or battles with anything else. And Nicky pretty much gave me free rein to do whatever I felt like doing, so I painted it like I would paint my own bike."
In our experience, the best results come when you let painters paint and stunters stunt. You'll also notice nice little touches, such as the shout-outs to Elvis' Place, Big Al's Cycles (the shop that put the bike and all the new paint together), Deft Family (Unknown's glove sponsor), and the succinct tag "FXR or die!" etched onto the bags.
It might have taken an ocular pat down, some serious YouTube-ing, and some explanation from a stuntman and a painter, but we were finally able to wrap our minds around this golden god.